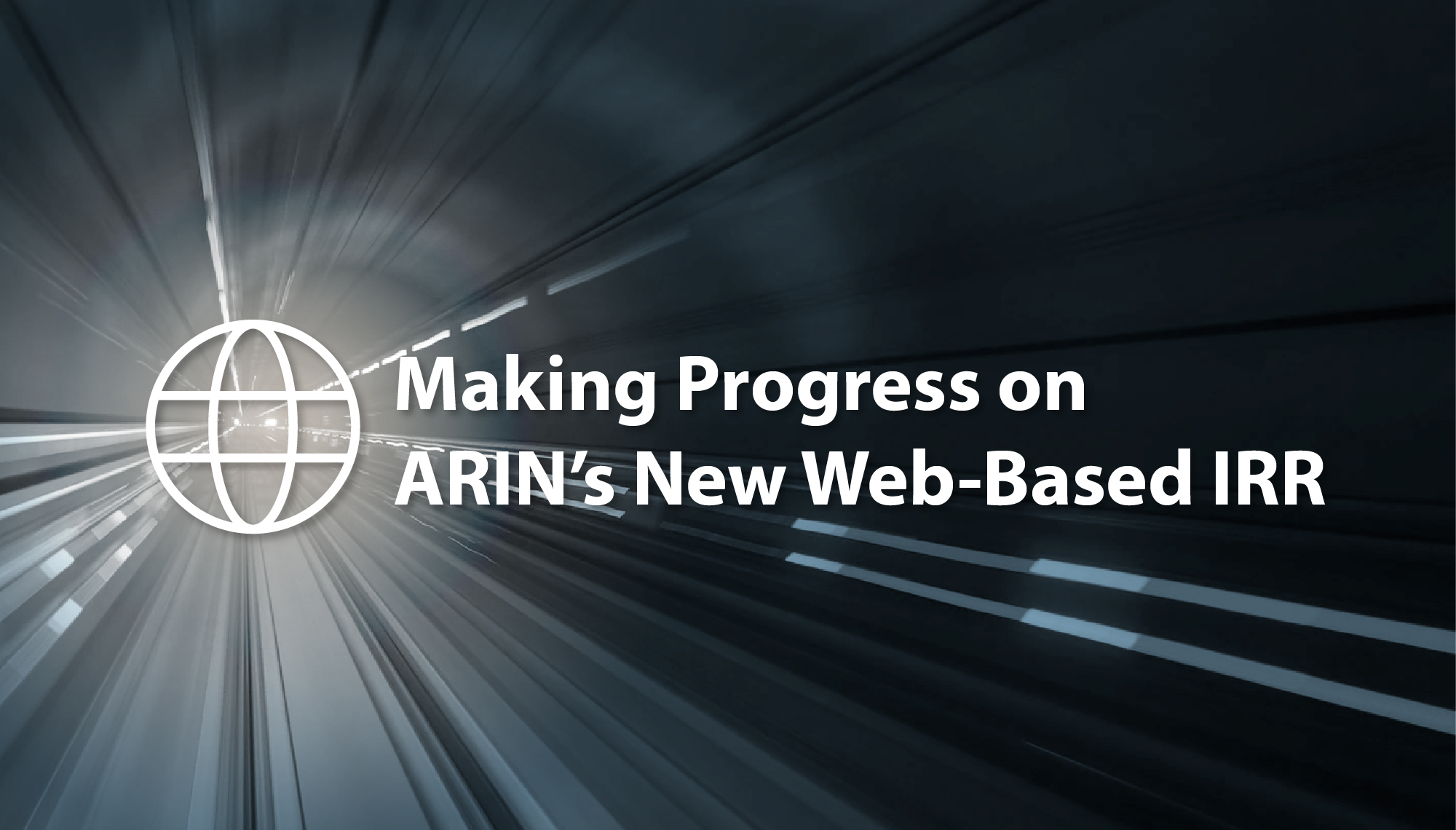 Making Progress on ARIN's New Web-Based IRR
We're excited to announce the upcoming deployment of a new web-based Internet Routing Registry (IRR). Over the last few years, we've received multiple ARIN Consultation and Suggestion Process (ACSP) requests about our existing email-based IRR. A community consultation was conducted to evaluate community interest for ARIN to either improve the existing service or to develop a completely new IRR. Based on the responses, ARIN has been developing a new IRR, IRR-online, which is integrated with the current ARIN Online application. We're pleased to report that this project is officially underway, and we're well into the development work required for deploying core functionality. This plan has been reviewed with external stakeholders and is expected to be deployed in June 2020. Additional functionality will continue to be deployed through the end of 2020, at which time the service will mature into a standard maintenance routine.
The core deployment functionality will enable users to create, update, and delete the following object types via the ARIN Online application:
route
route6
aut-num
as-set
route-set
Core functionality will allow access to IRR data via the following methods:
ARIN Online (to view/create/update/delete your own IRR objects)
NRTM with two streams

ARIN (ARIN-validated data)
ARIN-NONAUTH (data that could not be validated by ARIN or those resources not under an agreement with ARIN)

Whois via port 43
All current and validated IRR data will be migrated from the existing IRR system (IRR-email) to the new IRR-online system. Customers of the existing IRR-email system will be able to continue to use this system; however, we plan to deprecate the email-based IRR once future functionality allowing bulk updates has been deployed. Note that current users who opt to use the new IRR via ARIN Online will no longer be able to use the email-based IRR system. Once you create/update/delete an object via ARIN Online, your mntner object will be removed from IRR-email, thus preventing any objects from being processed via email. New users will only have access to the new web-based IRR.
This core functionality deployment will allow customers to easily publish and share their routing policies to improve routing coordination and security on the Internet. We look forward to sharing additional plans for future functionality as this important project continues forward.
Recent blogs categorized under: IRR
---
GET THE LATEST!
Sign up to receive the latest news about ARIN and the most pressing issues facing the Internet community.
SIGN ME UP →
---
Blog Categories
IPv6
•
Business Case for IPv6
•
Fellowship Program
•
Grant Program
•
Caribbean
•
Internet Governance
•
Updates
•
IPv4
•
ARIN Bits
•
Elections
•
Tips
•
Public Policy
•
Customer Feedback
•
Security
•
Outreach
•
RPKI
•
Training
•
IRR
•
Data Accuracy