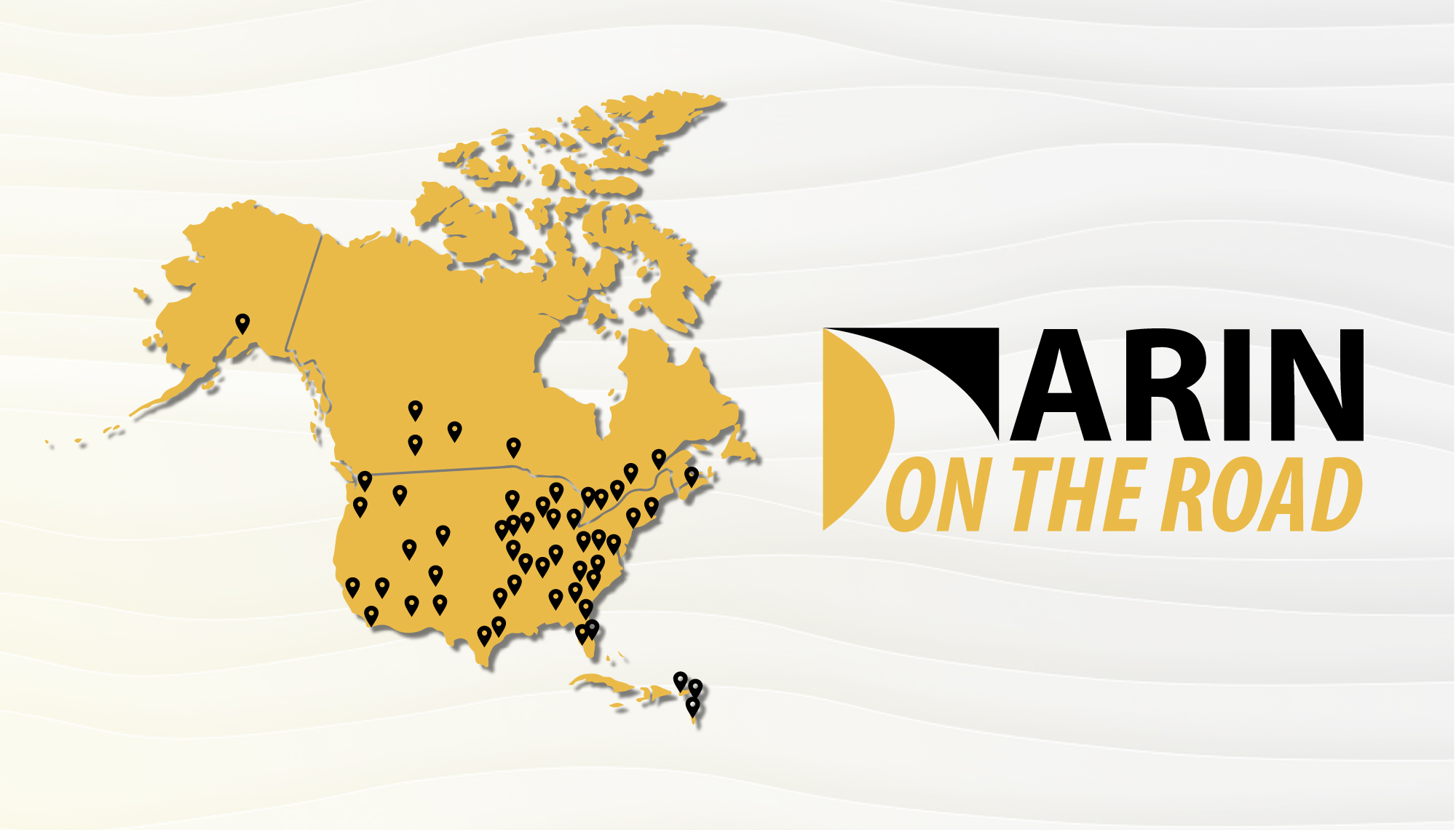 A Decade on the Road & a Change in Direction
Can you believe it's been a decade since we hosted our first ARIN on the Road event in Phoenix, AZ? We can't either. And ever since that inaugural event we've been busy traveling all over our region to 58 locations in Canada, the Caribbean, and the United States.
ARIN on the Road events fit into the larger category of our outreach events. These events are designed to help potential, new, and existing customers understand all of the services that we provide to our community. We like to travel to locations where we don't typically host our larger Public Policy and Members Meetings in order to bring our staff and leadership directly to all parts of our community throughout the region.
These events have provided our community a chance to get face-time with ARIN staff and leadership. These no-cost events offer the latest updates from ARIN to keep you informed about all the tools and services we provide to our customers, and how to use them. They typically last about half a day, and lunch is provided for all in attendance. Members of our staff present on various topics, such as IPv6, IPv4, RPKI, and more, with breaks for discussions.
"I have attended ARIN on the Road events as a community member, Advisory Council Chair, and now as a staff member of ARIN. The amount of information that is shared is incredible. These events allow different members of the ARIN community to come together for a day and share experiences to the benefit of all. The newly incorporated hands-on learning experiences will allow for even more opportunities to share and grow."

- John Sweeting, Chief Customer Officer
A Slight Detour
Starting in 2020, we've decided to switch up the format of these events to better serve our community based on feedback from previous attendees. We'll be providing more hands-on learning opportunities to increase participant engagement. We will guide you through the actual steps to make use of our account security features, resolve outstanding requests and other tickets, and answer questions that will allow you to make use of the full range of ARIN services.  
Here's a look at a sample agenda:
10:00 AM – 3:30 PM
Welcome and Getting Started
ARIN's Mission and Core Functions
Making the Most of ARIN Technical Services
Policy Development at ARIN
IPv4 Today – Waiting List, Transfers, and more
ARIN Security Services – DNSSEC, RPKI
Community Engagement with ARIN
ARIN Directory Services – RDAP, Whois, and WhoWas
IPv6 Address Plans – What do you need and how do you get it?
Q&A / Open Mic Session
Ask ARIN (3:30 PM - 4:00 PM) - Optional opportunity for a one-on-one conversation with ARIN staff
We hope to see you at one of our upcoming ARIN on the Road events, with the first events kicking off in Memphis, TN and  San Antonio, TX on the 25th and 27th of February. If you think your area could benefit from an ARIN Outreach event, let us know at meetings@arin.net.
Recent blogs categorized under: Outreach
---
GET THE LATEST!
Sign up to receive the latest news about ARIN and the most pressing issues facing the Internet community.
SIGN ME UP →
---
Blog Categories
Grant Program
•
Public Policy
•
IPv4
•
Updates
•
Security
•
RPKI
•
IPv6
•
Data Accuracy
•
Elections
•
ARIN Bits
•
Business Case for IPv6
•
Fellowship Program
•
Caribbean
•
Internet Governance
•
Tips
•
Customer Feedback
•
Outreach
•
Training
•
IRR