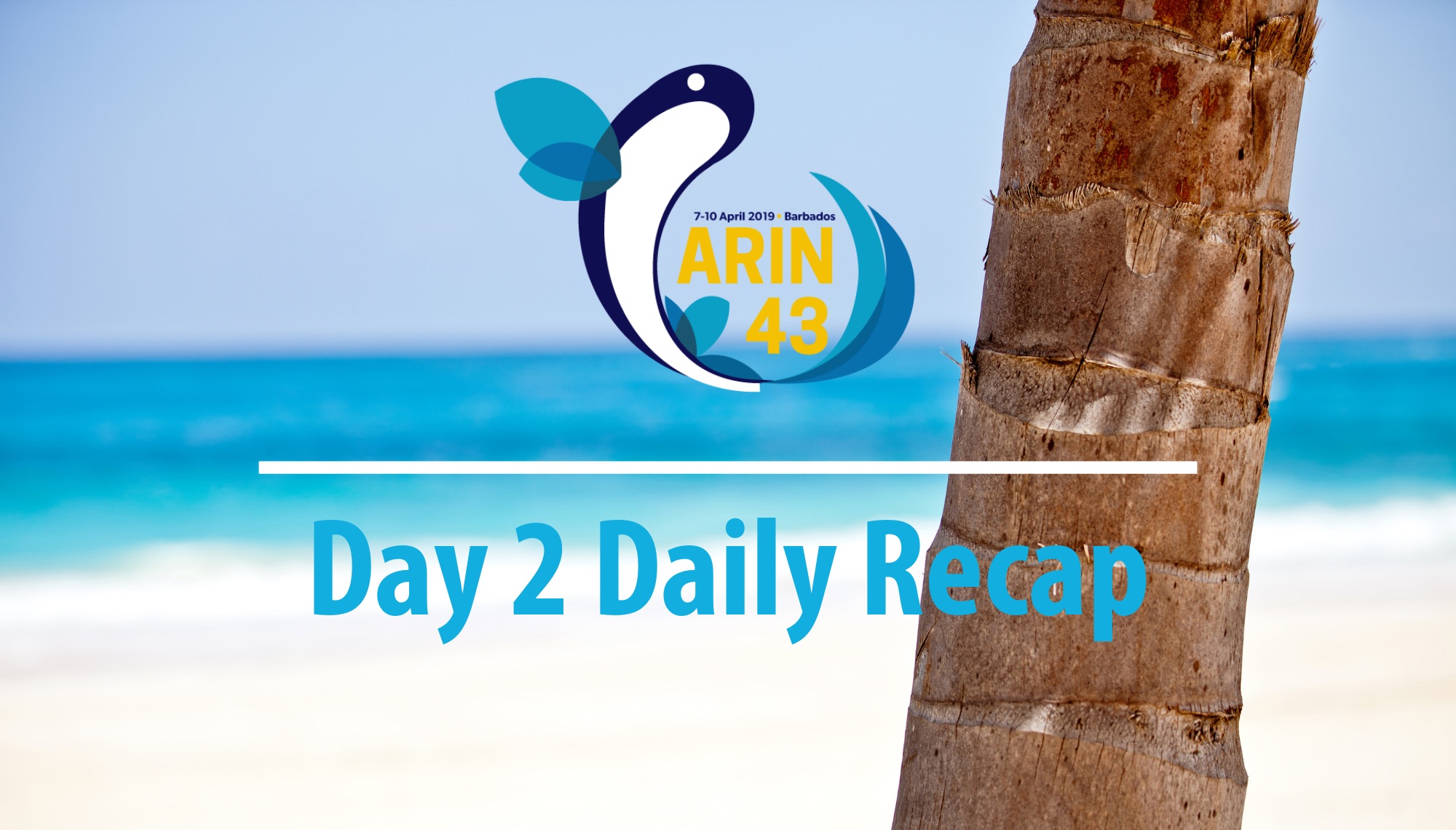 ARIN 43 Day 2 Daily Recap
Welcome back to day two of ARIN 43! We had another exciting and busy day with interesting presentations, important discussions, and lots of networking.
For those who are unable to be here in person, it's easy to join us remotely for tomorrow's session. You can watch our online webcast, follow along with our live transcript, and participate through chat. Please register before tomorrow so we can add you to the chat rooms.
Vitamin Sea & Public Policy
After a warm welcome from John Curran, we had the pleasure of hearing Global Reports from our fellow Regional Internet Registries (RIRs), APNIC and AFRINIC. We learned about the policies under discussion in their regions, community initiatives, and upcoming meetings.
Christopher Yoo, of the University of Pennsylvania, presented an interesting study on Overcoming Legal Barriers to RPKI in the ARIN region. John Curran, President & CEO, immediately followed Christopher's presentation by sharing a Risk Analysis of RPKI Services in our region. This led to some community discussion before this block of the meeting closed.
After the break, Kevin Blumberg took to the mic to share his ICANN Address Supporting Organization (ASO) Advisory Council (AC) update. Kevin is our appointed representative for the ASO AC serving a three-year term. The ASO AC is also known as the Number Resource Organization Number Council (NRO NC) - the group is identified by either name as it pertains to the specific roles it fills at ICANN and in the RIR community. Next, we heard from Louie Lee (and Louie's new hat!) as he shared his IANA Review Committee Update.
Kevon Swift, Head of Strategic Relations and Integration at LACNIC, presented the next Global Report. He shared some highlights including community initiatives in the LACNIC region, their online training platform, and information about their upcoming meeting.
We then moved into our first draft policy of the day, presented by AC Member, David Farmer:
John Sweeting, Senior Director of Registration Services, returned to the mic to give our community an update about the State of Transfers in our region. He shared details about the number of transfers completed, the number of IPs being transferred, and the size of specified transfer blocks. Overall, we learned that the number of transfers are increasing, the transfer processing time is decreasing, and most specified transfer blocks are small.
After lunch, Rob Seastrom, AC Member, introduced a discussion about Potential Waiting List Policy Actions. In case you missed it, at their business meeting in January 2019 the Board voted on suspending issuance of resources from the waiting list and prompted the AC to begin curating a list of possible policy actions for community discussion.
This provided context to the next block of draft policies under discussion led by AC Members, Alison Wood, Rob Seastrom, and Alyssa Moore.
Axel Pawlik, Managing Director for RIPE NCC, was up next to provide his Global Report. He discussed their focus for 2019, current policy discussions in their region, and what the impending IPv4 run-out means for the RIPE community. The Vice President of Internet Assigned Numbers Authority (IANA) Services, Kim Davies, presented the final Global Report of the meeting for IANA/Public Technical Identifiers (PTI).
Bevil Wooding, Caribbean Outreach Liaison, recapped our Caribbean outreach events in 2018 and shared what's coming up in 2019 during his Caribbean Update. Last year, we hosted events in eight countries that reached over 400 participants! Anne-Rachel Inné, Executive Director of Government Affairs and Public Policy (GAPP), recapped ARIN's work at last year's International Telecommunications Union Plenipotentiary Conference (ITU PP18). She also gave us a preview of what's coming up for the GAPP Team in 2019. Last, but not least, Richard Jimmerson, COO, gave the last presentation of the day with his Software Development Update. He shared what factors influence our priorities, project highlights since ARIN 42, and forthcoming initiatives, including the rebuilding of our Internet Routing Registry. We closed with an open mic session for our community.
If you're interested in taking a closer look at any of the presentations we heard today, please head to the ARIN 43 meeting website. We'll see you back here for the Members Meeting tomorrow which, as always, is open to all.
Tweet, Tweet
@AFRINIC Finance Director, Patrisse providing #AFRINIC update at the #ARIN43 meeting pic.twitter.com/JhVomqVcVJ

— Seun Ojedeji (@seun_oj) April 9, 2019
Interesting overview from how the RIRs differ from each other in terms of legal barriers for their #RPKI services #ARIN43 pic.twitter.com/YJVfWuq6kD

— Job Snijders (@JobSnijders) April 9, 2019
Very informative presentation on "Overcoming Legal Barriers
to RPKI Adoption" by Christopher S. Yoo #ARIN43 pic.twitter.com/CTszbCNU6v

— IVIik|Ξ Arbrouet (@mikearbrouet) April 9, 2019
Intersection of @icann and #numbering community happens in the @theNRO report at #ARIN43 by @LouieAtWork .. and with a new hat due to the Caribbean Sea taking his old hat to Davy Jones' Locker pic.twitter.com/mQVzCCI9eU

— Ron da Silva (@ron2twit) April 9, 2019
@TeamARIN #ARIN43 Discussing how to handle IPv4 4.1.8 waitlist, and various policy solutions on how to handle it. Various proposals involve non-transferability of 4.1.8 space, or limiting the max size of size or reduing the time before IP blocks can be transfered.

— NCommander (@FOSSfirefighter) April 9, 2019
Christopher Yoo & @davidwishnick @pennlawctic spoke this morning on "Legal Barriers to Securing the Routing Infrastructure" at the public policy and members meeting of the American Registry for Internet Numbers @TeamARIN: https://t.co/tqjibkMLv9
#ARIN43 #Internet #ctic

— CTIC (@pennlawctic) April 9, 2019
At #ARIN43 discussing options for the currently suspended IPv4 waiting list in light of baddies turning around and selling waitlist space immediately after the hold period expires. Internet numbers policy is spicy 🌶 pic.twitter.com/jiwtIVMPrw

— Alyssa Moore (@lyssamoo) April 9, 2019
Boring operations update at #arin43 with 100% customer satisfaction from @kid @theiana @ICANN – boring is good. pic.twitter.com/WH25k2FhwV

— Ron da Silva (@ron2twit) April 9, 2019
Recent blogs categorized under: Public Policy
---
GET THE LATEST!
Sign up to receive the latest news about ARIN and the most pressing issues facing the Internet community.
SIGN ME UP →
---
Blog Categories
ARIN Bits
•
IPv6
•
Business Case for IPv6
•
Fellowship Program
•
Grant Program
•
Caribbean
•
Internet Governance
•
Updates
•
IPv4
•
Elections
•
Tips
•
Public Policy
•
Customer Feedback
•
Security
•
Outreach
•
RPKI
•
Training
•
IRR
•
Data Accuracy