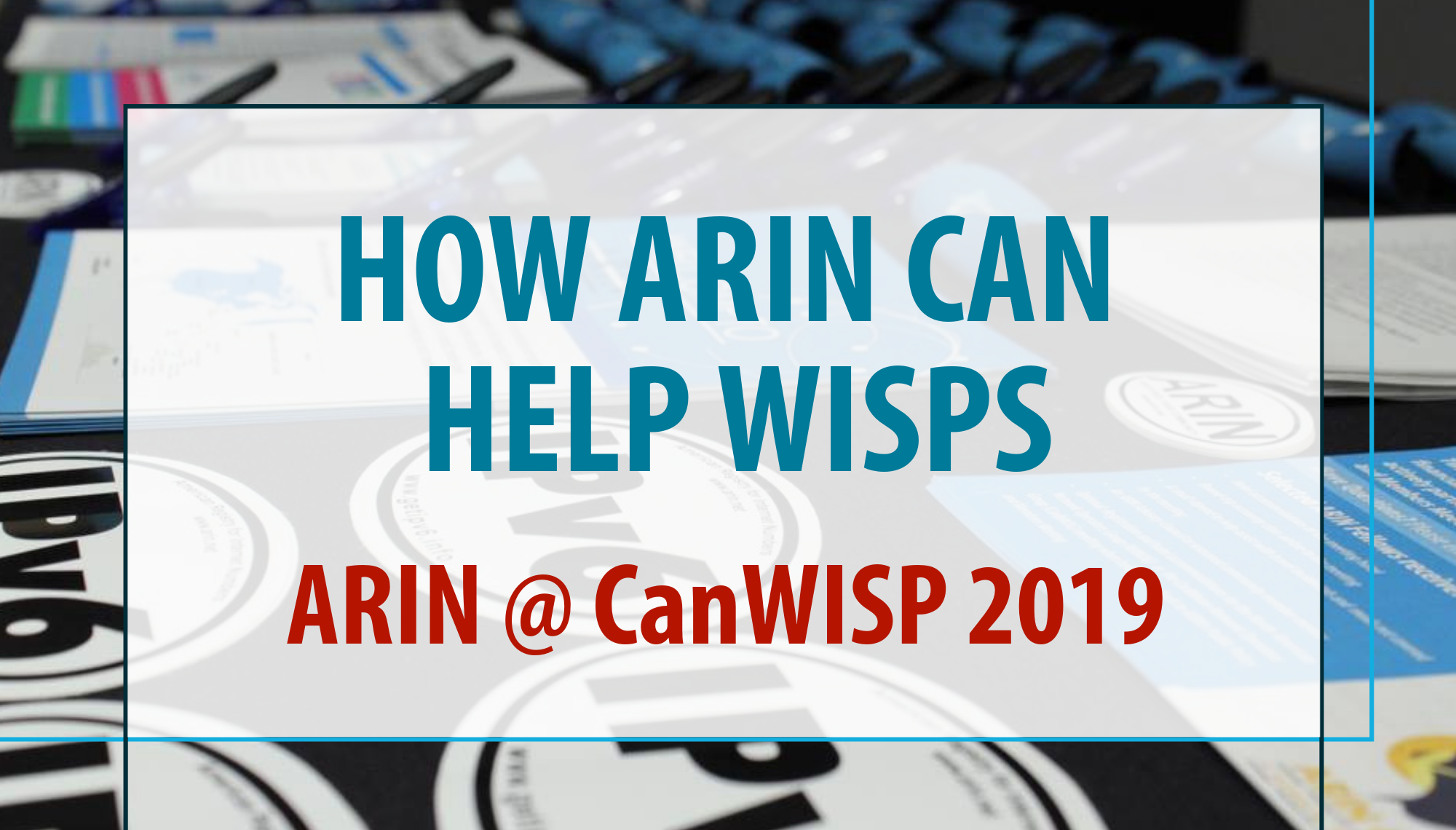 How ARIN Can Help Wireless Internet Service Providers (WISPs)
ARIN @ CanWISP 2019
Last week ARIN attended the Canadian Association of Wireless Internet Service Providers (CanWISP) in Gatineau, Quebec 26-27 March. John Sweeting (Senior Director, Registration Services) and I were in attendance to operate a help desk and give a presentation entitled "What Every WISP Needs To Know About ARIN."
Based on our successful visits to other WISP events, such as WISPAPALOOZA, we knew there was a lot of information we could offer the CanWISP community that could assist attendees with
 their Internet number resource questions and needs. For example, WISPs are often unaware they can quickly obtain resources from ARIN using special policies like the reserved IPv4 block to facilitate IPv6 deployment and potentially obtain IPv4 addresses without needing to go to the transfer market using the IPv4 Waiting List. We're pleased to report we had the same level of success helping Canadian WISPs at CanWISP. We had great traffic to the help desk and were able to help many WISPs create accounts and submit requests (some of them completed right at the help desk). We received a whole lot of thanks from the ISPs we were able to help, and we were incredibly grateful to be able to be of assistance.
Getting Resources From ARIN
For those WISPs not in attendance, or any other network that may be unaware, it's quick and easy to get resources from ARIN. We encourage those ISPs to register an IPv6 block through ARIN. You can obtain a /36 ($500 annual fee) or a /32 ($1,000 annual fee) as long as you plan to make at least 50 assignments to customers within five years.
Once you register an IPv6 block, you can then request an IPv4 /24 under ARIN's "Dedicated IPv4 Block to Facilitate IPv6 Deployment." As long as you intend to use the /24 to facilitate your IPv6 deployment – for example, by dual-stacking key servers or creating translation pools – you'll qualify. As an added bonus, you won't need to pay an additional fee – the fee paid for your IPv6 block covers both your IPv4 and IPv6 resources. You can then request an additional /24 under this policy every six months if you need more.
The waiting list is another option for WISPs (or other networks) to use. While we're not currently fulfilling waiting list requests right now due to action by our Board of Trustees (BoT), we're still adding requests to the waiting list. If and when the BoT resumes the policy, we'll resume filling requests. Until then, the waiting list continues to grow, so we encourage you to submit a request now to make sure you get the best possible placement.
Get in Touch
If you'd like to work on this in-person, or just make a personal connection with someone from ARIN who can guide you through the process, please have a look at our event calendar and see where we'll be. Alternatively, if you'd like someone from ARIN to provide further assistance, please call 703.227.0660 and we'll be happy to help. Our goal, as always, is to make sure you get the resources you need to operate your network.
We're looking forward to helping you in 2019!
Recent blogs categorized under: Outreach
---
GET THE LATEST!
Sign up to receive the latest news about ARIN and the most pressing issues facing the Internet community.
SIGN ME UP →
---
Blog Categories
Grant Program
•
Public Policy
•
IPv4
•
Updates
•
Security
•
RPKI
•
IPv6
•
Data Accuracy
•
Elections
•
ARIN Bits
•
Business Case for IPv6
•
Fellowship Program
•
Caribbean
•
Internet Governance
•
Tips
•
Customer Feedback
•
Outreach
•
Training
•
IRR