ARIN 52 Day 2 Recap
ARIN 52 is in the books! Today marked the second and final day of our Public Policy and Members Meeting, which, as usual, seemed to come and go in the blink of an eye. We enjoyed networking with friends old and new in San Diego, California, and virtually. Here's a short summary of the final events of ARIN 52.
Brewing Up a Good Time
Last night, in-person attendees had the opportunity to socialize with each other, continue discussions sparked by the meeting, dabble in some karaoke, and enjoy the verdant environs and outdoor games at Stone Brewing World Bistro & Gardens.

Waves of Updates
After Hollis Kara, Director of Communications, started the morning with a warm welcome, a thank you to our elected volunteers, and participation reminders — along with a round of applause for our meeting sponsors, AT&T, Google, IPv4.Global by Hilco Streambank — we headed into the final reports of ARIN 52.
First on the agenda today was Chief Technology Officer (CTO) Mark Kosters with the report from the Engineering Department. He reviewed the services the department supports and highlighted recent statistics, software releases, operational improvements, how challenges are evolving over time, and what the team is working on next (including geolocation within RDAP and an open-source template processor to facilitate the retirement of email templates).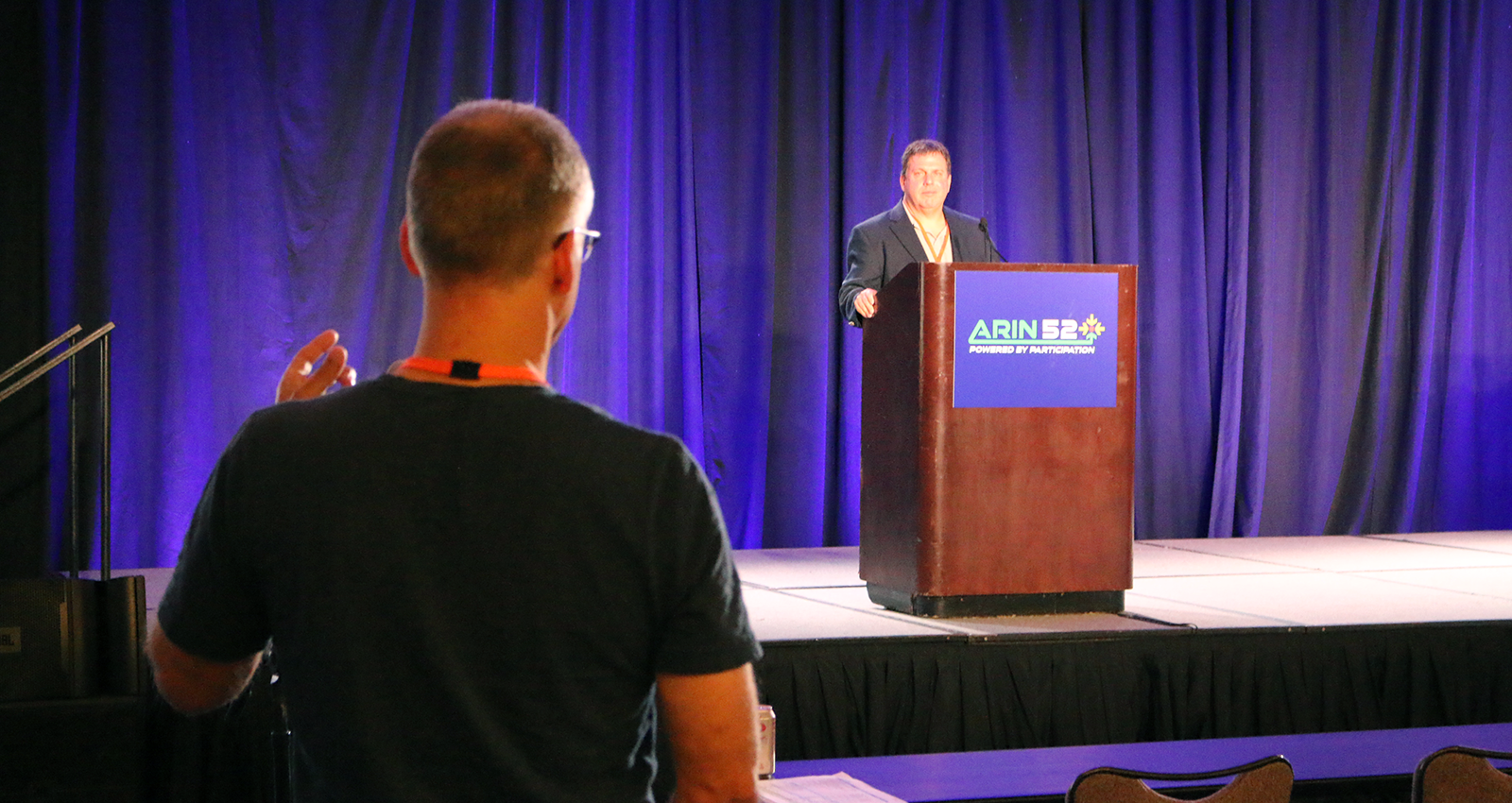 Brad Gorman, Senior Product Owner of Routing Security, then presented his Routing Security Update. He provided an overview of the Resource Public Key Infrastructure (RPKI) and ARIN's RPKI services and reviewed RPKI goals and adoption rates (23.9% of Orgs are registered to use ARIN's RPKI services and 33.1% of ARIN-allocated IPv4 space announced to the Internet is marked RPKI-valid). Brad also shared new and upcoming features for ARIN's RPKI services, including RPKI/Internet Routing Registry (IRR) integration, RPKI/Route Origin Authorization (ROA) intelligence, and RPKI advanced features to be made accessible via the ARIN Online interface.
Moving right along, Aaron Foley, Senior Cryptographic Key Manager performing IANA services for ICANN, gave an update on IANA that included a review of number resource services, address allocation status, the Domain Name Service (DNS) Trust Anchor, the role of trusted community representatives, and a road map for the second-ever key replacement.
Going Global
ARIN President and CEO John Curran shared the Number Resource Organization (NRO) Executive Council Update, covering new programs implemented in 2023 (RPKI, Regional Internet Registry Cybersecurity, and Government Engagement), financial status, publications of global Internet number statistics and comparative policy overviews, and more.
John rolled right into the next presentation, which was his Global Regional Internet Registry (RIR) Update focused on providing insight into the nature of the AFRINIC dispute and highlighting some aspects of the ongoing litigation. He reviewed: the timeline of events; governance, elections, and Board lawsuits; the NRO public response; ARIN's communications to the community; the current status of the situation; and next steps.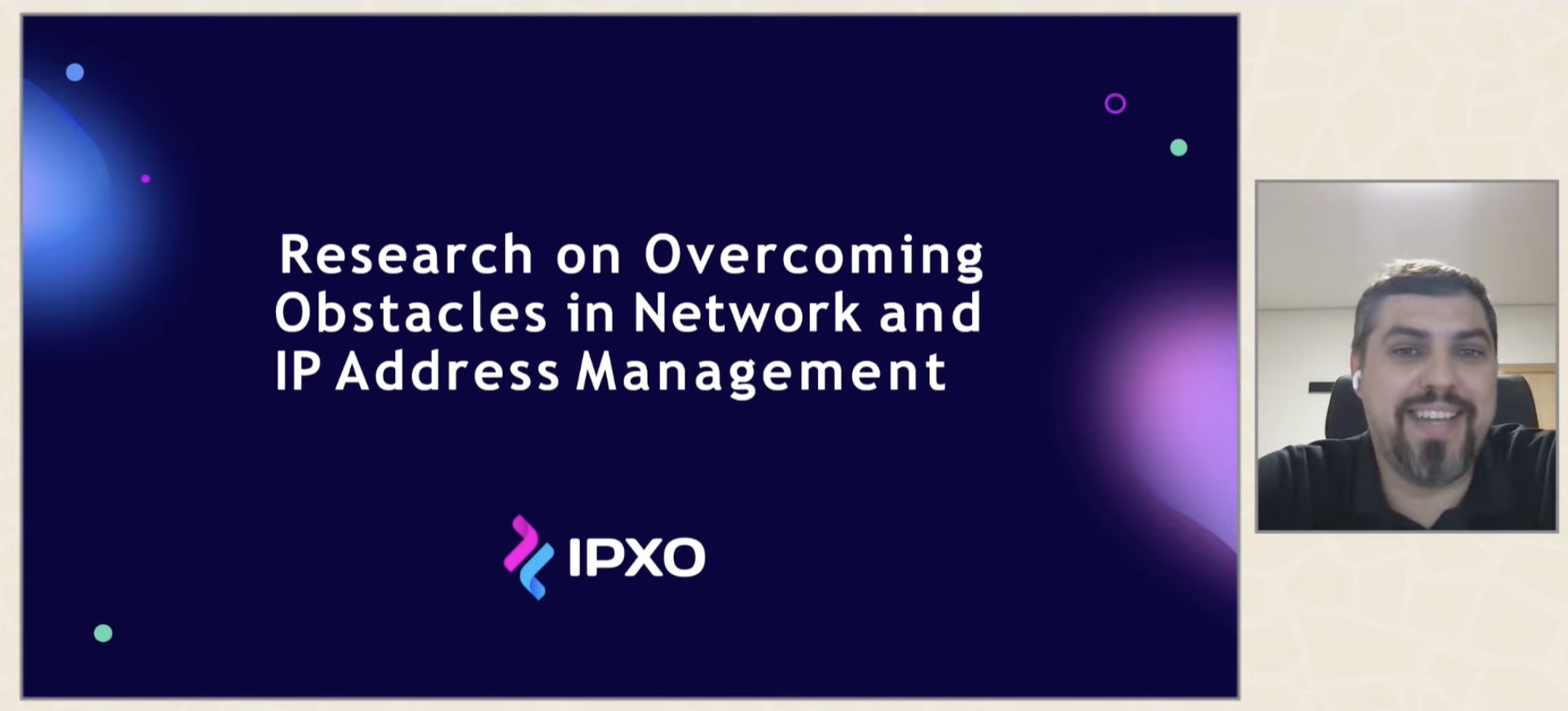 After a quick, final break, guest speaker Vaidotas Januška, IPXO CTO, joined us virtually all the way from Lithuania to present research conducted with more than 100 Internet service providers (ISPs) and infrastructure providers in the U.S. and E.U. on overcoming obstacles in network and IP address management. He covered obstacles across the Internet's core building and governing elements: RPKI and ROA handling; abuse management; geolocation management; WHOIS management; and IPv6 adoption.
Last But Not Least
As we entered the final hour of ARIN 52, we heard an update from Chief Information Security Officer Christian Johnson. Christian started by introducing ARIN's new Information Security Analyst, Anthony Clark, before discussing how ARIN has made security a priority in 2023 along with details of our compliance initiatives like Service Organization Control (SOC) 2 and the Payment Card Industry Data Security Standard (PCI DSS). The final report and official announcement of ARIN's successful achievement of SOC 2 Type II compliance for RPKI can be expected in the coming weeks, and as of this month ARIN is PCI DSS compliant — happy Cybersecurity Awareness Month, indeed! Visit our Information Security page to learn more about these initiatives and to stay up-to-date with the latest community communications about their progress.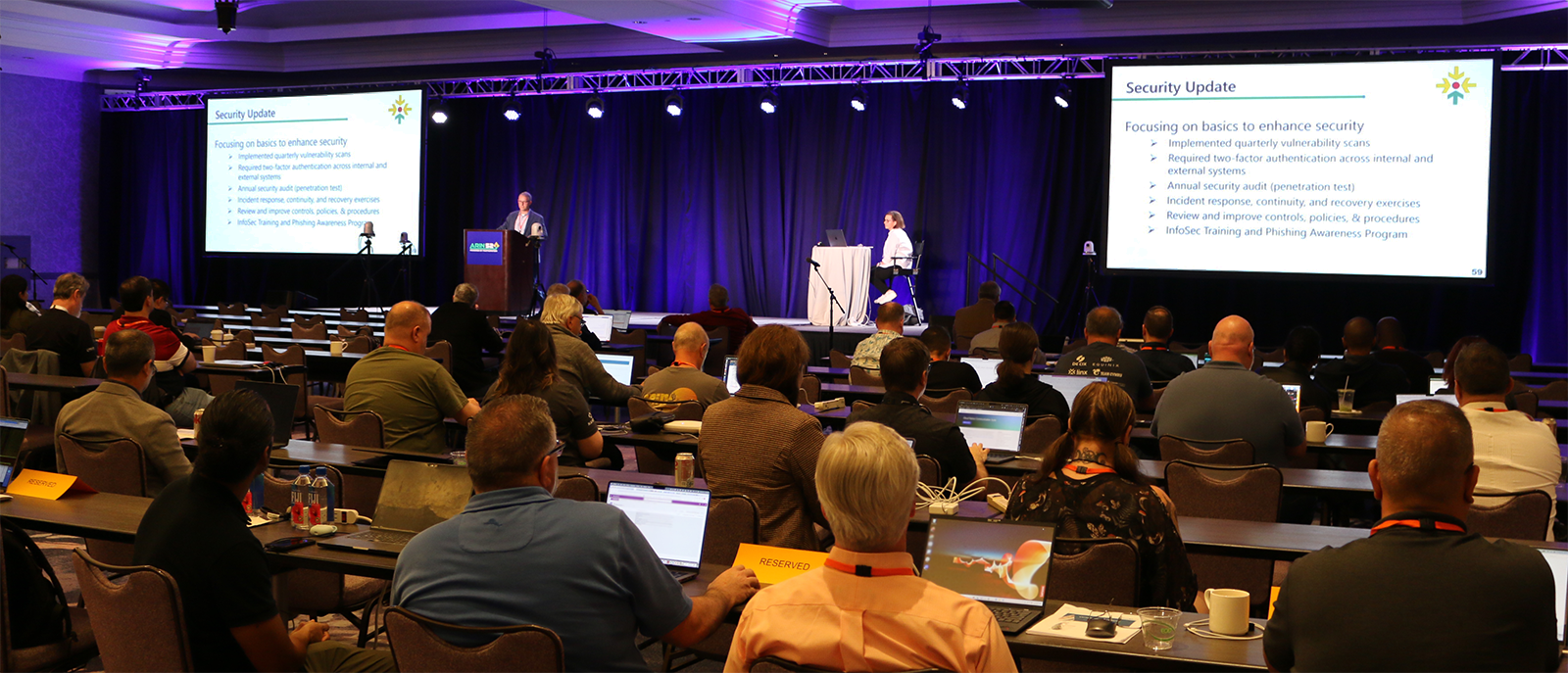 Next, Amanda Gauldin, Community Programs Manager, provided an update on the Fellowship and Grant programs as well as ARIN's ongoing outreach efforts, including a look at the nearly 40 industry events attended by ARIN staff so far this year and the presentations shared at them.
Certification Program Manager Marty McLaughlin then shared an overview of the recently launched ARIN Qualified Facilitator Program as well as a look ahead at a new Training Certification Program now in the planning stages. Kevin Blumberg presented the final update of the meeting, delivering the latest news from the ICANN Address Supporting Organization Address Council (ASO AC) and emphasizing the ICANN Board of Directors Seat 9 election process now in the nomination phase — learn more at aso.icann.org.
To wrap things up, John Curran, ARIN President and CEO, hosted an open mic session, during which comments addressed the qualification system for candidates in ARIN Elections, congratulations on a successful year and meeting, updating meeting name badges, and multiple enthusiastic thank yous to and from the ARIN 52 Fellows, mentors, and staff supporting the Fellowship program. John Sweeting, ARIN's Chief Customer Officer, also took the opportunity to share an update on the strong voter turnout in the 2023 ARIN Elections so far and emphasized the importance of casting your ballots before voting closes next Friday, 27 October, at 7:00 PM ET.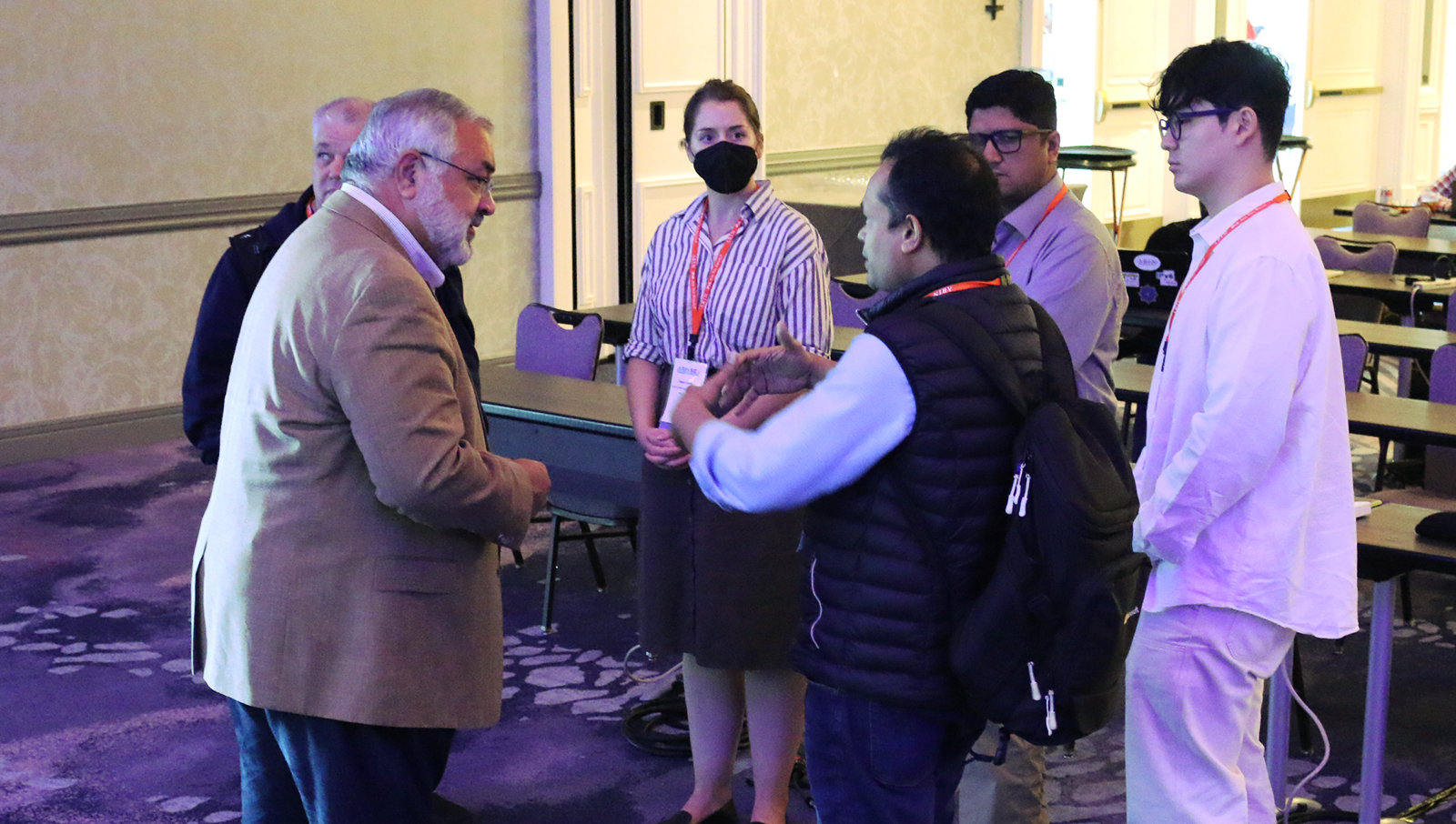 Hollis Kara then officially closed ARIN 52 by thanking our sponsors once again for their support and encouraging everyone to save the date for ARIN 53 in Barbados.
Until Next Time
You can read a recap from day one of the meeting as well as reference the slides, transcripts, and webcasts from throughout the meeting as they are posted on the Meeting Materials and Report page.
Be sure to use the #ARIN52 hashtag and tag us @TeamARIN on X (formerly Twitter) and Facebook and @ARIN on LinkedIn when sharing about your meeting experience on social media! And don't forget to mark your calendars for ARIN 53 in Bridgetown, Barbados, 14-17 April 2024. Stay tuned to the ARIN Blog, follow us on X, or subscribe to our arin-announce mailing list for information on registration and on the ARIN 53 Fellowship Program.
Did you take photos or screenshots of your ARIN 52 experience? We'd love to share them with the community! Tag, reply, comment, or message us on social media or email us at social@arin.net with images (and photo credit, if needed) that you grant us permission to publish online.
Recent blogs categorized under: Public Policy
---
GET THE LATEST!
Sign up to receive the latest news about ARIN and the most pressing issues facing the Internet community.
SIGN ME UP →
---
Blog Categories
Grant Program
•
Public Policy
•
IPv4
•
Updates
•
Security
•
RPKI
•
IPv6
•
Data Accuracy
•
Elections
•
ARIN Bits
•
Business Case for IPv6
•
Fellowship Program
•
Caribbean
•
Internet Governance
•
Tips
•
Customer Feedback
•
Outreach
•
Training
•
IRR