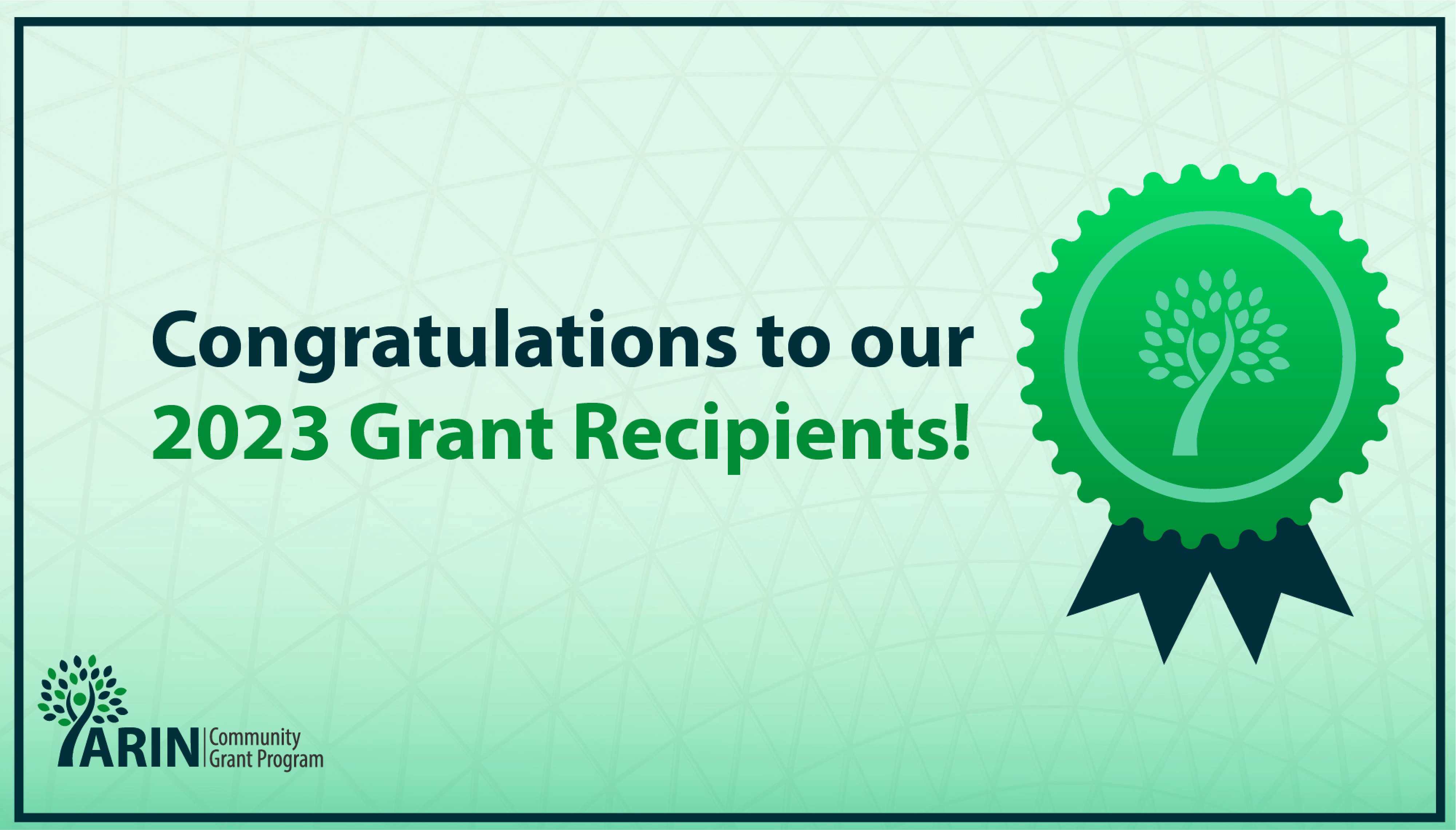 Announcing the 2023 ARIN Community Grant Recipients
Now in its fifth year, the ARIN Community Grant Program provides funding for projects that improve the Internet and make positive contributions to the Internet community in the ARIN region. We are pleased to share with you what our 2023 grant recipients will be working on this year.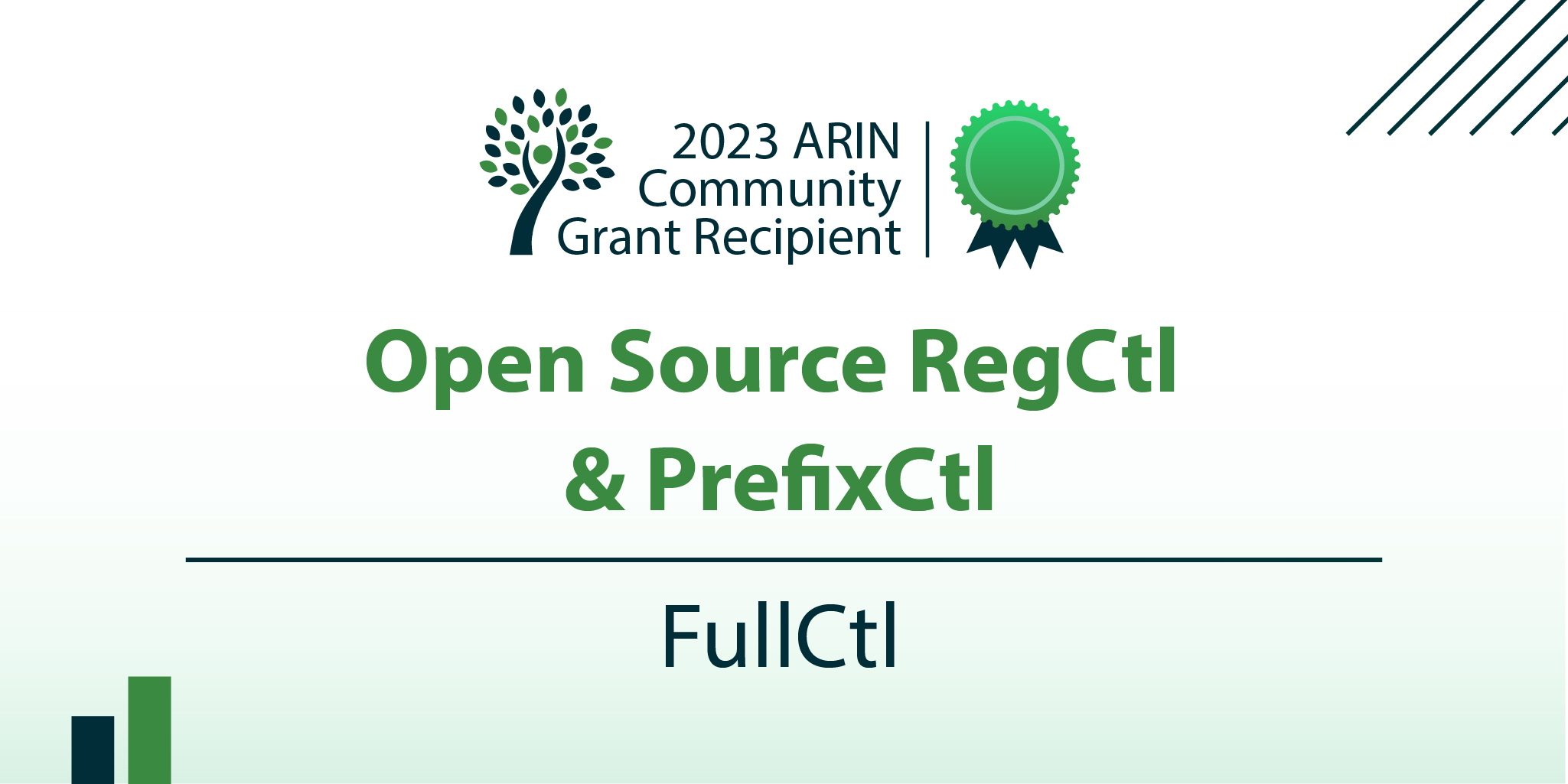 Open Source RegCtl & PrefixCtl
FullCtl | Madison, Wisconsin, USA | Grant amount: $20,000
Registration data is not standardized; each Regional Internet Registry (RIR) has its own data schema. Additionally, changes made at RIRs have downstream effects, with no "buffer" to absorb these changes. Route Origin Authorization (ROA) data can also be affected. Further, queries of registration data fail without context, and this happens often because of the "no less, no more" philosophy to answering queries. To solve all of this (and more) we propose to complete development of "RegCtl," a software tool to normalize registration data to a global standard, and to combine that with a completed "PrefixCtl" tool, which will add additional context from Whois, the Internet Routing Registry (IRR), and routing data. The two tools will both be fully open sourced once complete, and together will provide standardized, reliable, and contextualized Registry Data Access Protocol (RDAP) and ROA information management, globally.
Project objectives are to:
Complete development of RegCtl.
Complete development of PrefixCtl.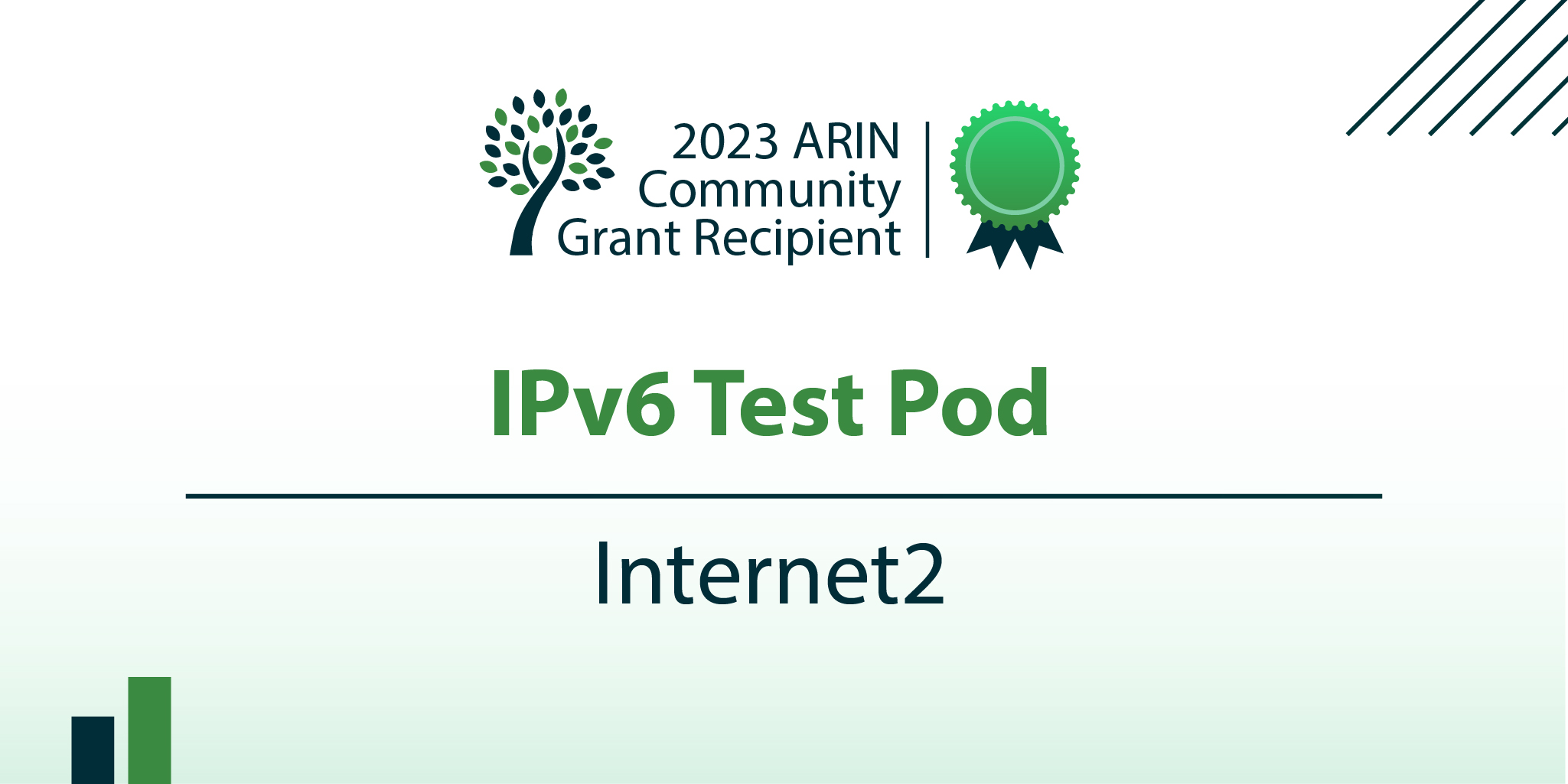 IPv6 Test Pod
Internet2 | Ann Arbor, Michigan, USA | Grant amount: $7,000
As world adoption of IPv6 continues, many applications are being tested and operated in dual-stack networks; however, dual stack is not a stopping point for IPv6 adoption. Work needs to begin testing applications and services in environments where IPv4 is being retired — these include networks that use DNS64/NAT64 to provide client access to IPv4 networks, but also networks that only have IPv6 access. Setting up these test networks can prove a challenging barrier for many, especially those without a networking background.
The IPv6 Test Pod project will select, adapt, configure, and distribute small inexpensive Wi-Fi routers to people who wish to test applications in a dual-stack, NAT64/DNS64, and IPv6-only network. The devices will require minimal setup, provide three Wi-Fi SSIDs to test in each environment, and require only a basic Internet connection to work, even if IPv6 is not natively available on. The devices will work in a variety of environments, including behind IPv4-only NAT networks. The project will also provide a tunnel termination service to provide IPv6 network access.
Project objectives are to:
Lower the barrier to entry for testing applications on IPv6-only networks and networks using IPv6-only transition technology such as DNS64/NAT64.
Provide a small, inexpensive Wi-Fi router and tunnel termination service to people for testing applications and services in IPv6-only or networks transitioning to IPv6-only.
Gather and report feedback from participants on issues encountered and what further tooling may help in troubleshooting.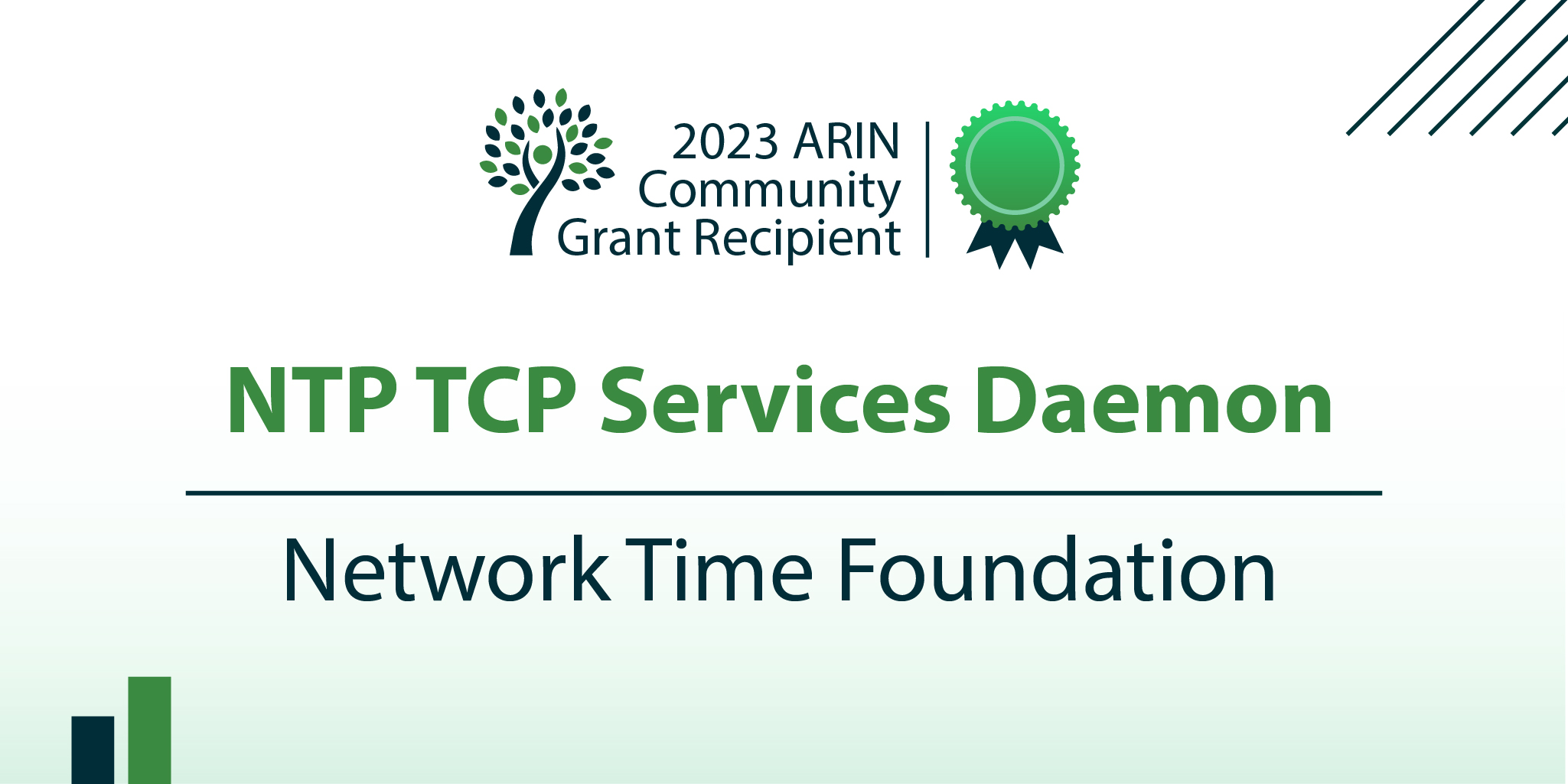 NTP TCP Services Daemon
Network Time Foundation, Inc. | Talent, OR, USA | Grant amount: $20,000
The Network Time Protocol (NTP) is a UDP-based system to distribute and synchronize time on network devices. While the User Datagram Protocol (UDP) is the best-known choice for time synchronization on general networks, it is not a great choice for access, authentication, key exchange, management, monitoring, or several other functions. TCP-based communications are a better choice for these.
The NTP Project team has been contemplating how to best use Transmission Control Protocol (TCP) to implement the aforementioned functions for many years' time, and its development and deployment have been waiting for the resources to "make it happen."
Receiving this grant will allow the Network Time Foundation (NTF) to implement and deploy the NTP TCP Services Daemon to interact with the NTP Project's NTP Daemon (ntpd), as part of its open-source NTP distribution.
Users of the NTP Project's NTP distribution (the vast majority of ARIN users, we expect) will be able to use the NTP TCP Service Daemon to interact with ntpd for key exchange (likely including NTS), management, and monitoring.
Project objectives are to:
Design, implement, and test a framework for a TCP services daemon to interact with the NTP Project's ntpd.
Implement a basic management client to demonstrate that it works.
Applicant Appreciation
We appreciate the time and effort all applicants put into submitting their projects for consideration, and we look forward to continuing to support operational and research projects that improve the overall Internet industry and Internet user environment, advance ARIN's mission, and broadly benefit the Internet community within the ARIN region.
Program Impact
Since the program began, ARIN has funded 21 projects and reached thousands of individuals through the work of ARIN Community Grant projects. Just to name a few things they have accomplished so far, these projects have:
Helped fund open-source tools that enable operators to better monitor their DNS infrastructure to manage IP address utilization across their networks.
Educated senior enterprise technicians on IPv6.
Created a Virtual School of Internet Governance during the COVID lockdown.
Provided a free event management plugin for network operator groups in the ARIN region (and beyond), saving hundreds of organizers administrative headaches.
And much more work is in progress! Stay up to date with the project reports on the ARIN Blog.
Future Grants
If you are interested in applying for a grant next year, look out for our call for applications to be issued in the spring of 2024. Information on how to apply will be posted to our ARIN Community Grant Program page, and we will send out an email via the arin-announce mailing list once the application period opens.
We look forward to continuing to make a positive and lasting impact on the Internet together.
Recent blogs categorized under: Grant Program
---
GET THE LATEST!
Sign up to receive the latest news about ARIN and the most pressing issues facing the Internet community.
SIGN ME UP →
---
Blog Categories
ARIN Bits
•
IPv6
•
Business Case for IPv6
•
Fellowship Program
•
Grant Program
•
Caribbean
•
Internet Governance
•
Updates
•
IPv4
•
Elections
•
Tips
•
Public Policy
•
Customer Feedback
•
Security
•
Outreach
•
RPKI
•
Training
•
IRR
•
Data Accuracy