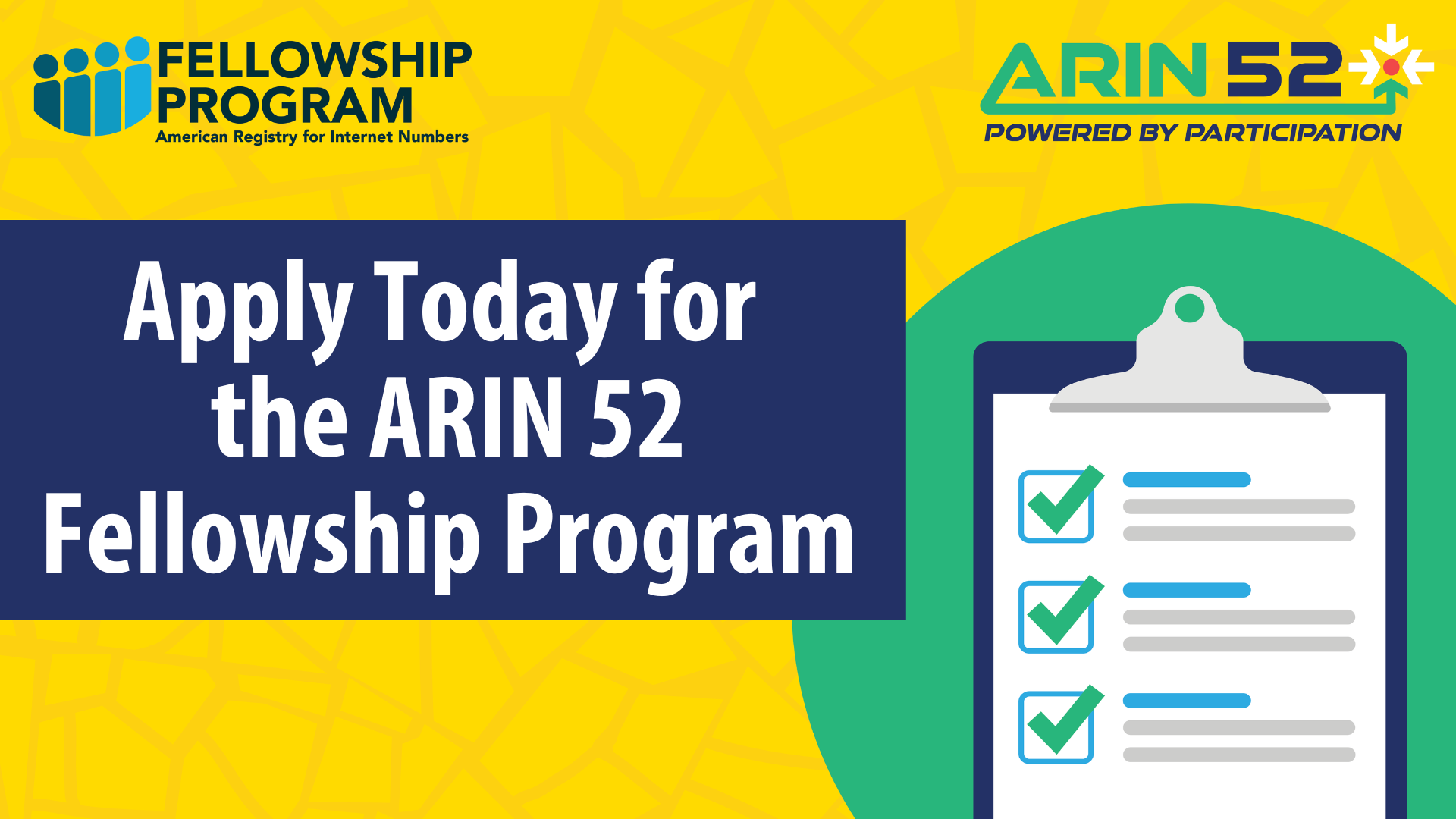 Apply Today for the ARIN 52 Fellowship Program
The call for applications to the ARIN 52 Fellowship Program is out! We can't wait to once again bring selected Fellows to our Public Policy and Members Meeting, and we're looking forward to the ARIN 52 meeting in San Diego, California, this October. Plus, this time Fellows will have the option of also attending a gathering of the North American Network Operators' Group (NANOG) in the days leading up to ARIN 52.
For more than a decade, the ARIN Fellowship Program has been an important component of our Public Policy and Members Meetings, broadening engagement and helping newcomers to the community gain a better understanding of the work we do at ARIN. For ARIN 52, Fellows will continue to follow a customized program of presentations from community experts and ARIN staff and grow in their understanding of the complexities of ARIN and Internet number resource policies. Three virtual sessions leading up to the meeting will provide expanded time for focused discussion, structured mentorship, and educational content.
Who should apply?
Are you part of the Internet community and want to:
Gain understanding of Internet number resource policy and ARIN's Policy Development Process (PDP)?
Bring your voice to Internet governance by participating in ARIN meetings and policy discussions?
Network with ARIN's Board of Trustees, Advisory Council, staff and community members from throughout the region?
Learn more about ARIN's operations and services?
Develop professionally and enhance your career in the Internet industry?
If you answered "yes" to any of these, and you're at least 18 years old and residing in the ARIN region, consider applying to the ARIN Fellowship Program. We look forward to receiving your application by 26 July 2023.
What does the program entail?
With the personal support of ARIN community member mentors, Fellows progress through an engaging and approachable agenda of presentations, discussions, and Q&As with ARIN leadership — including ARIN staff and Advisory Council members. The sessions provide an overview of Internet number resource policy and the ARIN Policy Development Process (PDP), information about ARIN services and operations, and an introduction to ARIN Internet number resources.
Fellows can ask questions, get feedback, and gain the knowledge and confidence to join in community discussions, propose new ideas, and become part of the future of Internet governance and policy in the ARIN region. Following three virtual sessions, Fellows will have the opportunity to travel to the ARIN 52 Public Policy and Members Meeting taking place 19-20 October 2023 in San Diego, California. They will also have the option to arrive early and attend NANOG 89 on 16-18 October.
What is the time commitment?
Fellows will participate in virtual sessions before ARIN 52 and attend the meeting either virtually or in person in San Diego, California. Each virtual session runs up to 90 minutes. Additionally, two pre-session recordings providing an introduction to ARIN and Internet number resource policy will be made available 21 September 2023.
Session 1 | Thursday, 28 September, 2:00 PM ET (Virtual)
Introduction to the Policy Development Process
Session 2 | Thursday, 5 October, 2:00 PM ET (Virtual)
Policies on the ARIN 52 docket
ARIN 52 Meeting Orientation | Thursday, 12 October, 2:00 PM ET (Virtual)
NANOG 89 | 16-18 October 2023
Optional in-person attendance in San Diego, California
ARIN 52 Public Policy and Members Meeting | 19-20 October 2023
Attendance required virtually or in-person in San Diego, California
Optional Post-ARIN 52 Review | Thursday, 26 October, 2:00 PM ET (Virtual)
Fellows will receive session agendas in advance with links to review in preparation, and slide decks will be available during each session for further reference. Aside from preparing for each session, no homework is assigned during the Fellowship. However, Fellows should anticipate spending a few hours outside of the sessions reading materials to best prepare for group discussions.
What can you expect from this program?
The Fellowship program has been an integral component of ARIN Public Policy and Member Meetings and the ARIN community since 2009. In the spring of 2023, the opportunity for in-person participation was reintroduced after the program was presented in an all-virtual format during the last few years.
All the improvements and expansions to the curriculum developed for the fully online program have been integrated into a new, hybrid format. The result is a Fellowship Program that provides both the greater structure, more in-depth dialogue, and additional mentorship time of virtual sessions along with the chance to travel to, participate in, and experience the community in person at an ARIN meeting.
Each Fellow will be paired with a Mentor for small group discussions and additional Q&A time. Along the way you will learn about the ARIN PDP, get to know other Fellows, ARIN staff, and ARIN leadership, and grow your confidence to participate in the ARIN 52 policy discussions and beyond.
But don't just take it from us; recent Fellows have had enthusiastic feedback about the program.
What do past Fellows have to say?
"Before the program, I had a basic understanding of ARIN and its role in managing internet resources. I anticipated learning more about the operations, but my expectations were surpassed by the depth of knowledge and insights I gained. The program's inclusive environment and the mentorship provided by experts made it a truly engaging and educational experience." — ARIN 51 Fellow
"Before I became an ARIN 51 Fellow, I was trying to understand the work of ARIN and how I can get involved. I am now confident that I can participate in the Advisory Council in the future or as an active volunteer in a different capacity." — ARIN 51 Fellow
"This program was the confidence building I needed to really start engaging with these many public organizations who all play a part in this wonderful world of the Internet. Likely, I would not have come across all these amazing opportunities on my own and I thank ARIN for this opportunity. I hope to continue my journey by joining the ARIN AC and other programs." — ARIN 51 Fellow
How can you apply?
To apply to the ARIN 52 Fellowship Program, just answer a few short questions during our call for applications period open through 26 July 2023! Selected Fellows will be notified Friday, 25 August, if they have been accepted into the program. For more information on the program please visit our Fellowships page.
Click here to access the application and submit yours by 26 July.
Have questions? Email fellowships@arin.net.
We look forward to welcoming an amazing group of Fellows to the next ARIN Public Policy and Members Meeting!
If you know someone who would make a great ARIN Fellow, please encourage them to apply. You may also download and share our informational flyer.
Recent blogs categorized under: Fellowship Program
---
GET THE LATEST!
Sign up to receive the latest news about ARIN and the most pressing issues facing the Internet community.
SIGN ME UP →
---
Blog Categories
ARIN Bits
•
IPv6
•
Business Case for IPv6
•
Fellowship Program
•
Grant Program
•
Caribbean
•
Internet Governance
•
Updates
•
IPv4
•
Elections
•
Tips
•
Public Policy
•
Customer Feedback
•
Security
•
Outreach
•
RPKI
•
Training
•
IRR
•
Data Accuracy