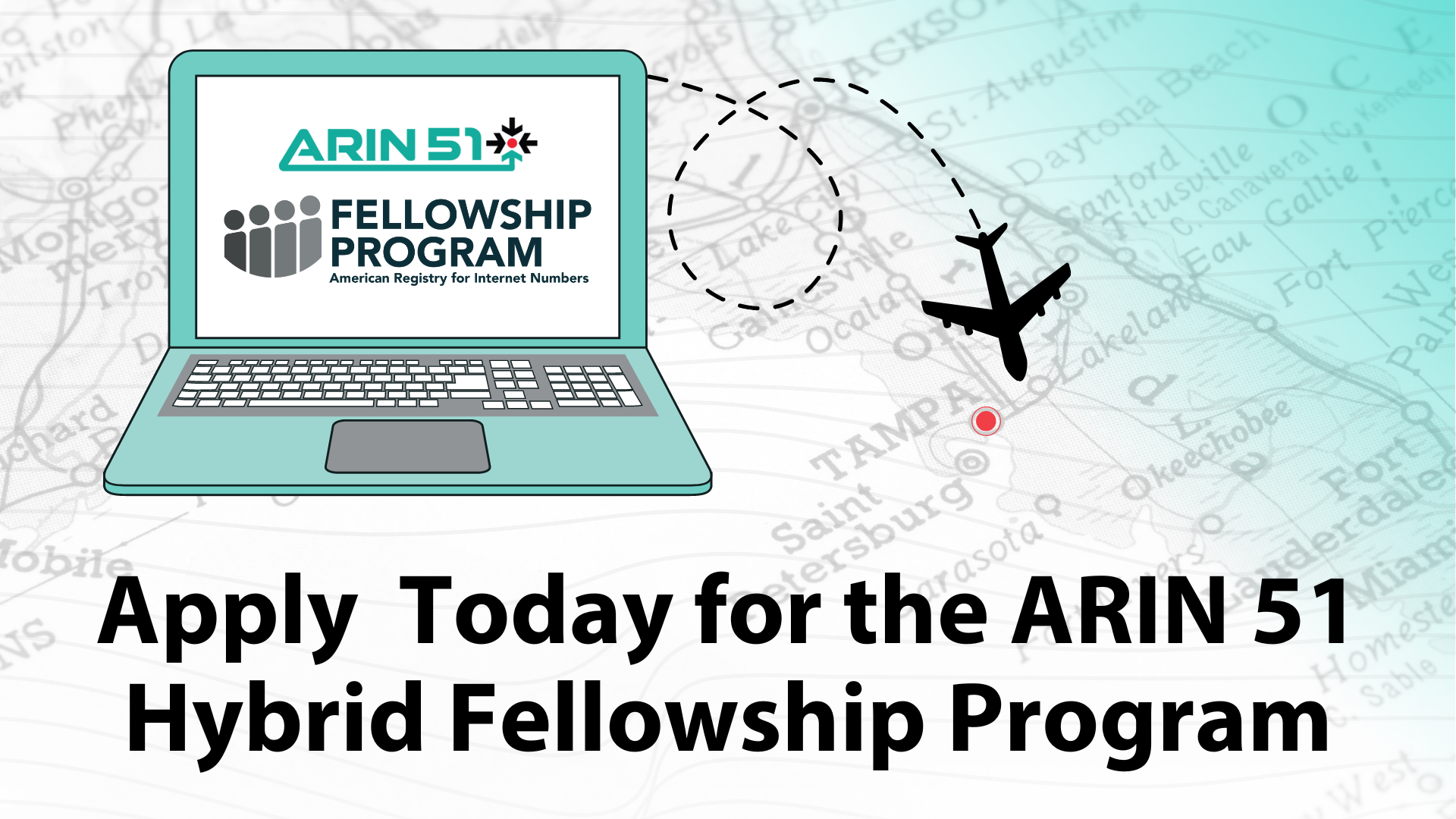 Apply Today for the ARIN 51 Fellowship Program
The call for applications to the ARIN 51 Fellowship Program is out! We are so excited to make the shift from a fully virtual program to a hybrid experience and once again bring our selected Fellows to an in-person Public Policy and Members Meeting. Prospective Fellows can apply now for the chance to join us at the ARIN 51 meeting in Tampa, Florida, in April 2023.
For more than a decade, the ARIN Fellowship Program has been an important component of our Public Policy and Members Meetings, broadening engagement and helping newcomers to the community gain a better understanding of the work we do at ARIN. For ARIN 51, Fellows will continue to follow a customized program of presentations from community experts and ARIN staff and grow in their understanding of the complexities of ARIN and Internet number resource policies. Three virtual sessions leading up to the meeting will provide expanded time for focused discussion, structured mentorship, and educational content.
Who should apply?
Are you part of the Internet community and want to:
Gain understanding of Internet number resource policy and ARIN's Policy Development Process (PDP)?
Bring your voice to Internet governance by participating in ARIN meetings and policy discussions?
Network with ARIN's Board of Trustees, Advisory Council, staff and community members from throughout the region?
Learn more about ARIN's operations and services?
Develop professionally and enhance your career in the Internet industry?
If you answered 'yes' to any of these, and you're at least 18 years old and residing in the ARIN region, consider applying to the ARIN Fellowship Program. We look forward to receiving your application for the ARIN 51 hybrid program by 25 January 2023.
What does the program entail?
With the personal support of ARIN community member mentors, Fellows progress through an engaging and approachable agenda of presentations, discussions, and Q&As with ARIN leadership — including ARIN staff and Advisory Council members. The sessions provide an overview of Internet number resource policy and the ARIN Policy Development Process (PDP), information about ARIN services and operations, and an introduction to ARIN Internet number resources.
Fellows can ask questions, get feedback, and gain the knowledge and confidence to join in community discussions, propose new ideas, and become part of the future of Internet governance and policy in the ARIN region. In addition to three virtual sessions, Fellows will have the opportunity to travel to the ARIN 51 meeting from 16-19 April 2023.
What is the time commitment?
The ARIN 51 Fellowship Program is hybrid, meaning Fellows will participate in virtual sessions before ARIN 51 and attend the meeting either virtually or in person in Tampa, Florida. Each virtual session runs up to 90 minutes. Additionally, two pre-session recordings providing an introduction to ARIN and Internet number resource policy will be made available 23 March 2023.
Session 1 | Thursday, 30 March, 2:00 PM ET Introduction to the Policy Development Process
Session 2 | Thursday, 6 April, 2:00 PM ET Policies on the ARIN 51 docket
ARIN 51 Meeting Orientation | Thursday, 13 April, 2:00 PM ET
ARIN 51 Public Policy and Members Meeting | 16-19 April 2023 Attendance required virtually or in-person in Tampa, Florida
Optional Post-ARIN 51 Review | Thursday, 27 April, 2:00 PM ET
Fellows will receive session agendas in advance with links to review in preparation, and slide decks will be available during each session for further reference. Aside from preparing for each session, no homework is assigned during the Fellowship. However, Fellows should anticipate spending a few hours outside of the sessions reading materials to best prepare for group discussions.
What can you expect from this program?
Each Fellow will be paired with a mentor for small group discussions and additional Q&A time. Along the way you will learn about the ARIN PDP, get to know other Fellows, ARIN staff, and ARIN leadership, and grow your confidence to participate in the ARIN 51 policy discussions and beyond.
"The Fellowship program has played a vital role in ARIN Public Policy and Member Meetings and our community since 2009," shares Joe Westover, ARIN's Senior Manager, Office of the CCO. "In 2023, we are thrilled to reintroduce the opportunity for in-person participation after pivoting the program to an all-virtual format the last few years. We're taking all the improvements and expansions to the curriculum we developed for the fully online program and integrating them into a new, hybrid format. The result is a Fellowship Program that provides both the greater structure, more in-depth dialogue, and additional mentorship time of virtual sessions along with the chance to travel to, participate in, and experience the community in person at an ARIN meeting."
But don't just take it from us; recent Fellows have had enthusiastic feedback about the program.
What do past Fellows have to say?
"I have nothing but respect and appreciation for all the ARIN members that participated in the Fellowship discussions and presentations. Their valuable time elevated the sessions to an awesome level and made ARIN and the community feel approachable." — ARIN 50 Fellow
"ARIN staff and mentors were extremely helpful in providing resources, answering questions, and highlighting important issues related to ARINs work. Moreover, the Fellowship was a great opportunity to network with great individuals and like-minded people in the Internet governance community." – ARIN 50 Fellow
"The program has been thoughtfully constructed. It provided a fantastic introduction to ARIN and a solid foundation on which to begin (or continue) contributing to ARIN. I have a much better understanding of the function of ARIN and its place amongst the various Internet governing bodies." — ARIN 50 Fellow
How can you apply?
To apply to the ARIN 51 Fellowship Program, just answer a few short questions during our call for applications open through 25 January 2023! Selected Fellows will be notified Friday, 24 February, if they have been accepted into the program. For more information on the program please visit our Fellowships page.
Click here to access the application and submit yours by 25 January.
Have questions? Email fellowships@arin.net.
We look forward to welcoming a terrific group of Fellows to the next ARIN Public Policy and Members Meeting!
If you know someone who would make a great ARIN Fellow, please encourage them to apply. You may also download and share our informational flyer.
Recent blogs categorized under: Fellowship Program
---
GET THE LATEST!
Sign up to receive the latest news about ARIN and the most pressing issues facing the Internet community.
SIGN ME UP →
---
Blog Categories
Grant Program
•
Public Policy
•
IPv4
•
Updates
•
Security
•
RPKI
•
IPv6
•
Data Accuracy
•
Elections
•
ARIN Bits
•
Business Case for IPv6
•
Fellowship Program
•
Caribbean
•
Internet Governance
•
Tips
•
Customer Feedback
•
Outreach
•
Training
•
IRR