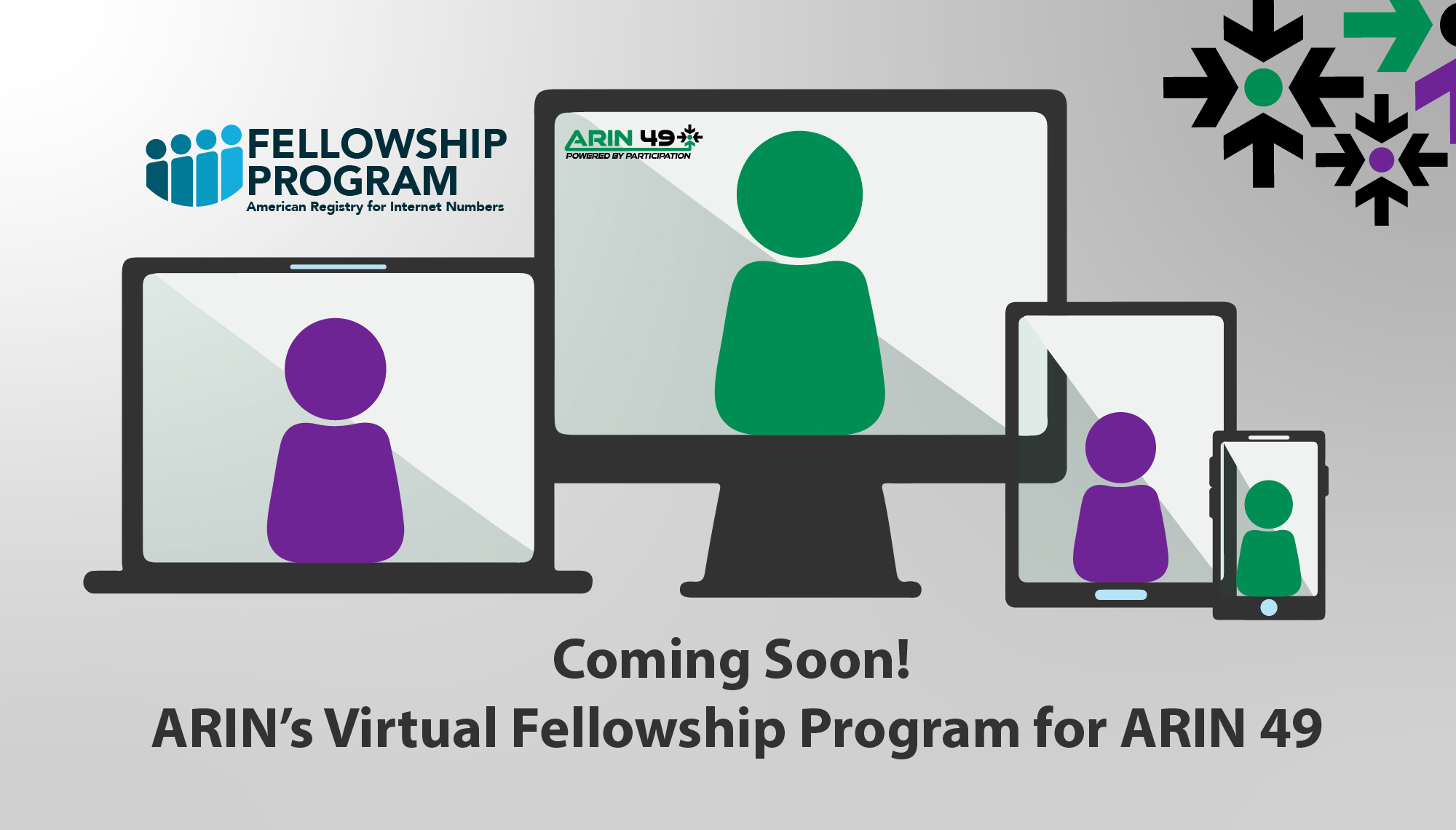 Coming Soon! ARIN's Virtual Fellowship Program for ARIN 49
It's about that time! In just two weeks, the call for applications will open for the ARIN 49 Virtual Fellowship Program, and we are so excited to host this online program for the third time, allowing you to participate from wherever you are. A few of our favorite components of the Virtual Fellowship Program include the extended time for focused discussion with our Fellows, more structured mentorship opportunities, and the expansion of educational content.
For over a decade, the ARIN Fellowship Program has been an important component of our Public Policy and Members Meetings to broaden engagement and help newcomers to the community gain a better understanding of the work we do at ARIN. The ARIN 49 Virtual Fellowship Program will accept up to 12 Fellows from the ARIN region who will learn from a customized program of presentations from community experts and grow in their understanding of the complexities of ARIN and Internet number resource policies.
Who should apply?
Are you a part of the Internet community and want to know more about the behind-the-scenes work and people of ARIN? Do you find Internet number resource policy, Internet governance, and/or routing security interesting to you personally or in your career? Would you like to make connections in the industry and understand the current state of IPv4 or IPv6 deployment?
If you said yes to any of these, and are 18 years old and older residing in the ARIN region, consider applying to the ARIN Fellowship Program. We look forward to receiving your application during the timeframe of 1-25 February 2022.
When are the virtual sessions?
The Virtual Fellowship Program consists of four 90-minute sessions via Zoom (5 April, 12 April, 19 April, 3 May), leading up to and following the ARIN 49 Public Policy and Members Meeting (24-27 April). All sessions will take place at 2:00 PM ET.
What can you expect from this program?
Each Fellow will be paired with a Mentor for small group discussions and additional Q&A time. Along the way you will learn about the ARIN Policy Development Process, get to know other Fellows, ARIN staff and leadership, and grow your confidence to participate in the ARIN 49 policy discussions and beyond.
Hollis Kara, ARIN's Director of Communications, shares, "The Fellowship program has been a staple of ARIN Public Policy and Member Meetings since 2009. When circumstance forced the shift to making this program completely online, we were challenged to grow and evolve the curriculum into something that offered value to participants in the absence of in-person opportunities. The result is a Virtual Fellowship Program that lends greater structure and more in-depth dialogue to the fellowship experience, and we are excited that these four sessions are packed with great information and mentorship time for our Fellows."
ARIN 48 Fellow, Miles Smith, says "My experience with the ARIN Virtual Fellowship Program exceeded every expectation I had. Being exposed to the workflows and practices that make ARIN policies inclusive and effective really opened my eyes to the complex underpinnings that move the wheels of an organization with a unique mission like ARIN. I am grateful for my time as an ARIN Virtual Fellow as well as the time, energy, and passion that the ARIN employees, volunteers, and staff all put into the program."
How can you apply?
If you'd like to participate in the program, we ask that you answer a few short questions during our call for applications that will be open from 1-25 February. Selected Fellows will be notified Friday, 11 March. For more information on the program please visit our Fellowships Page.
You can apply here now through 25 February 2022.
Have questions? Email Fellowships@arin.net.
We look forward to welcoming a great group of Fellows to the next ARIN Public Policy and Members Meeting!
If you know someone who would make a great ARIN Fellow, please encourage them to apply. You may download and share our informational flyer and watch this video for more details.
Recent blogs categorized under: Fellowship Program
---
GET THE LATEST!
Sign up to receive the latest news about ARIN and the most pressing issues facing the Internet community.
SIGN ME UP →
---
Blog Categories
ARIN Bits
•
IPv6
•
Business Case for IPv6
•
Fellowship Program
•
Grant Program
•
Caribbean
•
Internet Governance
•
Updates
•
IPv4
•
Elections
•
Tips
•
Public Policy
•
Customer Feedback
•
Security
•
Outreach
•
RPKI
•
Training
•
IRR
•
Data Accuracy