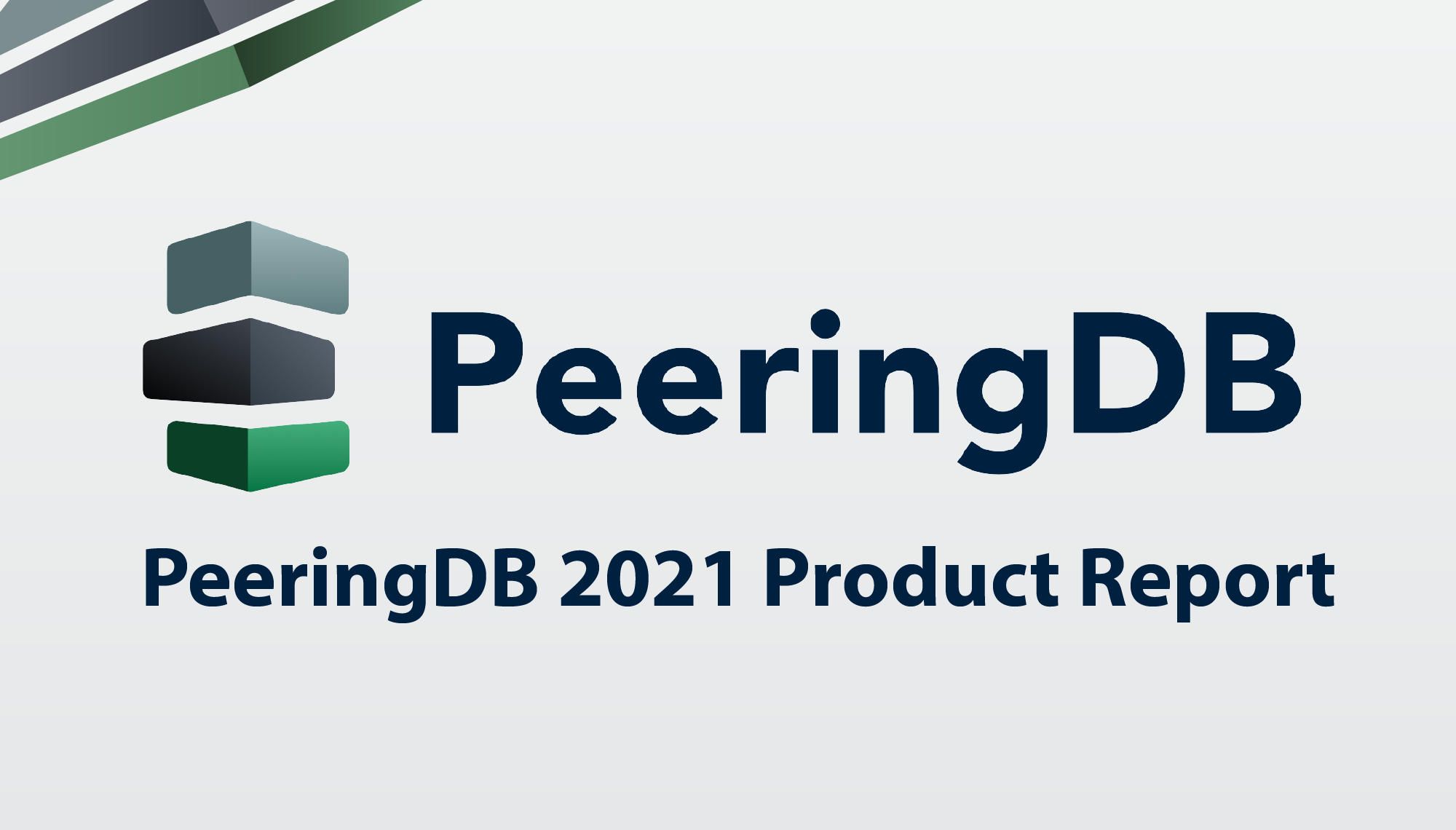 PeeringDB 2021 Product Report
Over the last few years, we have shared PeeringDB's User Satisfaction Survey, as well as their 2021 product roadmap based on the feedback they received. Leo Vegoda is back to share what PeeringDB was able to deliver to its users in 2021.
---
How should we sum up what PeeringDB delivered for its users in 2021? We could start with some numbers that help describe the scale of the work we've done. There have been 10 releases resolving 73 issues. These delivered:
12 improvements to the way we handle IX-F Member Export automation
11 improvements to the web interface
8 improvements to search
4 new HOWTO documents
And support for organizational API Keys.
There were also improvements to the tools we use to support developers and users.
But we need to look beyond the numbers to explain what these improvements delivered to our users: improved data quality. This is the most important service category, as selected by respondents to our 2020 and 2021 surveys.
Data Quality—Search and Export
We now store much more accurate data about facilities in our database. Each facility is mapped to coordinates for its latitude and longitude. You can use the advanced search feature to find every facility within whatever radius you want of a given location and export the results as a CSV or JSON for import into other systems. Obviously, the same functionality is supported for both the API and web interfaces.
We have also added the ability to search for other information about facilities, including whether the operator is the owner or a lessee, the diversity of power inputs to the facility, and the power that can be supplied to customers, both in quantity and current type.
We've empowered facilities to share more structured data about what they offer and made it easier for users to search and export relevant results.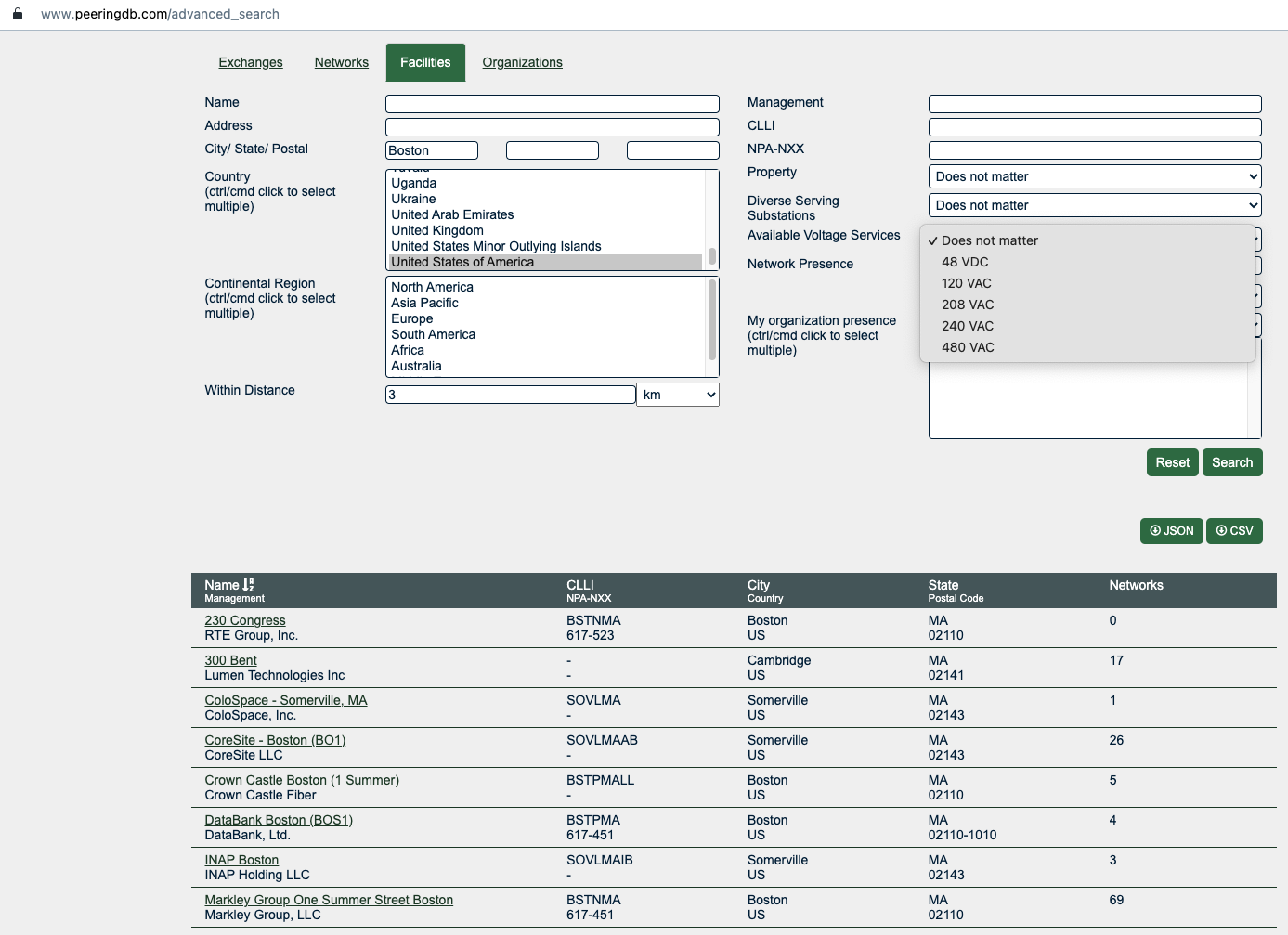 And the new development environment, launched at the start of 2021, was tested in the NANOG 83 Hackathon. Three volunteer developers, Brad Schwyzer, James Lamanna, and Jeff Kala significantly improved the accuracy of searches for short numeric strings, like small AS Numbers in the main search interface. Their improvements have been integrated into our January 2022 release.
Data Quality—Automating Updates
Updating PeeringDB doesn't need to be a manual process you schedule in your diary! The IX-F Member Export Schema is an API that allows IXPs to automatically share structured information about their exchanges. Because automated processes communicate information about new and departing peers as and when those changes happen, other peers can automatically pull reliable configuration data from PeeringDB.
We've been actively improving our support for this API over the last year. IXPs can manually trigger the importer, we've improved the logging of changes, and improved the way we validate and process the input.
Data Quality—Continuity of Operations
Users told us that their API operations were interrupted when users changed roles because API keys were tied to individuals. This impacted both the organizations sharing their data in an automated fashion and the users searching for updated results. So we added support for organizational API Keys to improve the continuity of interaction with PeeringDB and documented how to set them up for your organization.
Data Quality—Documentation
We published a series of short articles to help users get set up in PeeringDB. This helps new entrants to the interconnection community get a good start and make their offers well known to other operators.
This is the start of a more significant improvement to our documentation.
What's Coming Next?
We have some exciting developments to announce early in 2022. We will be continuing efforts to improve data quality and make search easier. But the improvements we make are only as good as the requests we get from you. We want to make sure that we understand what you need and why. If you have an idea for an improvement you can create an issue in GitHub, or you can reach out to anyone on the Product Committee. We'd love to hear from you and understand how PeeringDB can meet your needs.
Any views, positions, statements, or opinions of a guest blog post are those of the author alone and do not represent those of ARIN. ARIN does not guarantee the accuracy, completeness, or validity of any claims or statements, nor shall ARIN be liable for any representations, omissions, or errors contained in a guest blog post.
Recent blogs categorized under: Outreach
---
GET THE LATEST!
Sign up to receive the latest news about ARIN and the most pressing issues facing the Internet community.
SIGN ME UP →
---
Blog Categories
Grant Program
•
Public Policy
•
IPv4
•
Updates
•
Security
•
RPKI
•
IPv6
•
Data Accuracy
•
Elections
•
ARIN Bits
•
Business Case for IPv6
•
Fellowship Program
•
Caribbean
•
Internet Governance
•
Tips
•
Customer Feedback
•
Outreach
•
Training
•
IRR