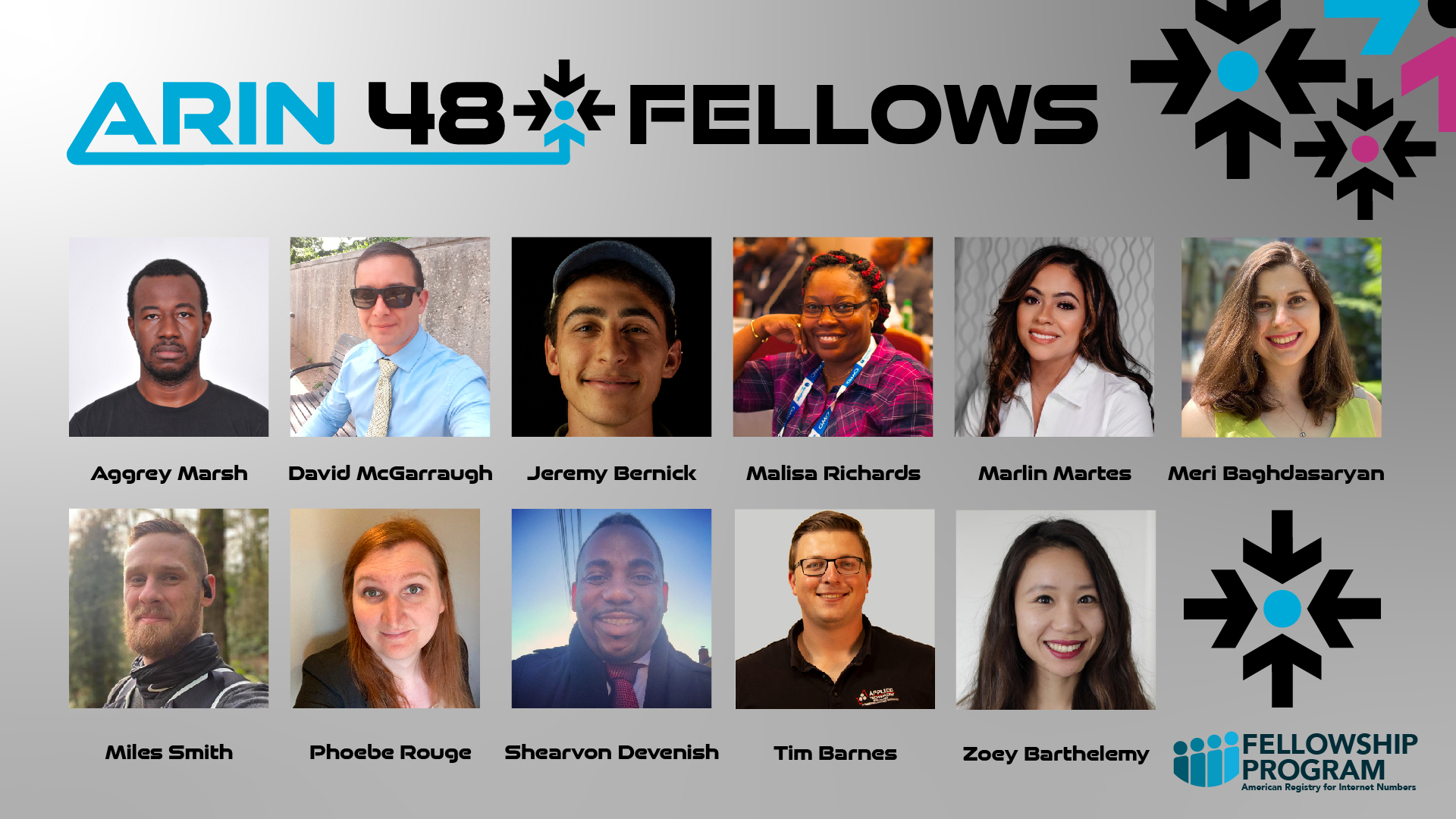 Introducing the ARIN 48 (Virtual) Fellows!
We're busy gearing up for our Public Policy and Members Meeting, ARIN 48, which takes place 19-20 October (virtual), 28 October (virtual), and 4 November (hybrid).
You may have seen from our last Public Policy Meeting that we've re-structured the Fellowship Program to a completely virtual format. With four sessions held via Zoom, it is a great way to expand our educational outreach by immersing the Fellows into the work of ARIN as well as adding new voices to public policy discussions. Over the last decade, we have welcomed 152 fresh voices, and with this latest group of Fellows, we've increased that number to 164!
ARIN 48 Fellows by the Numbers
USA
Meri Baghdasaryan, Legal Fellow – Electronic Frontier Foundation
Jeremy Bernick, Co-Founder & Director, Tucson Privacy Coalition; Executive Director, Hack Arizona
Phoebe Rouge, Technologist
Marlin Martes, IPv4 Acquisition Specialist - AWS
Miles Smith, DevSecOps Lead - One Finance
David McGarraugh – Customer Support Representative - Verizon Wireless
Tim Barnes, IT Supervisor - Applied Technology Group
Canada
Zoey Barthelemy, Sr. Associate, Global Tech Programs - Internews
Caribbean
Shearvon Devenish, Information Systems Manager - Sugar Beach; Managing Director -Style and Surf
Malisa Richards, Lecturer - Dominica State College
Aggrey Marsh, ICT Industry Engagement Officer - NexusU/IDB
Meet the Mentors
Our Fellows are paired with an experienced mentor who helps guide them through ARIN's meeting and policy discussions. They also participate in smaller breakout sessions to discuss policy development and other topics in more detail.
Chris Tacit, Founder – Tacit Law
Kerrie Richards, Founder - Business Growth Rocket; Founding Director - VFJ Coding Ltd.
Alicia Trotman, Communication Specialist - Mission Critical Partners
Let's Get to Know Our Fellows!
We asked each of our Fellows to share one word that describes how they felt upon learning they were selected for the program. The responses we received included: Proud, Thrilled, Elated, Ecstatic (x2), Excited (x4), Pleased, and Glad. We think this list encapsulates our feelings about our upcoming group of Fellows too!
When we asked our Fellows what they hope to learn during the Fellowship Program, Jeremy said, "I hope to understand the history of ARIN in more depth and to be a better policy development expert during ARIN 48." Marlin "hope[s] to learn how Internet policy is created and how the community is adapting to the necessary changes faced by the community, especially as we explore IPv6 adoption and face IPv4 exhaustion." Zoey is "most curious about ARIN's Whois service and how [it will] conform and evolve with shifting data privacy legislations such as GDPR."
We wanted to know the reasons our Fellows applied for the ARIN 48 Fellowship Program, and we enjoyed learning their "why." Shearvon said, "I have a keen interest in the overall use and deployment of technology within the wider Caribbean, not just Saint Lucia." Miles explained he has "a desire to understand the logistics and policy that drives global number assignment." Others shared they are looking to dive deeper into getting involved in Internet Governance, and we look forward to seeing where this program leads them.
The Fellows also shared with us how they believe this experience will support them in their current or future careers. "I am looking forward to learning more about ARIN [and] its core functions and policies," said Meri. "This will enrich my knowledge and skills as a lawyer working at the intersection of law and technology." Malisa noted "Internet governance is one of my passion areas as well as research interest areas, hence this experience will support me both in networking with stakeholders in the region and gaining a better understanding of ARIN's mandate in the region." And David is very eager to learn from this experience in order to participate more in the Internet number resource development policy process overall.
Here are a Few of Their Favorite Things: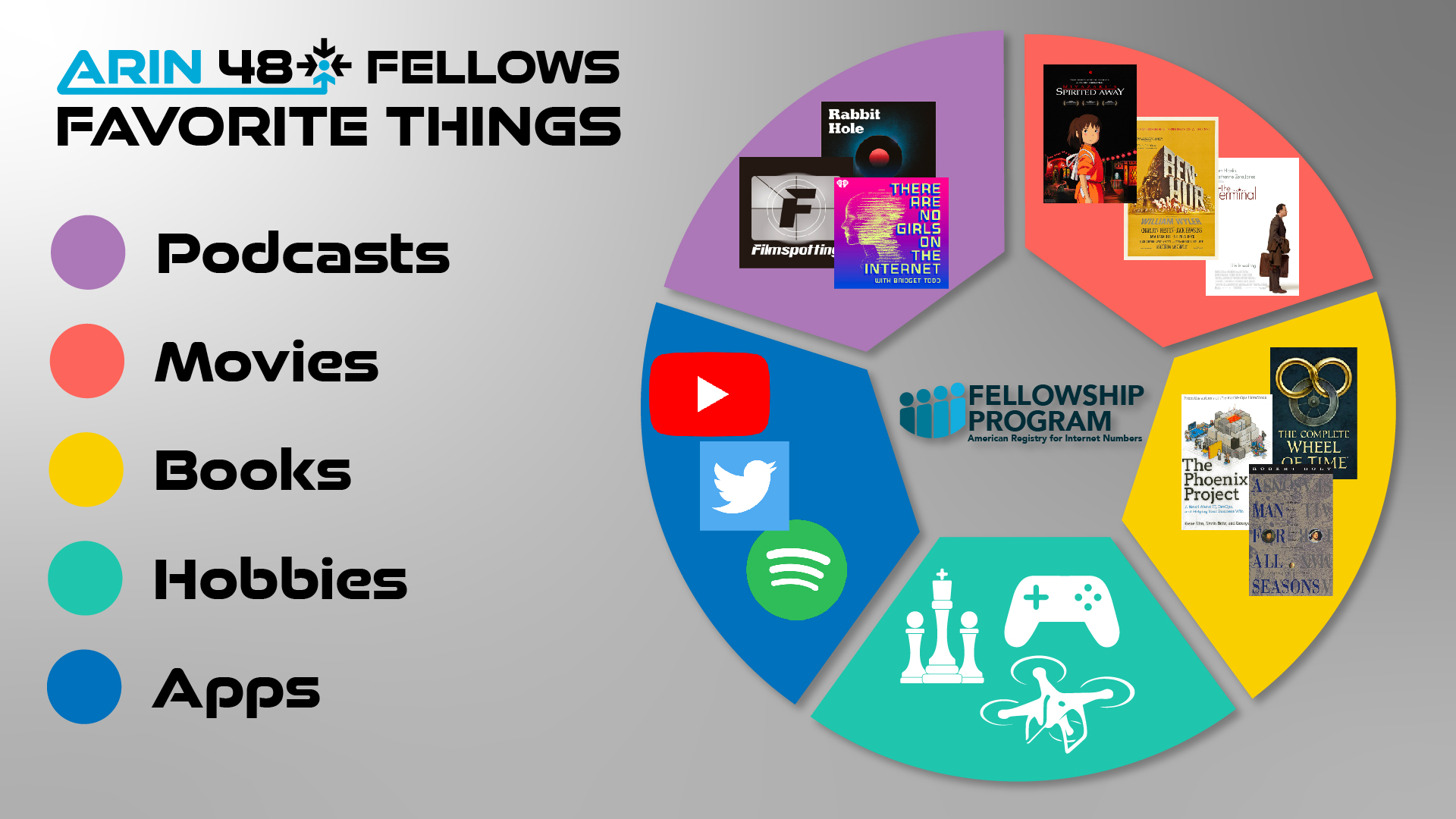 Now for a Look Inside the Program…
Our Virtual Fellowship Program consists of four sessions that run from 30 September to 21 October.
For the first two sessions, we will be joined by ARIN Advisory Council (AC) Chair Leif Sawyer and AC Vice Chair Kat Hunter, who will discuss the Policy Development Process at ARIN and share what to expect during ARIN 48. The mentors will talk about their career journey, what brought them to volunteer with ARIN and how their work with the AC plays a role in their careers.
During the third session, Fellows will attend the ARIN 48 Newcomer Orientation to learn more about the history of ARIN and how to be an active participant during ARIN 48. After the meeting, the Fellows will discuss their overall experience and takeaways. They will also participate in an Internet Governance Q&A session with Einar Bohlin, ARIN's Vice President of Government Affairs, and learn more about continuing education opportunities in the internet community.
ARIN is looking forward to a fun and meaningful experience with this group of Fellows. Stay tuned for more information regarding the ARIN 49 Fellowship Program.
Recent blogs categorized under: Fellowship Program
---
GET THE LATEST!
Sign up to receive the latest news about ARIN and the most pressing issues facing the Internet community.
SIGN ME UP →
---
Blog Categories
ARIN Bits
•
IPv6
•
Business Case for IPv6
•
Fellowship Program
•
Grant Program
•
Caribbean
•
Internet Governance
•
Updates
•
IPv4
•
Elections
•
Tips
•
Public Policy
•
Customer Feedback
•
Security
•
Outreach
•
RPKI
•
Training
•
IRR
•
Data Accuracy