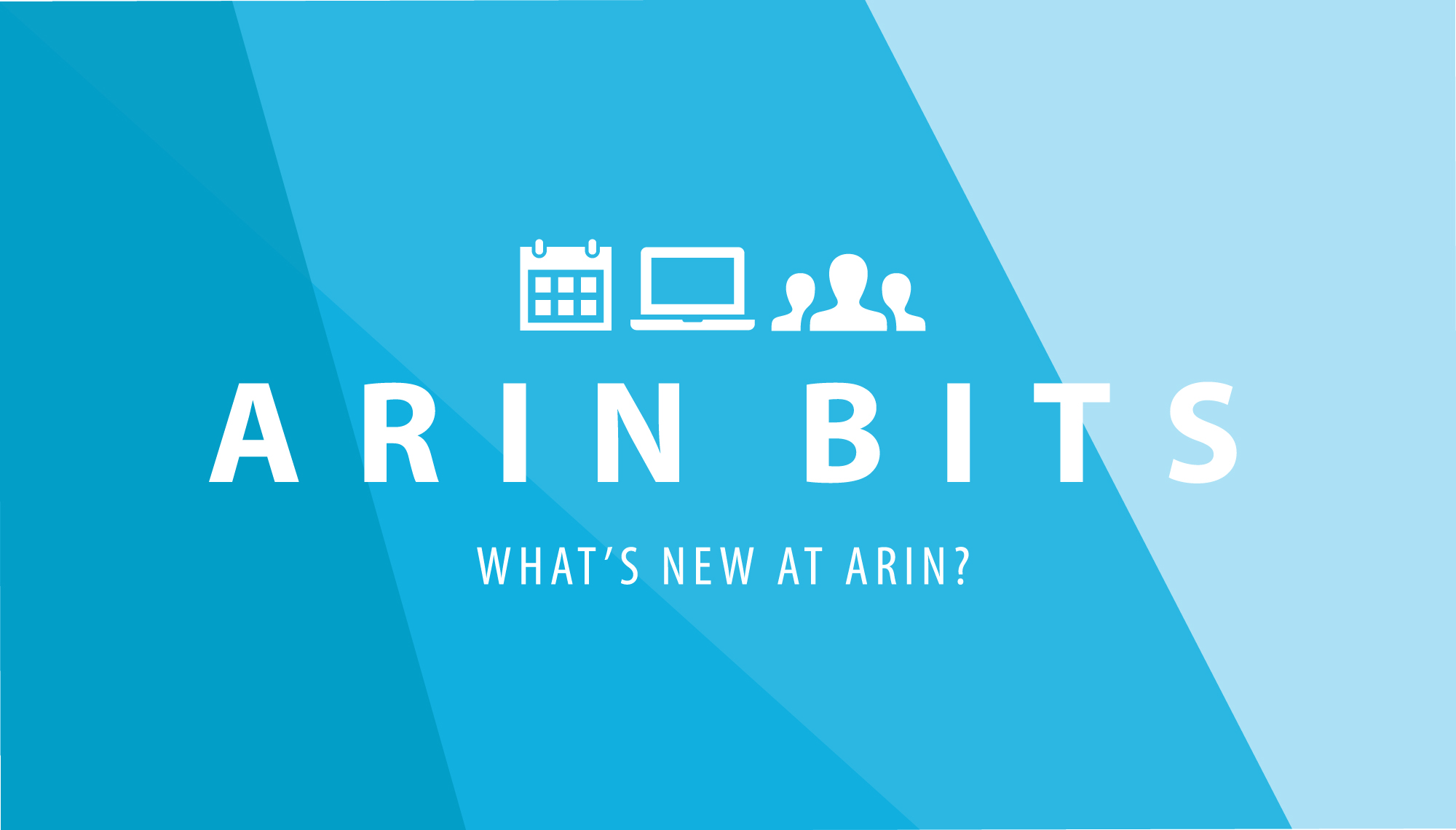 ARIN Bits: September 2021
As the season turns from summer to autumn in our region, it's time for the latest edition of ARIN Bits! In this edition we share important updates from this past quarter including how to get involved in our upcoming Public Policy and Members Meeting, an exciting update about our blog, tips from our service departments, and much more. Now, wake me up read ARIN Bits before September ends.
Join Us for ARIN 48
Registration is now open for ARIN 48! The ARIN 48 Public Policy and Members Meeting will be spread out over several dates: 19-20 October, 28 October, and 4 November, including both virtual and in-person components. We will provide the same remote participation options for ARIN 48 that we usually do for our in-person Public Policy and Members Meetings, utilizing features inside the Zoom webinar platform.
Public Policy Meeting
The Public Policy Meeting is a virtual event from 19-20 October from 12:00 PM - 3:00 PM ET each day. At this meeting, attendees will gather virtually to discuss draft Internet number resource policies.
ARIN Election Forum
The ARIN Election Forum will be held virtually on 28 October, from 12:00 PM - 2:30 PM ET, and is dedicated to the candidates running in the 2021 Election for the Board of Trustees, Advisory Council (AC), and the Number Resource Organization Number Council (NRO NC). It will include candidate speeches and the Board and AC Candidate Forums.
Members Meeting
Lastly, the Members Meeting will be a hybrid event, hosted in-person in Minneapolis, MN as well as virtually, on 4 November from 10:00 AM - 2:30 PM CT. This event will include a keynote speaker, panel discussion, and organizational updates from ARIN leadership. For hotel details, travel information, and more, visit the ARIN 48. Space is limited, so be sure to reserve your room early at the Hyatt Regency Minneapolis for the attendee discount.
Newcomer Orientation
In addition to the dates above, save the date for the ARIN 48 Newcomer Orientation and Policy Preview on 14 October from 2:00 PM – 3:00 PM ET. You will have the option of signing up for this virtual session during your registration for ARIN 48. We welcome all first-time ARIN meeting attendees to come learn about ARIN and find out how to make the most of your meeting experience.
Check Out the Initial Slate of Candidates for the 2021 ARIN Elections
Elections for two seats on the ARIN Board of Trustees, seven seats on the ARIN Advisory Council (AC), and one seat on the Number Resource Organization Number Council (NRO NC) will be held online from 4 November through 12 November 2021. The 2021 Nomination Committee has put forth the following candidates who have agreed to run for the terms that will begin on 1 January 2022:
Board of Trustees:
Bram Abramson, 32M
Jeffrey Bedser
Peter Harrison, Colovore LLC
Advisory Council:
Jeffry Handal, Cisco
Kat Hunter, Comcast LLC
Brian Jones, Virginia Tech
Karl Morin, Hive Data Center, QIX
Amy Potter, Amazon Web Services (AWS)
Kerrie Richards, Business Growth Rocket, Young Entrepreneurs Association of Jamaica, ISOC Jamaica Chapter
Sami Sabat, Right Tech Internet Inc.
Rob Seastrom, Capital One, ClueTrust
Alicia Trotman, CaribNOG
Chris Woodfield, Twitter, Inc., NANOG
NRO NC:
At this time, you can view a compilation of candidate biographies and questionnaire responses  and submit Statements of Support for the candidates. ARIN will announce a final Slate of Candidates for the ARIN Board of Trustees and Advisory Council no later than 19 October.
Moving Day for TeamARIN
We have been working on something really exciting over these past few months that we are eager to share with you. After 11 years of our blog living on teamarin.net, we are making the move to roll it into our primary site, arin.net. We believe that moving the blog to its new home within our main site will allow you to access and enjoy the blogs we regularly publish from both ARIN staff and guest authors more easily.
The blog is set to migrate soon, so keep an eye out for an announcement about the move and details regarding where you will be able to find all the features of the blog in the new location (and how you will even be able to subscribe to blog updates). We'll see YOU on arin.net/blog  – coming soon!
RPKI Webinar is Now On-Demand
We recently hosted another well-received webinar about how to enhance your routing security using ARIN's hosted RPKI. Brad Gorman, Senior Product Owner, Routing Security hosted two sessions on 26 August and 2 September. If you missed out, we are excited to be offering this webinar on-demand for you to watch and learn at your convenience. Register for the free on-demand webinar, and while you're at it, be sure to check out the full list of on-demand instructional webinars available now in our training library. 
2021 Community Grant Program Recipients Announced
For the third year in a row, the ARIN Community Grant Program has provided funding for projects that improve the Internet and make positive contributions to the Internet community in the ARIN region. We recently announced the three projects that have been selected to receive a grant. You can learn more about the work they plan to do in this post on the blog.
If you are interested in applying for a grant next year, we will issue a call for applications in the spring of 2022. Information on how to apply will be posted to our ARIN Community Grant Program page, and we will send out an email via the arin-announce mailing list once the application period opens.
Current Policy Proposals
| Number | Title | Status |
| --- | --- | --- |
| ARIN-2020-6 | Allowance for IPv4 Allocation "Swap" Transactions via 8.3 Specified Transfers and 8.4 Inter-RIR Transfers | Draft Policy |
| ARIN-edit-2020-9 | Section 8 Editorial Clean-up | Editorial Change |
| ARIN-edit-2021-1 | ASN Clarifications to Sections 2 and 8 | Pending Board of Trustees Review |
| ARIN-2021-2 | Special Use IPv4 Space Out of Scope for Purposes of Determining Waitlist Eligibility | Draft Policy |
| ARIN-2021-3 | Private AS Number and Unique Routing Policy Clarifications | Draft Policy |
| ARIN-2021-4 | Clarifications to Sections 8.3, 8.4, and 8.5.6 | Draft Policy |
| ARIN-prop-300 | Update ISP and End User References for 2022 Fee Schedule | Proposal |
| ARIN-prop-302 | Remove Circuit Requirement | Proposal |
You can find the status of current policy discussions on our website and subscribe to ARIN-PPML (Public Policy Mailing List) to voice your opinions. Remember, membership is not required to participate!
Featured Policy
Pre-approval for Transfers between Specified Recipients within the ARIN Region (NRPM 8.3) and Inter-RIR Transfers to Specified Recipients (NRPM 8.4)
Does your organization anticipate submitting multiple transfer recipient requests over the next two years? You may want to consider requesting a Transfer Pre-approval for your two-year projected needs to ensure your organization qualifies for the requested amount. Once pre-approved, you can then submit as many 8.3 and/or 8.4 transfers as needed until your 24-month pre-approved amount is depleted.
A Transfer Pre-approval is recommended if you plan to submit multiple Transfers simultaneously. This way, we can confirm your organization qualifies for the total requested amount, and then we can approve each transfer separately, deducting each transfer from the pre-approved amount.
If you would like to submit a transfer pre-approval request, please find additional information and instructions on our Transfer Pre-Approval page.
A Tip from our Registration Services Department
Did our system send you a confirmation email while you're trying to create your user account, create a Point of Contact (POC), or link to a POC, but you haven't received it? Check your spam folder for an email from hostmaster@arin.net, and you may want to ask your email administrator to check your corporate spam filters as well. If the authorization link within the email has expired, you may need to give us a ring at the Registration Services Help Desk to have an analyst send you a new confirmation email (+1.703.227.0660 M-F 7am-7pm Eastern).
Customer and Member Statistics (As of 31 August 2021)
39,238 total customer organizations, including 7,340 member organizations
618 8.3 Transfers and 179 8.4 Transfers completed YTD 2021
8.4 Transfers completed YTD 2021: 28 to APNIC, 81 to RIPE NCC, 7 to LACNIC and 21 from APNIC, 37 from RIPE NCC, 5 From LACNIC
60.3% of members have an IPv6 block
An Update from our Financial Services Department
We have a new address for those paying by check which will be effective as of 12 October 2021.
New Address for ARIN Wells Fargo Lockbox for Checks
American Registry for Internet Numbers, Ltd
P.O. Box 719477
Philadelphia, PA 19171-9477
New Address for ARIN Wells Fargo Lockbox for Overnight Deliveries via Courier
Must be addressed as shown below:
American Registry for Internet Numbers, Ltd
Lockbox Services - #0759477
MAC Y1372-045
401 Market Street
Philadelphia, PA 19106
Other payment options: Credit Card and Electronic: ACH or Wire
For more information visit our Make a Payment page.
In Case You Missed It…
Spotlight on a few of the blogs published this quarter.
See you in December for the next edition of ARIN Bits!
Recent blogs categorized under: ARIN Bits
---
GET THE LATEST!
Sign up to receive the latest news about ARIN and the most pressing issues facing the Internet community.
SIGN ME UP →
---
Blog Categories
Grant Program
•
Public Policy
•
IPv4
•
Updates
•
Security
•
RPKI
•
IPv6
•
Data Accuracy
•
Elections
•
ARIN Bits
•
Business Case for IPv6
•
Fellowship Program
•
Caribbean
•
Internet Governance
•
Tips
•
Customer Feedback
•
Outreach
•
Training
•
IRR