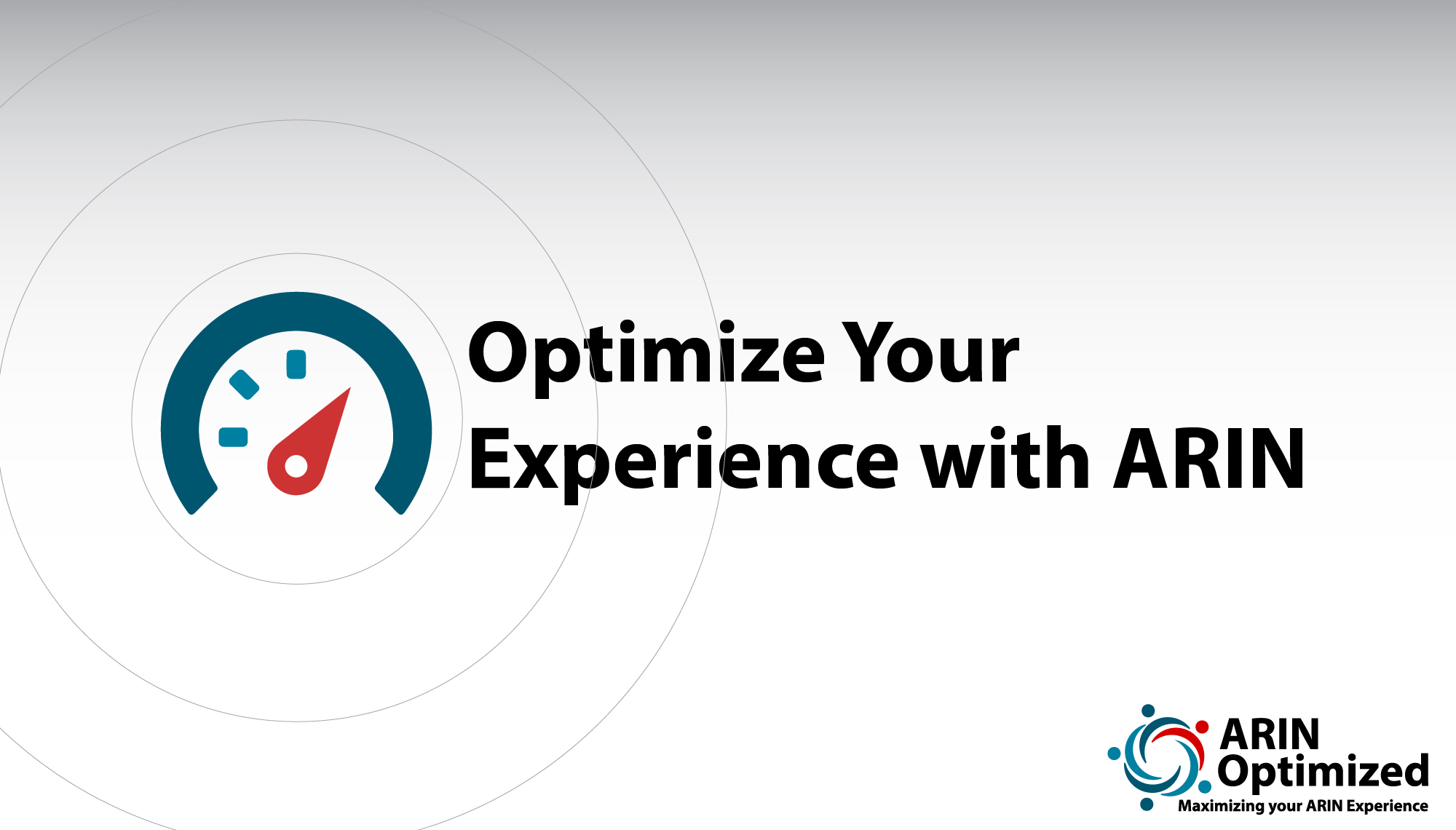 Optimize Your Experience with ARIN
Last year we launched an initiative to engage and educate new customers in an onboarding experience called ARIN Optimized. As we approach its one-year anniversary, we wanted to share some details about this program with you.
Welcome New Customers
We're rolling out the welcome mat, and individuals who have been designated as a Point of Contact (POC) of a new organization that has received resources from ARIN in the last three months are invited to find out how they can take full advantage of everything ARIN has to offer. The next ARIN Optimized event will take place on Tuesday, 14 September, and we are excited to meet our newest customers.
An Inside Look
Offered quarterly and by invitation-only, our new customer onboarding experience introduces attendees to the many resources and services ARIN provides. Customers are personally invited to this 90-minute webinar where they hear directly from three of our experts – John Sweeting (Chief Customer Officer), Hollis Kara (Director of Communications) and Jon Worley (Senior Technology Architect), who have more than 50 years of combined experience working at ARIN.
The presentation covers five unique segments including: ARIN's governance, structure, and mission, IPv4 depletion and the transition to IPv6, tools in the ARIN Online toolbox, how to engage with the ARIN community, and why being a part of the Internet policy discussion is so important.
Throughout the program, customers are encouraged to engage in interactive polling and Q&A opportunities. Additionally, all attendees will see a few spotlight stories from the ARIN community and receive a handout full of information and links for future reference. There's even the chance to win some ARIN swag at the end of the session.
New Member Feedback
Here's a look at what some of our new members said about their experience attending an ARIN Optimized event:
"I really enjoyed the webinar and learned a lot. Best webinar I have been to this year."
"Great job showcasing ARIN. At first I felt ARIN was a big conglomeration, but now it feels more friendly."
"I like the pace. Some webinars feel rushed. Everyone did a great job."
"ARIN has an education platform (On-demand videos and other documentation) to help me do my job better."
"Amazing information. Very helpful group of people."
"Learning more about the IPv4 waiting list was great, along with the info on RPKI and IRRs."
We enjoy meeting with new customers and hearing more about your top priorities. We listen to all the feedback attendees give us and use it to improve and give you more of what you love. We have even taken some responses from ARIN Optimized post-event surveys to launch additional training and program ideas – so, thank you.
Up Next
We plan to continue this virtual educational opportunity into 2022, and we frequently revisit the content, so you get the most relevant and up to date information. The next session we're offering to new customers takes place on 14 September 2021, so keep an eye out for a special invitation if you've recently become an ARIN customer. If you have any questions, or you feel like this is information you need to hear, email training@arin.net to be included in the invite.
Recent blogs categorized under: Outreach
---
GET THE LATEST!
Sign up to receive the latest news about ARIN and the most pressing issues facing the Internet community.
SIGN ME UP →
---
Blog Categories
Grant Program
•
Public Policy
•
IPv4
•
Updates
•
Security
•
RPKI
•
IPv6
•
Data Accuracy
•
Elections
•
ARIN Bits
•
Business Case for IPv6
•
Fellowship Program
•
Caribbean
•
Internet Governance
•
Tips
•
Customer Feedback
•
Outreach
•
Training
•
IRR