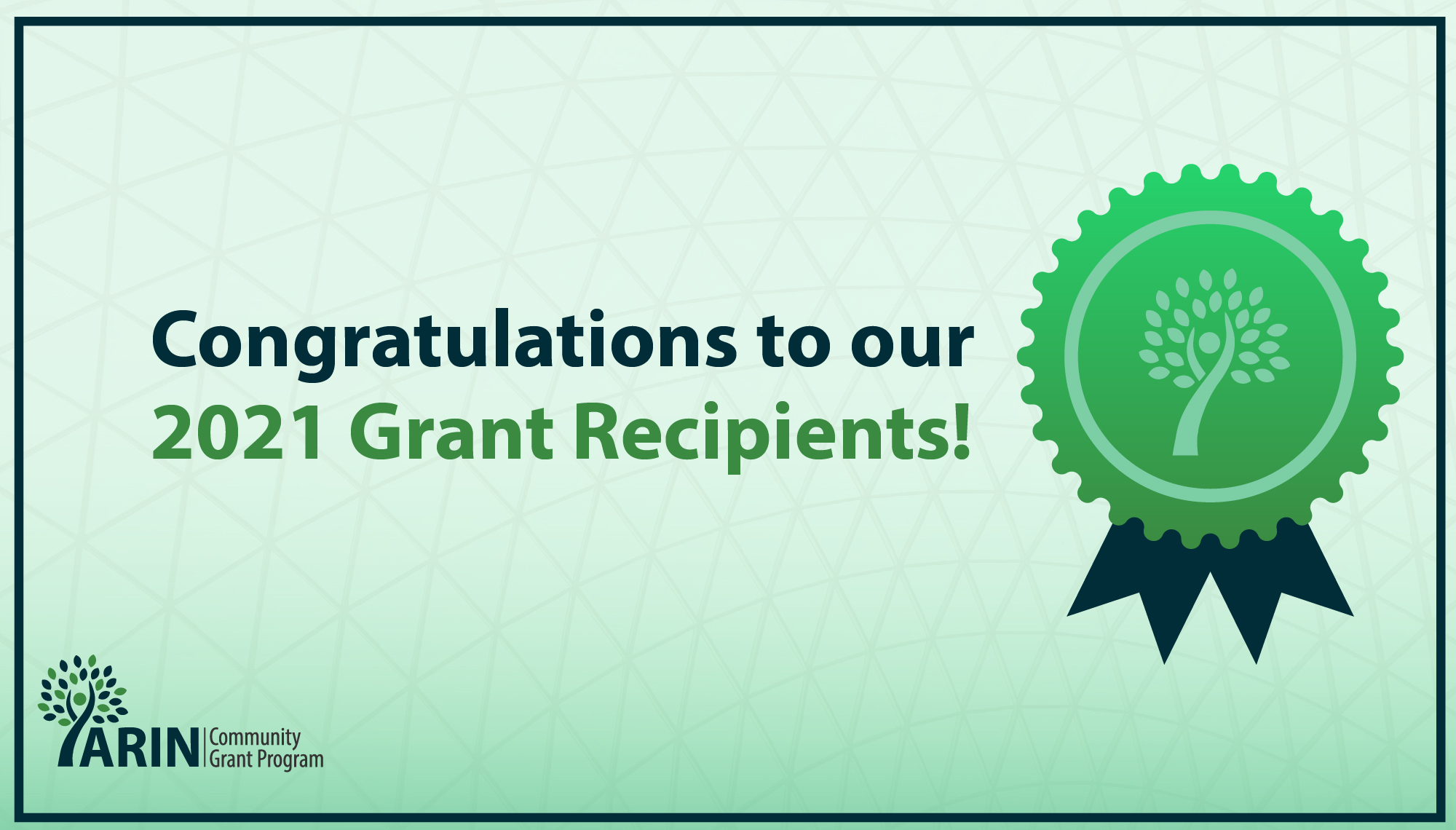 Hats Off to 2021 ARIN Community Grant Recipients
Congratulations to ARIN Community Grant Recipients
For the third year in a row, the ARIN Community Grant Program has provided funding for projects that improve the Internet and make positive contributions to the Internet community in the ARIN region. We are pleased to share with you what our 2021 grants recipients are working on this year: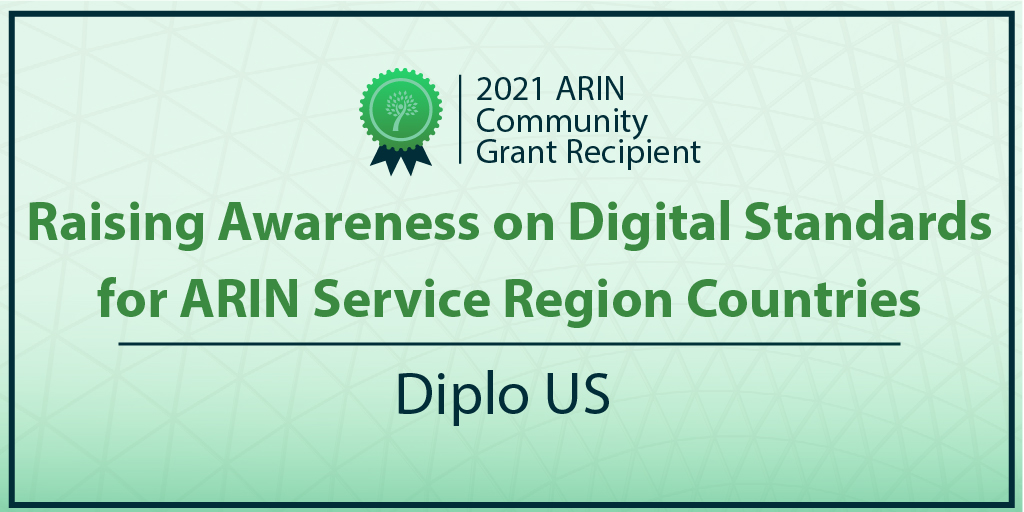 Raising Awareness on Digital Standards for ARIN Region Countries
Diplo US | Washington, DC, USA | Grant amount: $15,000
At first sight, standards are not the most engaging topic. But they matter. The modern world is built around standards, a set of agreed rules that help ensure that divides are not created by the parallel growth of incompatible technologies. Standards are commonly accepted benchmarks that provide technical specifications or define processes, and they exist in every field, including the digital spheres. They range from rather simple standards specifying how credit cards are sized to fit every ATM, to much more complex ones ensuring that various parts and services on the Internet operate smoothly. Digital standards include technical (related to how the infrastructure of the Internet works), web (related to how content is used), and mobile standards (related to how mobiles communicate.) Yet, the significance of digital standardization is not properly reflected in the awareness and skills of decision-makers who need to deal with the economic, social, legal, and political aspects of standardization-by-design for global benefit, as part of the ultimate bottom line. This project aims to raise awareness about digital standards among the ARIN service region countries.
For a long time, digital standards have been discussed mainly by technical staff as a technical issue. This is changing. Countries are realizing the growing relevance of digital standards. In the short term, we can expect standardization activities in the fields of artificial intelligence (AI), cybersecurity, 5G, Internet of Things, data, and other areas, to grow in an environment of cooperation and compatibility. To reduce this gap, Diplo US will conduct a holistic project on digital standardization, which covers research, training, and awareness building perspectives. Deliverables include:
A policy paper on digital standards (where and how they are developed, how they are relevant in the context of the expansion of the Internet infrastructure, etc.), tailored to the ARIN community, and available in English and Spanish
A focus on standards related to critical Internet resources (DNS, IP, etc.)
Mapping of actors active in the development of digital standards, including the role of national standardization bodies in the digital standards discussions
Exploration of the changing standardization environment and how countries are increasingly making it a declared goal to contribute to international standardization processes, often to advance their economic and geopolitical interests
A series of two webinars on the issue, tailored specifically for the ARIN region
Strengthening our coverage of Digital Standards issues at the Digital Watch online observatory as a one-stop-shop and overview resource on global developments related to digital standards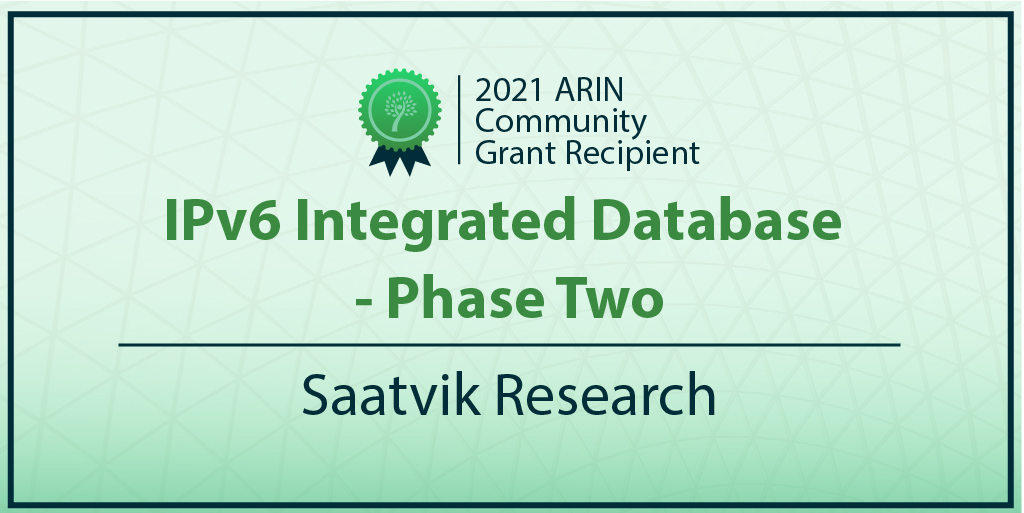 IPv6 Integrated Database – Phase Two
Saatvik Research | Silver Springs, NV, USA | Grant amount: $14,975
This project is Phase Two of the 2020 IPv6 Integrated Database project. It endeavors to:
Incorporate additional, business related, database(s) in the Phase One IPv6 Integrated Databases
Automate the periodic updating of the IPv6 Integrated Database
Create and conduct webinars to share the structure and usage of the database
Share the statistical results from Phase One
Objective 1: The statistical results from Phase One are generic and do not reflect enterprise IPv6 adoption behavior for specific industries. The project will prioritize the addition of North American Industry Classification System (NAICS) codes into the Phase One database. We also believe a data source for tracking business events (e.g., M&A re-branding). The business event tracking information would facilitate a full entity audit trail and more robust automation of database updates. Additional business-related databases (e.g., key business events, ranking, brand value and breach history) will be considered and prioritized as resources and time are available. As we confirmed in Phase One, the entity matching between ARIN and the National Institute of Standards and Technology (NIST) datasets has proven to be the most challenging aspect of the initiative. Consequently, we anticipate encountering similar challenges adding additional datasets. We anticipate generating industry-specific statistical results, contingent on sufficient sample sizes.
Objective 2: The ability to automate the periodic updating of the IPv6 Integrated Database is necessary to provide the most current data to Internet researchers. Relying on even a partial manual update to satisfy entity matching requirements would increase the level effort to keep the database current, thereby reducing its availability.
Objective 3: The intent of the project is to make the IPv6 Integrated Database available to Internet researchers. We will be creating and conducting webinars to socialize the structure and usage of the database. Of course, the purpose of the database is to create statistical analysis of enterprise IPv6 adoption, so these statistical results will be a focus of the webinars. Statistical results will be validated initially by ARIN & NIST, as well as additional IPv6 leaders prior to being shared publicly.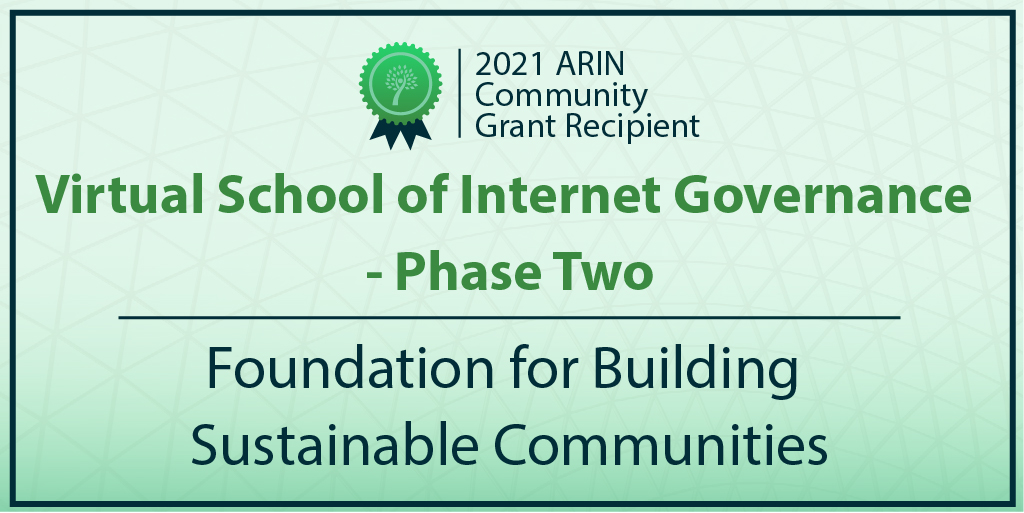 Virtual School of Internet Governance – Phase Two
Foundation for Building Sustainable Communities | Oshawa, ON, Canada | Grant amount: $5,000
The Virtual School of Internet Governance (VSIG) is a free online course using a Massive Open Online Course (MOOC) called MOODLE dedicated to the key pillars of Internet Governance. The VSIG Phase Two is moving the course from an English-only course to a multiple language platform, giving non-English speakers an opportunity to take our course. The limited online course material in Spanish, Portuguese and French is important for the ARIN members in French-speaking Canada and Spanish-speaking Puerto Rico.
A core problem we are addressing is the availability of a highly structured certificate program that gives a solid grounding in all the elements of Internet Governance. It provides critical information to non-technical community members on the mechanics of how the Names and Numbers System works effectively. It also provides technical participants an appreciation of the non-technical dynamics of the Internet ecosystem.
The course can be accessed from anywhere in the world and is a flexible platform for people to learn at their own pace. It also provides a massive amount of learning resources that they can download and store. We believe that the course content and approach is a very important contribution to overall education of the novice and seasoned professional in the ICT sector. The proposed innovations we are working towards will enhance the existing course and provide more opportunities for learners.
For information on how to enroll, please visit the Virtual School of Internet Governance website.
Applicant Appreciation
We appreciate the time and effort you put into applying and look forward to continuing to support operational and research projects that improve the overall Internet industry and Internet user environment, advance ARIN's mission, and broadly benefit the Internet community within the ARIN region.
Program Impact
Since the program began, ARIN has funded 15 projects and reached thousands of individuals through the work of ARIN Community Grant projects. As an example, only a few of the things ARIN Community Grant projects have done so far include:
Helped fund open-source tools that enable operators to better monitor their DNS infrastructure to manage IP address utilization across their networks
Educated senior enterprise technicians on IPv6
Allowed RSA signing with open-source hardware and software
Provided a free event management plugin for Network Operator Groups (NOGs) in the ARIN region (and beyond) saving hundreds of organizers administrative headaches
Extended rpki-client to support RRDP
And much more work is currently still in progress. You can keep up to date with the project reports on the ARIN blog.
Granting Again
If you are interested in applying for a grant next year, we will issue a call for applications in the spring of 2022. Information on how to apply will be posted to our ARIN Community Grant Program page, and we will send out an email via the arin-announce mailing list once the application period opens.
We look forward to continuing to make a positive and lasting impact on the Internet together.
Recent blogs categorized under: Grant Program
---
GET THE LATEST!
Sign up to receive the latest news about ARIN and the most pressing issues facing the Internet community.
SIGN ME UP →
---
Blog Categories
Grant Program
•
Public Policy
•
IPv4
•
Updates
•
Security
•
RPKI
•
IPv6
•
Data Accuracy
•
Elections
•
ARIN Bits
•
Business Case for IPv6
•
Fellowship Program
•
Caribbean
•
Internet Governance
•
Tips
•
Customer Feedback
•
Outreach
•
Training
•
IRR