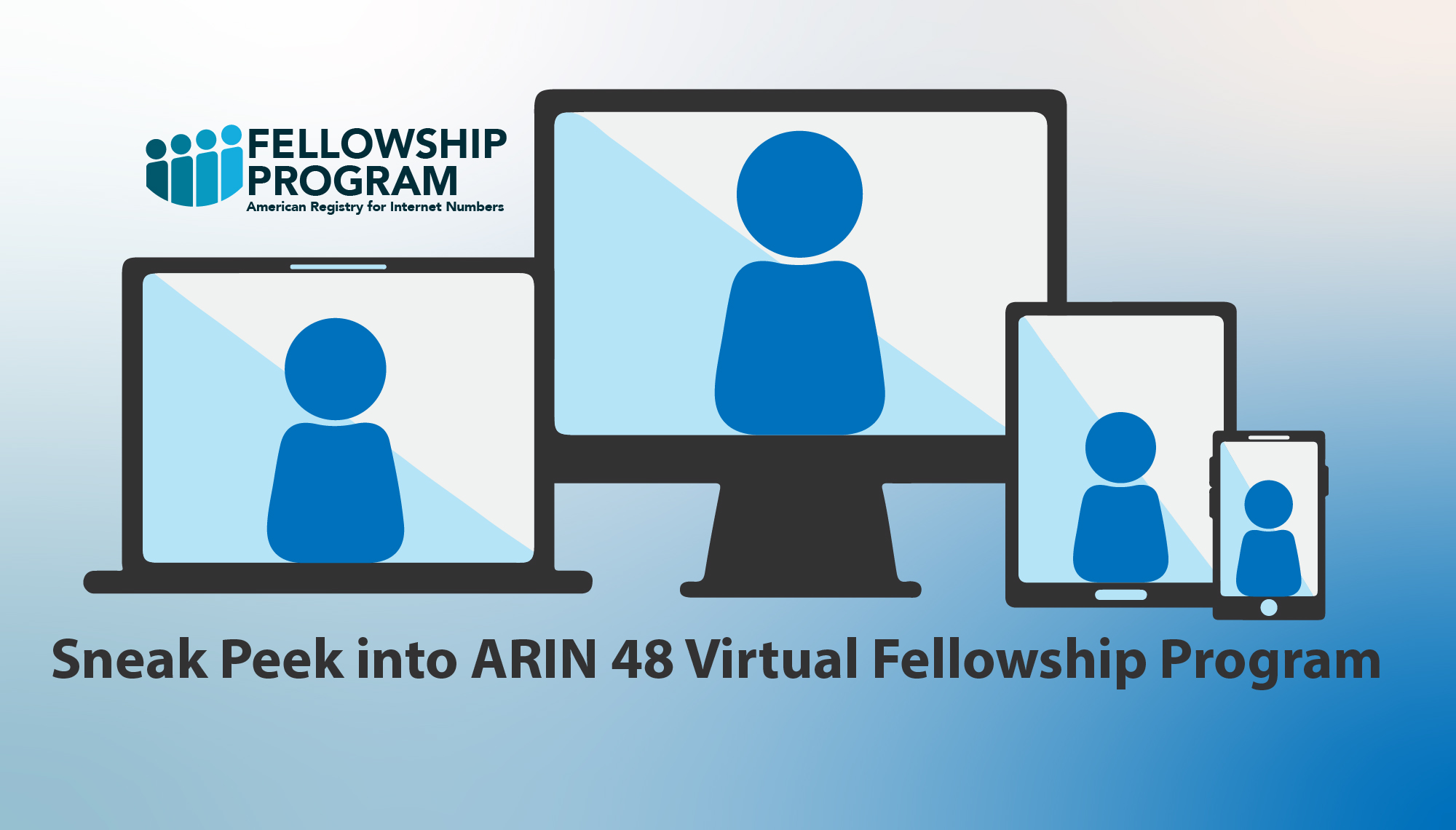 Sneak Peek into ARIN 48 Virtual Fellowship Program - Applications Opening Soon
Edit: Applications are now open through 25 August 2021, apply here .
---
Calling all potential Fellows! In just two weeks, applications will open for the ARIN 48 Virtual Fellowship Program, and the application process is easier than ever. This is the second time this program will take place completely online, with improvements based on feedback from previous participants to include even more interactive content and mentorship time.
For more than a decade, the ARIN Fellowship Program has been an important component of the community to broaden inclusion, diversity, engagement, and volunteerism within the ARIN region. The ARIN 48 Virtual Fellowship Program will accept up to 12 Fellows who will learn from a customized program of presentations from community experts and grow in their understanding of the work and complexities of ARIN and Internet number resource policies.
Who should apply?
Anyone 18 years and older who resides in the ARIN region and is interested in Internet number resource policy development, IPv6 deployment, IPv4 matters (including the transfer market), routing security, or Internet governance will find great value in participating in this program. If you, or someone you know, is interested in learning more about ARIN and becoming a part of an active, involved, and committed community, then we look forward to receiving your Virtual Fellowship application during the timeframe of 28 July - 25 August 2021.
What can you expect from this program?
The Virtual Fellowship Program consists of four 75-minute sessions via Zoom on Thursdays leading up to the ARIN 48 Public Policy Meeting on 19-20 October.
Session Dates are listed below and all will take place at 2:00 PM ET:
30 September
7 October
14 October
21 October
Each Fellow will be paired with a Mentor for small group discussions. Along the way you will participate in discussions related to the ARIN Policy Development Process, get to know other Fellows, ARIN staff and leadership executives, and grow your confidence to participate in the ARIN 48 policy discussions and beyond.
Hollis Kara, ARIN's Director of Communications, shares, "Since 2009, the Fellowship Program has always been a key part of the ARIN Public Policy meetings and our way to encourage and support new voices in our community. The Virtual Fellowship Program lends greater structure to the fellowship experience, and we are excited that these four sessions are packed with great information and mentorship time for our Fellows."
Winsome Bennett, an ARIN 47 Virtual Fellow, says, "The sessions were well organized and very informative, and an eye-opener to the magnitude of ARIN's reach. It made me realize that there is so much to learn about the organization, that one sitting will not suffice. Our mentor, Joe, was very supportive, always availing himself to answer questions or to enlighten us if we felt lost any point."
How can you apply?
If you'd like to participate in the program, we ask that you answer a few short questions during our call for applications that will be open from 28 July – 25 August, and the link to apply will be shared on our website and across social media soon.
Have questions? Email Fellowships@arin.net.
We look forward to welcoming a great group of Fellows to the next ARIN Public Policy and Members Meeting, and we appreciate your help sharing the word about this program with people in your network who you think would benefit from this opportunity.
Watch our new Virtual Fellowship Program video to learn even more about the program.
Recent blogs categorized under: Fellowship Program