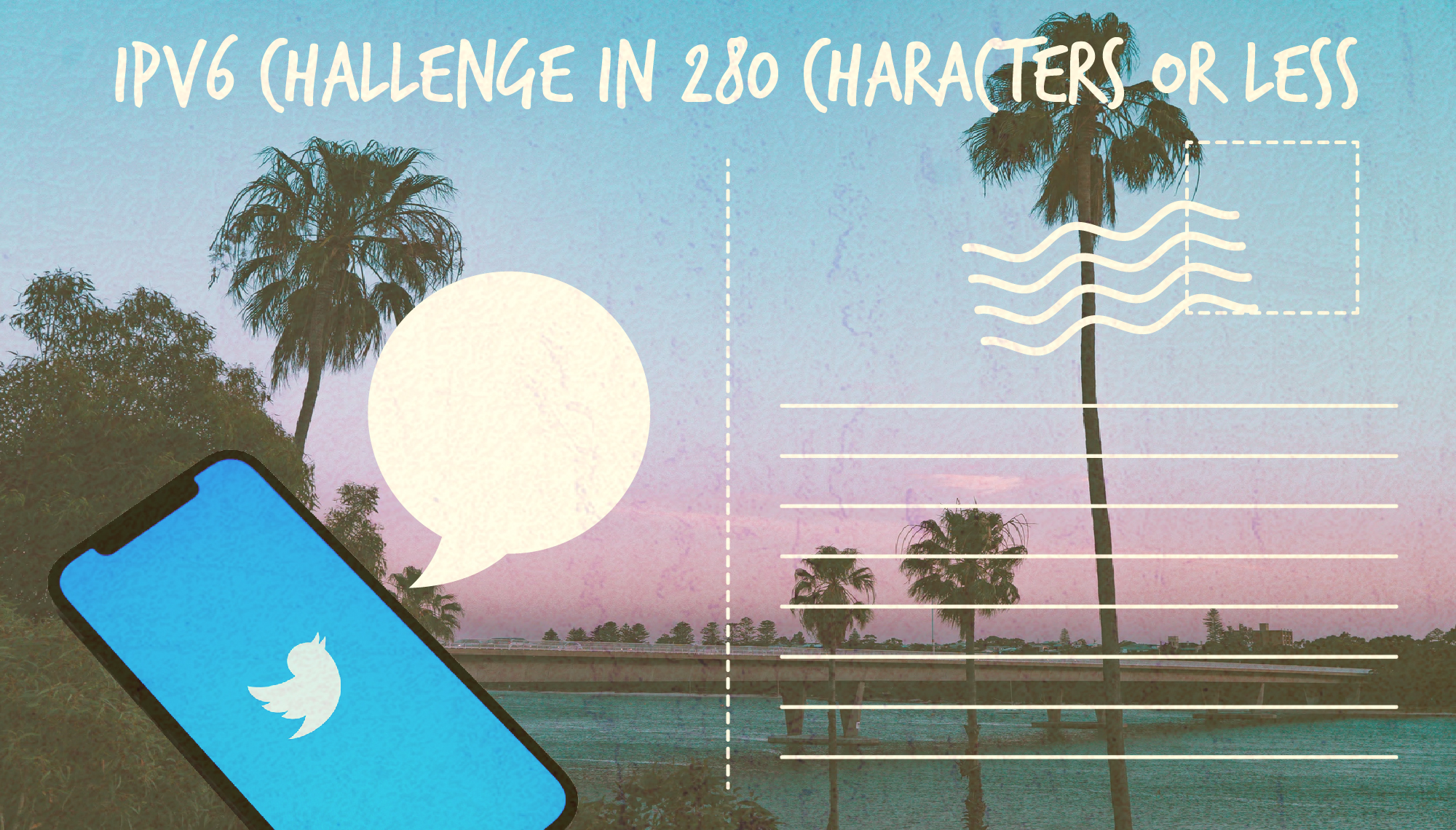 IPv6 Challenge in 280 Characters or Less
It's June and we're officially halfway through 2021, so we posed a challenge for our community on our TeamARIN Twitter account. In 280 characters or less, what progress have you made on your IPv6 deployment this year? It was so fun and inspiring to read about the various ways our community is making progress on their IPv6 journey.
For anyone who is thinking about deploying IPv6, or is in the midst of a deployment now, ARIN is here to support you. We have plenty of resources on our website including helpful handouts, videos, case studies, as well as an informative on-demand webinar. We have six months left in 2021 and there has never been a better time to get started on (or keep working on) deploying IPv6 on your networks.
Without further ado, here's a look at how our community has made progress with IPv6 in the first six months of this year in 280 characters or less…
My traffic at home last 24 hours. Why should we struggle any more with legacy #IPv4? Go #IPv6! pic.twitter.com/QloTApNyJY

— Torbjörn Eklöv (@tobbe_interlan) June 4, 2021
I've added IPv6 support to open source software I don't even use 😅
Completed the HE IPv6 cert and got a cool new t-shirt as a reward.
Deployed NAT64 for my home network, thanks to which I'm at ~85% IPv6 usage.
And most importantly, I've made more people aware of it!

— DasSkelett (@DasSkelett) June 4, 2021
I have been routing my own /48 for 2 years over tunnels since there is no native IPV6 for homes in Iceland, I host my own dns on rpi 4 plus it is public dns over https/tls. I also have a ipv6 probe for a year now

— Flatuslifir (@Flatuslifir1) June 4, 2021
14 hosts online at home now and all is doing #IPv6. Have #DHCPv6 PD from AS16117 - https://t.co/FDPyTvI6q6

— Torbjörn Eklöv (@tobbe_interlan) June 4, 2021
Our network is already fully operating on the #IPv6 standard! https://t.co/5nZRW4Ddsb

— Missoula Valley Internet Co-Op (@MissoulaCo) April 23, 2021
I have been running IPv6 at home for over 5 years.

Last year, I added segmented VLANs (incl. the Internet of Non-trustworthy Things devices) with their own /64.

And my local DNS recursor upstreams to @ciranews's Canadian Shield and @1111Resolver 1.1.1.2 over IPv6 only.

— Edwin G. (@Ed7789) June 4, 2021
All my ripe atlas probes speak IPv6.

— Thomas Schäfer (@tschaeferm) June 4, 2021
I have modified a bind9-module (official now!) and adapted my config to drop A records if AAAA exists. I also added a patch to dnsmasq that drops A records entirely in my local network. #IPv6

— treysis 💉 2/2 (@treysis) June 4, 2021
I have set up a NAT64 gateway, so I can host a @storj node on my internet connection, which does not have public IPv4 addresses forany years.

— Fabian Bläse (@fblaese) June 5, 2021
Our networks are already fully operating on the #IPv6 standard! https://t.co/48wRTZ2DHr

— NWBroadbandAlliance (@BroadbandNw) April 23, 2021
There's still time for you to join the Twitter Challenge and share your own progress! What have you done to deploy IPv6 this year? Tweet us @TeamARIN to join the fun. We'd like to thank everyone who has participated in sharing their story; we believe this helps pave the path for others to feel confident in their own IPv6 deployment. We'll be back on Twitter today with a new question for you to answer. Stay tuned, and we'll see you there!
Recent blogs categorized under: IPv6
---
GET THE LATEST!
Sign up to receive the latest news about ARIN and the most pressing issues facing the Internet community.
SIGN ME UP →
---
Blog Categories
ARIN Bits
•
IPv6
•
Business Case for IPv6
•
Fellowship Program
•
Grant Program
•
Caribbean
•
Internet Governance
•
Updates
•
IPv4
•
Elections
•
Tips
•
Public Policy
•
Customer Feedback
•
Security
•
Outreach
•
RPKI
•
Training
•
IRR
•
Data Accuracy