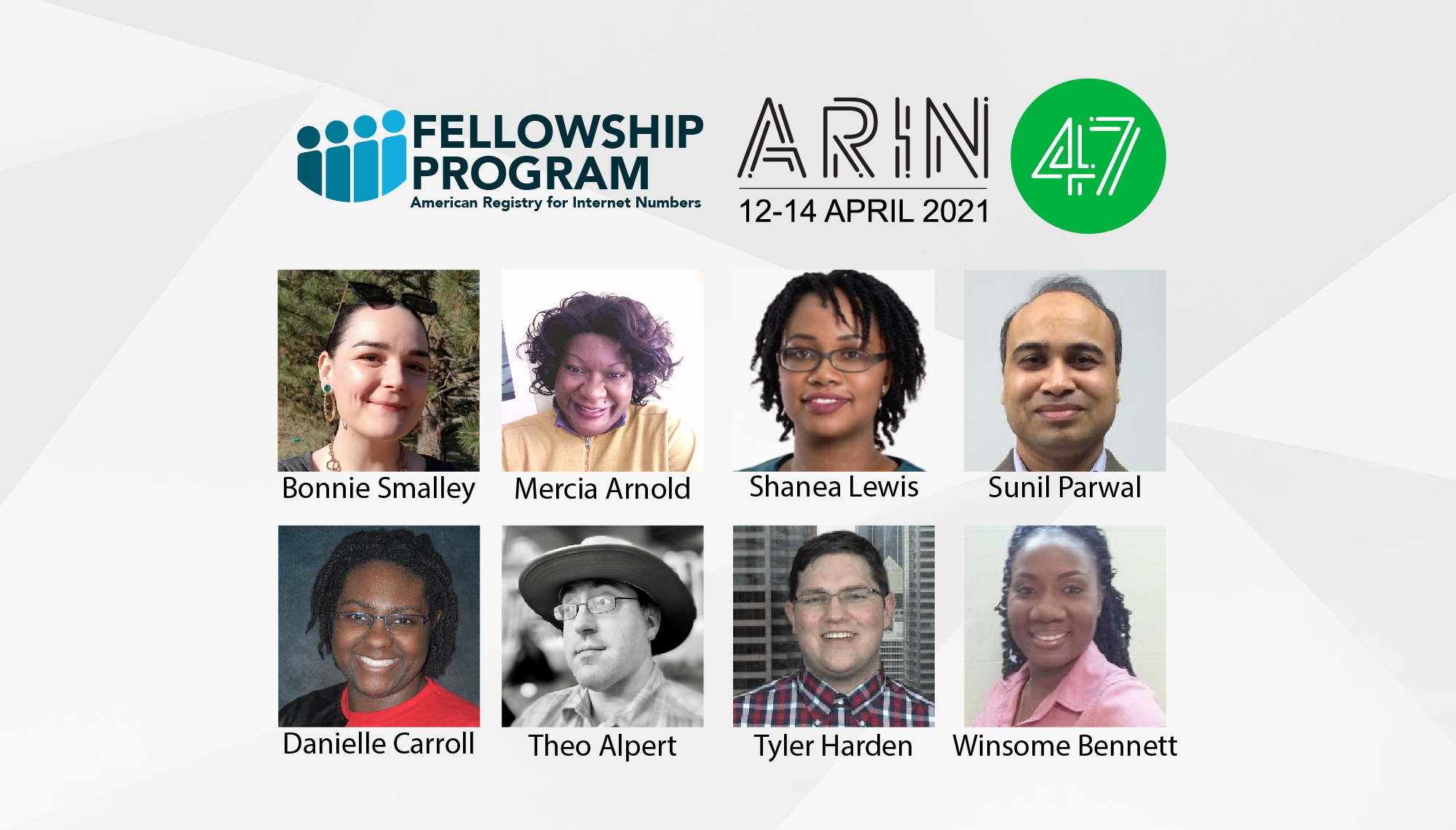 Introducing the ARIN 47 (Virtual) Fellows!
We're busy gearing up for our Virtual Public Policy and Members Meeting, ARIN 47, which takes place next week from 12-14 April. You may have heard that we brought back our Fellowship Program, only in a completely virtual format! We'd like to introduce the eight Fellows that will be joining us at ARIN 47. Over the last decade, we have welcomed 144 Fellows to our meetings in order to expand our educational outreach and add new voices to our public policy discussions. With this new group of Fellows, we've increased that number to 152! We'd like to introduce you to the Fellows, preview more about the program, and share some of the fun the Fellows have already been having.
First, let's meet the Fellows!
Sunil Parwal (USA) Emerson, Manager, Network Solutions
"This is an opportunity to understand the working of ARIN and Internet policies and a good opportunity to contribute and learn from the community. The experience will help me better formulate the policies within my organization."
Bonnie Smalley (USA) – Independent Tech Consultant
"The Internet has changed my life in so many wonderful ways! I want to continue to educate the public about how the Internet works."
Tyler Harden (USA) EXOSP, President
"This year is my year for expanding my outreach, participating and offering a fresh perspective and voice in the community and ARIN itself. I'd like to continue to play any part I can to improve management of Internet number resources, educate and eventually shape policy."
Shanea Lewis (Barbados) Caribbean Telecommunications Union, Computing Specialist
"As a Fellow I want to gain a better understanding of ARIN and its operations to communicate it to those in my age group who think ICT and Internet governance and policy does not concern them."
Winsome Bennett (Jamaica) Internet Society Jamaica Chapter, Secretary
"As an active member and Secretary of the ISOC Jamaica Chapter, as well as member of ICANN, I am looking forward to the opportunity be a part of this Fellowship, where I can garner the experience and knowledge that will empower me, and by extension contribute to the growth of our Jamaican chapter."
Danielle Carroll (USA) Monster Support, IT Intern
"I'm looking forward to learning as much as possible to help my business grow and networking to expand my technological knowledge."
Theo Alpert (USA), Dev Ops Engineer
"I anticipate that the ARIN meeting experience will both benefit me personally (from a curiosity and interest point of view), and the companies I work with, as knowing what goes on behind the scenes changes how things are perceived - the process becomes understandable when you understand the reasons behind it."
Mercia Arnold (USA) The Obsidian Group, SVP Risk Management and Compliance
"In my educational activities to become a cybersecurity law subject matter expert, I hope to learn more about the key components of policies and agreements that make Internet protocol addressing work in support of global Internet relationships."
Let's meet the Mentors!
Each Fellow is paired with a Mentor to participate in smaller breakout room sessions to discuss any questions more specifically.
Joe Provo - Joe is a network engineer, presently a Packet Slinger at Google. He has a long history of volunteer work, and seeks to give back into every aspect that shaped him. Joe was elected to the Advisory Council (AC) in October of 2016 and was re-elected 2019.
Chris Tacit - Chris is the founder of the firm, Tacit Law, which provides legal and business advice to domestic and international clients. He was elected to the AC in October of 2014, and re-elected in 2017 & 2020.
Matthew Wilder - Matthew is a Senior Engineer with TELUS Communications, a leading ISP and technology company. Matthew was elected to the AC in October of 2020.
Now for a sneak peek inside the program:
Overall, our Virtual Fellowship Program consists of four sessions, running from 25 March to 15 April.
During the first two sessions, the Fellows heard from Sean Hopkins, ARIN's Senior Policy Analyst. Sean went through the specifics of the Policy Development Process and the ARIN 47 discussion guide, with Mentors chiming in on the background and history of the policies they are shepherding, so Fellows can have a deeper understanding before the discussions take place during ARIN 47.
Fellows also got to hear a "Mentor Spotlight" from Joe, Chris, and Matthew, learning more about their background and involvement on the ARIN Advisory Council. 
Fellows introduced themselves and got to know each other better through the weeks with various ice breaker questions like "what is your favorite book or movie?" and "if you had to teach a class or program, what would it be?".
During the third session, Fellows will attend the ARIN 47 Newcomer Orientation to learn more about ARIN and the upcoming Public Policy and Members Meeting, and participate in breakout room sessions with their Mentor.
At the last session, Fellows will have the opportunity to discuss the particulars of the ARIN 47 Public Policy and Members Meeting, ask questions, and discuss the aftermath of the policy items on the docket.
It was a great adventure to take the well-established and well-loved ARIN Fellowship Program to a virtual space for the first time, and a great time has been had by all with lots of learning along the way. Thanks for taking a peek at the program and stay tuned for more details on the ARIN 48 Fellowship Program - coming soon!
Stop by and meet the Virtual Fellows during the "Meet the Board" Breakout Room on Tuesday, 13 April 2021, from 3:45 PM - 4:45 PM. Check the ARIN 47 Agenda for additional details.
Recent blogs categorized under: Fellowship Program
---
GET THE LATEST!
Sign up to receive the latest news about ARIN and the most pressing issues facing the Internet community.
SIGN ME UP →
---
Blog Categories
ARIN Bits
•
IPv6
•
Business Case for IPv6
•
Fellowship Program
•
Grant Program
•
Caribbean
•
Internet Governance
•
Updates
•
IPv4
•
Elections
•
Tips
•
Public Policy
•
Customer Feedback
•
Security
•
Outreach
•
RPKI
•
Training
•
IRR
•
Data Accuracy