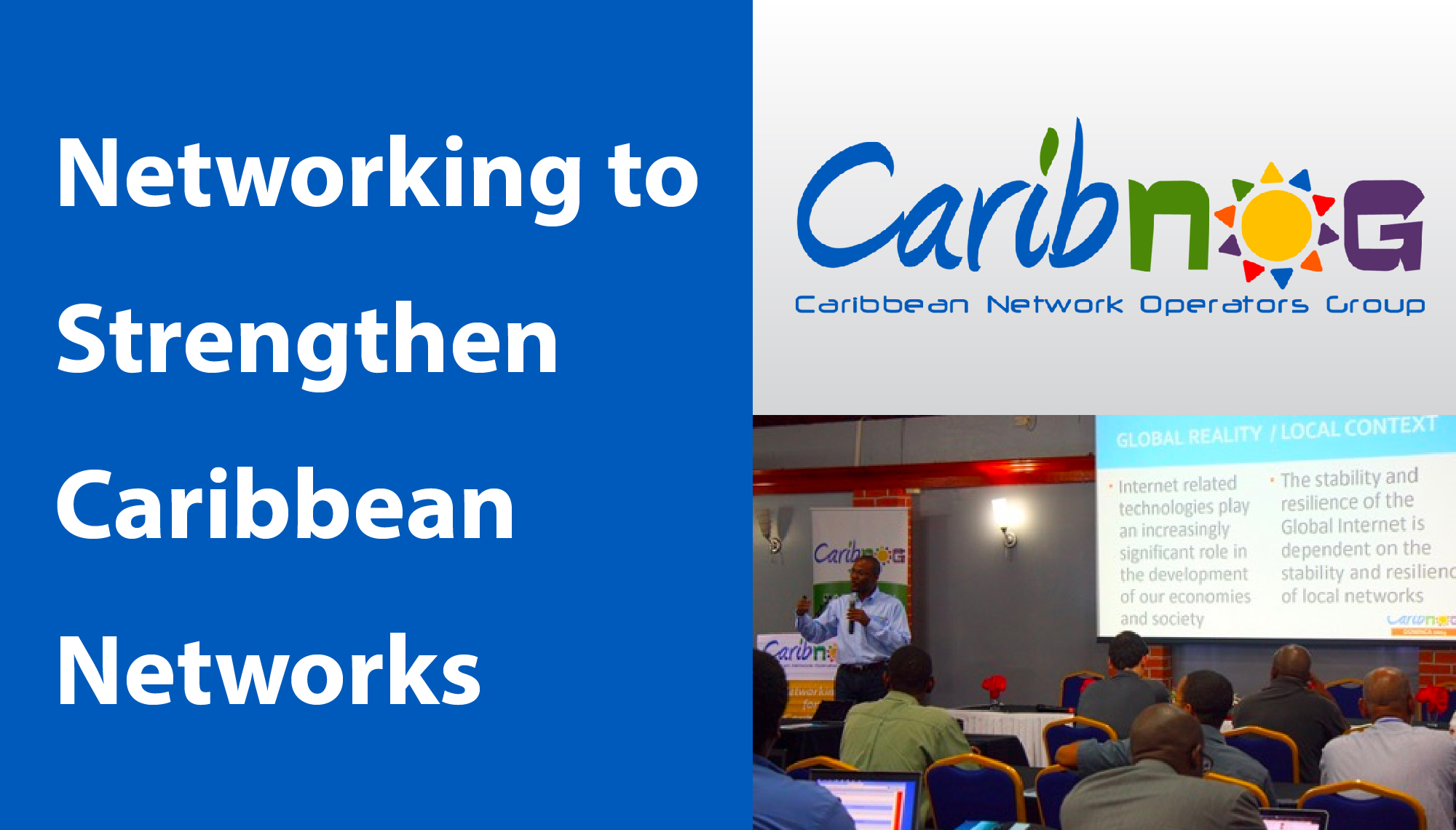 CaribNOG – Networking to Strengthen Caribbean Networks
How time flies. This month marks 11 years since the first CaribNOG meeting was held in St Maarten in 2010. Since that time, the Caribbean has seen the widespread adoption of IP-based networks and Voice-Over IP services, the proliferation of Internet Exchange Points, greater access to broadband Internet services, more widespread availability of computer networking training, and the rise in cloud computing. However, over that time we have also witnessed the stifling impact of anti-competitive telecom markets, the regressive consequences of outdated and inadequate public policies, a disturbing rise in cyberattacks, and, more recently, the reckoning brought about by a global pandemic. Through it all, CaribNOG has sought to remain true to its founding mission – to network the Caribbean for the greater good. This has not always been easy, but it has always been worth it. ARIN has been a long time partner in supporting CaribNOG in its mission.
The CaribNOG Community
The Caribbean is a diverse cauldron of cultures, economies, ethnicities and interests. Each territory in the region has its unique flavor; however, there are shared challenges, shared priorities and shared aspirations. Within CaribNOG, these shared challenges, priorities and aspirations find common ground. This common ground is what makes CaribNOG a community.
Today, after years of meetings, workshops, special projects and, of course, 'lime-time' networking (or social) events, CaribNOG stands a vibrant, interactive regional community. The volunteer-based, non-profit group is playing a vital role in developing Caribbean technical capacity and in designing Caribbean solutions to meet Caribbean challenges.
Backing Words with Actions
With members drawn from every corner of the region and across the Caribbean diaspora, CaribNOG has constantly proven its value. It answered the call to support countries impacted by devastating hurricanes over the years, providing on-the-ground support, equipment donations and engineering expertise. The actions of the community helped ensure that critical telecommunications and Internet services could be quickly restored to those in need. The community has helped secondary schools with special outreach and capacity building programs to encourage youngsters to explore options in computer and network engineering.
More recently, throughout the pandemic, the CaribNOG community has again rallied to provide advice, share best-practices, support school-connectivity initiatives, strengthen Internet Exchange Points and facilitate implementation of online government services. These efforts from the volunteer-based community serve to prove CaribNOG's worth as a truly unique, solutions-oriented forum.
Clearing the Path
When the first CaribNOG meeting was held in 2010, there was a vision, but no clear path to realize it.  Now a path has been cleared through collaboration. Network operators are able to put aside competitive commercial rivalries and work together to confront both the opportunities and the challenges of the Caribbean with pragmatic, locally-relevant solutions. The CaribNOG community has also been able to count on support from partners like ARIN as well as the Caribbean Telecommunications Union (CTU), the Internet Registry for Latin America and the Caribbean (LACNIC), the Internet Society (ISOC), the Internet Cooperation for Assigned Names and Numbers (ICANN), Packet Clearing House (PCH) and the North American Network Operators Group (NANOG).
From the first meeting to the present, these collaborative partnerships have stood the test of time and provided tremendous benefit to the technical community in the Caribbean. CaribNOG's collaborative partners have assisted in providing capacity building, cybersecurity support, stakeholder awareness programs and, of course, technical training. Their contributions have been key in helping the CaribNOG community grow into the strong region-wide family of network practitioners it has become.                       
For the Greater Good
Today, CaribNOG fills a significant role in the Caribbean's Internet-community. It provides an important forum for knowledge and resource sharing, skill development, relationship-building and global-networking. There is no doubt that CaribNOG has made tremendous strides. However, there is still much more to be done.
Our collective responsibility is to ensure that the region's network administrators, computer engineers, and security specialists become even more keenly aware of the dynamics playing out across the local, regional and global landscape. Where are the opportunities, and how can they best be maximized? What are the threats, and how can we best mobilize to defend against them? The answers to these questions can be found through collaboration, cooperation and common pursuit.
This year, CaribNOG hosts its 21st Regional Meeting (virtually). This milestone signifies a new season of maturity and responsibility. CaribNOG 21 will cover Internet technology, network protocols, and the new, digital threats being faced by an already vulnerable Caribbean region. The opportunities to carve a new, more digitally inclusive and secure future for the region are real, so our commitment and resolve to network our people and our systems for the greater good must be equally real.
Recent blogs categorized under: Caribbean
---
GET THE LATEST!
Sign up to receive the latest news about ARIN and the most pressing issues facing the Internet community.
SIGN ME UP →
---
Blog Categories
ARIN Bits
•
IPv6
•
Business Case for IPv6
•
Fellowship Program
•
Grant Program
•
Caribbean
•
Internet Governance
•
Updates
•
IPv4
•
Elections
•
Tips
•
Public Policy
•
Customer Feedback
•
Security
•
Outreach
•
RPKI
•
Training
•
IRR
•
Data Accuracy