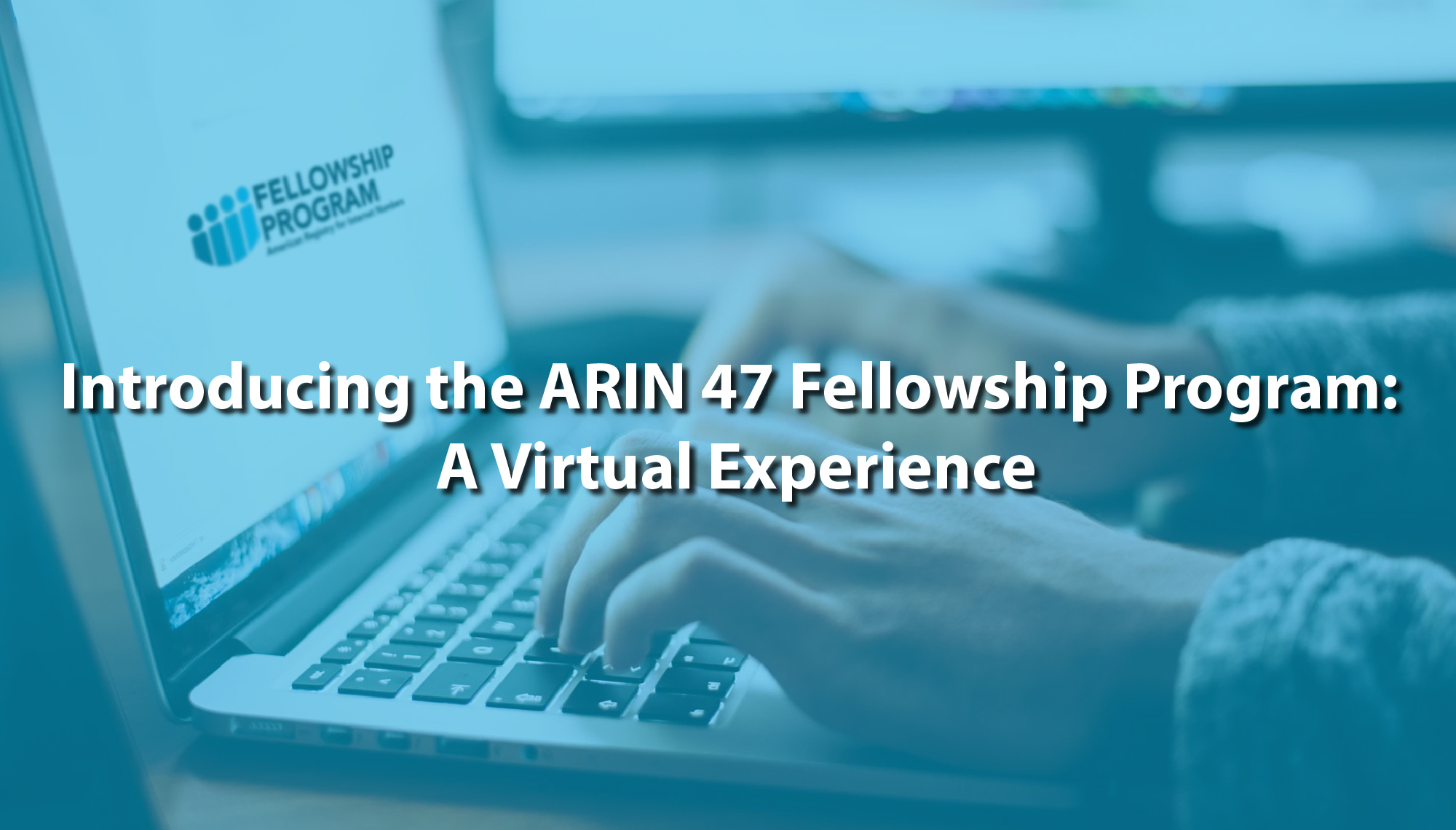 Introducing the ARIN 47 Fellowship Program: A Virtual Experience
We're excited to announce the relaunching of our Fellowship Program with a slightly different look this year. As a part of our Virtual ARIN 47 Public Policy and Members Meeting, we will be offering a Virtual Fellowship Program. We are accepting applications right now.
It is necessary to bring the Fellowship Program to a virtual space for ARIN 47 to keep the program operating and growing during this period of travel restrictions and health concerns due to COVID-19. Even in this new format, our goals remain the same since program inception: to broaden educational outreach within the ARIN region and bring new voices into public policy discussions. We look forward to furthering these goals this year, despite the circumstances preventing us from meeting in person.
What will it look like?
The Virtual Fellowship Program will provide focused interaction for a total of 10 Fellows to develop relationships with seasoned technology professionals in the community, as well as ARIN staff and leadership. As in past years, the Fellowship Selection Committee will review applications and make the selections. The program will consist of four structured 60-90-minute sessions, held weekly on Thursday afternoons from 25 March – 15 April. Each Fellow will be paired with an ARIN community member mentor who will help lead them through the program which is focused on broadening awareness about ARIN's work and services and providing opportunities to learn about and participate in ARIN's Policy Development Process (PDP).
In these sessions, Fellows can expect to participate in "Getting to Know You" breakout sessions, roundtable discussions around ARIN's PDP, networking opportunities with mentors, ARIN staff, past Fellows, and experienced community members, and much, much more! Fellows will then be fully prepared to attend and participate in ARIN 47 and beyond.  
Am I eligible to apply?
The Virtual Fellowship Program is open to individuals from ARIN customer organizations or anyone who has a direct and visible engagement in the ARIN community and resides in our region. This program is best suited for those who have an interest in learning more about ARIN's programs and services and Internet number resource policy and discussions. Special consideration will be given to those who have never attended an ARIN meeting before and that present a compelling case for receiving mentorship.
Apply now
Ready to learn more and apply? Visit our website to learn more details about this special Virtual Fellowship Program, and apply by 17 February for consideration.
Please note, if you applied for the most recent Fellowship Program (for ARIN 45) that was cancelled due to COVID-19, we welcome you to re-apply for this new virtual experience, and you should be able to easily reuse your responses in your application.
We look forward to receiving your application!
Questions? Email us at fellowships@arin.net.
Recent blogs categorized under: Fellowship Program
---
GET THE LATEST!
Sign up to receive the latest news about ARIN and the most pressing issues facing the Internet community.
SIGN ME UP →
---
Blog Categories
ARIN Bits
•
IPv6
•
Business Case for IPv6
•
Fellowship Program
•
Grant Program
•
Caribbean
•
Internet Governance
•
Updates
•
IPv4
•
Elections
•
Tips
•
Public Policy
•
Customer Feedback
•
Security
•
Outreach
•
RPKI
•
Training
•
IRR
•
Data Accuracy