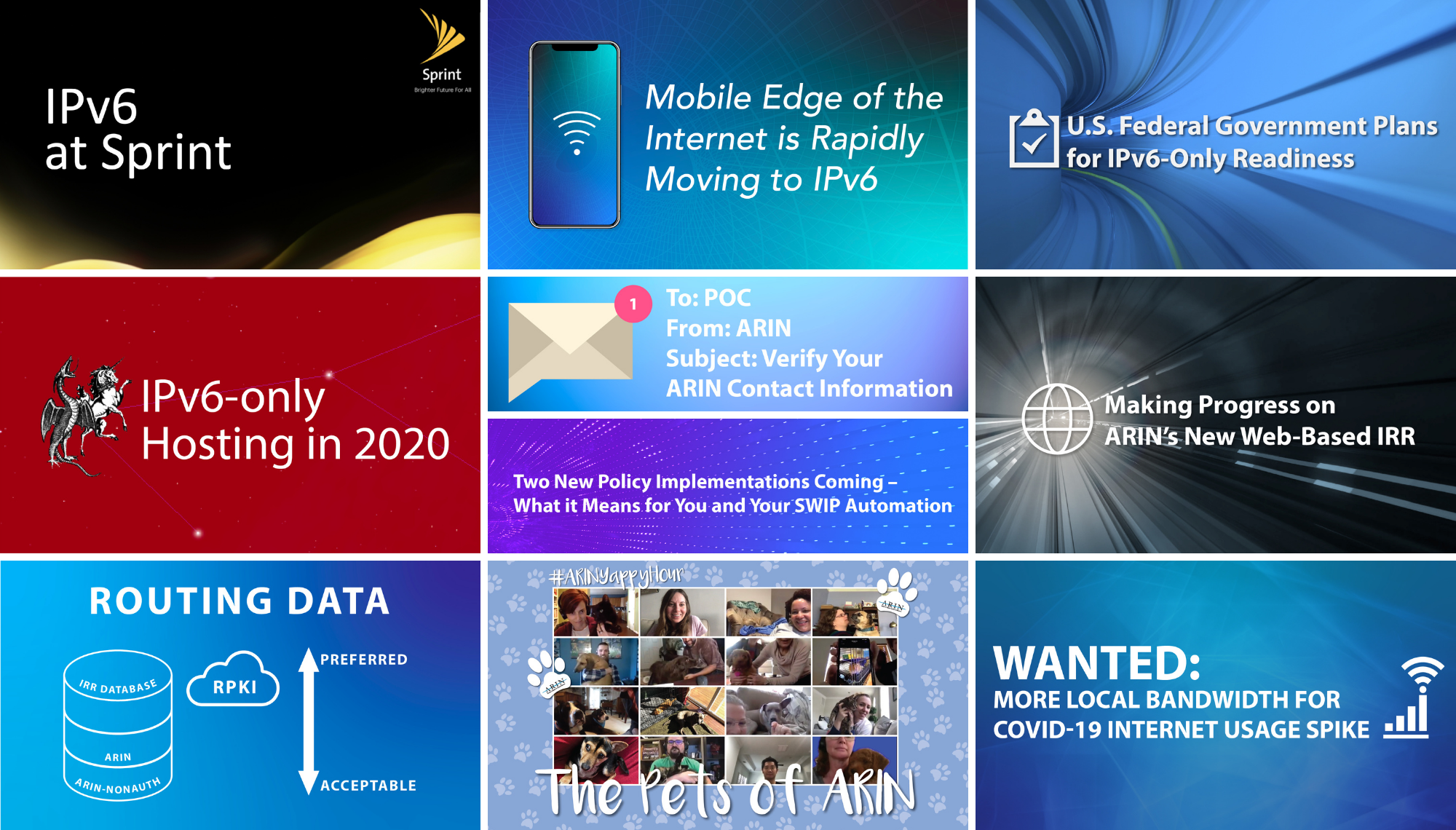 The Best of 2020: 10 Articles You Don't Want to Miss
We've reached the end of 2020, and we're taking an opportunity to look back over all that has happened this year. While it's certainly been a year unlike any other, we have managed to make it a successful one. Our teams have been working safely at home during this time, and we've accomplished quite a bit. We hosted two in person ARIN on the Road events in February, before switching over to virtual events for the remainder of the year, including webinars and other types of training. We put on our first ever virtual-only Public Policy and Members Meeting, ARIN 45, followed by our second virtual meeting, ARIN 46. In the middle of the year, we launched a new Internet Routing Registry (IRR), and continue making improvements to that new service. Later in the year, we facilitated the 2020 ARIN Elections, funded projects through the ARIN Community Grant Program, launched a new onboarding experience for new customers called ARIN Optimized, launched a new chat service for the Registration Services Help Desk, and so much more.
We've taken a look back over the blog to share the top ten most widely read articles this year. We would like to thank all the authors who contributed to the blog in 2020, and look forward to seeing what 2021 brings.
Here's a look at the most popular blogs from this year!
Running The Gamut: Legacy Sprint's Journey Through IPv6 Transition Mechanisms– In this IPv6 Case Study, Ben Bittfield shares how Sprint has implemented nearly all the major categories of IP addressing and IPv6 transition techniques on the wireless network, from public IPv4 to IPv6-only with NAT64, and offers his advice about when to start your own migration plan.
Mobile Edge of the Internet Is Rapidly Moving to IPv6 - Jennifer Bly, External Relations Manager, chats with the panelists at PTC'20 Vision 2020 and Beyond about why IPv6 deployment should be a key consideration.
U.S. Federal Government Plans for IPv6 Readiness - On 2 March 2020, the United States Federal Government released a statement about their plan to transition the majority of U.S. Government networks and services to IPv6-only networks inside the next five years. We share the details of this statement and how ARIN is here to support you in your deployment.
How We Make IPv6 Only Hosting a Reality - Pete Stevens shares what has made IPv6-only hosting at Mythic Beasts possible as a default for most hosting requirements from getting bytes in to getting bytes out.
Why is ARIN Contacting Me About My Info in Whois? - Lisa Liedel, Director of Registration Services, explains why you may have received a message from ARIN to verify your contact information in Whois, and what you need to do next in light of ARIN's annual Whois Point of Contact (POC) validation policy.
Two New Policy Implementations Coming - What it Means for You and Your SWIP Automation – We explain the implications of two new policies and how they may impact you, your downstream customers, and your automated SWIP scripts.
Making Progress on ARIN's New Web-Based IRR - Jon Worley, Senior Technology Architect, walks us through the progress we made on the deployment of a new web-based Internet Routing Registry.
IRR and ARIN Non-Auth: How Do I Use it? - Have you noticed ARIN-NONAUTH sources in ARIN's new Internet Routing Registry data and been wondering what it means? We explain how we divided our published IRR data into two sources (also called "streams"), ARIN and ARIN-NONAUTH.
Pets of ARIN "Yappy" Hour – Erin Pratt, Social Media and Content Specialist, shares a recap of a fun "Yappy" hour we held with our staff to introduce our four-legged co-workers.
Wanted: More Local Bandwidth for Covid-19 Internet Usage Spike - Bevil Wooding, Director of Caribbean Affairs, explains why more robust Internet infrastructure is needed in under-served regions to support the increased demand for online services during the COVID-19 pandemic, and for crises to come.
If you would like to contribute a guest blog in 2021 let us know! You can email us at blog@arin.net with your idea.
We thank you again for your support this year. Wishing you happiness and health in the new year!
Recent blogs categorized under: Updates
---
GET THE LATEST!
Sign up to receive the latest news about ARIN and the most pressing issues facing the Internet community.
SIGN ME UP →
---
Blog Categories
Grant Program
•
Public Policy
•
IPv4
•
Updates
•
Security
•
RPKI
•
IPv6
•
Data Accuracy
•
Elections
•
ARIN Bits
•
Business Case for IPv6
•
Fellowship Program
•
Caribbean
•
Internet Governance
•
Tips
•
Customer Feedback
•
Outreach
•
Training
•
IRR