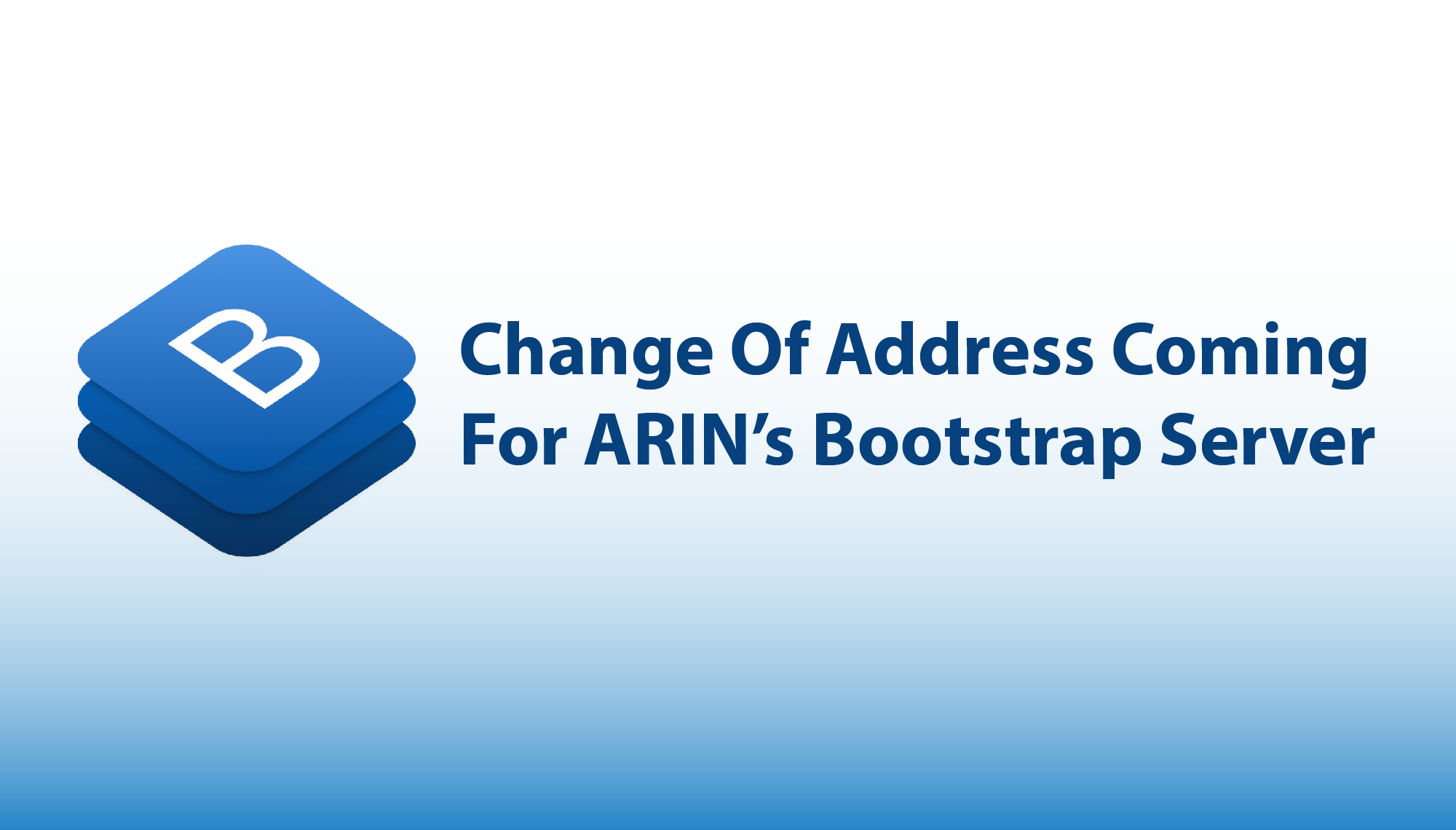 Buckle up: Change of address coming for ARIN's Bootstrap Server
We recently made a change to our Registration Data Access Protocol (RDAP) bootstrap architecture and would like to provide you with some additional information about this change and other upcoming changes.
ARIN's service uses what's known as a bootstrap service to forward queries from users seeking registration data for an Internet resource (such as an IP address or domain name). The bootstrap server is an RDAP server that can then answer or provide a referral to a server that holds more granular information. Bootstrap services, such as the one maintained by ARIN, contain files from the Internet Assigned Numbers Authority (IANA) that tell the bootstrap server where to route the queries. (For example, queries can be routed to ARIN, or directly to another Regional Internet Registry if the IP address or ASN is managed through the other RIR.)
Bootstrapping is done "behind the scenes" for ARIN's search.arin.net tool, or for nicinfo, a CLI RDAP client that ARIN maintains to forward queries outside of ARIN to the more appropriate RIR. A typical query format used in these tools is a "query URL." A query URL would be formatted as in this example: https://rdap-bootstrap.arin.net/bootstrap/ip/2001:db8::/32, where a user is searching for registration data for the IP address block 2001:db8::/32. ARIN's bootstrap server knows that the IP block is registered under APNIC and forwards the query to APNIC's RDAP service.
Due to a system architecture change, the address of ARIN's bootstrap server was changed in November 2020 from https://rdap.arin.net/bootstrap to https://rdap-bootstrap.arin.net/bootstrap. That means that if you are using an RDAP client and/or have queries that use ARIN's bootstrap service, you'll want to change the address of the bootstrap server in your queries to the new URL, https://rdap-bootstrap.arin.net/bootstrap. Originally, ARIN planned to "sunset" the old URL on 18 February, 2021, and at the same time, set up a redirect to automatically route queries from the old URL to the new URL. To give users additional time to change their queries to use the new URL, the sunsetting of the old URL and the redirect action will not occur until 30 June, 2021. However, it is important to note we can't guarantee the redirect will be respected by all clients. In order to avoid any problems, queries should be changed to use the new URL.
Note that you too can operate a bootstrap service. ARIN's code for this service is available in a GitHub repository.  For more information on RDAP and bootstrapping, you can visit our website.
If you have questions or comments about this change, please submit an Ask ARIN ticket using your ARIN Online account, or contact the Registration Services Help Desk by phone Monday through Friday, 7:00 AM to 7:00 PM ET at +1.703.227.0660.
Recent blogs categorized under: RPKI
---
GET THE LATEST!
Sign up to receive the latest news about ARIN and the most pressing issues facing the Internet community.
SIGN ME UP →
---
Blog Categories
ARIN Bits
•
IPv6
•
Business Case for IPv6
•
Fellowship Program
•
Grant Program
•
Caribbean
•
Internet Governance
•
Updates
•
IPv4
•
Elections
•
Tips
•
Public Policy
•
Customer Feedback
•
Security
•
Outreach
•
RPKI
•
Training
•
IRR
•
Data Accuracy