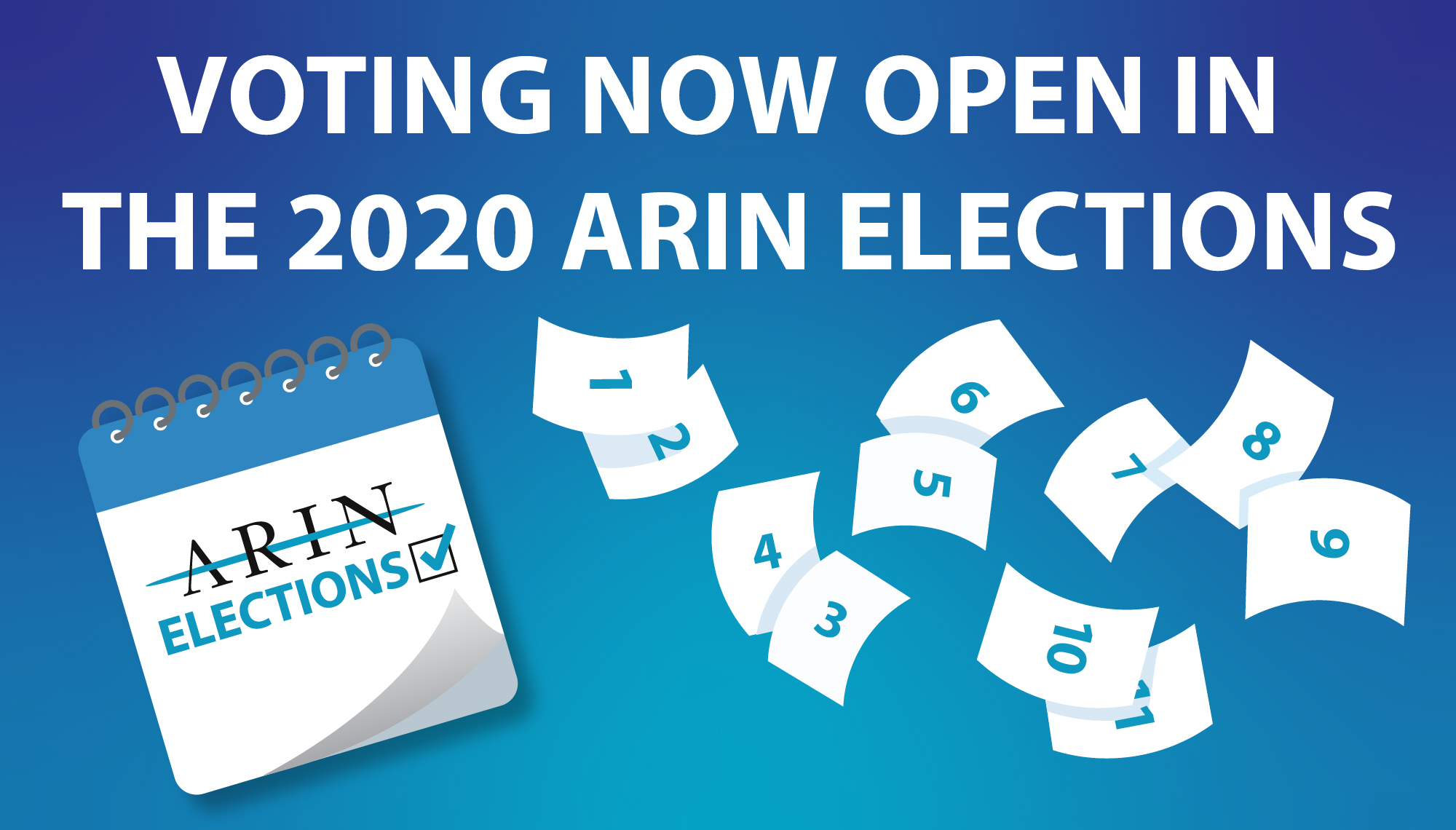 Voting Now Open in the 2020 ARIN Elections
Voting is now open in the 2020 ARIN Elections! During the final day of our ARIN 46 meeting last Friday, we heard speeches from candidates running for the Board of Trustees and Advisory Council. Now it's time to make your voice heard! Voting will remain open until Friday, 30 October at 5:00 PM ET.
Want to Learn More about the Candidates?
We've got you covered. We have some great resources for you to find out more about each of the candidates running in this year's election so you can cast your votes with confidence.
Candidate Speeches and Forums
In the past week, speeches from each candidate were posted online and during the ARIN 46 Members Meeting last Friday, there were Candidate Forums for both the Board of Trustees  and Advisory Council . Questions for the candidates were sourced and prioritized by you in the community.
Statements of Support
In addition, since the Initial Slate of Candidates was announced in September, we've been collecting and posting Statements of Support from the community for each candidate, and published their responses to the candidate questionnaires. Everything you need to know to make an informed decision is available on our website. 
Voter Guide
Lastly, we've also put together a handy voter guide which offers you a quick glance at the bios of each candidate so you can easily learn more about their background and beliefs.
Cast Your Ballot!         
As ARIN's election system is integrated with ARIN Online, voting itself is super easy! If you are the voting contact for an eligible Member organization, once you've done your research, you can proceed to login to ARIN Online and start the process to cast your ballot in the 2020 ARIN Elections from the "Vote Now" link in your account dashboard. For this year's election, we are filling two seats on the ARIN Board of Trustees and five seats on the ARIN Advisory Council. Ballots may be cast now through 5:00 PM ET, Friday, 30 October.
Newly updated instructions on how to vote are available at https://www.arin.net/voting/ and include helpful screenshots and detailed instructions on how to split your vote, if you represent multiple eligible member organizations.
For questions about voting, or if you encounter an issue with the election system, please contact us immediately at members@arin.net. You may also submit a question via ARIN Online and direct it to Meetings/Elections.
Election results will be announced on the ARIN website no later than Friday, 6 November.
Thank you for your participation in these important 2020 ARIN Elections!
Recent blogs categorized under: Elections
---
GET THE LATEST!
Sign up to receive the latest news about ARIN and the most pressing issues facing the Internet community.
SIGN ME UP →
---
Blog Categories
Grant Program
•
Public Policy
•
IPv4
•
Updates
•
Security
•
RPKI
•
IPv6
•
Data Accuracy
•
Elections
•
ARIN Bits
•
Business Case for IPv6
•
Fellowship Program
•
Caribbean
•
Internet Governance
•
Tips
•
Customer Feedback
•
Outreach
•
Training
•
IRR