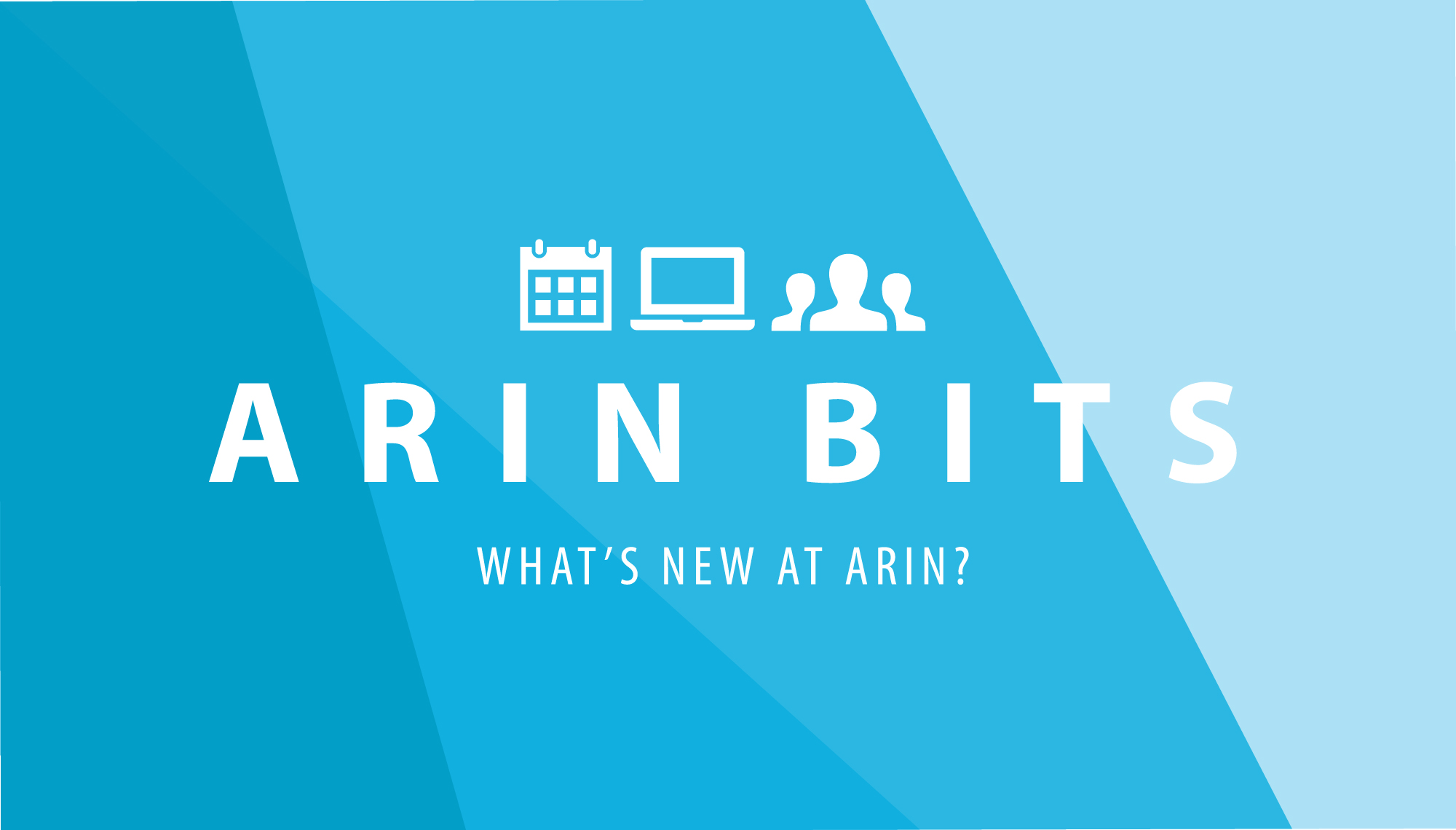 ARIN Bits: June 2020
So far, 2020 has been unpredictable to say the least. From all of us here at ARIN, we hope you are doing well and staying safe and healthy during this challenging time.
In this edition of ARIN Bits, we share information about the ARIN 45 Virtual Meeting, details about our new IRR, a heads-up on our next customer survey, tips from our Registration Services Department, and so much more. Missed last quarter's edition? You can find all past editions on our ARIN Bits page.
ARIN 45 Virtual Meeting recap
The ARIN 45 Public Policy and Members Meeting was held via Zoom from 16-17 June. We thank everyone who took the time to participate in this vital part of ARIN's Policy Development Process. It was great to connect with everyone (we had an amazing turnout – 140 attendees!) even if we couldn't all be together in person.
We have a recap of the meeting available right here on TeamARIN. If you couldn't join us live, make sure to check out what you may have missed. You'll also want to keep an eye out for the full meeting report in the coming weeks, complete with transcripts, videos, and downloadable presentations. We'll share an announcement when it's available, so stay tuned!  
We released new Internet Routing Registry features on 10 June
The ARIN Internet Routing Registry (IRR) is a searchable database of public routing policy information for networks in the ARIN region.
On 10 June, ARIN released new and updated IRR features:
ARIN now provides a new method to manage IRR data directly in ARIN Online by selecting IRR Object Records from the main navigation menu.
ARIN now provides two Near Real-Time Monitoring (NRTM) streams: ARIN (which contains authorized objects) and ARIN-NONAUTH (which contains nonauthorized objects). Authorized objects are verified as a result of the organization being authorized to create the record and the registration associated with the object being under an (L)RSA.
Full release notes are available in our recent announcement.
ARIN wants to hear from you in our third customer satisfaction survey!
ARIN's goal is to provide the best Internet number registry experience possible. To help better understand the needs of our customers, we are getting ready to launch our third community-wide customer satisfaction survey with the help of Rockbridge Associates, an independent contractor. The survey will be available 13-31 July.
We value your input and recognize it as a key element to the success of the registry, so we hope you will participate in this important survey. Keep an eye out for an announcement about the survey opening in the coming weeks.
In the world of policy development at ARIN…
The following editorial change is pending review by the ARIN Board of Trustees:
The following draft policies and proposals are currently under discussion:
Recommended Draft Policies:
Draft Policies:
Editorial Change:
Proposals:
You can find the status of current policy discussions on our website and subscribe to ARIN-PPML (Public Policy Mailing List) to voice your opinions. And remember, membership is not required to participate!
2019 ARIN Annual Report Now Available
The 2019 ARIN Annual Report is now available for download. This report contains information about the activities of the ARIN staff, Board of Trustees, and Advisory Council; summaries of ARIN's public policy discussions and actions; activities within the global Internet community; and much more. Check it out!
Our Featured Policy Requirement:
Organization Record Creation (NRPM 3.8.1)
On 31 March 2020, a new policy was added which no longer allows the creation of Organization Identifiers (Org IDs) by third parties. New Org IDs shall be created by ARIN upon receiving a request directly from an authorized contact representing an entity that ARIN is able to validate. ISPs that want to create a detailed reassignment to their downstream customer will need that customer to have an Org ID. Alternatively, the ISP can create a Simple Reassignment to the customer, which does not require an Org ID.
A tip from our Financial Services Department:
The Financial Services Department is working from home, which is pretty standard for most companies these days. While we are trying our best to respond to all requests within two business days, some items may take longer. You can reach us by calling the Financial Services Help Desk at 703.227.9886, Monday through Friday, from 9:00 AM to 5:00 PM ET.
As an alternative to check payments, which may take longer to process, ARIN offers electronic payments: ACH (Automated Clearing House) and wire (domestic and international). You can email billing@arin.net to request instructions for arranging payment through one of these methods.
Please remember to submit remittance information when submitting your electronic payment so we can identify it better. We appreciate you including the following remittance information:
Reference the invoice number and Org ID
Email payment advisement to billing@arin.net or send us a fax at 703.997.8708
Include the sender information if the payee is different than the company name on the invoice
ARIN also accepts credit cards, including American Express, Discover, MasterCard, and Visa.
Ready to pay an invoice? Use the "Pay Now" button found on any page on the ARIN website. Thank you for your cooperation!
A tip from our Registration Services Department:
Did you know ARIN has deployed a new, live chat service on a trial basis? While logged in to your ARIN Online account, you can quickly and easily speak with a member of our Registration Services Department concerning any "how-to" questions or even more detailed information about Internet number resources. RSD's Director, Lisa Liedel, recently wrote a blog about how the chat trial has been going so far.
Check out these Customer and Member Stats (As of 31 May 2020)
38,701 total customer organizations, including 6,515 member organizations
348 8.3 Transfers and 65 8.4 Transfers completed YTD 2020
8.4 Transfers completed YTD 2020: 15 to APNIC, 32 to RIPE NCC, 3 from APNIC, 15 from RIPE NCC
59.8% of members have an IPv6 block
See you next quarter!
We'll be back in September to kick off fall. See you then!
Recent blogs categorized under: ARIN Bits
---
GET THE LATEST!
Sign up to receive the latest news about ARIN and the most pressing issues facing the Internet community.
SIGN ME UP →
---
Blog Categories
Grant Program
•
Public Policy
•
IPv4
•
Updates
•
Security
•
RPKI
•
IPv6
•
Data Accuracy
•
Elections
•
ARIN Bits
•
Business Case for IPv6
•
Fellowship Program
•
Caribbean
•
Internet Governance
•
Tips
•
Customer Feedback
•
Outreach
•
Training
•
IRR