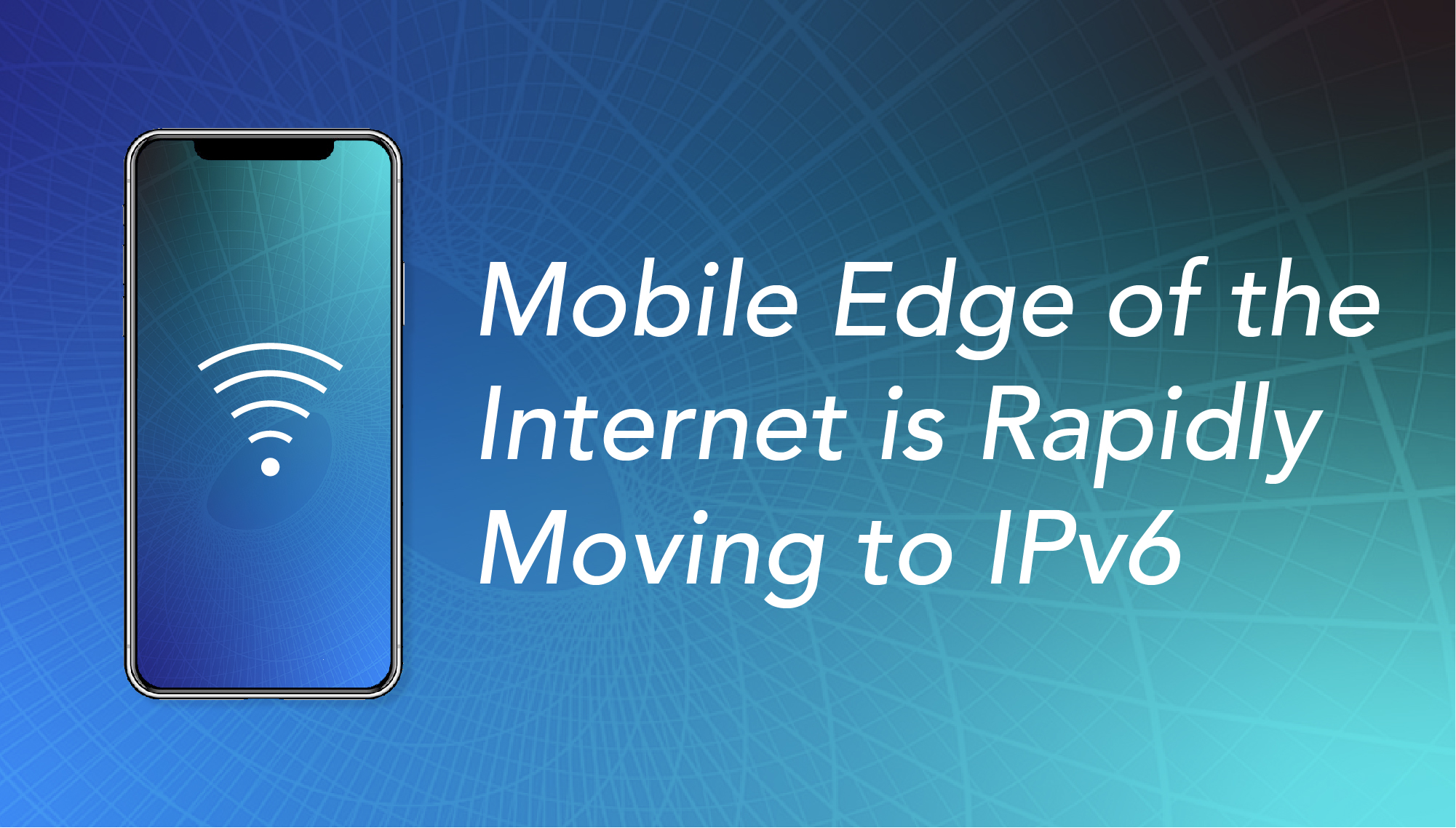 Mobile Edge of the Internet is Rapidly Moving to IPv6
When you look at the progress major mobile carriers have made with IPv6, there's no doubting the time for IPv6 is now. This week at PTC'20 Vision 2020 and Beyond, ARIN is convening a panel of experts to discuss how the mobile edge of the Internet is rapidly moving to IPv6 in preparation for 5G and IoT.
Chances are if you use the Internet on your smartphone, you are connecting via IPv6. According to the Internet Society's 2018 State of IPv6 Deployment, 80% of smartphones in the US on the major cellular network operators use IPv6 and major mobile networks are driving IPv6 adoption with Verizon Wireless at 84%, Sprint at 70%, T-Mobile USA at 93%, and AT&T Wireless at 57%. Plus, some mobile networks are taking the step to run IPv6-only to simplify network operations and reduce costs.
IPv6 and the Mobile Internet
With the depletion of IPv4, IPv6 deployment is a key consideration for today's mobile providers in building a sustainable and scalable mobile network. Furthermore, as mobile networks rapidly move to IPv6, operators, device manufacturers, website/content providers, and application developers all must consider the implications of what a mobile IPv6 Internet means for them.
Here are just a few reasons why IPv6 deployment should be a key consideration for today's mobile providers and others doing business over mobile:
Scale your network architecture to support 5G & IoT
"Given the massive volume of devices promised by IOT and the rise of 5G with the associated push to the network edge, it is essential to use IPv6 and not be constrained by IPv4 address limitations. IPv4 simply cannot support the needs of a mobile provider to scale a network architecture to support 5G & IOT."
- Ben Bittfield, Lead Design Engineer, Sprint
Enable seamless growth as Internet-connected devices and services rise in popularity
"Mobile operators, gaming platforms, streaming and the IOT will continue to grow in popularity, as will the number of devices that support them. As we reach the end of allocated IPv4 address space, the best way to enable seamless growth of these technologies is through the adoption of IPv6."
-Peter Cohen, Vice President Interconnectivity and Peering, QTS
Avoid impacts to the performance of your service for mobile users
"Mobile operators already know that IPv6 is the only way for them to connect large numbers of new customers, and these operators are driving IPv6 adoption in North America.  For organizations trying to connect with mobile users, this is an important trend to be aware of, since having content reachable only by IPv4 will impact the performance of your service."  
- John Curran, President and CEO, ARIN
If you will be at PTC, we hope to see you at the IPv6 panel to learn more about how the mobile industry is driving IPv6 adoption. And ask yourself, as mobile users increasingly try to connect with you over IPv6, are you prepared?
Recent blogs categorized under: Outreach
---
GET THE LATEST!
Sign up to receive the latest news about ARIN and the most pressing issues facing the Internet community.
SIGN ME UP →
---
Blog Categories
IPv6
•
Business Case for IPv6
•
Fellowship Program
•
Grant Program
•
Caribbean
•
Internet Governance
•
Updates
•
IPv4
•
ARIN Bits
•
Elections
•
Tips
•
Public Policy
•
Customer Feedback
•
Security
•
Outreach
•
RPKI
•
Training
•
IRR
•
Data Accuracy