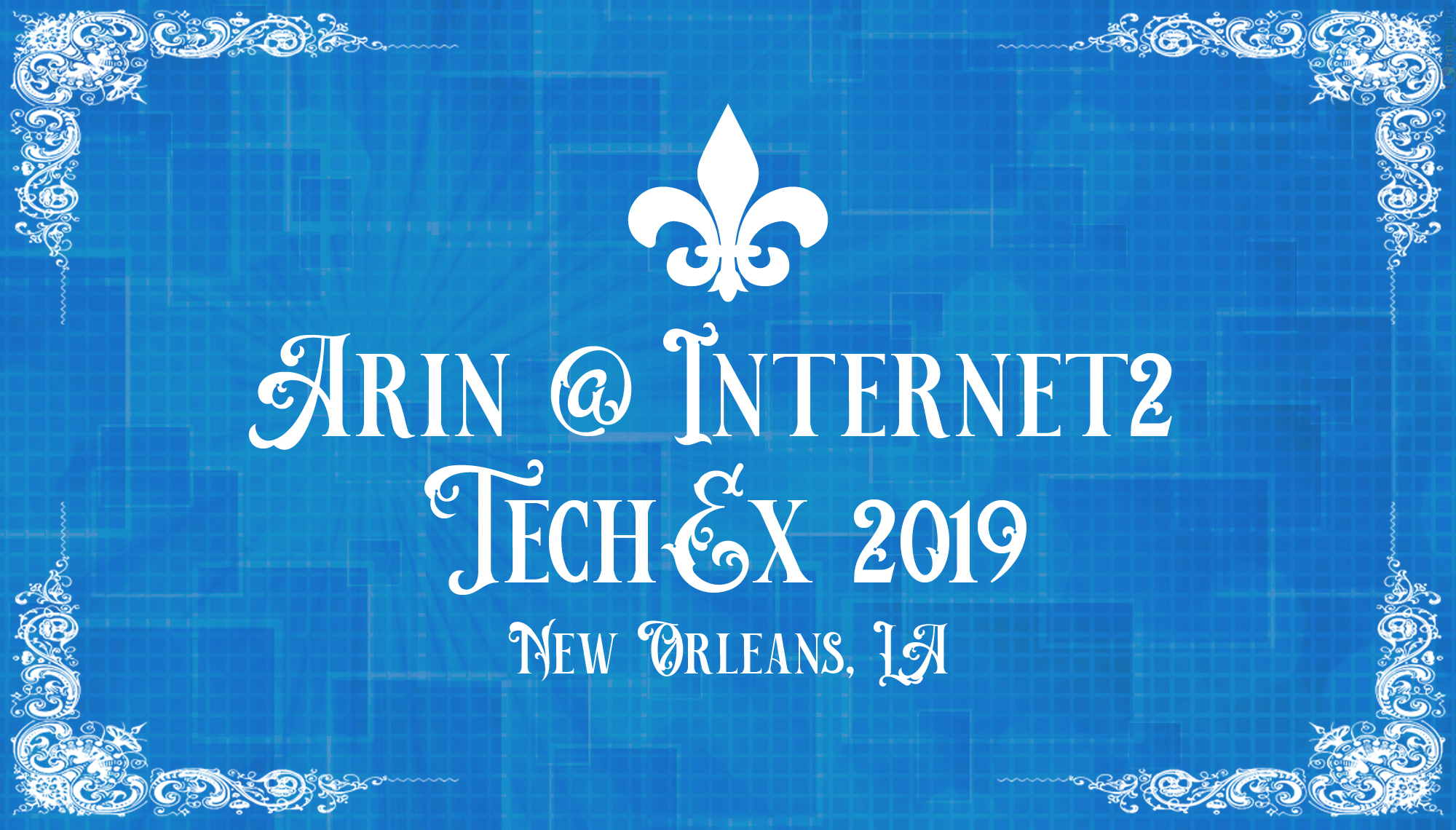 ARIN @ Internet2 TechEx 2019
ARIN's customer excellence team attended Internet2's 2019 Technology Exchange in New Orleans, Louisiana and reports back on their experience.
---
ARIN was represented at Internet2's annual Technology Exchange (a.k.a. TechEx) at the Sheraton hotel in New Orleans, Louisiana by John Sweeting, ARIN's Chief Customer Officer (CCO), and myself. ARIN's CEO, John Curran, presented on Internet routing security during the event. We are excited to share some details of what was accomplished at this event.
Our focus at TechEx was on the new security services ARIN has deployed (or will be deploying shortly) and helping Internet2 members gain access to those services. Resource Public Key Infrastructure (RPKI) and our upcoming next generation Internet Routing Registry (IRR) are both key ARIN services that allow registrants to secure the routing of their resources on the Internet. Specifically, they enable registrants to publish information about which exact prefixes are authorized to be routed and from which AS number(s) those prefixes are authorized to be announced from. These new services are only available to registrations maintained under an agreement with ARIN.
Internet2's membership is primarily educational and research institutions, many of whom were early registrants of IPv4 addresses prior to ARIN's inception in December 1997. Our focus in New Orleans was to make organizations aware of ARIN's Legacy Registration Services Agreement (LRSA), which covers resources registered prior to ARIN's inception and makes them eligible for new services like RPKI and the IRR for a modest annual fee. There continues to be a perception amongst some of these organizations that they are forfeiting rights by entering into the LRSA. John Sweeting and I spent a good part of TechEx reassuring organizations that ARIN has absolutely no interest or intent to use the LRSA as a way to "take back" legacy IPv4 registrations. The purpose of the LRSA is to establish a contractual relationship between these organizations and ARIN that formalizes what we've always done – provide the same services they currently receive and establish a legal framework to ensure ARIN can provide, and these organizations can use, new services that we have deployed on mutually acceptable terms. As soon as an LRSA is in place, we can have RPKI and (when deployed) the IRR instantly available so that organizations can secure the routing of their resources.
We expect interest in these new security services to continue to increase over the next year. To that end, we'll be attending more events across the ARIN region to provide information on the value of these services as well as provide guidance as to how to get all resources under an agreement so they'll be eligible. Stay tuned to our events calendar as we add new events for 2020 in the coming weeks.
If you're interested in these services, we encourage you to visit us in person so we can make sure you're eligible and, if necessary, help you get an LRSA in place. Of course, we're always happy to help with anything and everything you might need, from ongoing tickets, to IPv6 address planning, to – well, anything you can think of to ask.
Recent blogs categorized under: Outreach
---
GET THE LATEST!
Sign up to receive the latest news about ARIN and the most pressing issues facing the Internet community.
SIGN ME UP →
---
Blog Categories
Grant Program
•
Public Policy
•
IPv4
•
Updates
•
Security
•
RPKI
•
IPv6
•
Data Accuracy
•
Elections
•
ARIN Bits
•
Business Case for IPv6
•
Fellowship Program
•
Caribbean
•
Internet Governance
•
Tips
•
Customer Feedback
•
Outreach
•
Training
•
IRR