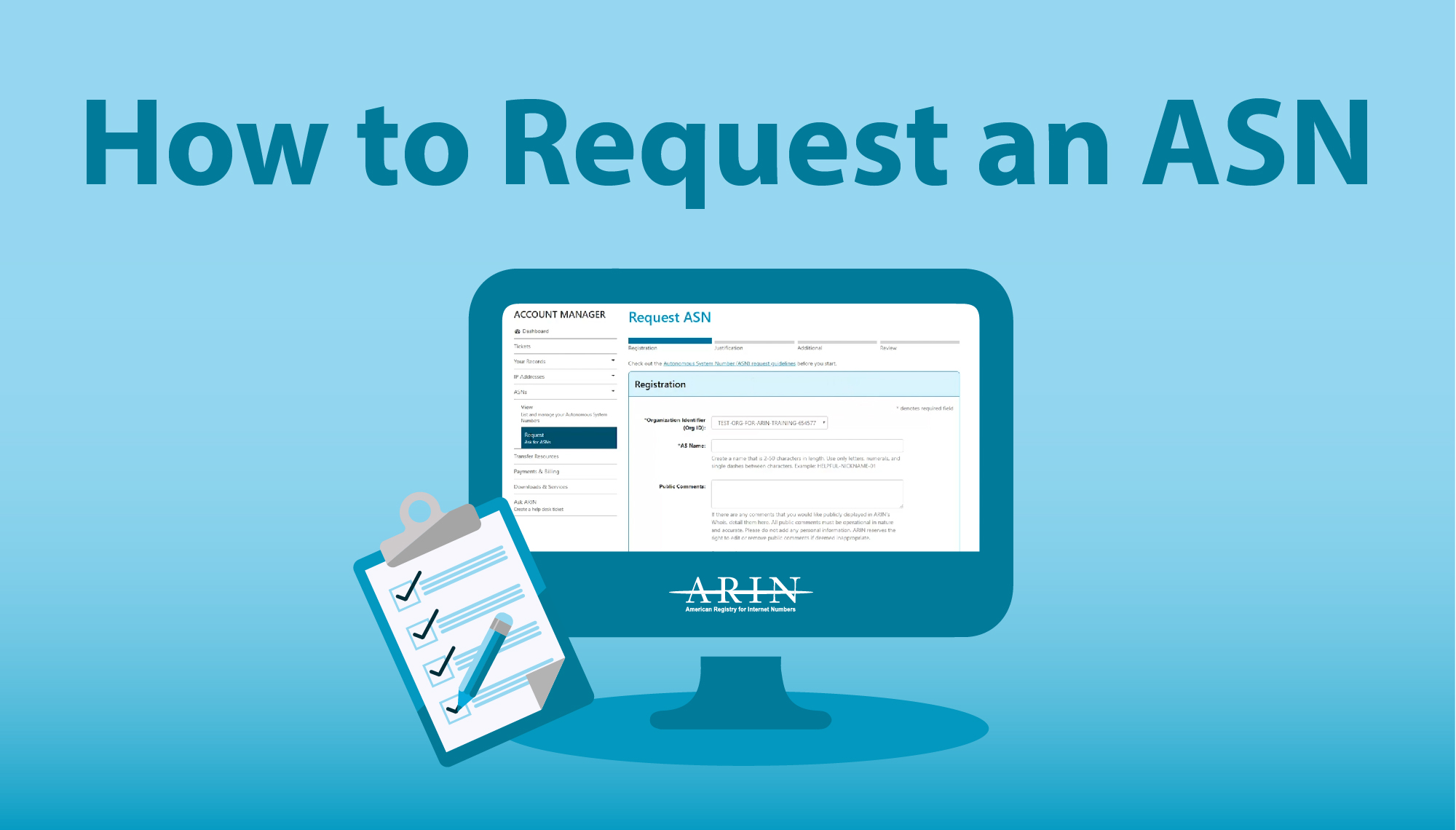 How to Request an ASN from ARIN
You may know that ARIN assists many organizations in obtaining Internet number resources, including IPv6, IPv4, and ASNs. Over the years, policies and procedures have changed.  These changes have influenced the way you would request an ASN from ARIN.
ASN: Back to Basics
Let's start from the beginning. ASN stands for Autonomous System Number.  It is a number that is used to define a group of routing prefixes that maintains a unique routing policy that differs from the routing policies of network border peers. ISPs use ASNs to control routing within their networks and to exchange routing information with other ISPs.AS numbers (along with BGP) help routers and networks to identify where information comes from and where it should go outside a particular ISP's network.A public ASN is needed for an autonomous system to exchange routing information with two or more autonomous systems on the public Internet.
2-byte to 4-byte ASNs
There are two types of ASNs: 2-byte and 4-byte.  Similar to the case with IPv4 and IPv6 addresses, 4-byte ASNs were developed to meet the growing needs of a rapidly expanding Internet.
A Little History
As outlined in our 2016 blog "Simplifying ASN Requests", we provided a great deal of background on the changes that have occurred over the years with regard to ASNs. Included in these changes were the exhaustion of the global 2-byte ASN pool, information on the global 4-byte ASN pool, and that all Regional Internet Registries (RIRs) would be issuing from an undistinguished pool of ASNs; meaning no more differentiation between 2-byte and 4-byte ASNs. We also outlined how IPv4 policies helped to shape the changes in the ASN review process.
In 2016, we were happy to announce that after some community discussion at an ARIN Public Policy Meeting, the idea of removing verification requirement (contracts, bills/invoices, etc.) and removing the 30-day usage requirement was well received by the community, and ARIN was able to move forward with the new changes.
Requesting an ASN
Now, organizations may qualify for an ASN either by providing the names and ASNs of two upstream ISPs they'll be using to multi-home, or by describing a unique routing policy. No copies of contracts or invoices are required. While the 30-day use requirement has been lifted, we will still need a projected date of usage. This streamlined the request process and made for faster turnarounds in getting ASNs to the organizations that need them.
In short,
Submit your request through ARIN Online
A member of Registration Services will review your request. We will respond to your ticket if we have any questions.
If your request is approved, you will receive an invoice and a Registration Services Agreement or RSA (if applicable).
Once we receive payment and a signed RSA, we will be able to complete the ASN assignment.
Check out our helpful video!
If you'd like further information about how to request an ASN from ARIN, check out this brief video which will walk you step-by-step through the process. And of course, you can reach out to our Registration Services Team at any time by submitting an Ask ARIN ticket from within your ARIN Online account or by calling us at 703.227.0660.
Recent blogs categorized under: Tips