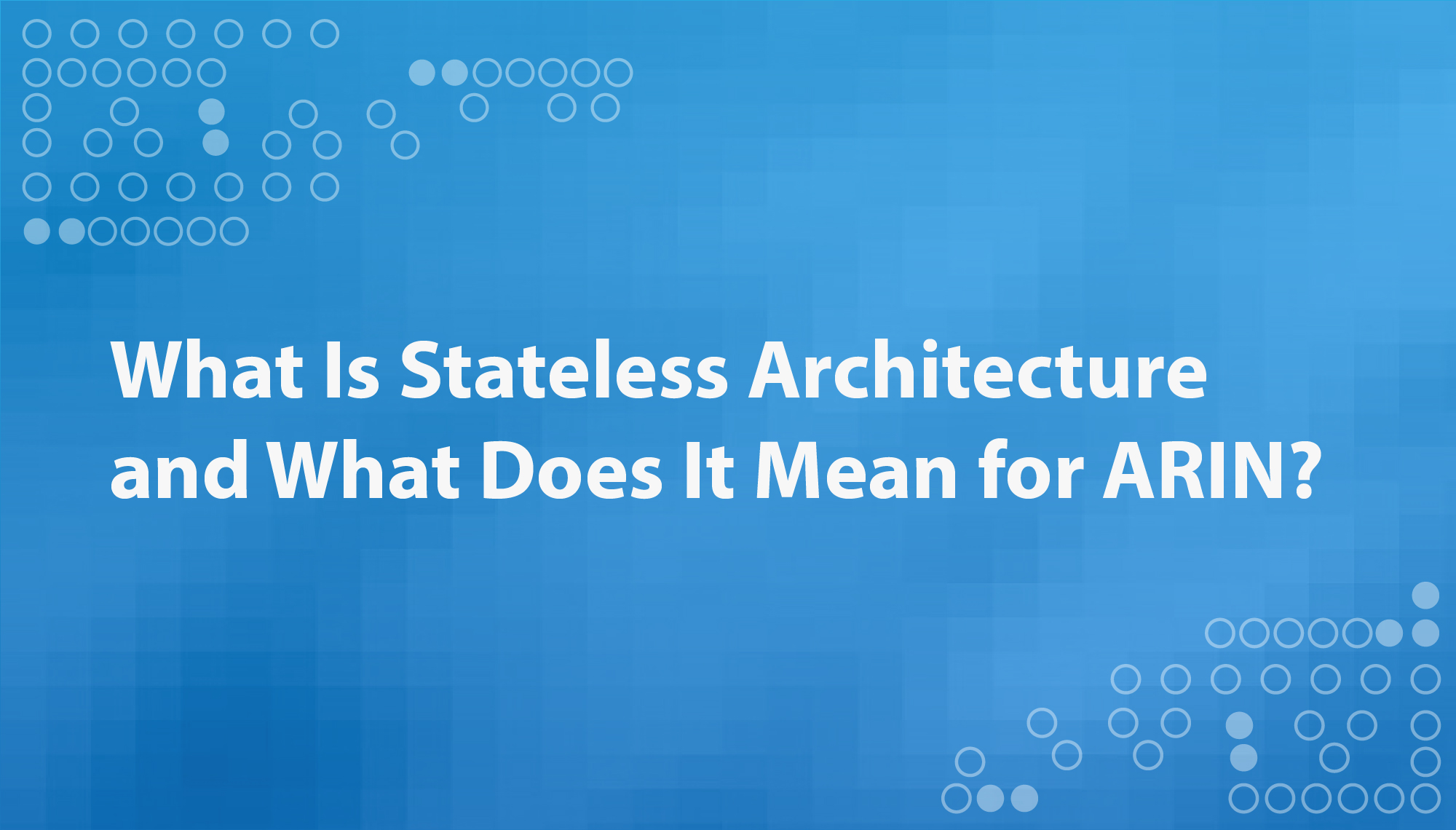 What Is Stateless Architecture and What Does It Mean for ARIN?
You may have heard during our past few Public Policy and Members Meetings that we've been working on moving towards a "stateless architecture." If you're in the dark about what this means for ARIN Online as well as future downtime and upgrades, read on for a quick Q&A with Andy Newton, our Chief Engineer.
---
1. Can you explain what stateless architecture means in terms of ARIN's systems?
This refers to ARIN Online and how it tracks users who are logged in to ARIN Online. Our previous architecture was "stateful," meaning each user was tracked by mapping an identifier in the user's browser with data in the memory of the ARIN Online servers. For every user actively using ARIN Online, the servers would consume memory when keeping the session state of their activities.
Stateless means that the servers no longer keep track of each active user. Instead, the "state" of the activity of the user stays in the user's web browser.
2. What benefits will users see in their day-to-day operations?
The biggest benefit to our users will be a greatly increased "session" timeout. In the past, users would lose their session after two hours of inactivity. With our new stateless architecture, the session is held in the user's browser and is therefore not limited by the memory in ARIN Online's servers. Now sessions will last several days, limited only as a security precaution.
3. Will the new stateless architecture decrease the frequency or the length of time when the system is down for maintenance?
Downtime to fix bugs or add new features to ARIN Online will be very rare in the future. Historically, bug fixes and feature additions have been the primary causes of outages as we upgrade ARIN Online.
However, there will be outages in the future unrelated to ARIN Online itself, such as upgrades to ARIN's registry database or network changes. But these types of outages will occur at less frequent intervals as we move forward.  Right now, ARIN does have a few of these types of outages planned for the off-hours during 2019, as we have a number of core changes to implement.
4. What types of service disruptions might users still expect, and what features will be available or unavailable during these disruptions?
In general, outages to ARIN Online do not impact DNS, RDAP, Whois, or RPKI Repository service availability, nor do they require an outage to the "static" content on www.arin.net or our search facility at search.arin.net.
5. Going forward, what are your plans for ARIN's architecture?
Achieving stateless architecture with ARIN Online will allow us to start the process of breaking up our systems into smaller, more manageable components. Currently, ARIN Online and its associated systems have what is known as a "monolithic" architecture, and upgrading large systems usually takes large effort. Consequently, ARIN has built a tremendous amount of technical debt. Now that we have stateless ARIN Online servers, we can work on developing an architecture that is more focused on "micro-services." This would mean maintaining and upgrading software and systems in smaller, more manageable components, with little to no impact on those who use ARIN Online.
Recent blogs categorized under: Updates
---
GET THE LATEST!
Sign up to receive the latest news about ARIN and the most pressing issues facing the Internet community.
SIGN ME UP →
---
Blog Categories
Grant Program
•
Public Policy
•
IPv4
•
Updates
•
Security
•
RPKI
•
IPv6
•
Data Accuracy
•
Elections
•
ARIN Bits
•
Business Case for IPv6
•
Fellowship Program
•
Caribbean
•
Internet Governance
•
Tips
•
Customer Feedback
•
Outreach
•
Training
•
IRR