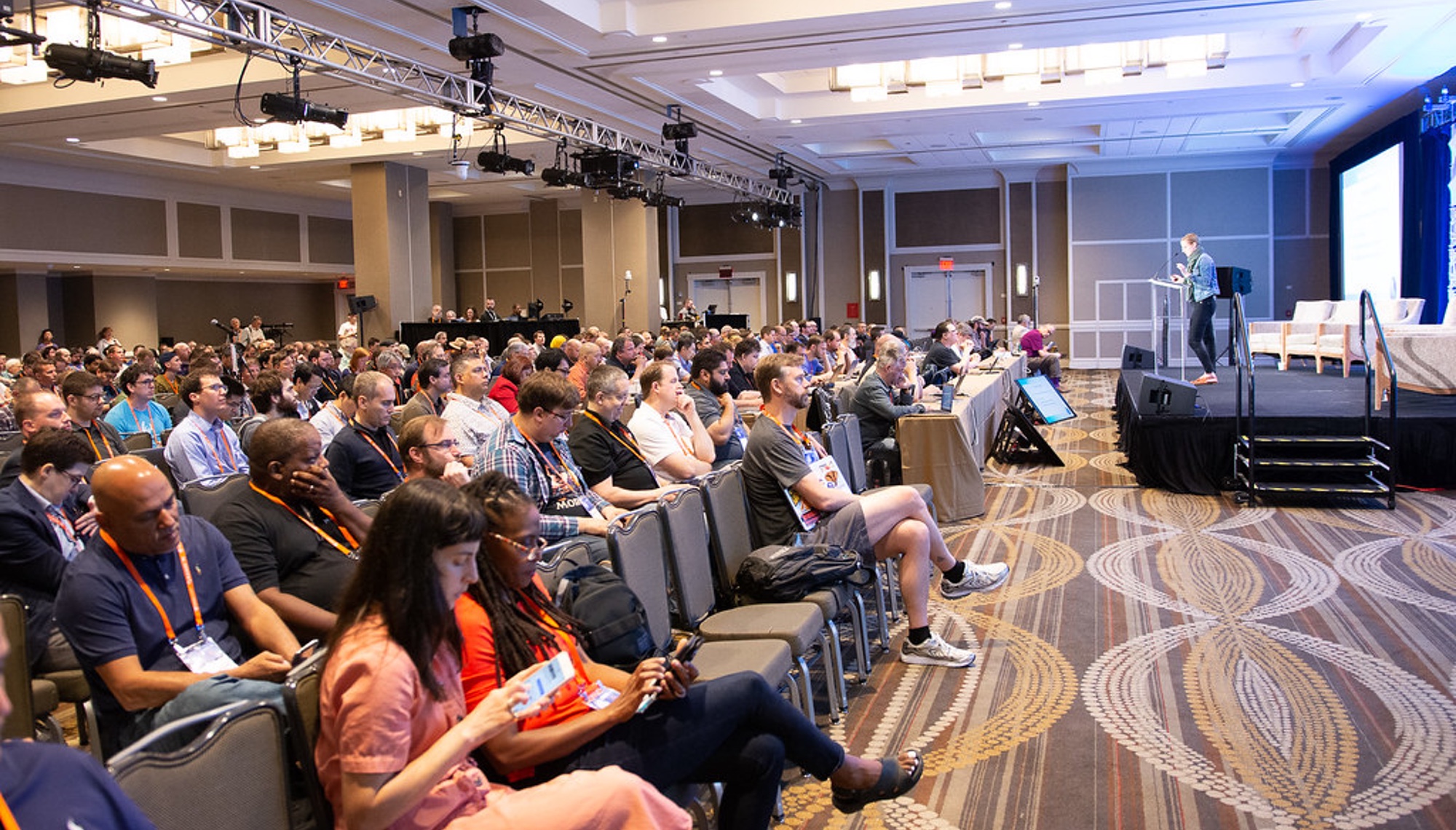 Questions Network Operators Ask - NANOG 76
Last week we had an ARIN Help Desk at NANOG 76 in Washington, D.C. I was happy to be there to help attendees with their registry needs and get a sense for the most-pressing concerns for network operators. NANOG is a great community, and we're happy to be a part of it.
We had quite a few people come to us with questions that were as varied as a typical week on the phones. People asked us what we do, and we provided general education in that area. Some had questions about existing tickets ("I have a ticket open, but since I'm here…"). In some cases, the ticket could be resolved and closed on the spot, other times we were able to guide them with next steps to help keep their ticket moving towards resolution.
Hey @NANOG'ers, stop by our #NANOG76 ARIN Help Desk this week to get your questions about IP & ASN registration answered. And while you're here, get started creating an #IPv6 case study with us. pic.twitter.com/y62FJYAa4b

— ARIN (@TeamARIN) June 10, 2019
We were happy to answer educational questions about our services like explaining policy requirements, or explaining how the waiting list and transfer market work. We also answered many "How do I?" questions including: how do I request a resource? and how do I update my records? One of the best things about being on-site at the Help Desk is when we can completely resolve a long-standing customer issue. For example, I was able to help one customer update his account and Whois records. It had been on his to-do list for a couple of years, but he never got around to looking into it. The convenience and easy-access to ARIN staff at NANOG gave him the opportunity to stop by in-person and resolve the whole issue in only 10 minutes. He was happy to have the mystery solved.
While at #NANOG76 , @TeamARIN team member Eddie helped clean up my ARO account after a couple years of mysterious emails. Thanks Eddie!

— Austin Brower (@austonianb) June 12, 2019
In addition to our Help Desk at the meeting, we also asked individuals to tell us more about their IPv6 deployments. ARIN President and CEO, John Curran, gave a call to action for people to contribute IPv6 case studies. Several people stopped by to indicate they're interested in sharing their IPv6 journey and learning from others who have already published an IPv6 case study.
First talk at #NANOG76 by @TeamARIN #nanog pic.twitter.com/e3YJscDuwv

— Michael T. Voity (@Mvoity) June 10, 2019
The NANOG 76 agenda was full of interesting talks including one from ARIN Advisory Council member, Alyssa Moore, on how to make ARIN policy work for network operators. You are encouraged to get involved in the ARIN policy process. Be sure to come to the next ARIN meeting in October directly following NANOG 77 in Austin, TX to discuss policy and find out more about what's going on at ARIN.
DC bound for @nanog! Join me Monday morning for a talk 🗯 on recent @TeamARIN policy developments that affect ~yooooooour~ network operations. #NANOG76

— Alyssa Moore (@lyssamoo) June 9, 2019
We're happy to work with NANOG to serve the Internet community. If you have a question or concern you can't find the answer to on our website, find us at an event like NANOG or give us a call at the Help Desk. There's rarely a queue, we're all friendly and helpful.
Recent blogs categorized under: Outreach
---
GET THE LATEST!
Sign up to receive the latest news about ARIN and the most pressing issues facing the Internet community.
SIGN ME UP →
---
Blog Categories
Grant Program
•
Public Policy
•
IPv4
•
Updates
•
Security
•
RPKI
•
IPv6
•
Data Accuracy
•
Elections
•
ARIN Bits
•
Business Case for IPv6
•
Fellowship Program
•
Caribbean
•
Internet Governance
•
Tips
•
Customer Feedback
•
Outreach
•
Training
•
IRR