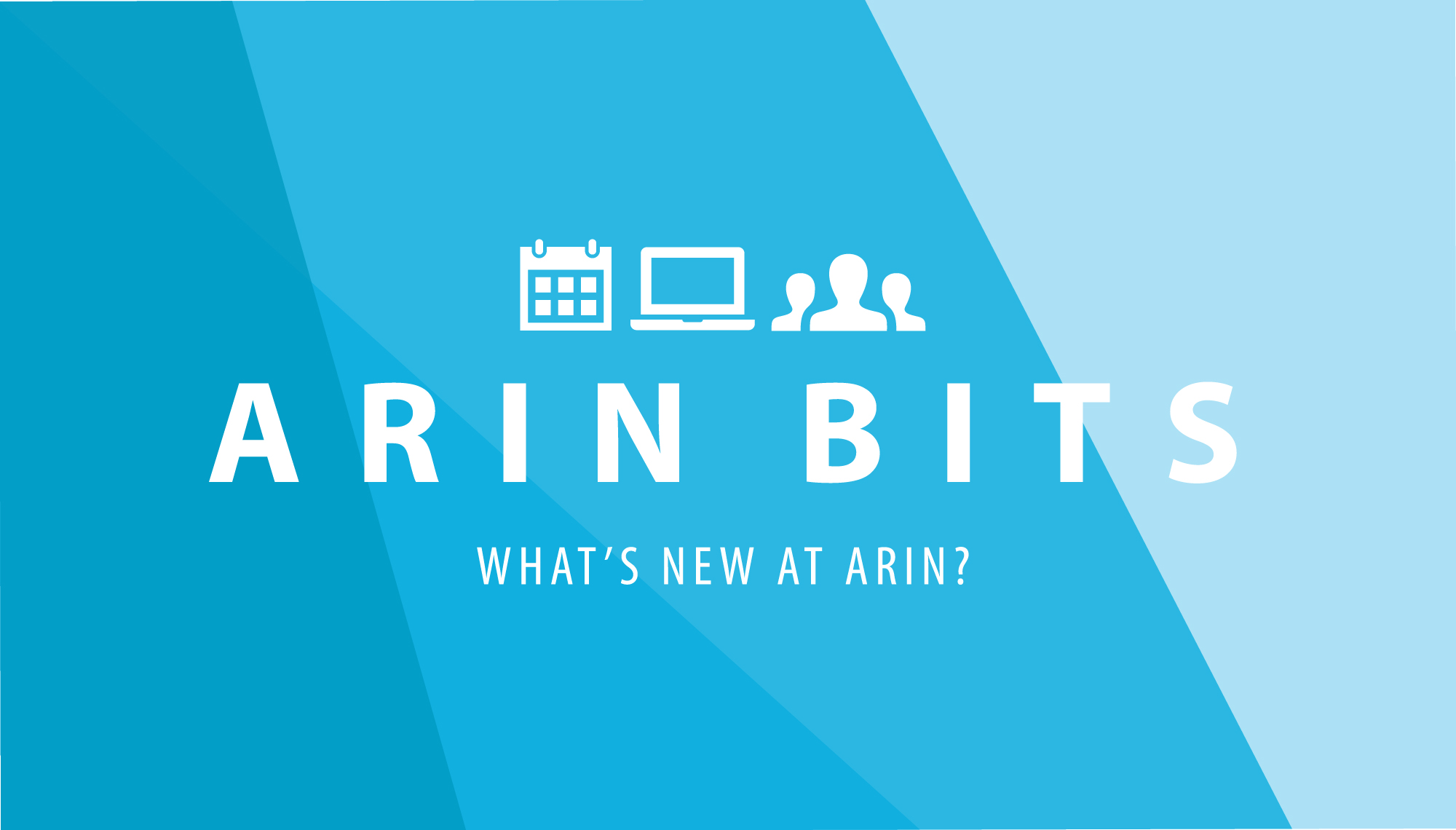 ARIN Bits: June 2019
We've hit the halfway point of 2019, and we have a lot to show for it! In this edition of ARIN Bits, you'll learn about our new Leadership Development Webinar Series, the ARIN Community Grant Program, ARIN 44 and fellowships, upcoming key election dates, our 2018 annual report, and more. If you missed any previous editions of Bits and want to catch up, you can find them on our ARIN Bits archive page.
ARIN's Leadership Development Webinar Series
In an effort to develop a strong class of future leaders from diverse backgrounds and geographic areas, we've launched a Leadership Development Program that encourages and explains how to continually engage with ARIN. The first phase of the program is a series of four one-hour webinars for interested community members who want to learn more about ARIN, its governance, and the work of the ARIN Board of Trustees, Advisory Council, and Number Resource Organization Number Council.
Registration for this webinar series opened on 28 May and all of the available seats were claimed in the first week. We thank everyone for their interest in this program, and we can't wait to offer the series again in the future!
The full slate of webinars includes:
Module 1: Setting the Scene
Thursday, 13 June
1:00 – 2:00 PM EDT
Module 2: ARIN Services and Community Engagement
Thursday, 20 June
1:00 – 2:00 PM EDT
Module 3: The Advisory Council and Policy Development Process and the NRO Number Council
Thursday, 27 June
1:00 – 2:00 PM EDT
Module 4: Board of Trustees Roles and Responsibilities
Thursday, 11 July
1:00 – 2:00 PM EDT
Descriptions of each webinar can be found on our Leadership Development Program page.
Didn't get a chance to register for the series before it filled up? No worries – recordings of each session will be posted on the official ARIN YouTube channel.
Have you heard about the ARIN Community Grant Program?
We are pleased to announce a new ARIN Community Grant Program that provides financial grants to support projects that advance ARIN's mission and benefit the Internet community within the ARIN region. For 2019, the ARIN Board of Trustees has approved a total expenditure of up to $60,000 (USD) for grants of varying amounts, starting at $1,000 (USD) and based on project need.
Projects must fit into one or more of these broad categories:
Internet technical improvements: Promotes and facilitates the expansion, development, and growth of the infrastructure of the Internet consistent with the public interest

Registry processes & technology improvements: Help maintain a globally consistent and highly usable Internet number registry system

Informational outreach: Advances the Internet by covering topics such as, but not limited to: IPv6 deployment, Internet research, and Internet governance
Grant applications will be accepted 1 May – 11 June 2019. Learn more and start the application process by visiting our Community Grant Program page.
Applications for ARIN 44 Fellowships are opening soon!
Our next Public Policy and Members Meeting, ARIN 44, will be held in Austin, Texas from 31 October – 1 November at the JW Marriott Austin. Registration will open in the coming weeks, so keep an eye out for an announcement!
Applications for our Fellowship Program to attend ARIN 44 will also be opening soon! An ARIN 44 Fellowship will give you the chance to attend not just ARIN 44, but also NANOG 77 from 28-30 October in the same location.
If you're looking for more information on what it means to be an ARIN Fellow, take a look at our Fellowship Corner right here on TeamARIN.
Call for Nominations for ARIN Elections Opens 15 July
Beginning 15 July, ARIN Trustees and representatives from our General Members in Good Standing are cordially invited to nominate candidates for seats on the ARIN Board of Trustees and Advisory Council to serve three-year terms beginning 1 January 2020.
To view the initial requirements and responsibilities of the Board of Trustees and/or Advisory Council, please visit the pages below:
Anyone may nominate a candidate to serve on the Number Resource Organization Number Council (NRO NC). Information on that body is available on the NRO Number Council page.
Be sure to mark all dates in the 2019 election calendar to make sure you don't miss a step in this important process. While you're looking over the calendar, make a note to update or establish your Voting Contact by 16 September – you won't be able to vote without one!
ARIN's 2018 Annual Report
The 2018 ARIN Annual Report is now available! In case you missed it, the report includes:
An overview of our mission, services, and structure

Updates from our President & Chief Executive Officer and Board of Trustees Chairman

A summary of 2018 accomplishments from our Chief Operations Officer and Service Level Report

Department highlights and Internet Governance participation report

A recap of 2018 outreach events and public policy discussions

An overview of our Policy Development Process (PDP) and Number Resource Policy Manual (NRPM) changes

Activity reports from the Board of Trustees, Advisory Council, and NRO Number Council

Internet number resource statistics for 2018 and historical activity
You can view the full annual report and also the 2018 Auditor's Report.
Visit the ARIN Help Desk
The ARIN Help Desk is going to be making an appearance at a few upcoming industry events! If you'd like a chance to meet some of our Registration Services team and ask specific questions about your resources or pending requests, you will definitely want to make time to chat with these folks.
The ARIN Help Desk will be available at:
Do you know of an upcoming meeting or event where you think an ARIN Help Desk would be beneficial to the attendees? If so, let us know by emailing our meeting team at meetings@arin.net.
We have a plethora of policy proposals under discussion, including:
Pending Board of Trustees Review:
ARIN-2017-12: POC Notification and Validation Upon Reassignment or Reallocation

ARIN-2018-2: Clarification to ISP Initial Allocation

ARIN-2018-5: Disallow Third-party Organization Record Creation

ARIN-edit-2019-1: Remove IPv4 Reference in NRPM Section 6.10.1
Draft Policies:
ARIN-2018-6: Clarify Reassignment Requirements in 4.2.3.7.1

ARIN-2019-1: Clarify Section 4 IPv4 Request Requirements

ARIN-2019-2: Waiting List Block Size Restriction

ARIN-2019-3: Update 4.10 – IPv6 Deployment Block

ARIN-2019-4: Allow Inter-regional IPv6 Resource Transfers

ARIN-2019-5: Validation of Abuse-mailbox

ARIN-2019-6: Longer Hold Time Requirements for 4.1.8 Recipients

ARIN-2019-7: Elimination of the Waiting List

ARIN-2019-8: Clarification of Section 4.10 for Multiple Discrete Networks

ARIN-2019-9: Clarify Interactions Between NRPM 4.10 IPv6 Transition Space Requests and NRPM 4.1.8.2 Unmet Needs Requests

ARIN-2019-10: Inter-RIR M&A

ARIN-2019-11: M&A Regional Nexus Exclusion

ARIN-2019-12: M&A Legal Jurisdiction Exclusion

ARIN-2019-13: ARIN Membership Legal Jurisdiction Exclusion

ARIN-2019-14: No Specified Transfers for 4.1.8.2 Blocks
You can find the status of current policy discussions and subscribe to ARIN-PPML (Public Policy Mailing List) to voice your opinions. And remember, membership is not required to participate!
In May, we added some new features to ARIN Online:
Completed a number of infrastructure improvements and performed multiple bug fixes.

Made improvements to the combined web search and Whois/RDAP search functions, including:

Adding the ability to select entities (such as POCs, Orgs, and Customers) in search results to get entity information.

Improving query behavior when a user searches for single-word entity names.

Returning nameservers in domain queries.

Added Google captcha feature to account creation to provide added security.

Created additional messaging to notify users of payment status when using a credit card to pay an invoice in the Payments & Billing page.

Resolved issues with screen display and usability on certain mobile devices.

Fixed parsing issues with third-party library used by the CIDR calculator.

Completed work to transition ARIN systems to a stateless architecture to reduce timeouts for users and lessen downtime required for system maintenance. Note: As part of this change, the server used with some REST calls (that download files using your API key) has changed. ARIN has put redirects in place, but you may need to manually configure your scripts to point to the correct server. Please refer to the following pages for information on how to configure these commands and to obtain the correct sample commands:
Our Featured Policy Requirement:
AS Numbers (NRPM 5.0)
In our last issue of Bits, we mentioned that you can now transfer ASNs through Inter-RIR resource transfers. We'd like to point out that ARIN also has plenty of ASNs available to be issued to organizations in the ARIN service region. If your organization needs to register a unique ASN to Multi-home with Border Gateway Protocol or will have a unique routing policy, your next step will be to submit your request through your ARIN Online account. Additional information and instructions can be found on our Autonomous System Numbers page.
A Tip from Our Registration Services Department:
ARIN Online user accounts are created so that you can log in to ARIN Online to manage your records, request resources, and use our many other services. Accounts are to be used by individuals and should not be shared. Each individual gains access to records by linking their user account to their Point of Contact (POC) and Organization Identifier (Org ID). Additional information on web accounts, POCs, and Org IDs can be found on the ARIN Account Management page.
Check out these customer and member statistics (as of 31 May 2019):
38,313 total customer organizations, including 6,054 member organizations

384 8.3 Transfers and 58 8.4 Transfers completed YTD 2019

8.4 Transfers completed YTD 2019: 15 to APNIC, 27 to RIPE NCC, 8 from APNIC, 8 from RIPE NCC

59.6% of members have an IPv6 block
Blog Spotlight
Ever wondered how ARIN handles reports of route hijacking? In a recent blog by RSD director John Sweeting, we go over exactly what ARIN's internal processes are for handling route hijacking reports. This includes investigation, communication, and eventually, resolution of the issue.
Other recent TeamARIN blogs include IPv6 case studies, sponsorship information for our upcoming meetings, economic factors affecting IPv6 deployment, and more.
See you in September!
We'll see you next quarter. Have a great summer!
Recent blogs categorized under: ARIN Bits
---
GET THE LATEST!
Sign up to receive the latest news about ARIN and the most pressing issues facing the Internet community.
SIGN ME UP →
---
Blog Categories
IPv6
•
Business Case for IPv6
•
Fellowship Program
•
Grant Program
•
Caribbean
•
Internet Governance
•
Updates
•
IPv4
•
ARIN Bits
•
Elections
•
Tips
•
Public Policy
•
Customer Feedback
•
Security
•
Outreach
•
RPKI
•
Training
•
IRR
•
Data Accuracy