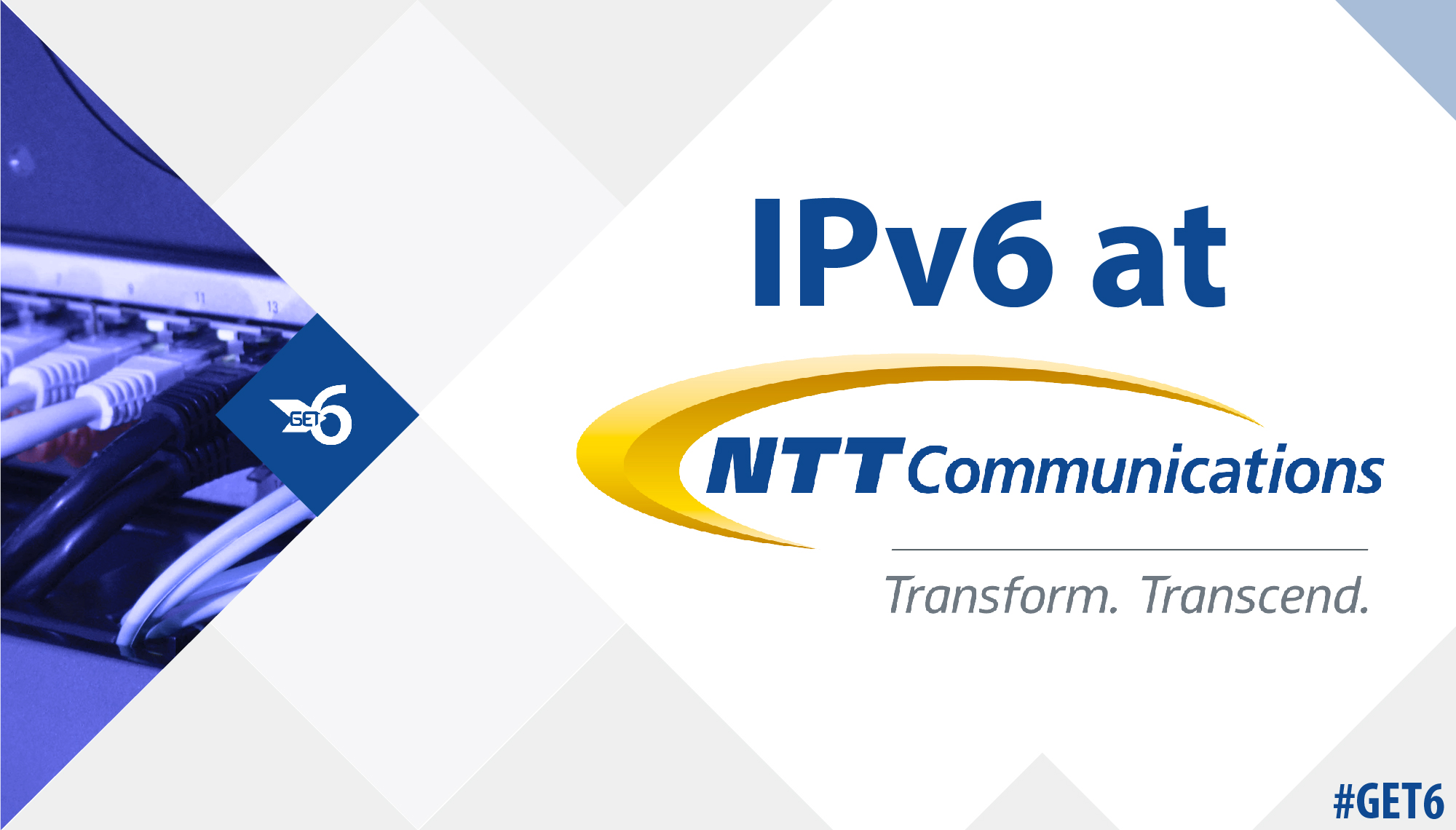 Tier 1 Providers Must Offer IPv6
NTT is a global Tier 1 provider. We provide IP transit up to 100g and DDoS Protection Services.  We have a presence in the APNIC, ARIN, RIPE NCC, and LACNIC regions. Our network is 100% implemented with IPv6.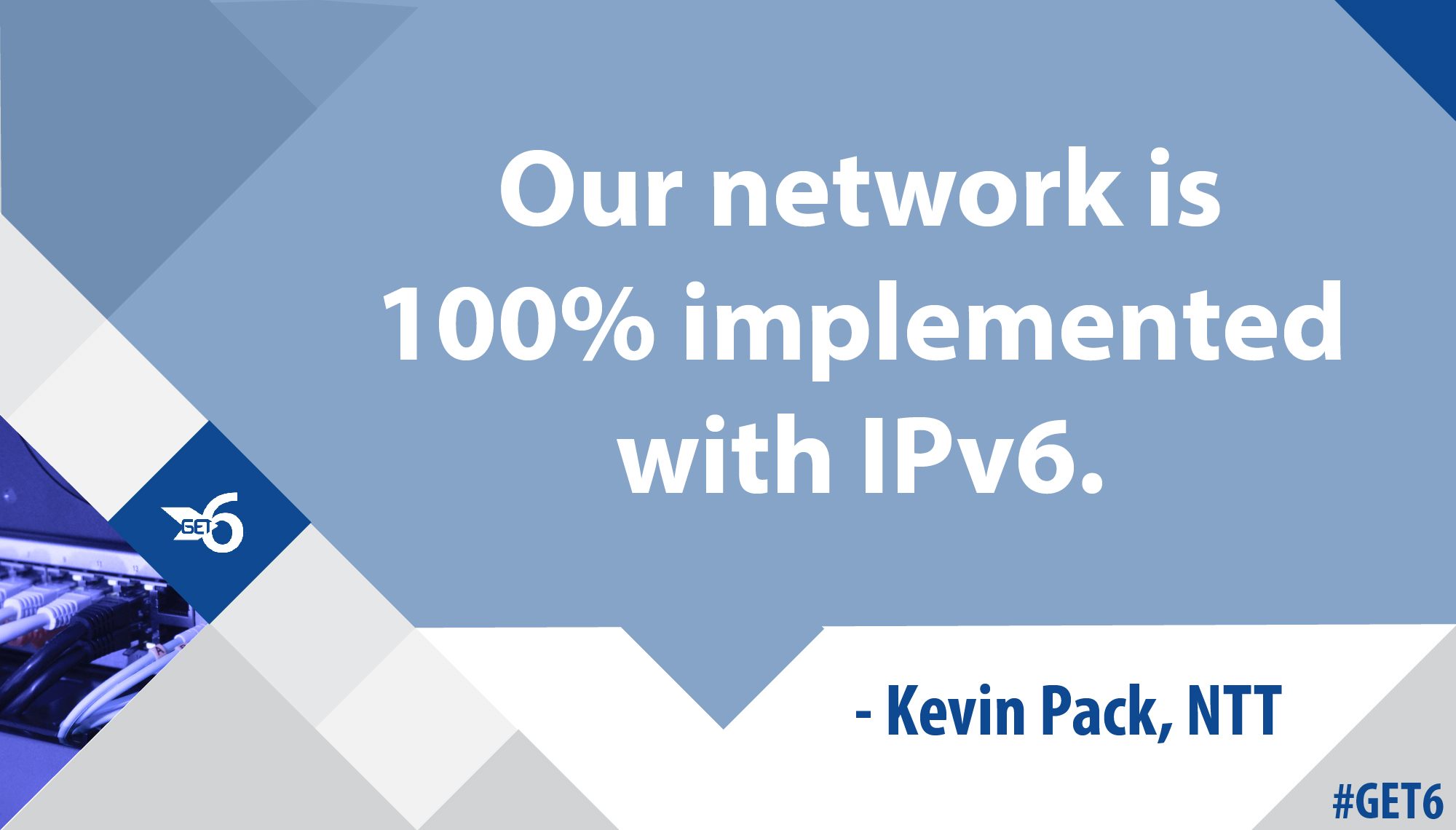 IPv6 is a necessity
We have been providing IPv6 since 2000. The decision to deploy came from our operations team and management that maintained the backbone 20 years ago. There are two reasons we adopted IPv6:
IPv4 depletion drove part of the decision. Given NTT's global presence, IPv6 adoption is much more of a necessity than an option.

The culture at NTT is to be innovative and a leader in the industry. Deploying IPv6 is something we wanted to do before anyone else.
Same provisioning and operating
The services we provide over IPv6 are identical to those we provide over IPv4 including blackhole routing /128s, DDOS services, usage graphing, etc. Essentially, IPv6 is provisioned and operated the same as IPv4 on our network.  Customers are assigned a /127 and the peer is configured with the default options–NTT or full tables with the option to add blackhole routing as a security measure.  With IPv4 and IPv6, customers can get full routing tables from us which include 600,000 routes for IPv4 or 80,000 for IPv6, or they may choose to get NTT-sourced routes which are a smaller table with essentially just one default route. If customers want IPv6 from us we will give them a /64 or /48 which is an easy boundary for DNS.  Access control lists (ACLs) are built off routing registries, RPKI or ARIN/LACNIC Whois. We use these filters so that we only accept what customers plan to announce based on objects they submitted in the routing registry.
In many ways, IPv6 is easier than IPv4.  For example, we use one /64 out of our /32 that is good forever for IPv6 WANs. For IPv4 we're using multiple /24s out of different allocations.  Customers also have the option to be assigned secure WANs that are not reachable. It's much easier for us to maintain IPv6 addresses than IPv4 addresses. Instead of us pulling a /30 out of an allocation here and there, it's all coming out of one /64.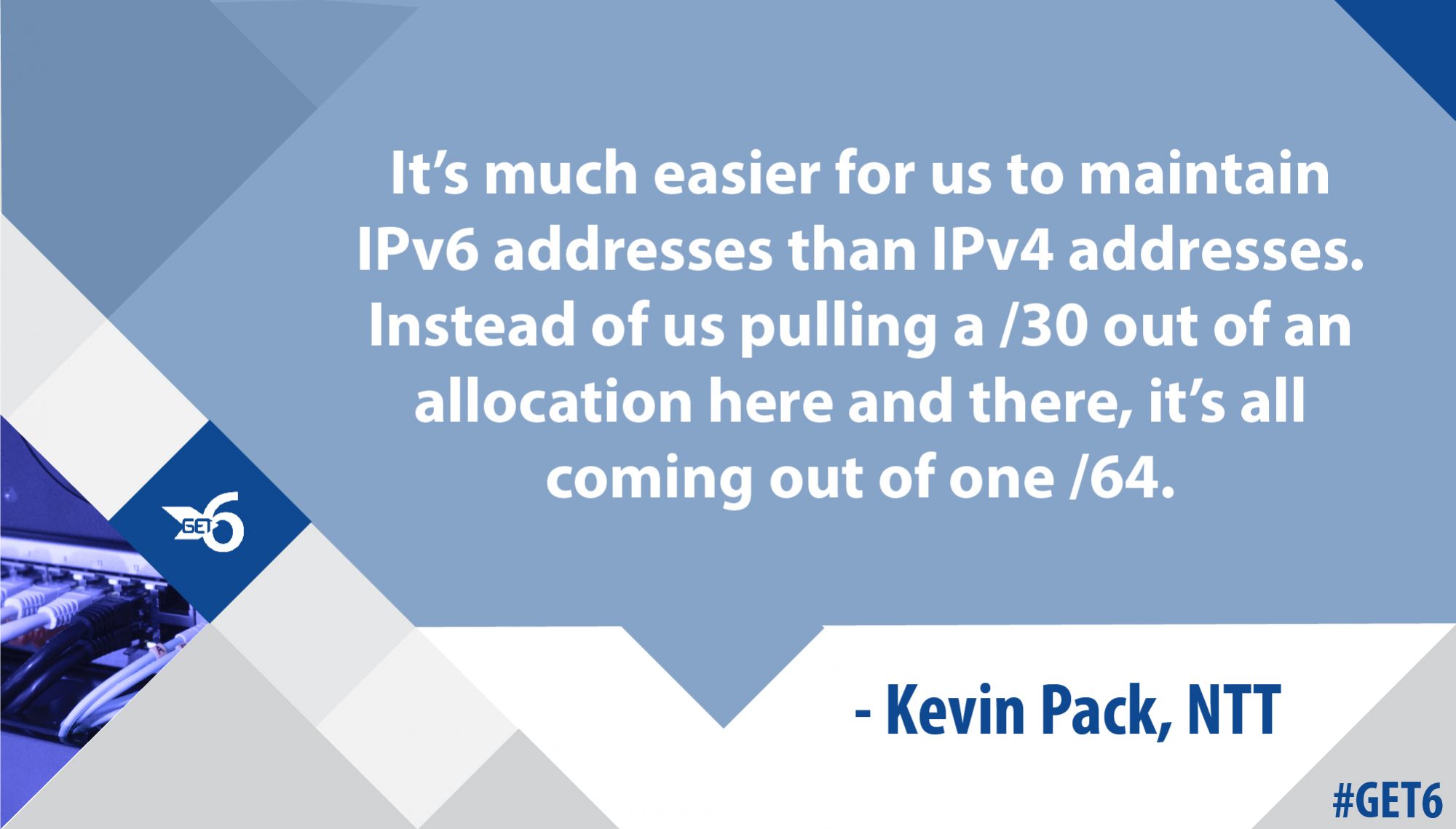 Globally, approximately 75% of our peers use IPv4 and IPv6. 66% of NTT peers in ARIN are using IPv6, 85% in RIPE NCC, and 74% in APNIC regions. On our network, we have fewer ARIN-based BGP customers using IPv6 than RIPE NCC and APNIC customers. Given how easy it is to get an IPv6 allocation from ARIN, companies should enable it on their network to at least test it for the future.
Obstacles along the way
The biggest obstacles we faced were software issues related to our hardware vendors. Twenty years ago, the software we were using had some bugs that have since been resolved. Another obstacle was that adding IPv6 to the NTTCOM routing registry wasn't immediate. We did it manually for a few months, and then it was automated. Now you submit your /48 route object and our routers update every day at 9:00 PM in the evening.
We encourage employees to share their experiences to help overcome obstacles. Communication between groups is important. If the customer side sees a problem, the backbone side can explain how to fix it or work around it.  We also have a vast internal wiki site that has documentation on IPv6, including how to configure it and more.
Tier 1 providers must offer IPv6
As a global internet provider, it's imperative that we offer IPv6 to our customers. Tier 1 providers have no choice. Our customers ask for IPv6 and that makes it necessary. IPv6 is also an important part of the relationship with our peers. They have to do it as much as we have to.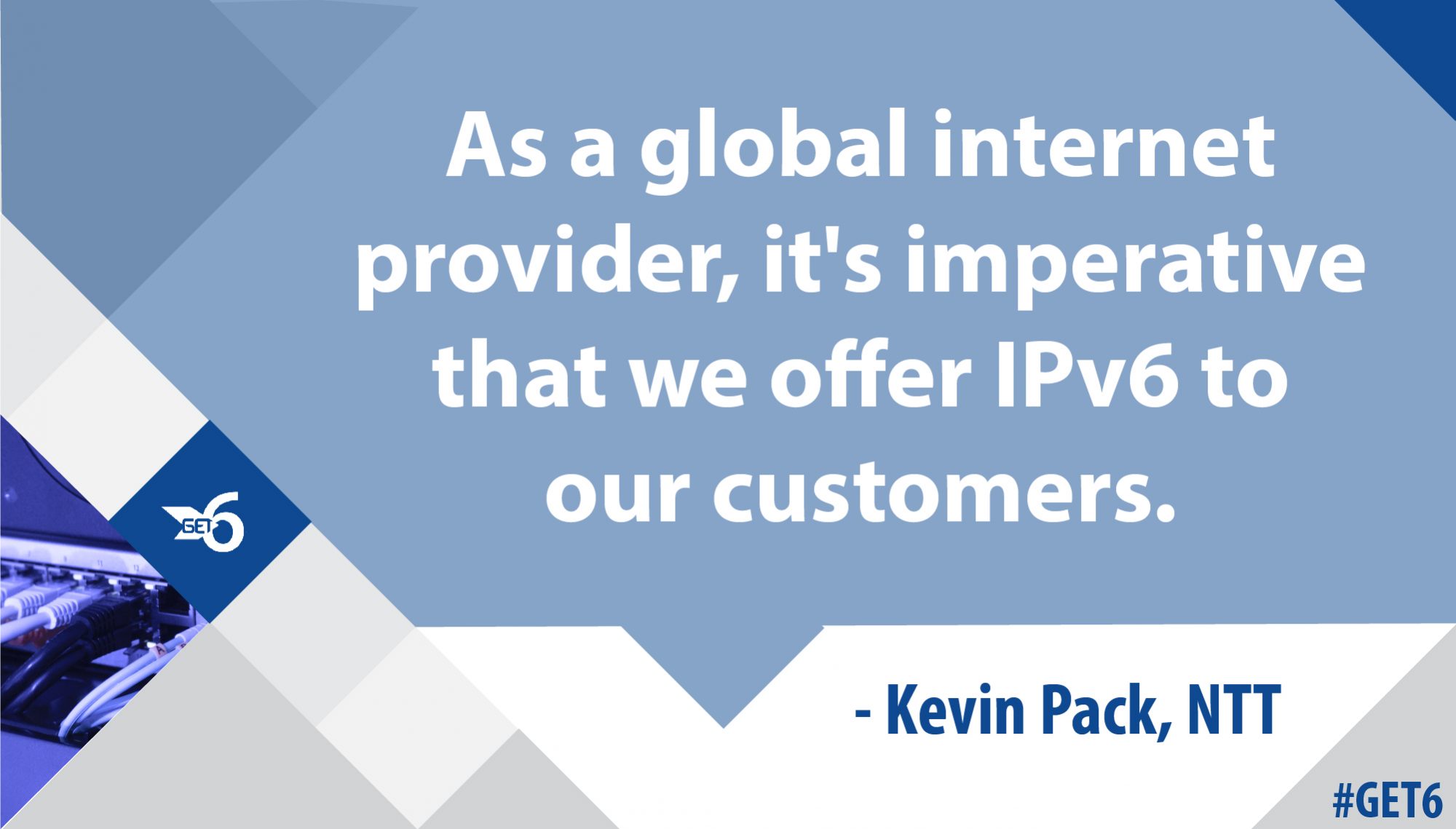 From my perspective, deploying IPv6 is easy and simple.  For example, instead of registering multiple route objects for IPv4 prefixes, you just need to register your /32 and we'll automatically accept up to a /48. It's the exact same thing. BGP is the same. The routing registry is the same. RPKI is the same. The only difference is the way it looks.
Any views, positions, statements or opinions of a guest blog post are those of the author alone and do not represent those of ARIN. ARIN does not guarantee the accuracy, completeness or validity of any claims or statements, nor shall ARIN be liable for any representations, omissions or errors contained in a guest blog post.
Recent blogs categorized under: IPv6