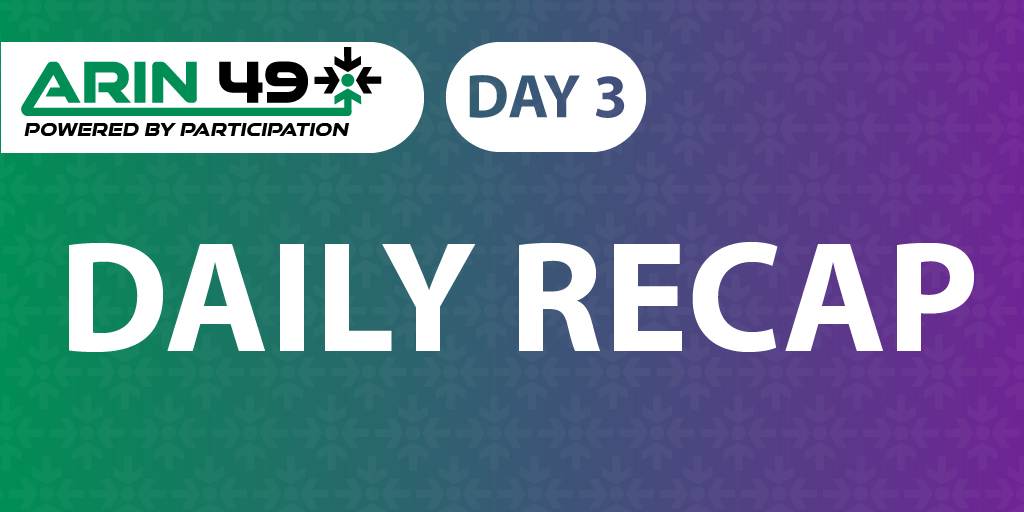 ARIN 49 Day 3 Daily Recap
We've reached the third and final day of the ARIN 49 Public Policy and Members Meeting! A huge thank you to all who participated in person and virtually and helped make this another fantastic meeting — and a successful hybrid one. To reference anything you've seen at the meeting, visit our meeting materials page. Over the coming days, links to the full transcript and webcasts will be added to this page as well. In the meantime, here's an overview of what happened on day three; the meeting day was brief, so this is too!
Day 3
Since days one and two moved along so efficiently, we already saw the Department Reports from ARIN staff and the Advisory Council Report from Leif Sawyer that usually take place on day three. So, after Hollis Kara, Director of Communications, provided a warm welcome, a thank you to our elected volunteers, and opening announcements — along with a round of applause for the Loews Vanderbilt Hotel event staff and the Clarity Experiences team facilitating our hybrid format — we jumped straight into the Members Meeting portion of ARIN 49 and final two reports of the week.
Nancy Carter, Board Treasurer, was up first with her ever popular Financial Report. She went over the main business of the Finance Committee along with updates on 2021 revenues (up 3% from 2020), operating expenses (5% below budget) and financial positions, including an explanation of deferred revenues. Bill Sandiford, Board Chair, then closed out the meeting's presentations with his Board of Trustees Report in which he discussed ARIN's financial and fiduciary changes, including adopting a new membership structure, election activities and more. Bill ended with a look at recent policy ratifications: Recommended Draft Policy ARIN-2021-2 and Editorial Change ARIN Edit-2021-5.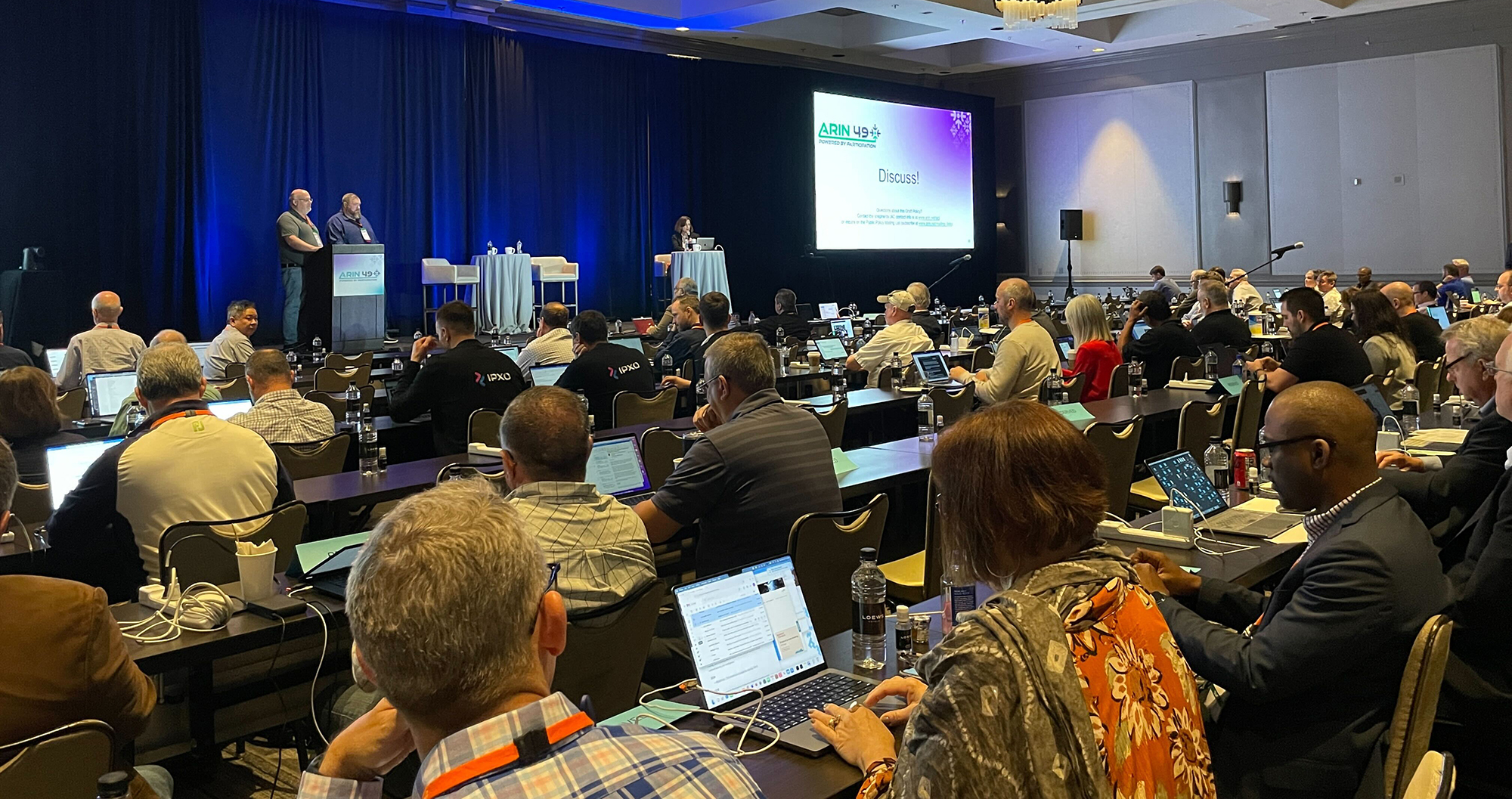 Photo by Ashley Perks
To wrap things up, Bill Sandiford and John Curran, ARIN President and CEO, hosted an open mic session, during which questions and comments addressed the entries into Whois, Advisory Council nominations, and a thank you to the entire ARIN team for hosting a fantastic meeting. Then we heard closing announcements from Hollis Kara, and ARIN 49 was in the books!
If you missed anything from the first two days of ARIN 49, you can reference the day one and day two recaps on the blog. Thank you again to all who made ARIN 49 a hybrid success. If you were in attendance, don't forget to complete the meeting survey so we can capture your feedback.
Mixing It Up
Yesterday evening both in-person and virtual attendees had the chance to join us for a Virtual Happy Hour to socialize in breakout rooms and enjoy some special activities with ARIN staff members. We had lots of fun playing This or That led by ARIN's resident game show host (and User Experience Designer), Jesse Helfrich, and Squirrl McClintock, ARIN Software Engineer, provided a live mixology demo of his original cocktails, the Salty Black Dog and Rosemary's Strawberry. Find the recipes for the drinks on the Social Events page of the meeting website to recreate them yourself!

Looking Ahead
We look forward to gathering with you in the fall to celebrate ARIN's 25th anniversary and 50th meeting! Help us commemorate these milestones by sharing a favorite memory you have from an ARIN meeting over the past 25 years. Also let us know why you participate, upload a photo, and choose a favorite past meeting logo.
Save the date for ARIN 50 happening 20-21 October 2022 in Hollywood, California, and online. Stay tuned for more details about future meetings by subscribing to the arin-announce mailing list.
Recent blogs categorized under: Public Policy
---
GET THE LATEST!
Sign up to receive the latest news about ARIN and the most pressing issues facing the Internet community.
SIGN ME UP →
---
Blog Categories
Grant Program
•
Public Policy
•
IPv4
•
Updates
•
Security
•
RPKI
•
IPv6
•
Data Accuracy
•
Elections
•
ARIN Bits
•
Business Case for IPv6
•
Fellowship Program
•
Caribbean
•
Internet Governance
•
Tips
•
Customer Feedback
•
Outreach
•
Training
•
IRR