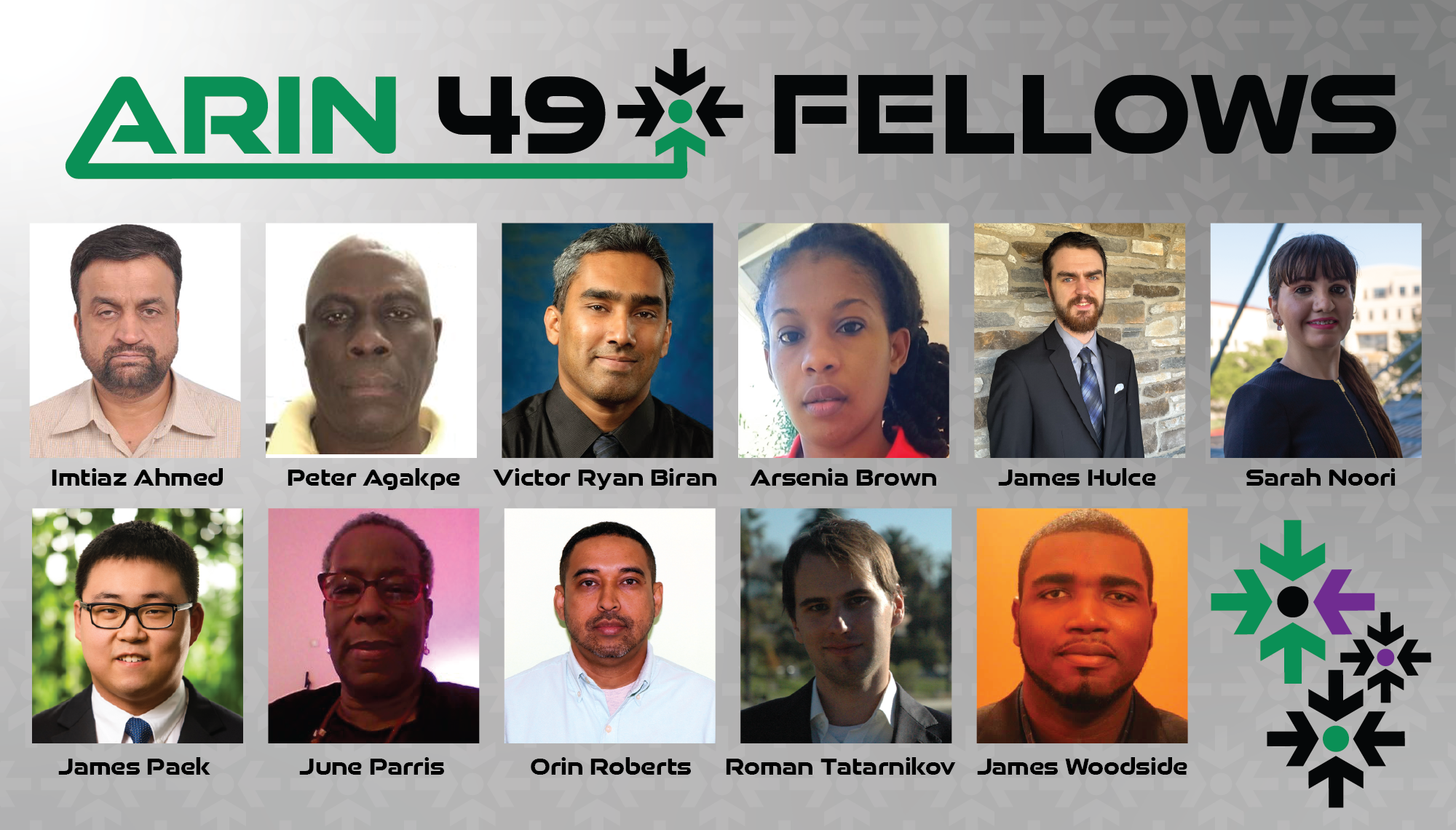 Introducing the ARIN 49 (Virtual) Fellows
ARIN staff is busy gearing up for our spring Public Policy and Members Meeting, ARIN 49, which takes place 24-27 April 2022 online and in person in Nashville, Tennessee.
Like in 2021, the ARIN 49 Fellowship Program is completely virtual again. With four sessions held via Zoom, it is a great way for Fellows to get immersed into the work of ARIN and feel ready to participate in the upcoming meeting. With this group of Fellows, we have now welcomed 175 new voices to the community over the last decade!
Meet the ARIN 49 Fellows
USA
Imtiaz Ahmed, CEO, Teds-ICT
James Hulce, Student, Thomas Edison State University
James Paek, Assistant Manager, QuikTrip
Peter Agakpe, Technology Investigator
Roman Tatarnikov, Founder & CEO, IntLos
Sarah Noori, Student, The University of Texas at San Antonio
CANADA
Orin Roberts, IP Provisioner, Bell Canada
CARIBBEAN & NORTH ATLANTIC ISLANDS
Arsenia Brown, Admissions and Assessment Monitoring Officer at Heart NSTA Trust
James Woodside, CTO, Secure Shores Datacenter
June Parris, Research Professional
Victor Biran, Manager, Policy, Planning & Research at Telecommunications Authority of Trinidad and Tobago
Meet the Mentors
Our Fellows are paired with an experienced ARIN Advisory Council Mentor, who helps guide them through the meeting and policy discussions. They also lead small group breakout sessions to discuss policy development and other topics in more detail.
Chris Tacit - Proprietor, Tacit Law
Joe Provo - Packet Slinger, Google
Rob Seastrom - Information Security, Capital One
And our guest mentor from the ARIN community, Mercia Arnold - Sr. Vice President, Risk Management & Compliance, The Obsidian Group, Inc.
…and other Special Guests
A few members of the ARIN Advisory Council will join us throughout the program to explain the Policy Development Process and what to expect from the policies on the docket during the upcoming ARIN 49 Public Policy and Members Meeting.
Alison Wood - Network Architect, State of Oregon
Leif Sawyer - ARIN Advisory Council, Chair
Kat Hunter - ARIN Advisory Council, Vice Chair
Thank you to our volunteers this year; their participation is key for the success of our Fellows!
Get to Know Our Fellows
We asked each of our fellows to share one word that describes how they felt upon learning they were selected for the program, and the responses included: Excited (x4), Happy, Elated (x2), and Surprised.
When asked what made her apply for the ARIN Fellowship Program, Arsenia Brown shared that she is intrigued with the developments and policy initiatives done by the community and she would like to increase her knowledge and awareness of the policies governing the management of Internet number resources. James Hulce jumped at the exclusive chance to learn more about Internet governance and is eager to hear from the numerous speakers presenting on many technical topics.
James Paek wants to better understand the mission and goals of ARIN. Having been part of the ICANN Fellowship and NextGen Program, he has been an active Internet community participant and is looking forward to learning more about ARIN and meeting new people in his field.
What are some of the Fellows looking forward to the most? June Parris said increasing knowledge and networking with peers while Orin Roberts is excited to interact with other IP Administrators and hear about their experiences with ARIN. Imtiaz Ahmed is excited to be an active participant and Victor Biran is keen to learn from the experience of others.
Regarding how they believe this experience will support them in their future projects, Imtiaz is hoping to enhance his knowledge and apply it toward Internet of Things and AI, while Roman Tatarnikov noted delivering Internet services has long been his passion, but now he wants to create my own. Arsenia Brown says she looks forward to imparting knowledge to her students and work colleagues.
Now for a Look Inside the Program:
The Virtual Fellowship Program will consist of four sessions running from 5 April to 3 May.
We will be joined for the first two sessions by Leif Sawyer and Kat Hunter, the Chair and Vice Chair of the ARIN Advisory Council. They, along with ARIN's Senior Policy Analyst Sean Hopkins, will discuss the Policy Development Process at ARIN and share what to expect during ARIN 49. The mentors will then each share time in the spotlight to talk about their career journey, and what brought them to volunteer with the ARIN Advisory Council. During session two, ARIN's External Relations Manager, Jennifer Bly, will share information about ARIN's role in Internet ecosystem and how we work with other Regional Internet Registries (RIRs) across the globe.
During the third session, Fellows will attend the ARIN 49 Newcomer Orientation to learn more about the history of ARIN and how to be an active participant during ARIN 49. Fellows will then attend the ARIN 49 Public Policy and Members Meeting.
At our last session, Fellows will discuss their overall experience and takeaways from ARIN 49, participate in an Internet governance Q&A session with Einar Bohlin, ARIN's Vice President of Government Affairs, and learn more about continuing education opportunities in the Internet community.
We look forward to a fun and meaningful experience with this group of Fellows and to adding more new voices to our public policy discussions. Stay tuned for more information regarding the ARIN 50 Fellowship Program this fall.
Recent blogs categorized under: Fellowship Program
---
GET THE LATEST!
Sign up to receive the latest news about ARIN and the most pressing issues facing the Internet community.
SIGN ME UP →
---
Blog Categories
Grant Program
•
Public Policy
•
IPv4
•
Updates
•
Security
•
RPKI
•
IPv6
•
Data Accuracy
•
Elections
•
ARIN Bits
•
Business Case for IPv6
•
Fellowship Program
•
Caribbean
•
Internet Governance
•
Tips
•
Customer Feedback
•
Outreach
•
Training
•
IRR