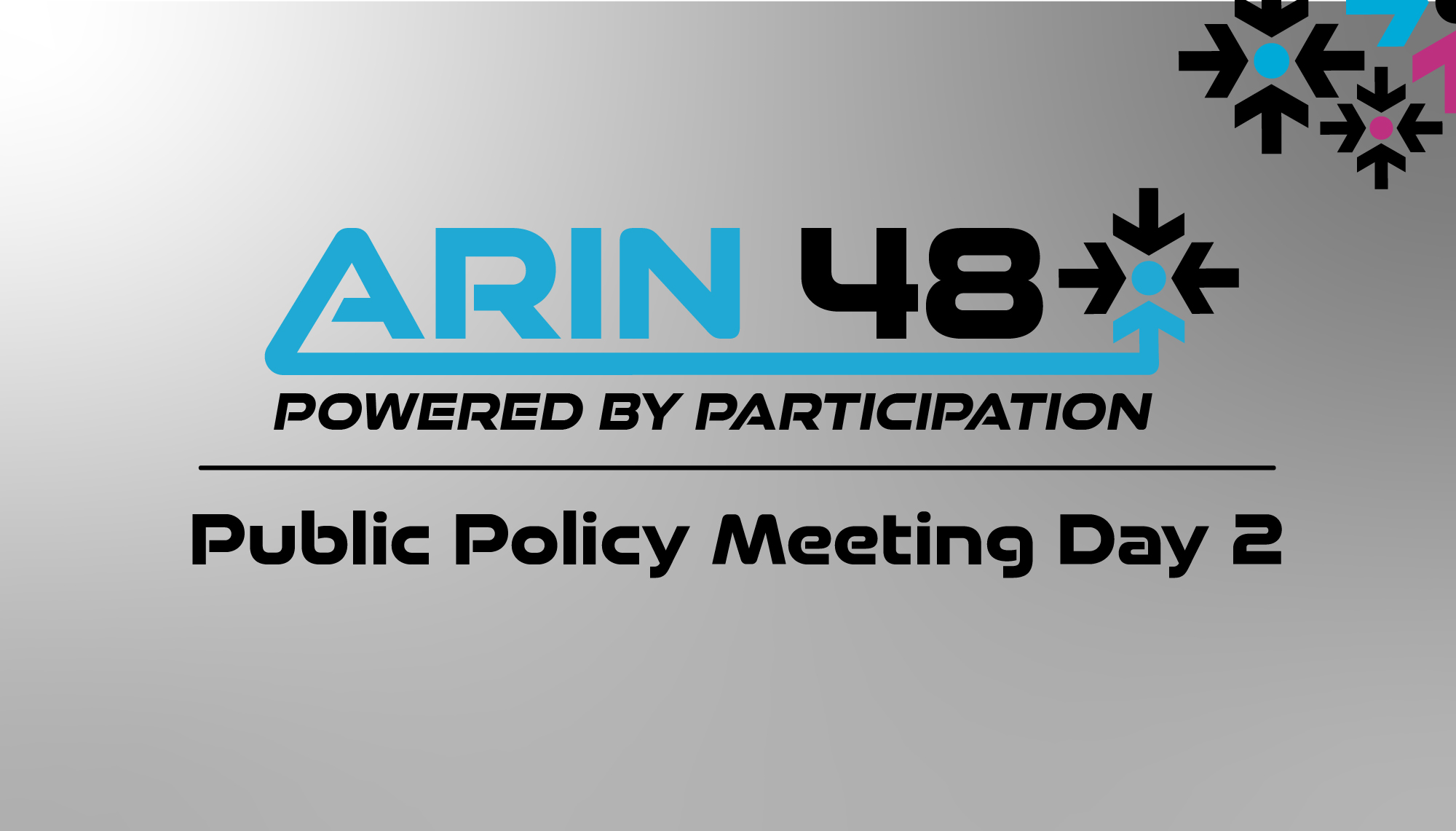 ARIN 48 Day 2 Daily Recap
Welcome back! Just like Day 1, Day 2 of the ARIN 48 Public Policy Meeting (PPM) was filled with presentations and discussions galore, but before we get to it, just one more reminder that there are still two events left in ARIN 48 — our Election Forum on 28 October and our Members Meeting on 4 November. Registration is still open for these, so if you want to join us, visit the ARIN 48 website.
Is it time for the recap? You bet it is.
ARIN 48 Assemble
Opening the day was ARIN's External Relations Manager, Jennifer Bly, with a warm welcome to all participants in Day 2 of the Public Policy Meeting. She then turned the mic over to ARIN's Vice President of Government Affairs, Einar Bohlin, to talk about the Government Affairs Department's areas of focus, one of which is to increase outreach and support to our members in the Caribbean. Bohlin shared the fascinating statistic that more than 10 percent of the US gross domestic product was due to the Internet sector, and that percentage is growing. Good job boosting the economy with your Internet activities, everyone.
Bohlin also highlighted how ARIN engages with international organizations on topics such as digital transformation, critical infrastructure laws and regulation, data governance, and cybersecurity. Bohlin also looked ahead to their goals for 2022 that focus on strengthening relationships with governments and industry organizations to make sure ARIN community interests are understood and taken into consideration.
ARIN Community Grant program recipients discussed their projects next:
If these presentations made you start thinking about applying for an ARIN Community Grant, check out some more information on how to apply next year.
Before we dipped out for our refills and leg stretches, Registration Services Director, Lisa Liedel, presented an update from the Registration Services Department. Liedel shared that since the beginning of this year there have been nearly 97,000 IPv6 reassignments from customers (aka SWIPs), which shows that ISPs are really getting their customers IPv6 connectivity.
Take a Break
During our short intermission, we again turned to Social Media and Content Specialist Erin Pratt's 10-minute seated stretch exercises. One of our attendees and Advisory Council member, Rob Seastrom, joked that he wants to add participating in ARIN breaktime yoga to his 2022 stretch goals. Stretch goals! Get it?
The Policy Block
Now that everyone was refreshed, we started the break with some so-bad-they're-good jokes coming from comedy duo/ARIN staff, Beverly Hicks and Melissa Goodwin. We think they're kind of a "big dill" (as the pickle said to the cucumber) when it comes to our event production.
With the groans and chuckles at a minimum, it was time to dig deep on some policy discussions:
Updates
Kicking off a slate of updates was Louie Lee presenting an update from the Number Resource Organization Number Council (NRO NC). ARIN Board of Trustees Chair, Paul Andersen, acknowledged that 2021 is Louie Lee's last year serving on the NRO NC, after a whopping 18 years of service. Louie, everyone in the ARIN community is raising a glass to you!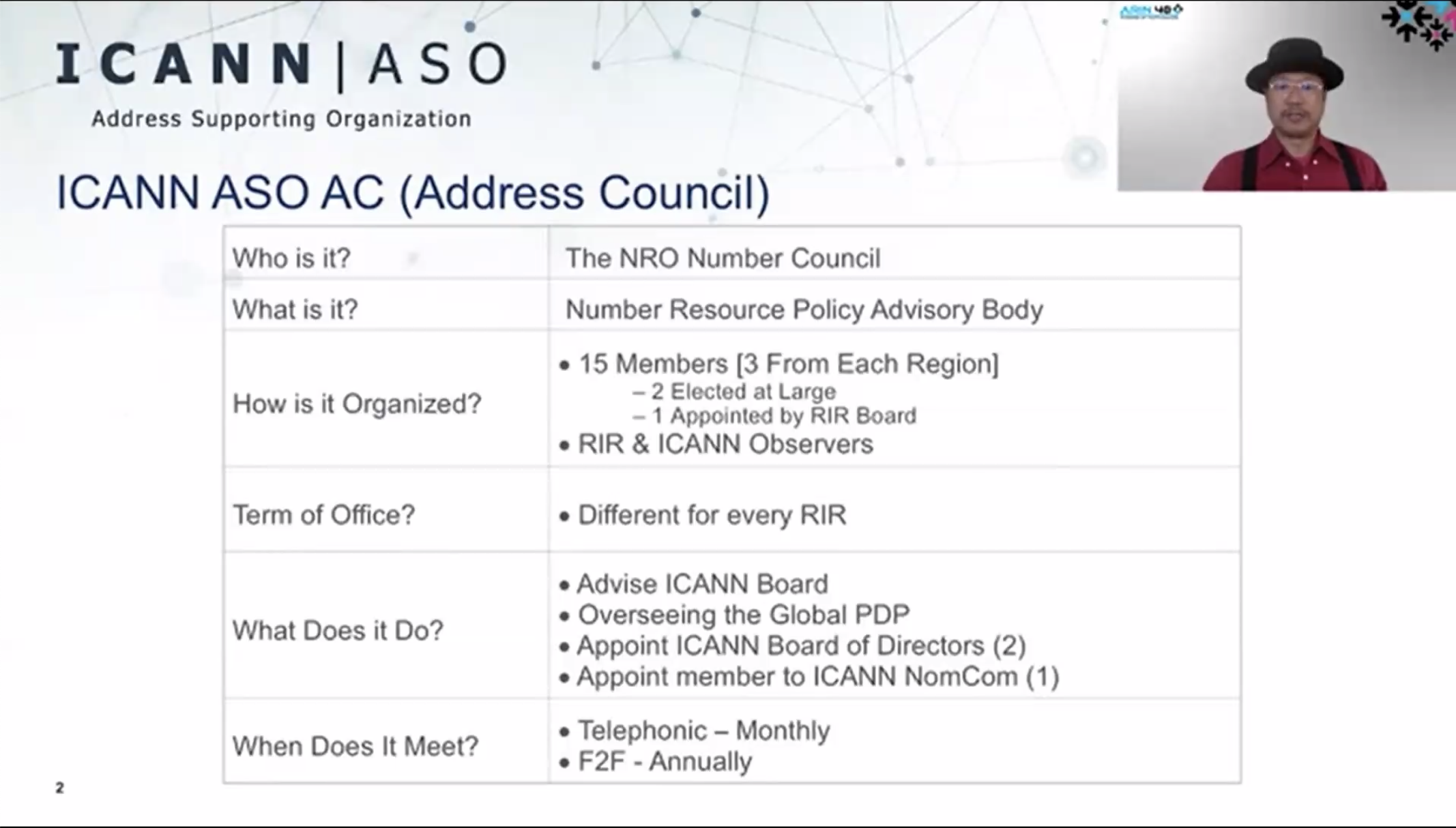 Speaking of the NRO, ARIN President and CEO, John Curran, stepped up to deliver a presentation on the organization. After discussing the overall structure and informational materials available from the NRO, Curran went over the general finances of NRO and also highlighted some upcoming projects for the NRO, such as the Memorandum of Understanding (MoU) review, a NRO strategic review and an Address Supporting Organization (ASO) review.
Board of Trustees Chair, Paul Andersen, delivered what he referred to as a "Mini Board Update" on what the Board has been up to, including the upcoming fee harmonization. Andersen also highlighted the Governance Working Group, which is hoping to deliver some proposals for community feedback before the end of the year. Andersen also said he will be presenting a larger Board update at the ARIN 48 Members Meeting being held on 4 November, so if you haven't already, make sure you register for that!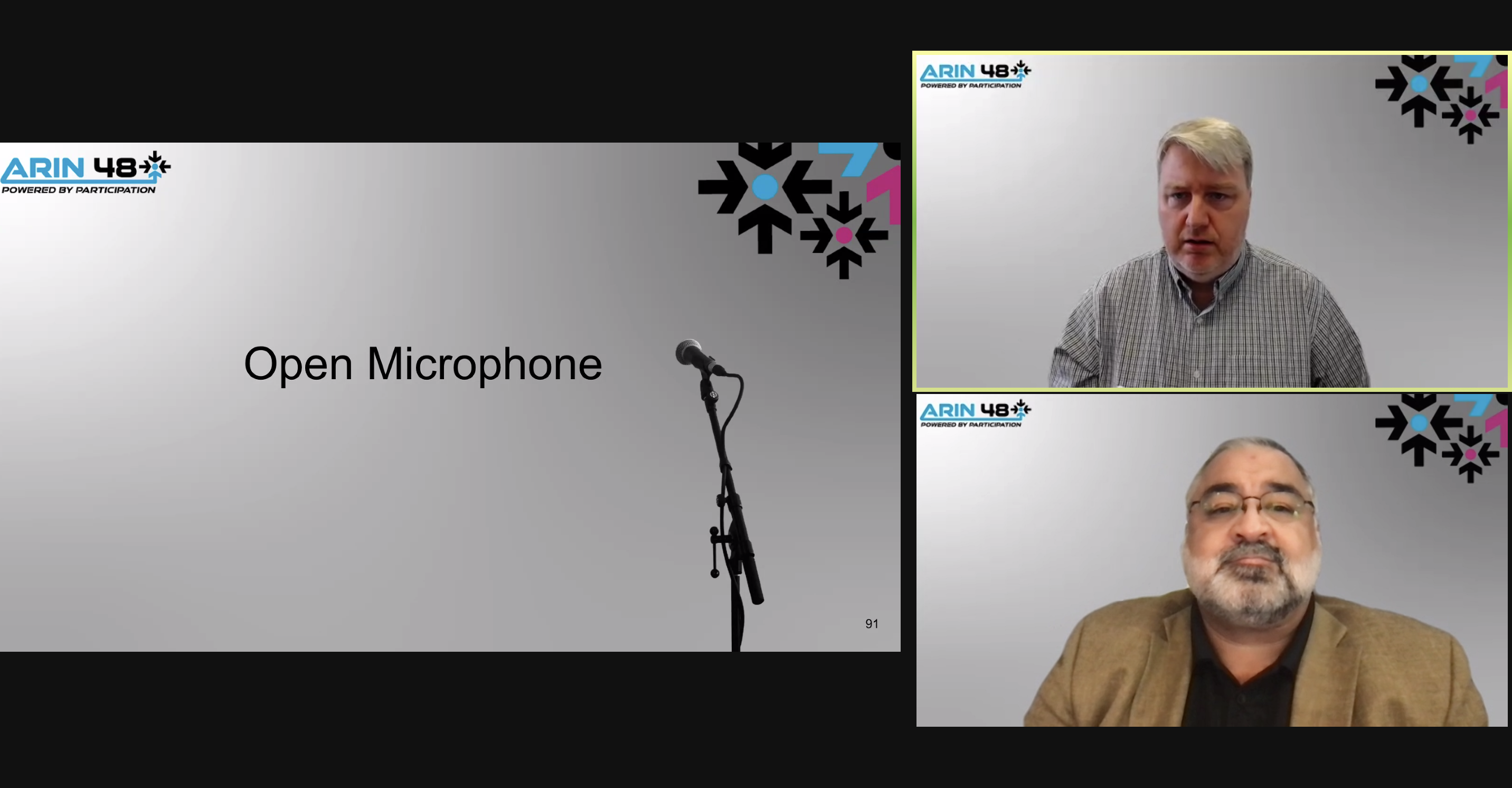 Andersen, along with Curran, opened the microphone for questions or comments. After a few comments, Curran officially closed Day 2 of ARIN 48. Hats off to ARIN's Board of Trustees, Advisory Council, NRO NC, staff, our network sponsors, and of course, our community on making the first two days of ARIN 48 a success.
We hope you enjoyed reading about our Public Policy Meeting — don't forget about the Election Forum next week, and the Members Meeting on 4 November. We hope to see you at both!
Recent blogs categorized under: Public Policy
---
GET THE LATEST!
Sign up to receive the latest news about ARIN and the most pressing issues facing the Internet community.
SIGN ME UP →
---
Blog Categories
Grant Program
•
Public Policy
•
IPv4
•
Updates
•
Security
•
RPKI
•
IPv6
•
Data Accuracy
•
Elections
•
ARIN Bits
•
Business Case for IPv6
•
Fellowship Program
•
Caribbean
•
Internet Governance
•
Tips
•
Customer Feedback
•
Outreach
•
Training
•
IRR