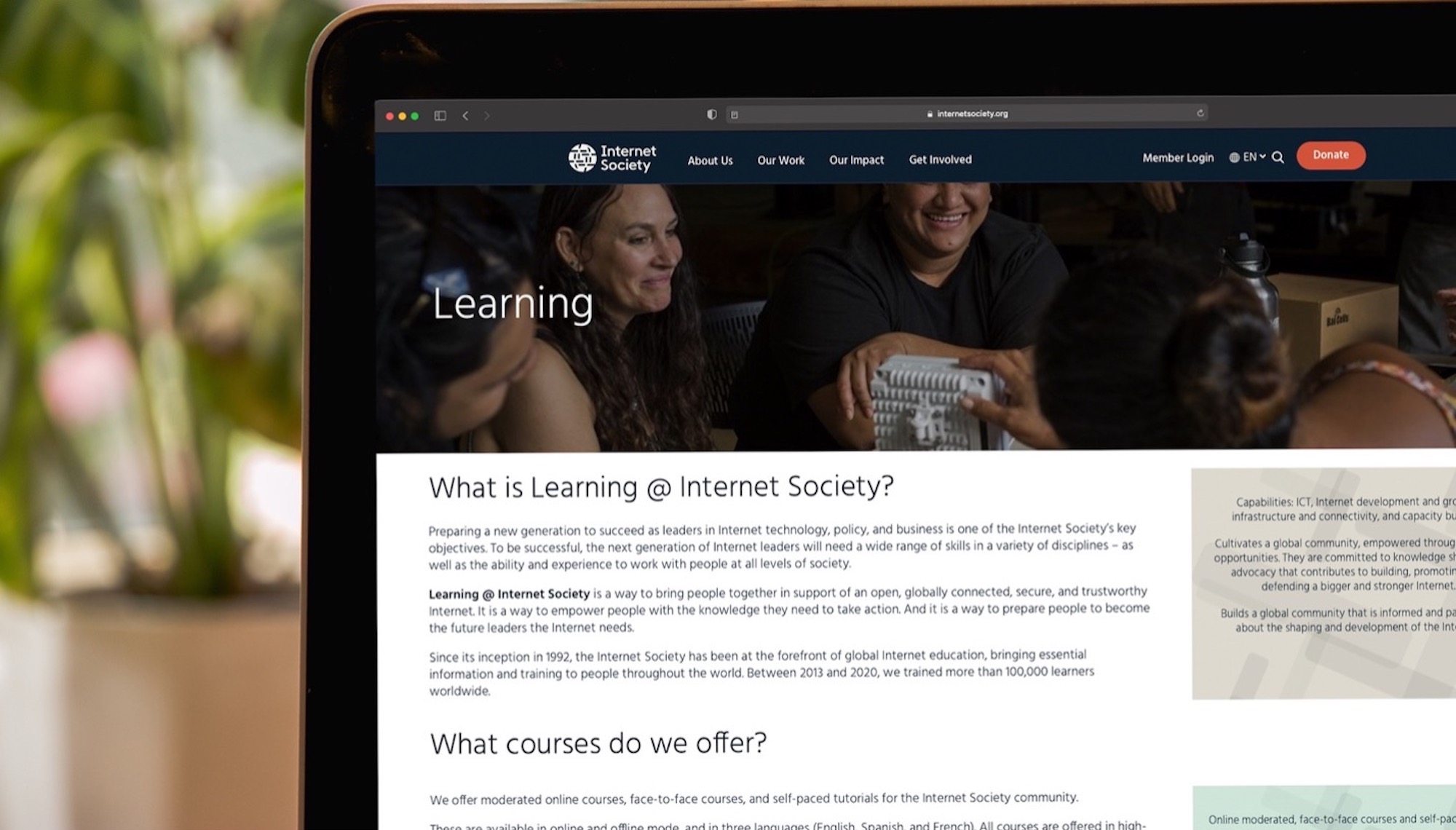 Back to School for the Internet!
As students across North America head back to school after the summer break, why not consider brushing up on your own Internet knowledge by taking a course, or joining a learning program that can give you the edge in your work?
The Internet Society has recently updated and enhanced its lineup of online courses, providing you with more opportunities to build your Internet knowledge. 
These courses are all aimed at bringing people together in support of an open, globally connected, secure, and trustworthy Internet. At a time when this view of the Internet is being challenged, and governments around the world look to exert greater control over the way the Internet works, there has never been a better time to acquire the policy, technical, or business skills that can make you into an Internet champion. 
In the spirit of the global Internet, all Learning @ Internet Society courses are free of charge and open to anyone. Materials are available in English, French, and Spanish, and can be accessed online, via a mobile app, or in offline mode. What's more, all our courses have been WCAG 2.1 AA certified for accessibility, so you can learn with us no matter your ability. Here's a quick look at some of our upcoming courses together with applicable start dates:
Encryption, 11 October
Network Operations, 18 October
Internet Governance, 25 October
Internet Way of Networking, 25 October
Mutually Agreed Norms for Routing Security, 1 November
Local Area Networks, 1 November
And some courses are also offered year-round:
Digital Footprints – open access, self-paced
ISOC Foundation Grant Applications and Project Implementation Guidance – open access, self-paced
Privacy – open access, self-paced
Chapters Management Essentials – open access, self-paced (for Internet Society Chapter Leaders)
We've all seen just how critical access to the Internet has been during the lockdowns we've experienced in the US and elsewhere over the past year. The Internet has been our lifeline and has helped to sustain the economy. It has allowed businesses to keep working and children to keep learning. As much of North America continues to work and learn online, this is an opportunity to level up your knowledge and fine-tune your skills.
You can find all course offerings for the rest of the year on this calendar, and you can learn more about each course in the course catalog or Learning @ ISOC webpage. 
To enroll for these free courses, please visit our website login page and create an account.
If you share the Internet Society's vision that the Internet is for everyone, why not join us today? We look forward to learning with you.
Any views, positions, statements, or opinions of a guest blog post are those of the author alone and do not represent those of ARIN. ARIN does not guarantee the accuracy, completeness, or validity of any claims or statements, nor shall ARIN be liable for any representations, omissions, or errors contained in a guest blog post.
Recent blogs categorized under: Updates
---
GET THE LATEST!
Sign up to receive the latest news about ARIN and the most pressing issues facing the Internet community.
SIGN ME UP →
---
Blog Categories
ARIN Bits
•
IPv6
•
Business Case for IPv6
•
Fellowship Program
•
Grant Program
•
Caribbean
•
Internet Governance
•
Updates
•
IPv4
•
Elections
•
Tips
•
Public Policy
•
Customer Feedback
•
Security
•
Outreach
•
RPKI
•
Training
•
IRR
•
Data Accuracy