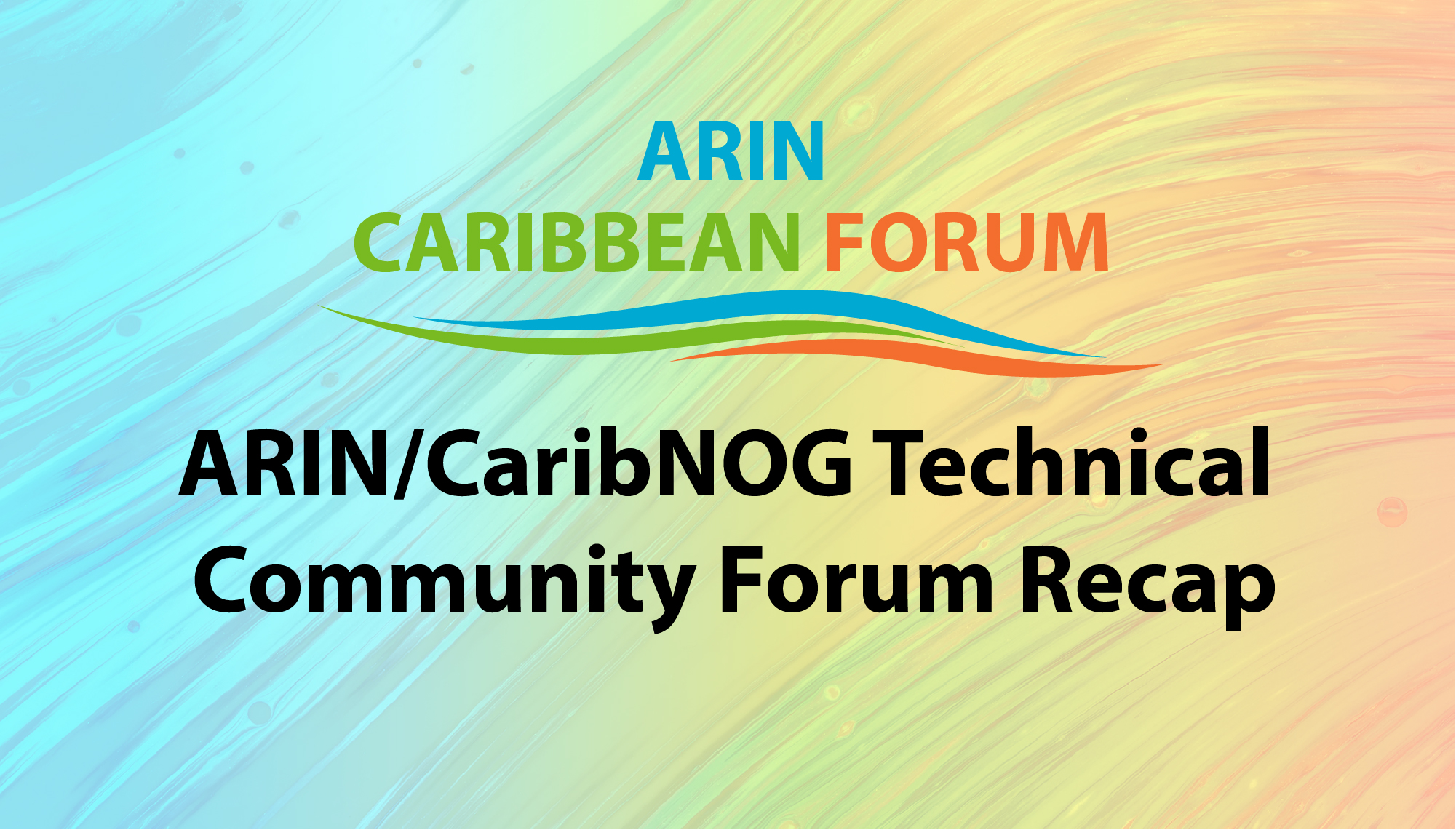 ARIN/CaribNOG Technical Community Forum Recap
Security experts and network administrators from across the Caribbean gathered online for the 4th edition of the ARIN/CaribNOG Technical Community Forum.
The American Registry for Internet numbers (ARIN) and the Caribbean Network Operators Group (CaribNOG) hosted the virtual event on Thursday, 20 May 2021 under the theme, "Securing Caribbean Digital Infrastructure."
Securing Caribbean Digital Infrastructure
The COVID-19 pandemic continues to impact networks, economies and societies across the Caribbean. More than ever, keeping critical systems secure, resilient, and accessible is a collective responsibility. This year's Forum presented the opportunity for participants to understand the role ARIN and other Internet development focused organizations play in supporting critical Internet Infrastructure in the Caribbean. It also facilitated the networking of people necessary to truly support and strengthen our technical community in the region.
ARIN has been collaborating closely with CaribNOG, a volunteer-based network operators' community, to strengthen technical capacity in the region. We were pleased to have assembled some of the leading experts in the region and from around the world to address the fourth staging of our Technical Community Forum.
Feature speakers at the event included Niel Harper, Chief Security Officer at the UN Office for Project Services (UNOPS); Mark Kosters, Chief Technology Officer, ARIN; Carlos Martinez-Cagnazzo, Chief Technical Officer, Latin American and Caribbean Internet Address Registry (LACNIC); Dr. Moniphia Hewling, Chief Executive Officer, eMRock Cyber; Dr. Sean Thorpe, Associate Professor and Head of School of Computing and Information Technology, Jamaica; and David Soltero, Senior Lead Infrastructure Engineer, Internet Corporation for Assigned Names and Numbers (ICANN) and Stephen Lee, CEO, Arkitechs Inc and Program Coordinator for CaribNOG.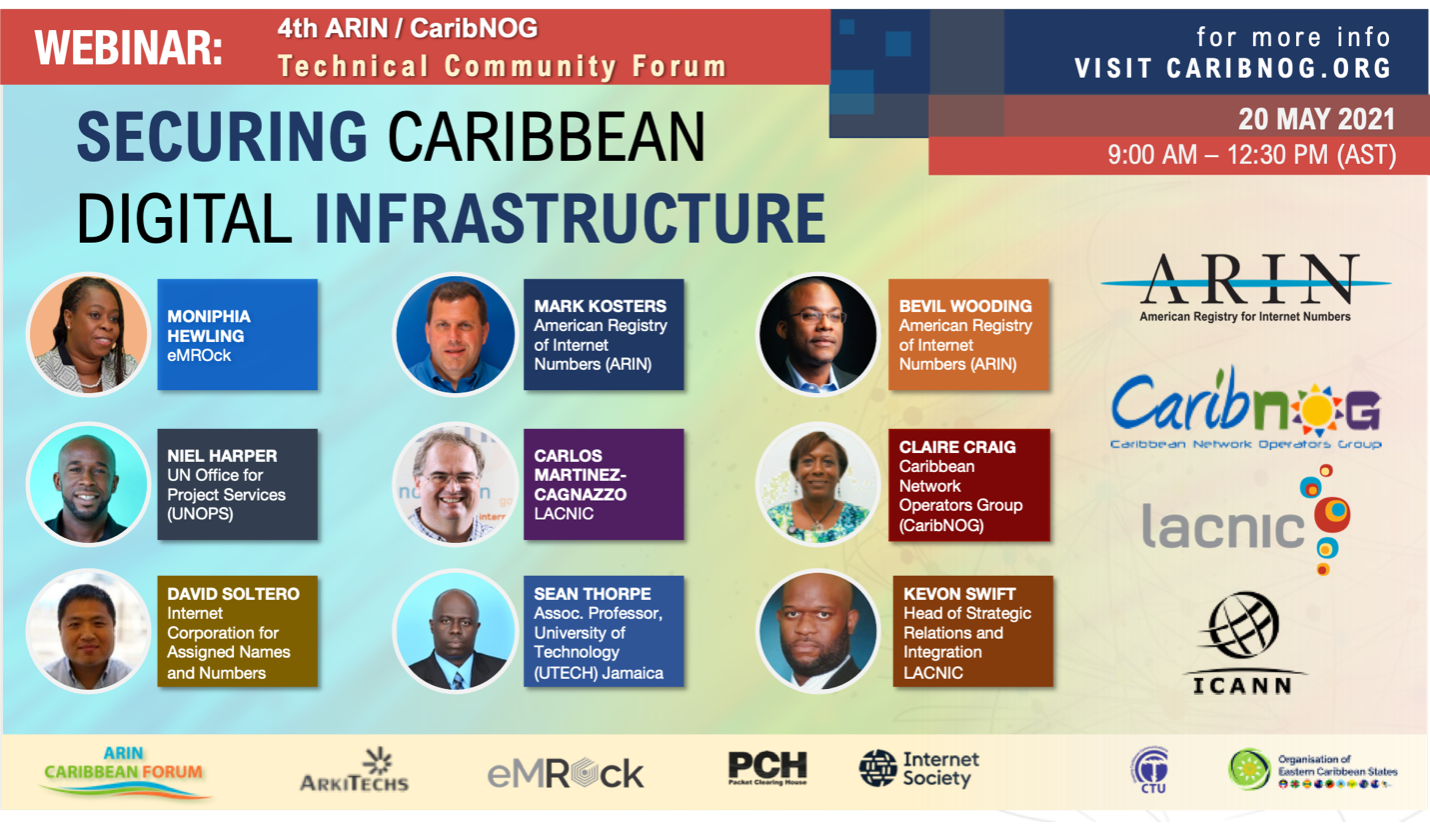 A Focus on Security
The day opened with welcome remarks from CaribNOG and ARIN, before the first feature speaker, Niel Harper, spoke about Global Cybersecurity Trends and Implications. With a global shortage of cyber security personnel forecasted to reach 3.5 million by 2022, he encouraged the Caribbean to focus on the development of cybersecurity experts to support local, regional, and global demand.  
His address was followed by a joint presentation by representatives from ARIN and LACNIC to learn more about securing number resources. Mark Kosters and Carlos Martinez-Cagnazzo were joined by Brad Gorman, Senior Product Owner, Routing Security, and Jon Worley, Senior Technology Architect at ARIN, for the session. This group tag-teamed to give a very practical and informative session on Resource Public Key Infrastructure (RPKI), Internet Routing Registry (IRR), and Internet number resources.
The team explained, despite common network operators' assumptions, how simple it was to obtain IPv6 and emphasized that there's never been a better time to secure IPv6 number resources. Jon Worley also shared that the ARIN IPv4 waiting list provides an excellent opportunity for persons in the market for IPv4 addresses and welcomed all interested to apply now. David Soltero then followed with his presentation on Securing the Root: Root Servers Instances in the Caribbean.
After a brief Q&A session, it was time for the second and final feature address. Dr. Moniphia Hewling covered the topic of Cybersecurity Trends and Implications and provided a current overview of the Caribbean cybersecurity landscape. She highlighted some of the issues being confronted by security practitioners and gave practical advice including:
supporting the needed capacity-building,
increasing transparency regarding any types of cyberattacks and reporting,
and the need for remediation at all levels, whether they be policy, judicial or in bolstering technical expertise.
The final presentation of the day was co-hosted by Stephen Lee and Sean Thorpe. The session provided a deep dive into techniques, tools and processes to help service providers combat malware. The day concluded with an interactive open mic session before wrapping up the Forum. Recordings and presentations from the event will be available on the CaribNOG website in the coming days.
We would like to extend a huge thank you to all of our partners, speakers, and attendees for making this a successful 4th ARIN/CaribNOG Technical Community Forum. We have more events planned in the coming months, so stay tuned.
Tweet, Tweet
We are pleased to collaborate with @TeamARIN to bring this year's ARNI/CaribNOG Technical Community Forum.
The feature address and technical sessions will help attendees support the demands of Caribbean network security and adminstration!
Live Stream: https://t.co/KJnlg1sC5O https://t.co/DNuRAB9vG2

— CaribNOG (@CaribNOG) May 20, 2021
.@CagnazzoEng, @lacnic CTO, will be part of the "Securing Number Resources: RPKI, IRR and Internet Number Resources" session today at the 4th @TeamARIN and @CaribNOG Technical Community Forum. Don´t miss it! https://t.co/ZzqbeX50uk

— lacnic (@lacnic) May 20, 2021
@TeamARIN and @lacnic collaborating at #ACF2021 presentation on Securing Number Resources: Resource Public Key Infrastructure (RPKI), Internet Routing Registry (IRR) and Internet Number Resources – What You Need to Know, What You Need to Do. Live now on https://t.co/2GCkO8BdbM pic.twitter.com/2LREenXoHo

— Bevil Wooding (@bevilwooding) May 20, 2021
@carlosm3011 shares insights from @lacnic on #IPv6 #IRR #RPKI and other topics during 4th @TeamARIN @CaribNOG Technical Community Forum pic.twitter.com/CXq5xAzVtW

— Kevon Swift (@swiffay) May 20, 2021
Right Now: Dr Moniphia Hewling, CEO of eMRock, presents on regional cybersecurity at the 4th ARIN/CaribNOG Technical Community Forum #ACF2021 @TeamARIN @CaribNOG pic.twitter.com/qZ2p4VjFLV

— CaribNOG (@CaribNOG) May 20, 2021
"Get your #IPv6 as soon as you can!" - @TeamARIN and @lacnic provide important information at #ACF2021 on how network operators in the Caribbean can acquire Internet number resources. @carlosm3011 #caribbean pic.twitter.com/cHa2Hh4ENR

— Bevil Wooding (@bevilwooding) May 20, 2021
Recent blogs categorized under: Caribbean