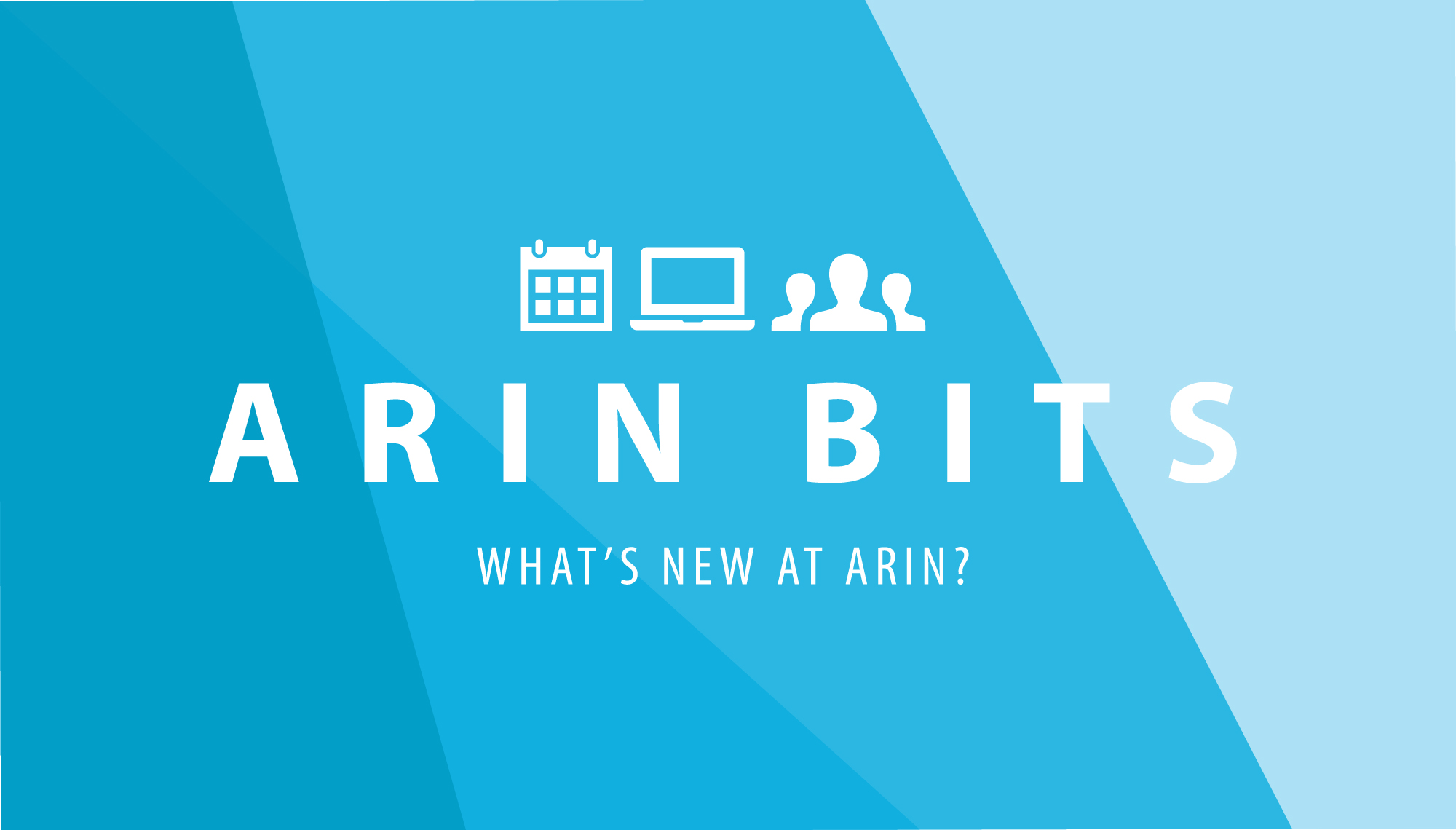 ARIN Bits: March 2021
Spring has sprung, and we're loving the sun! Three months into 2021, and we are seeing more than just flowers coming to life. Our team has been busy preparing for our spring Public Policy and Members Meeting, among many other exciting projects. In this edition of ARIN Bits, we share information about our upcoming meeting, updates from our Caribbean outreach and Government Affairs Department, tips from our Registration Services, information about recent community consultations, and so much more. Missed last quarter's edition? You can find all past editions on our ARIN Bits page.
Join us for ARIN 47!
Our next Public Policy and Members Meeting, ARIN 47, will be taking place entirely online from 12-14 April. We look forward to bringing more of what you expect from our past virtual meetings like policy discussions, but we are also planning some exciting enhancements and additions to the schedule as well. You can expect a keynote presentation, a panel on IPv4 transfer market trends, stretch breaks, a swag store, breakout rooms, and much more.
Also, save the date for the ARIN 47 Newcomer Orientation and Policy Preview on 8 April. We welcome all first-time ARIN meeting attendees to come learn about ARIN and find out how to make the most of your meeting experience.
Registration is now open. We look forward to seeing you online!
Meet the ARIN 47 Fellows!
We're excited to announce our slate of virtual Fellows for ARIN 47!
Theo Alpert, DevOps Engineer
Mercia Arnold, The Obsidian Group, SVP Risk Management and Compliance
Winsome Bennett, Programme Coordinator, University of the Commonwealth Caribbean
Danielle Carroll, Monster Support, IT Intern
Tyler Harden, Exospec, President
Shanea Lewis, Caribbean Telecommunications Union, Computing Specialist
Luis Enrique Oberto, ITM Telecom, CEO
Sunil Parwal, Emerson, Manager, Network Solutions
Bonnie Smalley, Independent Tech Consultant
Our Fellows will participate in four virtual sessions, meet other members of the ARIN community, learn about policies on the docket for ARIN 47, and receive mentorship by a member of the ARIN Advisory Council. Stay tuned for a blog introducing the Fellows in a more in-depth way - coming soon!
Consulting our Community
We recently hosted two consultations to gain feedback from our community about some items in our 2021 work plan. The first was put forth on 8 February which sought feedback on the Future of ARIN's Unauthenticated IRR. We gained a lot of feedback from this consultation, which closed on 8 March, that has helped us clear a path forward as we look to retire our previously non-authenticated, email-based IRR service. You can learn more about the outcome of this consultation in our recent announcement on the website.
The second consultation was put forth on 16 February which sought community input around Password Security for ARIN Online Accounts. This consultation closed on 16 March, and the feedback we collected will again help us move forward in a way that is in line with our community's wishes. We thank everyone who offered their feedback in these important consultations, and you can look forward to future blogs about the results of these consultations. 
ARIN Optimized Events
Last year we launched a new master class onboarding experience for new ARIN customers and members. We held three 90-minute sessions in December and received wonderful feedback. This is a quarterly offering moving forward, with sessions in March, June, September and December.
These sessions featured three panelists from ARIN and covered topics including:
ARIN's governance, structure, and mission
IPv4 depletion and IPv6 transition
What are the tools in your ARIN Online toolbox?
How to engage with the ARIN community
Why Internet policy is important
They also included three spotlight story videos from the ARIN community, polls, and a handout chock-full of information and links for future reference. March attendees indicated that they learned about the breadth of services and resources ARIN makes available to help them do their job better. Thank you to all who attended the most recent session; we look forward to bringing you more of these events throughout the year.
Update from our Government Affairs Department
Our Government Affairs Department (GAD) is an important facet of ARIN's capacity to track the changes taking place in key external stakeholder groups. The department maintains active outreach to constituents including governments, law enforcement and public safety agencies, regulators as well as international and intergovernmental organizations.
"The global Internet community is not immune to the tectonic shifts taking place in the international geopolitical arena. It is vitally important as a Regional Internet Registry, that ARIN actively monitors what is considered international Internet public policy (IIPP) developments that could impact the stability, security and openness of the Internet." - Anne-Rachel Inné, Senior Vice President, Government Affairs Department
Our GAD 2021 program of activities will see regular engagement with our region's governments at CITEL, CICTE, ITU, UN, etc., as well as increased outreach in the Caribbean, the development of capacity building resources for law enforcement and judicial officers, and publications to inform the ARIN community of relevant developments and trends impacting the global Internet.
Caribbean Outreach
The Caribbean Basin is home to 22 of the 29 territories that currently comprise the ARIN Service Region. Their populations, landmass and economies may appear minuscule relative to Canada and the USA; however, the Caribbean's importance to ARIN and the global Internet are not be underestimated.
"Each year in developing its Caribbean outreach strategy, ARIN considers the diverse interests, priorities and development trends that exist in the sub-region, such as the Caribbean's vision for creating a 'Single ICT Space'. Our outreach in the Caribbean spans several areas and interest groups, including governments, regulators, law enforcement, and of course, the technical community. This outreach is always done in collaboration with regional partners, such as CaribNOG, the OECS Commission, the Caribbean Telecommunications Union (CTU), as well as LACNIC, ICANN and ISOC." - Bevil Wooding, Director of Caribbean Affairs.
The ARIN Caribbean Forum, established in 2018 has brought new, more direct points of contact with ARIN stakeholders in the Caribbean. Plans for the Forum in 2021 will see increased facilitation of technical capacity development, private and public sector dialog around number resource policies at ARIN as well as international Internet public policies issues, and inter-regional law enforcement and public safety collaboration.
Congratulations to New CTU Secretary General
We wish to congratulate Rodney Taylor on his recent appointment as Secretary General for the Caribbean Telecommunications Union (CTU.) He will be taking over for Bernadette Lewis who served in this post for the last 10 years. ARIN and the CTU share a long history of collaboration, and we are confident that Mr. Taylor's tenure will ensure continuity, success and growth in the Caribbean and beyond. You can read our full congratulations in this recent blog post we shared.
Current Policy Proposals
| Number | Title | Status |
| --- | --- | --- |
| ARIN-2020-6 | Allowance for IPv4 Allocation "Swap" Transactions via 8.3 Specified Transfers and 8.4 Inter-RIR Transfers | Draft Policy |
| ARIN-2020-7 | 4.4 gTLD Micro-allocation Clarification | Pending Board Review |
| ARIN-2020-8 | Clarify and Update 4.2.1.2 Annual Renewal Fee | Pending Board Review |
| ARIN-edit-2020-9 | Editorial Clean-up of NRPM Section 4 and Related Provisions | Editorial Change |
| ARIN-2020-10 | Removal of Requirement to Demonstrate Utilization of Reassignments and Reallocations for ISPs Seeking Initial Allocation from ARIN | Draft Policy |
| ARIN-edit-2020-11 | Add Textual Description for the Number Resource Hierarchy Image in Section 2 | Editorial Change |
| ARIN-edit-2021-1 | ASN Clarifications to Sections 2 and 8 | Editorial Change |
| ARIN-2021-2 | Special Use IPv4 Space Out of Scope for Purposes of Determining Waitlist Eligibility | Draft Policy |
You can find the status of current policy discussions on our website and subscribe to ARIN-PPML (Public Policy Mailing List) to voice your opinions. Remember, membership is not required to participate!
Our Featured Policy
Initial Allocation to LIRs (NRPM 6.5.2)
Previously, the smallest size IPv6 block that could be issued to ISPs under standard policy was a /36. Recently, ARIN implemented a new policy that allows ISPs holding only an IPv4 /24 to qualify for an IPv6 /40. This new policy allows the smallest ISP organizations to obtain a /40 of IPv6 addresses with no impact to their existing annual fee. Going forward, /40 allocations will be automatically upgraded to a /36 if at any time the ISP's IPv4 direct allocations exceed a /24.
A Tip from our Registration Services Department
ARIN will ask you to have an officer of your organization sign a Registration Services Agreement (RSA) during certain requests, such as creating an Organization Identifier (Org ID), recovering an existing Org ID, requesting IP addresses and ASNs, and others. An officer is typically someone who can sign a contract on behalf of your organization. Generally, officers have C-level titles such as CEO, COO, etc. or President, but this could vary depending on your organization's structure. You can avoid delays by making sure the signer is considered an officer of your organization before submitting the RSA to ARIN.
Customer and Member Stats as of 28 February 2021
39,068 total customer organizations, including 6,985 member organizations
125 8.3 Transfers and 37 8.4 Transfers completed YTD 2021
8.4 Transfers completed YTD 2021: 9 to APNIC, 20 to RIPE NCC, 1 from APNIC, 6 from RIPE NCC, 1 From LACNIC
59.8% of members have an IPv6 block
We look forward to seeing you in Q2 for another edition of ARIN Bits!
Recent blogs categorized under: ARIN Bits
---
GET THE LATEST!
Sign up to receive the latest news about ARIN and the most pressing issues facing the Internet community.
SIGN ME UP →
---
Blog Categories
Grant Program
•
Public Policy
•
IPv4
•
Updates
•
Security
•
RPKI
•
IPv6
•
Data Accuracy
•
Elections
•
ARIN Bits
•
Business Case for IPv6
•
Fellowship Program
•
Caribbean
•
Internet Governance
•
Tips
•
Customer Feedback
•
Outreach
•
Training
•
IRR