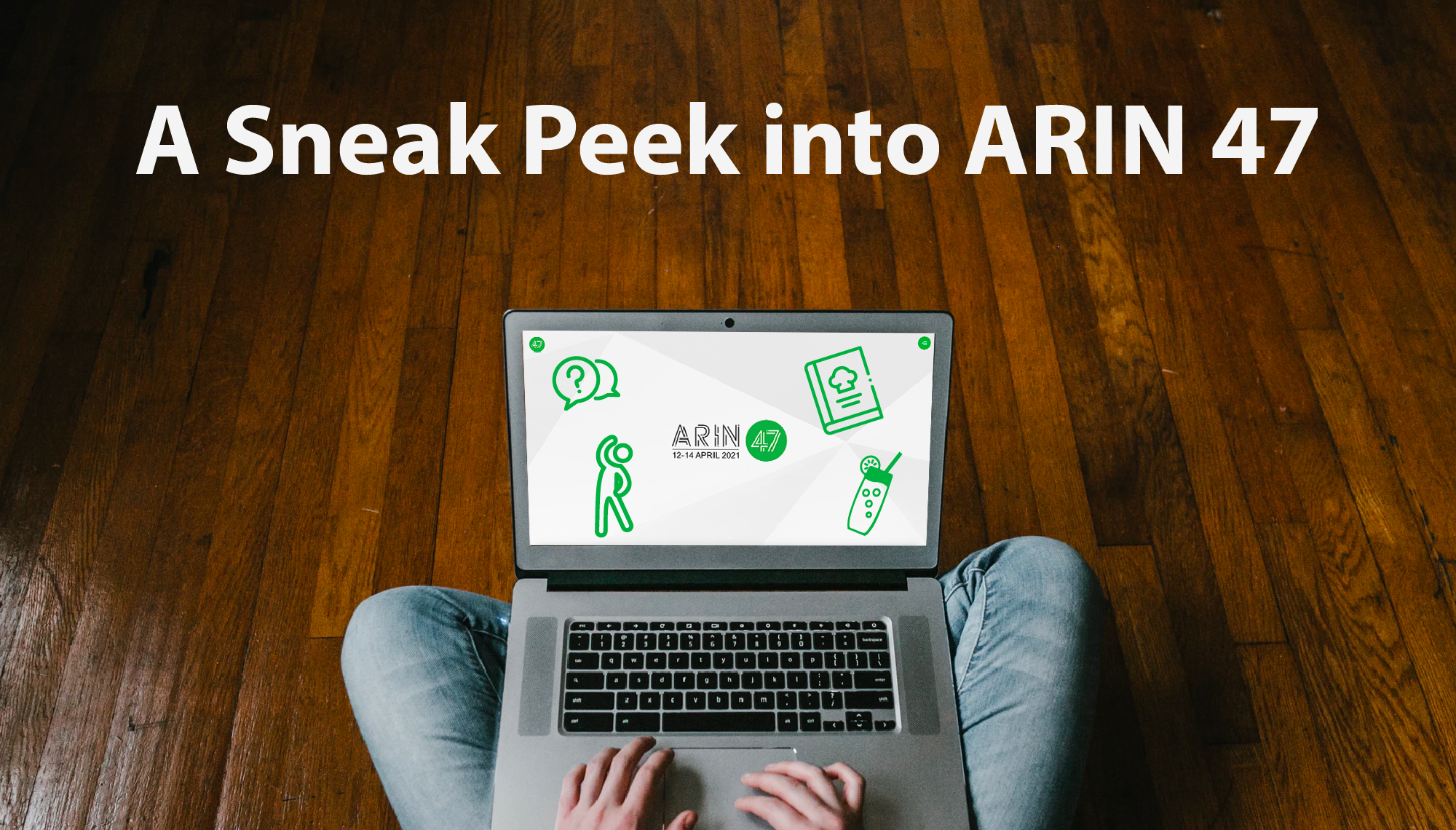 A Sneak Peek at ARIN 47
ARIN 47 is right around the corner, and with registration now open, we thought this was a great time to preview some of the exciting enhancements we're bringing to our third fully virtual Public Policy and Members Meeting (PPMM). You may recognize a few of these enhancements from past meetings, but there are also some brand new treats we've put together to keep things fresh. As a reminder, ARIN 47 will be held online from 12-14 April. Here's a look at what to expect during the meeting, and all the ways you can participate! 
Newcomer Orientation
If you've joined a PPMM in the past you know that we always host a Newcomer Orientation designed to welcome any first-timers and offer some background information about our organization and how they can participate in the meeting. We will be bringing this back to ARIN 47, virtually! The event (which is open to anyone who would like a refresher) will be held on 8 April at 2:00 PM and will be hosted by ARIN's Chief Customer Officer, John Sweeting. Be sure you're registered for the meeting so you receive the invitation, and don't forget to bring your questions.
Show Us Your Co-Worker(s)!
Similar to the "Show us where you're Zooming from" social media contest we ran during ARIN 46, we wanted to offer a fun way for our attendees to share a glimpse into their life. Many of us have been working remotely for over a year at this point, but we may not be totally alone. We want to see your co-worker(s)! Snap a picture of your kiddos, your furry (or scaly) friends, or maybe even your favorite plant. (Plants probably make the best co-workers, don't you think?) These photos you send in will be shared in the slides prior to the start of the meeting. By sharing your photo with us you'll be entered to win a gift card. Tag @TeamARIN in your photo on Twitter or Facebook, or send your photo to epratt@arin.net by 2 April to be included. We will open access to the webinar session 15 minutes before the meeting so folks can say hello to one another and enjoy the gallery of images we collected during the photo contest.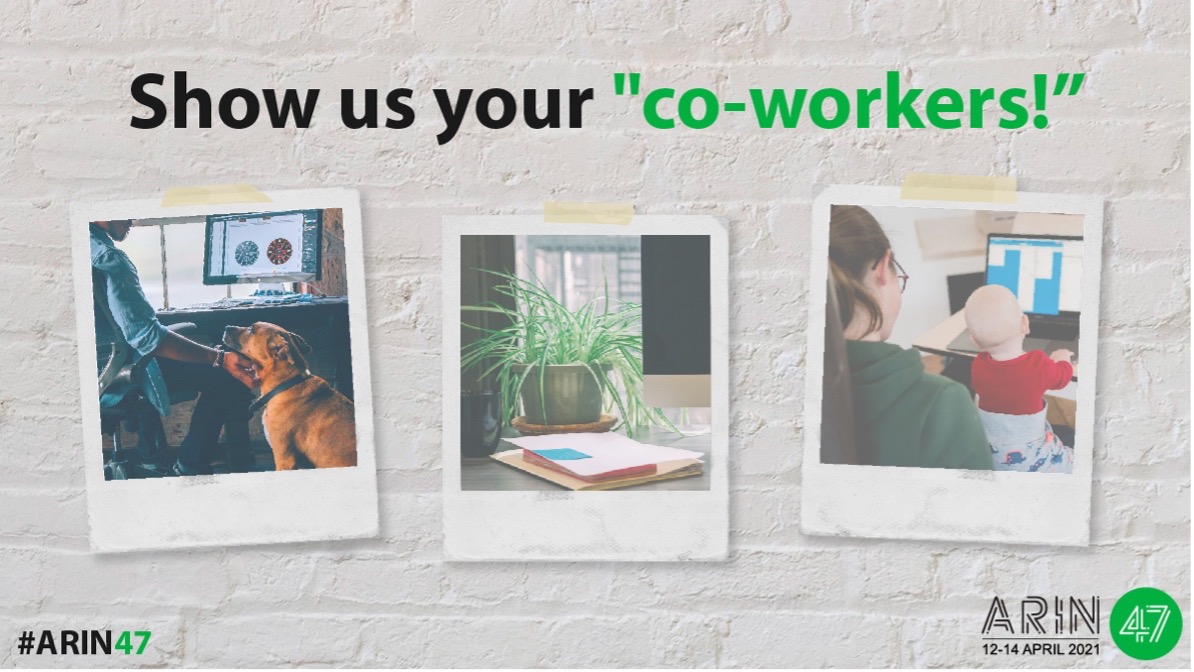 DIY Happy Hour Cookbook
I'm sure you remember that sweet Cook(ie)book from ARIN 46. It was such a hit that we decided to bring back another cookbook of sorts. We will be sharing our favorite appetizers and mock/cocktail recipes with you all, so you can make your own for the virtual Happy Hour after the opening day of the meeting – more on that below! Have a recipe you'd like to contribute? We'd love to add it. Email epratt@arin.net by 2 April.
Featured Programming
We know you're busy and want to the make the most of every moment you spend in yet another webinar, so with that in mind, we've put together a top-notch agenda that will make attending worth your while. In addition to the public policy discussions that you can expect at every ARIN PPMM, we also have a few new exciting agenda items including:
Keynote Presentation - We are very excited to announce a special Keynote Speaker to open up the ARIN 47 meeting. You can look forward to enjoying an interesting keynote on "A Day in Internet Miscreancy: Why Security Policy and Practice Matter" by David Monnier. Mr. Monnier is coming to us through our meeting sponsor, TeamCymru.
IPv4 Transfer Market Trends Panel – On 14 April, we will host a moderated discussion with four representatives from IPv4 brokerage agencies to get their views on current trends in the IPv4 transfer market.
Take a Break
Stretch & Breathe - I am returning to lead us in three stretch breaks throughout ARIN 47! As a certified yoga instructor, I will be guiding us through ten-minute seated stretches during the breaks on 12, 13, and 14 April. Join me for the first half of the break to work out those kinks in your neck and back from sitting at a computer for hours. No need to change your clothes for this stretch break, it can be done in whatever you are wearing to attend the meeting.
Time to Play - We will also be hosting two competitive games during the second half of the breaks, and winners will be awarded a prize. On 12 April we will be hosting an ARIN Trivia game, and on 13 April you can expect an ARIN word scramble. Bring your best game face and compete with your fellow attendees in some fun for your brain.
After Hours Breakout Rooms
DIY Happy Hour – Remember that DIY Happy Hour Cookbook I mentioned above? Here's your chance to put it to use. At the end of day one, 12 April, we will be hosting a DIY Happy Hour for all attendees interested in joining. We will be opening a series of breakout meeting rooms that participants can move freely between to mingle and chat with one another. Each room will be hosted by ARIN staff, Board, or AC Members, and there is a 60-minute cap. Bring your favorite snack and drink for enjoying while you socialize!
Table Topics - At the end of day two, 13 April, we will be opening a series of breakout meeting rooms to mimic those fun lunch table topics we hosted during our in-person meetings. We will offer a variety of topics to discuss, defined by the AC and Board, that you can join. This will be hosted by ARIN staff, Board, or AC Members, and is a great opportunity to continue discussions of interest that came up during the meeting.
All the Swag
Another new addition, we are offering our very own swag store! ARIN 47 t-shirts and sweatshirts will be available to purchase through this store . We are offering this swag at production cost and are excited to offer a range of options to suit your personal style and preferences.
Virtual Fellowship Program
You may have seen that we relaunched our Fellowship Program for ARIN 47 in a virtual format. Our ARIN 47 Fellows will take part in four virtual sessions, that include icebreakers and breakout rooms to get to know their "fellow" Fellows and mentors from the ARIN Advisory Council (AC). They will be taking part in policy roundtable to learn more about the policies coming up on the docket at ARIN 47. Be sure to say a virtual hello to our new slate of Fellows during the meeting! We will be introducing them in an upcoming blog soon.
We hope these enhancements, (some familiar and some brand new), will help add to the spirit of this virtual meeting, and make us all feel more connected. We hope you can join us for some or all of these! Meeting registration for ARIN 47 is now open. We look forward to experiencing another great virtual meeting with you.
Recent blogs categorized under: Public Policy
---
GET THE LATEST!
Sign up to receive the latest news about ARIN and the most pressing issues facing the Internet community.
SIGN ME UP →
---
Blog Categories
Grant Program
•
Public Policy
•
IPv4
•
Updates
•
Security
•
RPKI
•
IPv6
•
Data Accuracy
•
Elections
•
ARIN Bits
•
Business Case for IPv6
•
Fellowship Program
•
Caribbean
•
Internet Governance
•
Tips
•
Customer Feedback
•
Outreach
•
Training
•
IRR