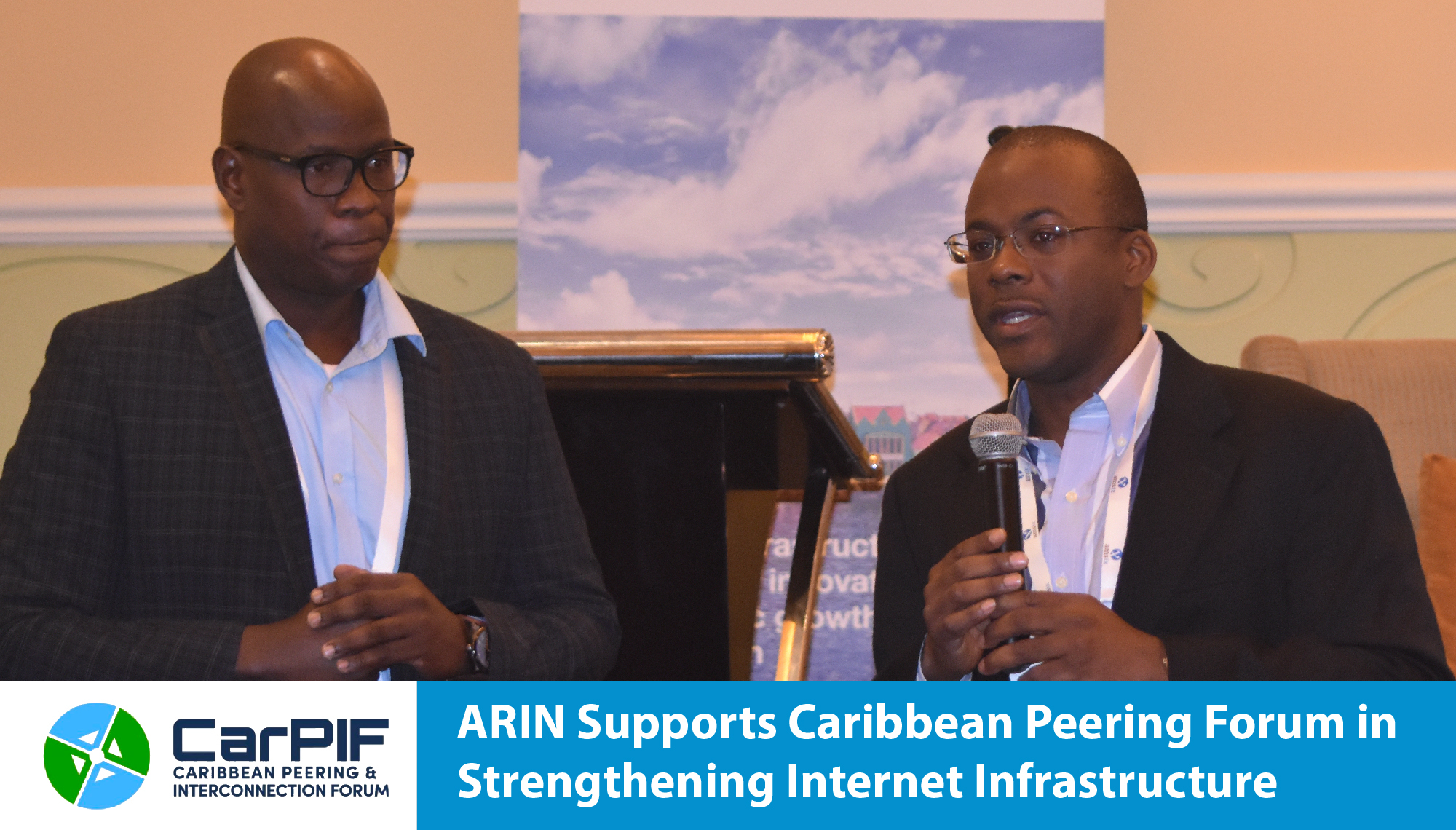 ARIN Supports Caribbean Peering Forum in Strengthening Internet Infrastructure
The CarPIF 2020 online meeting highlights specific steps to improve Internet connectivity and broadband service delivery in the Caribbean.
---
Since the start of COVID-19-related public health lockdown restrictions, a new spotlight has been placed on the state of Internet infrastructure in the Caribbean. A surge in demand for Internet services has led governments, businesses, schools, courts and consumers to rely, like never before, on the Internet to deliver essential services and to facilitate business, collaboration and electronic commerce.
As the pandemic demands less physical human contact and more virtual interactions, there have been increased calls for network operators and Internet service providers to rapidly accelerate the build out of critical Internet infrastructure to match the region-wide surge in demand for digital services. There is also tremendous pressure on Internet services providers to provide high bandwidth and reliable Internet connectivity. Digital entrepreneurs, innovators and content providers are also being forced to accelerate the delivery of more locally relevant services over the Internet. This heightened, region-wide interest in understanding the role of Internet infrastructure in supporting digital services and digital economies formed the backdrop for the 2020 Caribbean Peering and Interconnection Forum (CarPIF).
This year's event was held on 10 November and hosted virtually for the first time. Once again, ARIN teamed up with colleagues from the Caribbean Network Operators Group (CaribNOG), the Internet Society (ISOC), the Internet Registry for Latin America and the Caribbean (LACNIC) and the Caribbean Telecommunications Union to stage the event.
CarPIF was founded in 2014 to promote regional Internet development and facilitate the growth of digital economies in the Caribbean. Over the past several years, it has grown in importance as a unique forum, dedicated to improving Internet Traffic Exchange, strengthening peering and interconnection infrastructure and relationships in the region. Of course, in 2020 these issues have taken on a whole new significance.
Even though there was a shift to an entirely virtual delivery, CarPIF 2020 maintained the successful format of past years, including special presentations and panel discussions by the experts and senior executives from Internet service providers, telecommunications regulators, regional Internet registries as well as global Internet organizations. I moderated the CarPIF 2020 meeting together with Shernon Osepa, Director of Caribbean Affairs and Development at ISOC. 
"CarPIF has never been more relevant to the Caribbean Internet community," Brent McIntosh, Peering Coordinator at the Grenada Internet Exchange Point said, in an address exploring the role and benefits of the Grenada Internet Exchange Point in supporting local bandwidth and local applications in the southern Caribbean island-nation during the pandemic.
"Internet services providers in Grenada have benefitted greatly from having a local Internet infrastructure that supports cost-effective and high-quality local traffic exchange. We have also been able to get more local and international content providers to connect to our exchange, creating a better experience for Grenadian Internet users."
Participants were also given insights into the evolution of Internet Exchange Points and Internet infrastructure in Africa by two industry veterans, Michuki Mwangi, Senior Director, Internet Technology and Development at ISOC and Nishal Goburdhan, General Manager for the community-run Internet Exchange Points (INXes) for South Africa and Peering Coordinator at Packet Clearing House. They drew parallels between the challenges and opportunities in Africa versus the Caribbean.
"We have seen first-hand the obstacles to Internet adoption across Africa. We have also witnessed the tremendous benefits that can come to countries and communities that get Internet infrastructure right," Goburdhan shared. He underscored the important role CarPIF plays in the Caribbean Internet ecosystem and reminded the virtual participants that, "the lessons from the Caribbean experience are also important to the global Internet."
Jane Coffin, Senior VP, Internet Growth at ISOC, underscored this point, saying that peering forums around the world play a very important role in the global Internet community. She explained that sharing experiences has also been key to the growth of the Internet.
"Peering forums allow practitioners to meet and build relationships with other stakeholders from across the regional and global industry, Coffin said, adding, "CarPIF plays that important role in the Caribbean Internet ecosystem, but the lessons from the Caribbean experience are also important to the global Internet."
Looking forward into 2021, CarPIF is planning to supplement its annual regional meeting with supporting events, special workshops, and educational activities. These new activities will go a long way to fulfilling the CarPIF mandate to strengthen the region's human resource capacity and expertise in support of resilient, secure and standards-based interconnections. In this mission, ARIN will continue to support CarPIF as a collaborator and partner for Internet development in the Caribbean.
Recent blogs categorized under: Caribbean