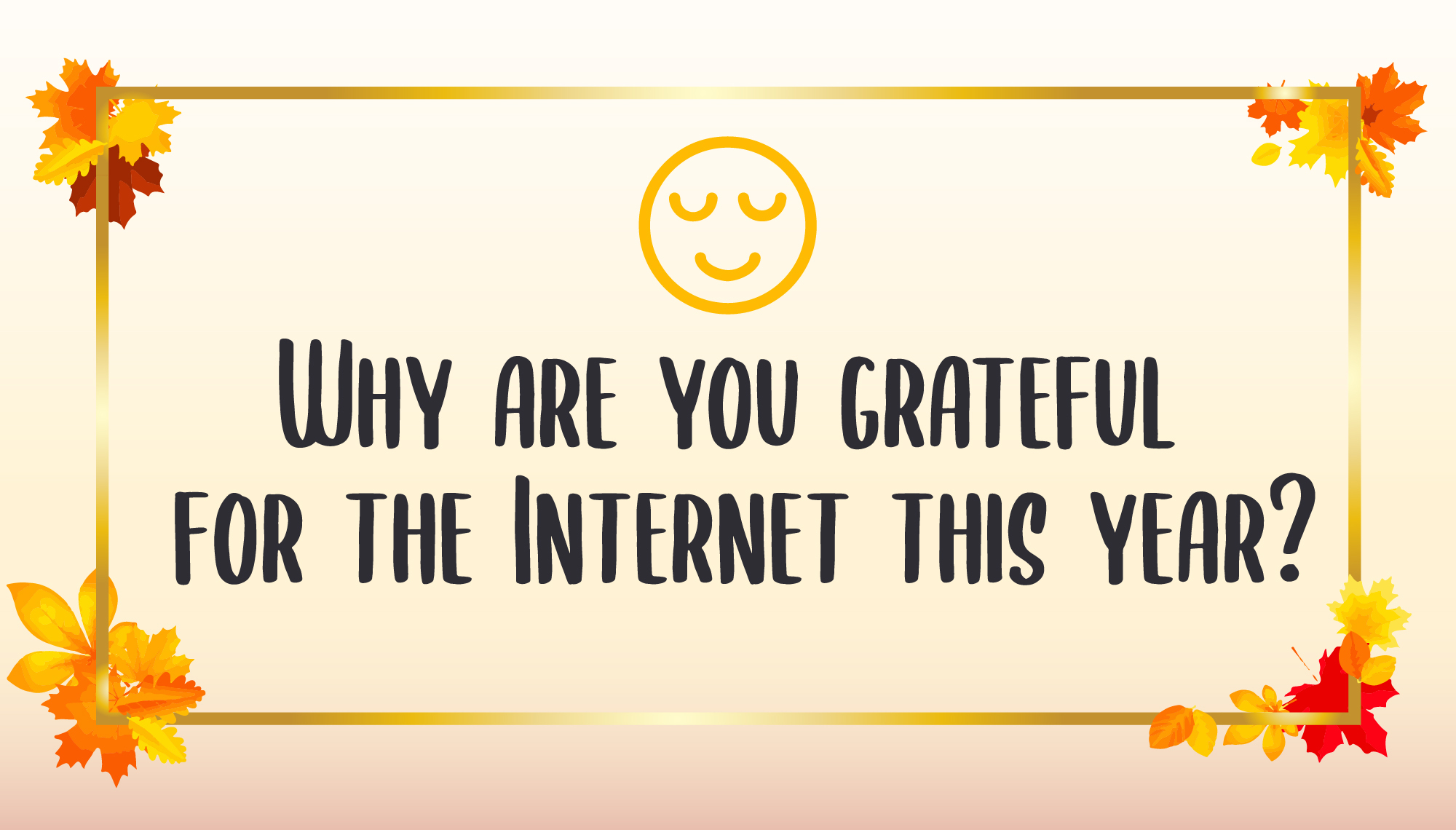 Why are you grateful for the Internet this year?
November is a wonderful time to express gratitude, and as we all know this past year has seen its fair share of challenges. However, there is always something to be grateful for, even (especially) during challenging times. The Internet is what we "do", and this has been an incredible year for what people have been able to accomplish with the help of the Internet.
Here at ARIN, we've made the most of our time this year. We launched a major project we had been working on since before the coronavirus disease 2019 (COVID-19) outbreak, ARIN's IRR-Online, virtually conducted two Public Policy and Members Meetings, and hosted a number of training webinars for our community on topics like IRR and IPv6, among many other things. Despite the challenge of being apart, our staff has found ways to be productive during this pandemic and even had some fun along the way.
As we approach the end of this year, we are looking for ways to share our appreciation and gratitude for the things that have brought us joy. On that note, we decided to ask our staff "Why are you grateful for the Internet this year? Here's a look at what they had to say.
---
Melissa Goodwin, Meeting Planner: I have been so thankful that our medical community has been able to pivot and have so many telehealth appointments. Side note: it has been a blessing to me and allowed me to not miss so much work.

Sarah Ba, Administrative Coordinator: I am grateful for the Internet in 2020 because though we are going through a global pandemic, the Internet has made it possible for me and many others to keep working from home while keeping myself and others safe from exposure. It also has made it possible to keep in touch with loved ones and friends, as well as shop safely for necessities. I don't know what we would have done without the Internet this year!

Deb Martin, Senior Project Manager: I'm thankful for the Internet because it allows me to zoom with my family from 11 different states every Sunday.

Michael Pappano, Customer Service Resource Analyst III: I am grateful for the Internet to allow me to continue to have a job, so that also means ARIN as well. The Internet has allowed me to continue to take care of my family. There are a lot of folks that have not been so lucky through all of this and it is not lost on me how lucky I am to be involved with a company that takes care of its employees like you would a family. So, thanks to the Internet, but a bigger thank you goes to ARIN for all that they do.

Suzanne Evans, Customer Service Resource Analyst II: Professionally, I am most grateful to be able to work from home and continue to perform my duties seamlessly with a little creativity. Personally, I am most grateful to be able to have Zoom calls with my folks and extended family members and play virtual games with them while we are unable to play cards and dominos in person.

Anne-Rachel Inné, Senior Vice President of Government Affairs: I am grateful for the Internet to have helped humanity communicate under lockdown, and to have shown us the worst and the best of the human character…

Kim Kelly, Senior Communications Writer: I'm grateful for the Internet because it's provided a way to stay sane and connected during these crazy times. I can't imagine going through this year without the ability to FaceTime my mom or, at the same time, watch a hilarious video that's guaranteed to lift my mood. It's been a hard year and one that we could have easily slipped into isolation during, but the Internet has given us a way to stay connected and find common ground during all of this.

Erin Pratt, Social Media and Content Specialist: I am grateful for the Internet this year for so many reasons. It has allowed my family and friends to stay connected through virtual birthday celebrations, baby showers, housewarming parties, and wedding celebrations. Without the Internet this year, life would have been a much lonelier experience, and I am so grateful for the connections it's helped bring to 2020.

Tanya Gomez, Senior Account Service Representative: I am grateful for the Internet this year because it has allowed me to stay in touch with loved ones through various social media platforms and Zoom, it has allowed me to be able to work from home and my children to continue school safely, and it has been the main source of entertainment for my family while having to social distance.
As you can see, there is so much to be grateful for– especially with how the Internet has shaped 2020. Now, it's your turn! We want to know why you are grateful for the Internet this year. Share with us on social media @TeamARIN. We look forward to seeing your responses, and we wish you and yours a happy and safe Thanksgiving!
Recent blogs categorized under: Updates
---
GET THE LATEST!
Sign up to receive the latest news about ARIN and the most pressing issues facing the Internet community.
SIGN ME UP →
---
Blog Categories
IPv6
•
Business Case for IPv6
•
Fellowship Program
•
Grant Program
•
Caribbean
•
Internet Governance
•
Updates
•
IPv4
•
ARIN Bits
•
Elections
•
Tips
•
Public Policy
•
Customer Feedback
•
Security
•
Outreach
•
RPKI
•
Training
•
IRR
•
Data Accuracy