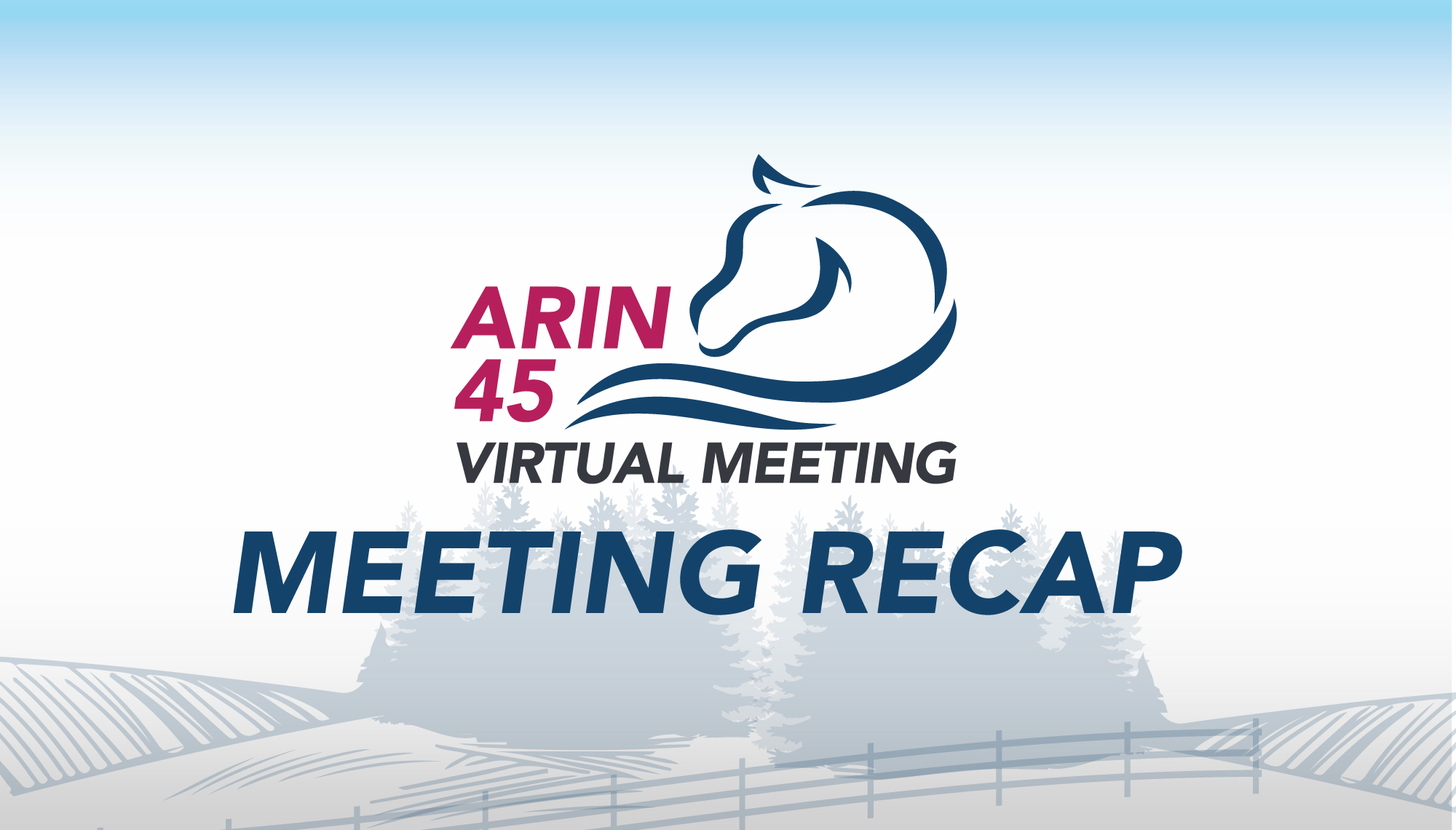 ARIN 45 Recap
Over the course of two days this week we hosted our first fully virtual ARIN Public Policy and Members Meeting over Zoom. Thanks to everyone who joined us on this new adventure. We trimmed the agenda down to focus on only the essential policies that need community input to advance through the policy development process and to provide important updates on ARIN services and operations. For those of you who were unable to attend, here is a high-level recap of what happened at ARIN 45.
DAY 1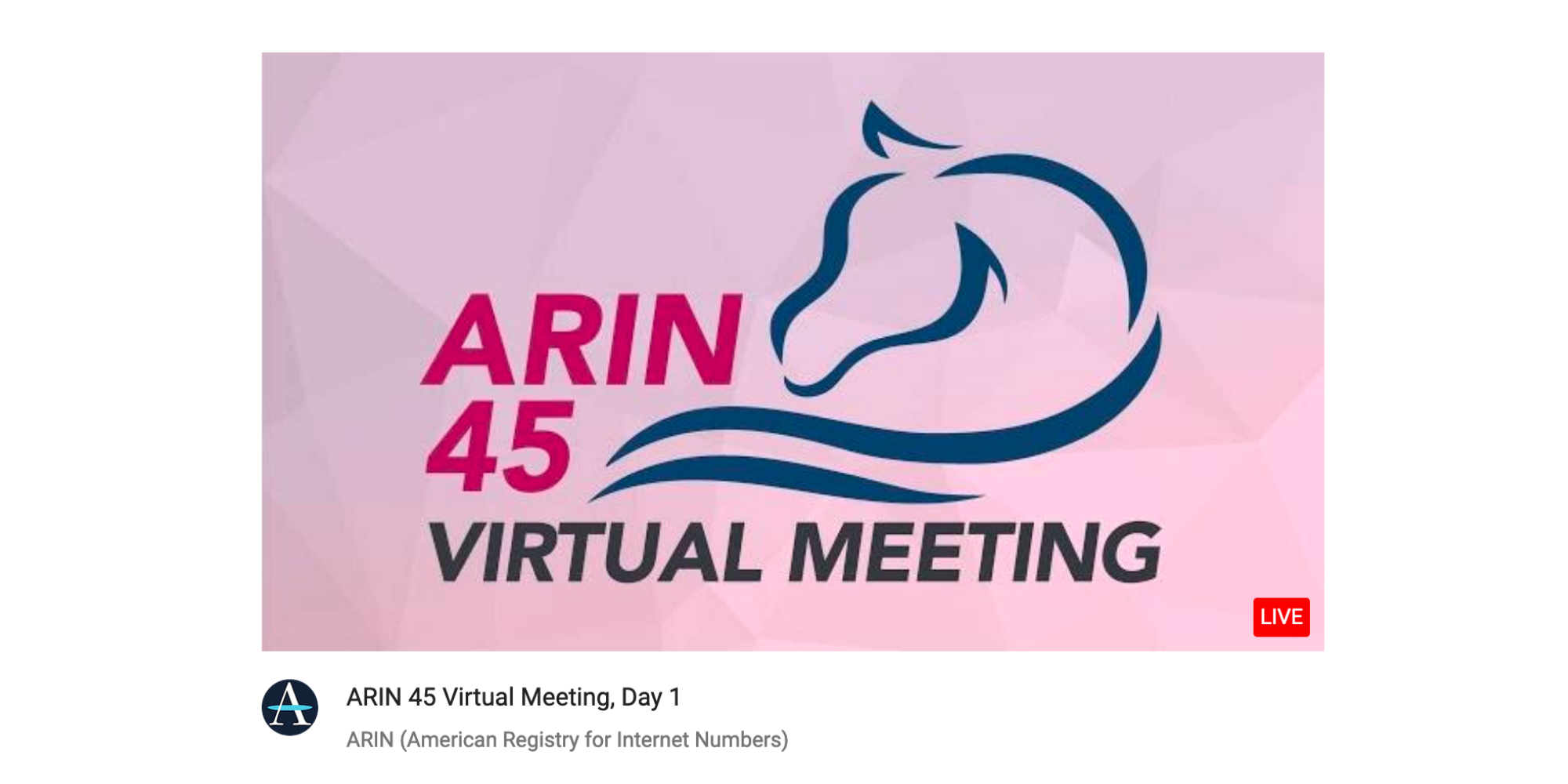 First off, we received a warm welcome from the ARIN Board of Trustees Chair, Paul Andersen orienting everyone to the meeting and setting the expectations for the day.  Next up, Tina Morris, Advisory Council (AC) Chair, gave an overview of policy activity since the last ARIN meeting and what is on the AC docket. Then we jumped into our first policy block of the meeting which included discussions on:
After policy discussions concluded, John Sweeting, CCO, gave an update on the new and improved ARIN Internet Routing Registry (IRR) that was deployed last week. There are now two processes for creating objects:
IRR-email using existing email template processor
IRR-online using ARIN Online (new)
Then Mark Kosters, CTO, took the floor to update us on RPKI at ARIN. He noted that we're starting to see uptick in delegated users. Next Richard Jimmerson, COO, gave an update about ARIN including information on our pandemic operations, leadership changes, organization highlights, and more. We rounded out the day with an open microphone session followed by a bid farewell until day 2 of ARIN 45.
DAY 2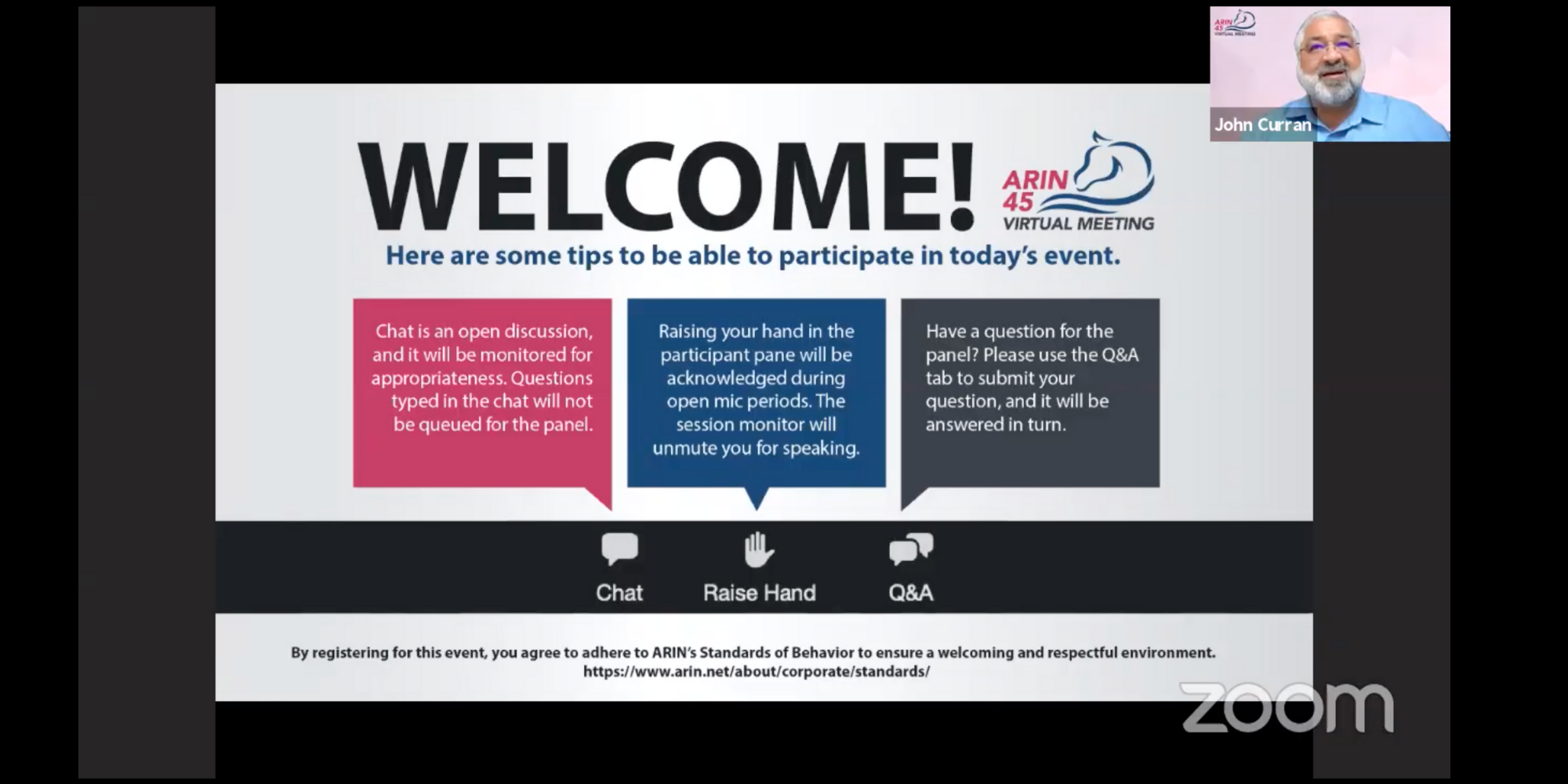 Starting the second day of the meeting, John Curran, President and CEO, welcomed everyone to the zoom webinar. Then we jumped right into policy discussions that included conversations about:
After we wrapped up policy discussions, Nancy Carter, Board Treasurer, presented on the newly-formed Board Governance Working Group aimed at reviewing ARIN's Board governance structure, design, and framework. She followed that up with the Treasurer's Report including information on the 2019 audit and financial results. Next, Paul Anderson delivered the Board of Trustees Report covering recent activity, strategy work, and the 2020 elections. He also took a moment to recognize Jason Schiller for 11 years of service as an NRO NC representative from the ARIN community. Virtual round of applause for Jason (aka thunderous claps on Zoom chat)! Wrapping up the day, we transitioned into the final open mic of the meeting before calling it a day.
We also enjoyed live tweeting #ARIN45 as well. If you want to refer to anything you've seen so far, all slides are posted online. Over the next few days we'll also add links to the full transcript and webcasts to this page as well. 
Please save the date for ARIN 46 currently planned for 22-23 October in Seattle, Washington just after NANOG 80 (noting we expect to decide about the status of the meeting by early July should these plans change due to COVID-19).
Thanks for participating in ARIN 45, our first all-remote Public Policy and Members Meeting!
Recent blogs categorized under: Public Policy