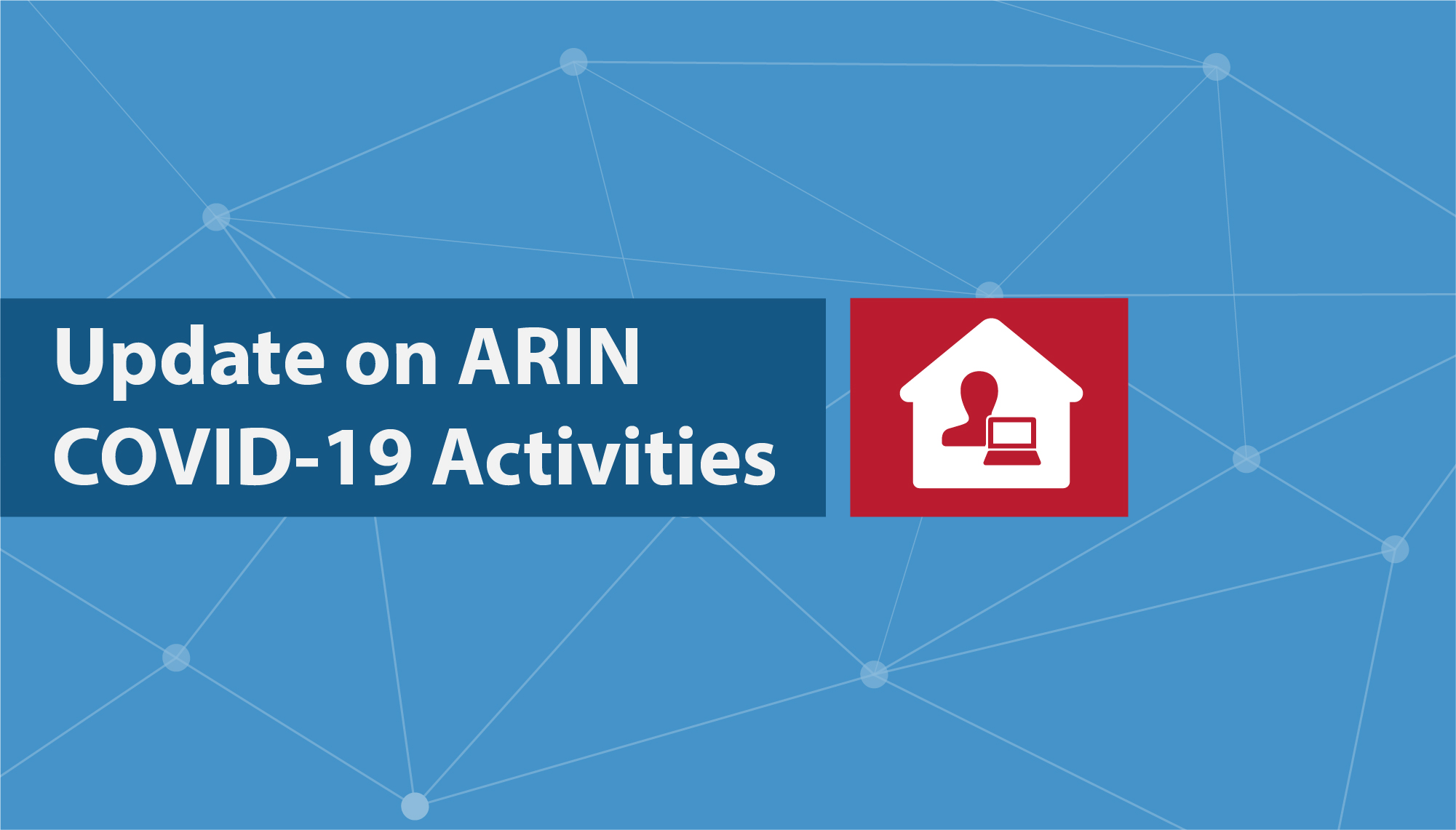 Update on ARIN COVID-19 Activities
By: John Curran, ARIN President & CEO, and Richard Jimmerson, COO
Earlier this week, Virginia's Governor issued an [Executive Order](https://www.governor.virginia.gov/media/governorvirginiagov/executive-actions/EO-55-Temporary-Stay-at-Home-Order-Due-to-Novel-Coronavirus-(COVID-19.pdf) due to the Novel Coronavirus (COVID-19) requiring all individuals to remain at their place of residence through 10 June 2020 with few exceptions. As ARIN's office is located in Northern Virginia, this order is germane to ARIN's operations and we thought it appropriate to take this opportunity to update the community on our overall COVID-19 preparations.
ARIN's ultimate workplace priority is the safety of our employees, and we have maintained continuous monitoring of the guidance from the Centers for Disease Control and Prevention (CDC), the World Health Organization (WHO), and relevant state agencies to help guide our response planning efforts. As a result of the coronavirus threat, we instituted a COVID-19 response plan in February 2020 that laid out a clear action plan for maintaining staff safety. Our response plan has four action phases that provide for proportional response to an increasing potential for community transmission – including steps such as discontinuance of certain in-person company meetings and events, increased cleaning and disinfection of ARIN's office space, and increased availability of employee work-from-home options. As a result of issued public heath guidance, all of these precautions have been in place at ARIN since early March 2020.
We entered into our fourth and final phase of our COVID-19 response plan two weeks ago that included the general closure of the ARIN office and the transition to a fully functional work-from-home environment for the entire staff and company operations. As a result of our preparations, nearly all company functions can be accomplished remotely and thus allow our workforce to remain at home, perform their work duties, and help reduce the potential for viral transmission. ARIN provides services critical to the maintenance of Internet communications infrastructure in the region, and while there remains a small number of tasks that can necessitate essential personnel visiting ARIN offices, such infrequent but necessary activity is compliant with state and federal guidelines for critical infrastructure workforce during this event.
With ARIN transitioned to a work-from-home environment, we continue to provide registry services to our members and customers while honoring our top priority of employee safety. You should experience little to no difference in our normal service delivery – we are maintaining our infrastructure, responding to resource request tickets, processing transfer requests, and answering your support calls, among many other registry tasks. We have also instituted some changes in our processes to accommodate customers that may need some additional flexibility working with ARIN as a result of the pandemic.
As COVID-19 continues to impact the lives of everyone around the world in the coming months, we will keep you updated on any necessary adjustments to our services. The ARIN staff remains committed to you, our valued members and customers, and hopes that everyone keep safe and healthy during this challenging time.
Recent blogs categorized under: Updates
---
GET THE LATEST!
Sign up to receive the latest news about ARIN and the most pressing issues facing the Internet community.
SIGN ME UP →
---
Blog Categories
Grant Program
•
Public Policy
•
IPv4
•
Updates
•
Security
•
RPKI
•
IPv6
•
Data Accuracy
•
Elections
•
ARIN Bits
•
Business Case for IPv6
•
Fellowship Program
•
Caribbean
•
Internet Governance
•
Tips
•
Customer Feedback
•
Outreach
•
Training
•
IRR