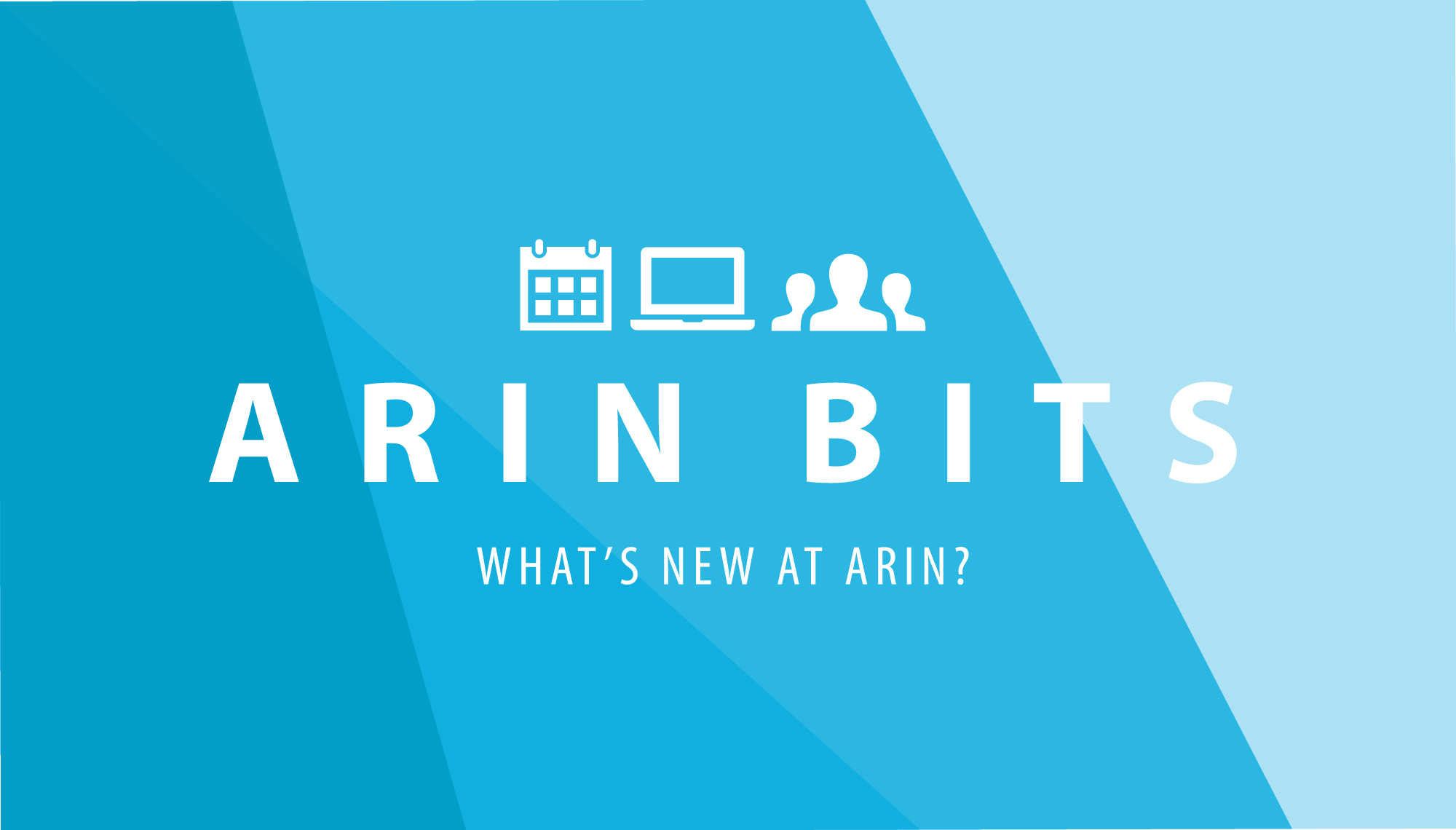 ARIN Bits: December 2019
Oh the weather outside is frightful, but ARIN Bits is so delightful… since we've no place to go, let's recap, let's recap, let's recap. In this edition of ARIN Bits, you'll find the results of this year's ARIN election, discover a new team that's been created within our organization, learn about updates to RPKI, and much more. If you missed any previous editions of Bits and want to catch up, you can find them on our ARIN Bits archive page.
Drumroll please…
Congratulations to those elected to serve on the ARIN Board of Trustees, Advisory Council and NRO Number Council! We thank everyone who voted in the 2019 ARIN Elections, and also extend a big thank you to all who ran. We look forward to a great 2020. We announced the results on 12 November, but in case you missed it you can view the winners below.
Board of Trustees
Catherine Middleton
Bill Sandiford
Advisory Council (AC)
Alyssa Moore
Alison Wood
Tina Morris
Owen DeLong
Joe Provo
Number Resource Organization (NRO) Number Council (NC)
David Farmer, who has served on the AC for 11 years has resigned. We would like to extend our sincere gratitude to David for over a decade of service to the ARIN region. In accordance with the ARIN Bylaws, the remaining AC members have decided to appoint Anita Nikolich (the first runner-up in the 2019 ARIN Advisory Council election) to fill the remainder of the unexpired term. Anita Nikolich will serve on the ARIN AC from 1 January 2020 through 31 December 2020.
Join us in Louisville for ARIN 45
We're accepting applications for our Fellowship Program to attend ARIN 45 in Louisville, Kentucky from 26-29 April 2020. As part of an ARIN Fellowship, selected fellows will attend the ARIN 45 Public Policy and Members Meeting at no charge; this includes hotel accommodations at the meeting venue, round-trip economy class airfare, and a small stipend to assist with travel incidentals and meals. Our fellowship offers a unique opportunity to discuss and learn more about ARIN's Policy Development Process (PDP), participate in current policy discussions while voting on key policy drafts, be paired with a seasoned ARIN Mentor for an enhanced meeting experience, network with ARIN's Board of Trustees, Advisory Council, and staff, including community members throughout the region while gaining a more in-depth exposure to ARIN's operations and services.
 Apply for a fellowship  now through 5:00 PM EST on 13 February.
Registration for ARIN 45 will be opening soon, so stay tuned!
Ch…Ch…Ch… Changes at ARIN
We're excited to announce we have created a new team within our organization dedicated to improving our customer service experience. John Sweeting, who has served as Senior Director of Registration Services for over three years and previously served as an elected volunteer in our community, will be leading a new customer-focused team as our Chief Customer Officer (CCO). This new team will be focused on maintaining and overseeing all aspects of customer relations. By analyzing user patterns and identifying areas for improvement, the Office of the CCO will work to ensure that ARIN delivers on its promise of providing the best possible customer service across its service departments. The Office of the CCO also oversees ARIN's elections and Policy Development Process. The Registration Services will report to the CCO under the leadership of Lisa Liedel, who has been promoted to Director of Registration Services.
We are also saying goodbye to Susan Hamlin, who has served as Senior Director of our Communications and Member Services Department for nearly 20 years. We wish Susan all the best as she enjoys her well-deserved retirement. Hollis Kara, our former Communications Manager, is now the Director of Communications.
Join us in congratulating John, Lisa, and Hollis as they move into their new leadership roles!
IPv6 Address Planning Webinar
We are excited to introduce a new webinar focused on IPv6 Address Planning. We're offering this webinar on 17 December, 9 January, and 14 January. The first two sessions have both been filled, but you can register to attend the 14 January session now. We are so happy to see great interest in these webinars, and we look forward to offering them again in the near future.
In the meantime, you can take a look at our Training and Education page to stay up-to-date on upcoming trainings, or view recorded sessions.
Current policy proposals under discussion
Recommended Draft Policies
Draft Policies
You can find the status of current policy discussions on our website and subscribe to ARIN-PPML (Public Policy Mailing List) to voice your opinions. And remember, membership is not required to participate!
Updates to RPKI
In July 2018, we received a suggestion from the community to support the RPKI Remote Delta Protocol (RRDP) for Resource Public Key Infrastructure (RPKI) Publication. Instead of working to support RRDP completely on our own, we looked to the community to leverage existing work and achieve our goals in a faster and more efficient way.
We learned that NLNetLabs was already in the process of writing a full end-user RPKI tool set. ARIN's RPKI repository supports the RRDP protocol as of 3 December 2019. We are very excited to offer these improvements to our RPKI repository for our community. With these changes, we will now plan to publish the repository on a more frequent basis. Instead of publishing four times a day as we did previously, we will be moving to publishing RPKI changes every five minutes. If you'd like to learn more, Mark Kosters, CTO, shares details about this in a recent blog post on TeamARIN.
Featured Policy Requirement
AS Numbers (NRPM 5)
If your organization requires a unique Autonomous System Number (ASN), you can request to register one directly from ARIN, or you can transfer one from another organization. The most common reason an organization requires a unique ASN is to immediately use Border Gateway Protocol (BGP) to multihome with two or more ISPs or peers for redundancy. When you submit your request, we will typically just need to know your estimated start date, and the names and ASNs of the providers you will be connecting to.  
If you require a unique ASN for reasons other than using BGP to multihome, we can review your request as a unique routing policy. We'll just need you to provide a detailed explanation of your routing policy within your request. 
You can find more information on ASNs and how to submit your request on our website.
A tip from our Registration Services Department
When requesting resources from ARIN, an ARIN analyst will work with you through an online ticket to review and process your request.  There will typically be some correspondence needed to answer questions and to provide any data needed to verify that your request meets policy requirements and can be approved. At the end of the request, before approval, we will ask you to have an officer of your organization review the information provided to us during the request and certify its accuracy by signing an Officer Attestation document. 
A seasoned requestor might be tempted to submit the Officer Attestation document early, however if any additional information is provided in order to approve the request, we will need your officer to review the additional information and sign a new Officer Attestation document attesting to the information's accuracy. The specific situation can vary from case to case, but to avoid any confusion and inconvenience to you and your officer, we recommend providing the attestation only when the ARIN analyst indicates within your ticket that it is needed and provides you with instructions for submitting it.
A tip from our Financial Services Department
Are you wondering why you have not received an invoice or other communication from ARIN?
The cause may be related any number of reasons, some common reasons could be that the:
contact left the company,
contact changed roles with your company, or
company email address changed
Annual Invoices and Reminder Notices are emailed to persons who have been designated to represent the organization as the Billing, Admin and Tech contact.  Keeping these contacts up-to-date is an important part of making sure your Annual Invoices and Reminder Notices arrive in your inbox on time.
To Update the Billing contact:
You will need to generate a request using one of the methods below:
Send an email to Billing@arin.net
Submit an ARIN Online request from within the "Payments & Billing" link located on the left.
Note: Provide the Organization Identifier (Org ID) or last Invoice number to identify the account. The contact information cannot be updated via phone.
Have any questions? Give our Financial Services Department a call at 703.227.9886 or submit an Ask ARIN ticket from within your ARIN Online account, and an account representative will be happy to help you.
Need to Update the Admin and Tech Point of Contact (POC)? See the tip from our Registration Services Department in ARIN Bits in December 2017.
Check out these customer and member stats (as of 30 November 2019)
38,404 total customer organizations, including 6,238 member organizations
813 8.3 Transfers and 124 8.4 Transfers completed YTD 2019
8.4 Transfers completed YTD 2019: 42 to APNIC, 56 to RIPE NCC, 13 from APNIC, 13 from RIPE NCC
59.6% of members have an IPv6 block
Is IPv6 on your list of New Year's resolutions? Check out some of these helpful resources:
Blog Spotlight
Catch up on our recent blog posts:
See you in March!
We'll see you next year for the next edition of Bits. Happy Holidays!
Recent blogs categorized under: ARIN Bits