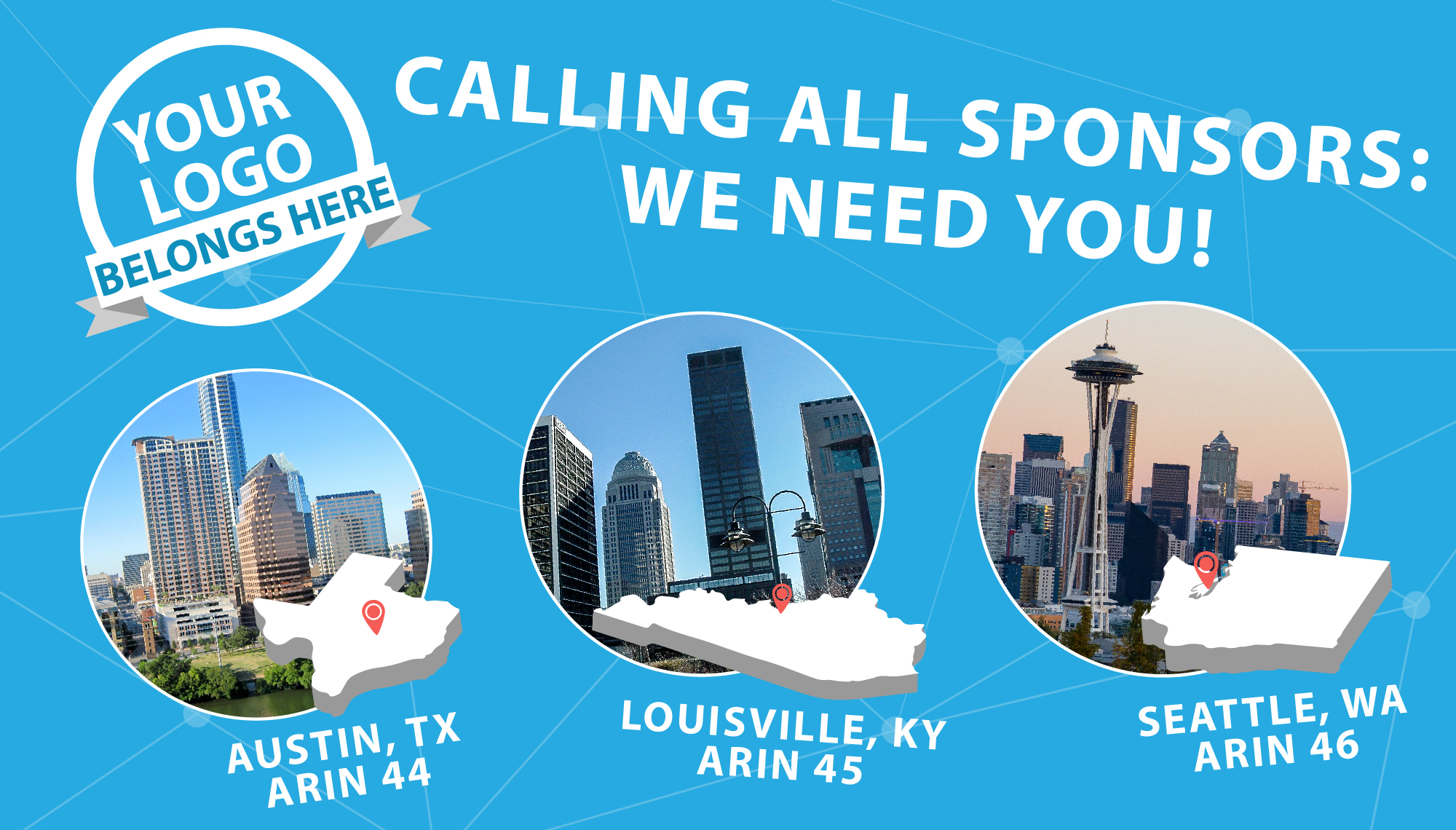 From Austin to Louisville to Seattle: We Can't Do It Without You!
We're heading into the dog days of summer, and for a lot of people, that means taking it easy for a couple months. But here at ARIN HQ, we're as busy as ever! We're currently in the midst of planning our next three Public Policy and Members Meetings:
ARIN 44: 31 October - 1 November 2019 in Austin, TX (passed)
ARIN 45: 26-29 April 2020 in Louisville, KY
ARIN 46: 22-23 October 2020 in Seattle, WA
We've got the locations, the dates, the hotels—in fact, we're even starting to think about the agendas already. Sounds like we've got it all figured out, right? But there's actually one crucial piece missing from this picture: YOU! In order to make ARIN Meetings the best they can be, we need the support of organizations like yours. The benefits of all levels of sponsorship include:
All sponsors contributing $7,500 USD or more will be listed on the meeting website and will have their company logo placed on official meeting signage.
All sponsors will receive special recognition throughout the meeting by category of sponsorship.
All sponsors will receive a banner ad rotating at top of the mobile app dashboard page with click through to a full screen landing page where you can provide further promotion.
We have multiple sponsorships available, no matter your price point:
Bronze Sponsor ($7,500 USD): Sponsor benefits as listed above
Silver Sponsor ($15,000 USD): Includes Bronze Sponsorship Items, Plus:

Sponsor logo on the badge insert

Gold Sponsor ($20,000 USD): Includes Silver Sponsorship Items, Plus

Sponsor logo on the meeting giveaway item
Sponsor acknowledgment on ARIN social media during the meeting (Facebook/Twitter)

Platinum Sponsor ($25,000 USD): Includes Gold Sponsorship Items, Plus:

(3) Three complimentary room nights at the host hotel for the Sponsor
This isn't just another corporate sponsorship. This is a chance to get your name in front of the people who are shaping the Internet, the policy surrounding it, and how it grows and changes. We reach audiences all over the globe via our webcast, so your organization's name will receive key visibility far and wide. For more details on the costs and benefits of sponsorship, please see our Sponsorship page. If you are interested in learning more about sponsoring an ARIN meeting, please contact our meeting staff at meetings@arin.net. Here's hoping we'll get the chance to partner with your organization for an upcoming meeting!
Recent blogs categorized under: Updates
---
GET THE LATEST!
Sign up to receive the latest news about ARIN and the most pressing issues facing the Internet community.
SIGN ME UP →
---
Blog Categories
Grant Program
•
Public Policy
•
IPv4
•
Updates
•
Security
•
RPKI
•
IPv6
•
Data Accuracy
•
Elections
•
ARIN Bits
•
Business Case for IPv6
•
Fellowship Program
•
Caribbean
•
Internet Governance
•
Tips
•
Customer Feedback
•
Outreach
•
Training
•
IRR