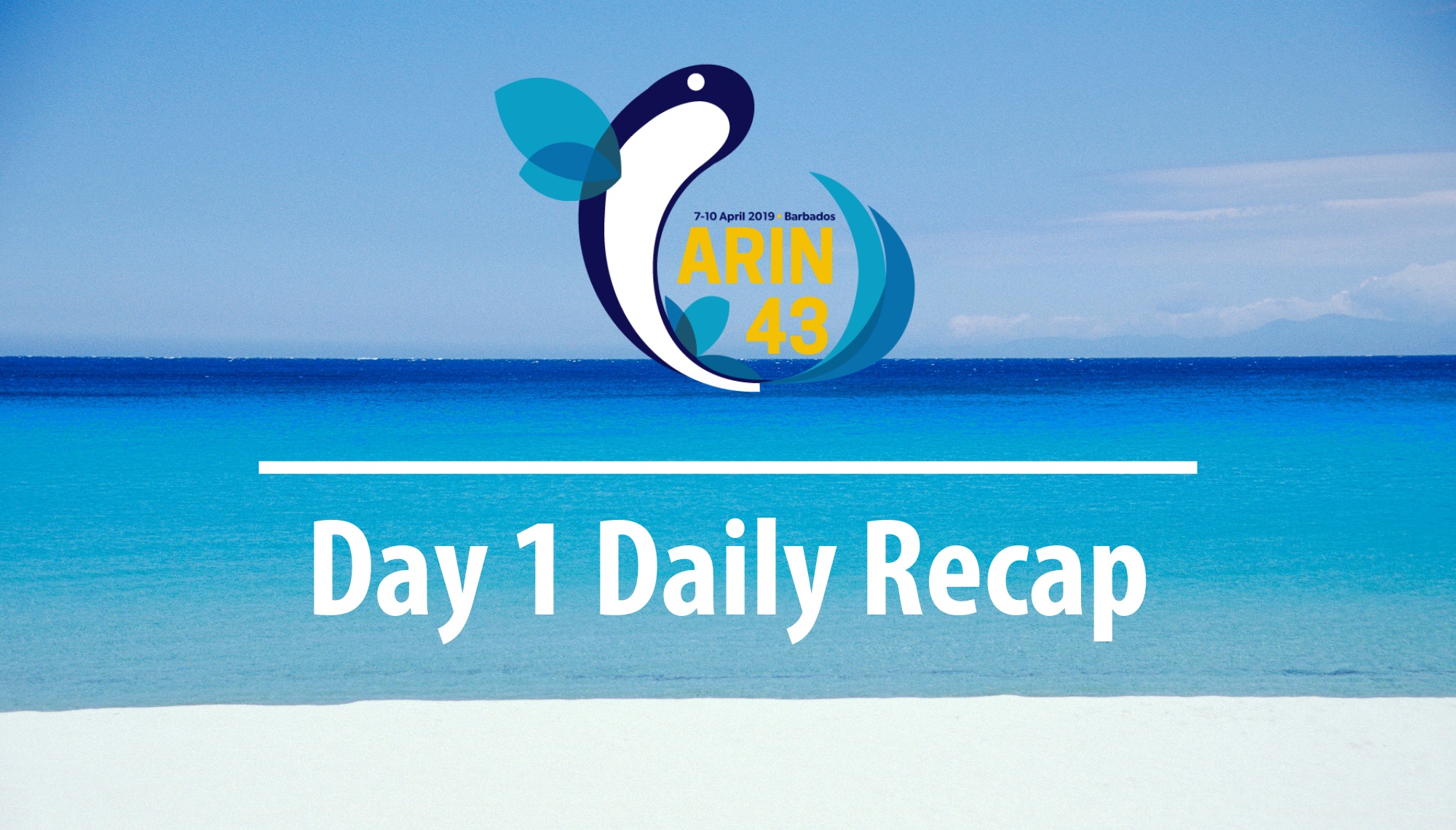 ARIN 43 Day 1 Daily Recap
Welcome to Barbados! ARIN 43 is officially underway in colorful Bridgetown. We began the meeting yesterday with our Newcomer Orientation and Policy Development Process Tutorial. We love providing these informational sessions to welcome newcomers to our meeting and make sure everyone has access to the information they need in order to participate. We enjoyed seeing many new and returning faces at the happy hour that followed these sessions.
For those who are unable to be here in person, it's easy to join us remotely for tomorrow's session. You can watch our online webcast, follow along with our live transcript, and participate through chat. Register before tomorrow, so we can add you to the chat rooms.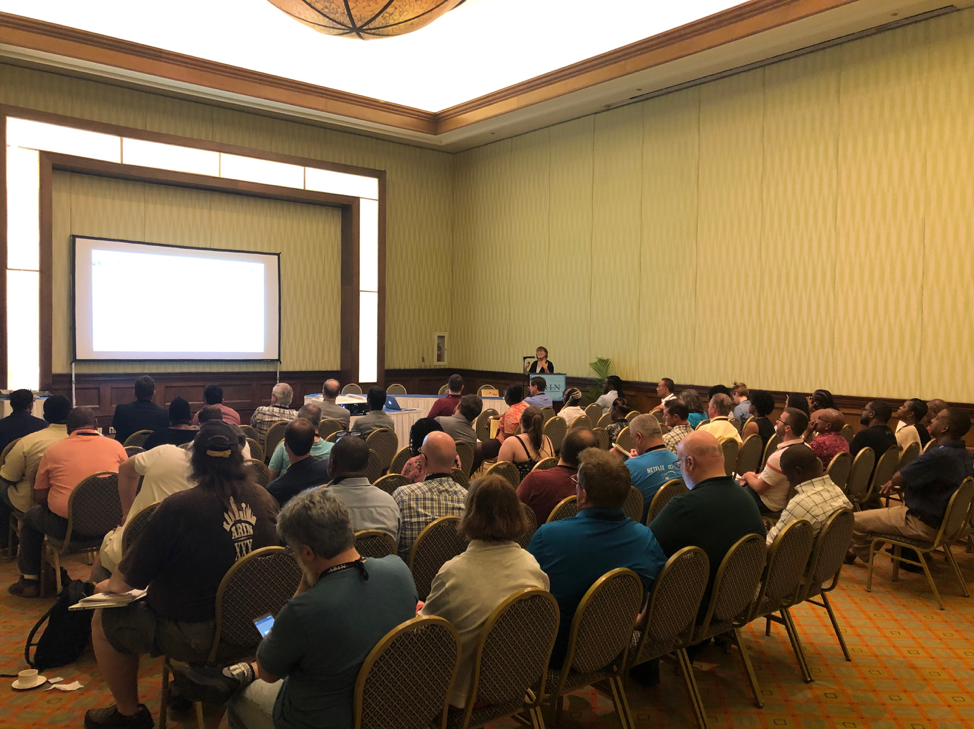 Let's dive in!
This morning we started the Public Policy and Members Meeting with breakfast and good conversation. John Curran, President and CEO, kicked off the day and welcomed all in attendance. We heard remarks from our Network Sponsor, Cable & Wireless, before Richard Jimmerson, COO, presented a Regional Policy Update. Tina Morris, Advisory Council (AC) Chair, shared the recommended draft and draft policies on the docket at ARIN 43 – it's going to be a busy meeting with lots of policies to discuss! At each meeting an ARIN staff member also presents a Policy Implementation and Experience Report to let our community know how policies are being implemented by staff. John Sweeting, Senior Director of Registration Services, followed that with his Internet Number Resource Status Report where he shared stats about the state of IPv4 transfers, IPv6, and AS numbers for each of the Regional Internet Registries. Cathy Aronson finished this segment of the meeting with her crowd-pleasing IETF Report.
After we grabbed a snack and stretched our legs, we returned to the meeting room to kick off the first policy discussions. The first two Recommended Draft Policies under discussion were presented by AC Members, Kerrie Richards and Chris Tacit:
This led to some community discussion, followed by a vote, followed by a vote. Then we broke for a well-deserved lunch!
After lunch, we dove right back into policy discussions. AC Members, Andrew Dul and Alyssa Moore, presented the next two draft policies up for discussion:
In case you're curious, you can learn more about the draft policies under discussion at ARIN 43 in Sean Hopkins' recent post.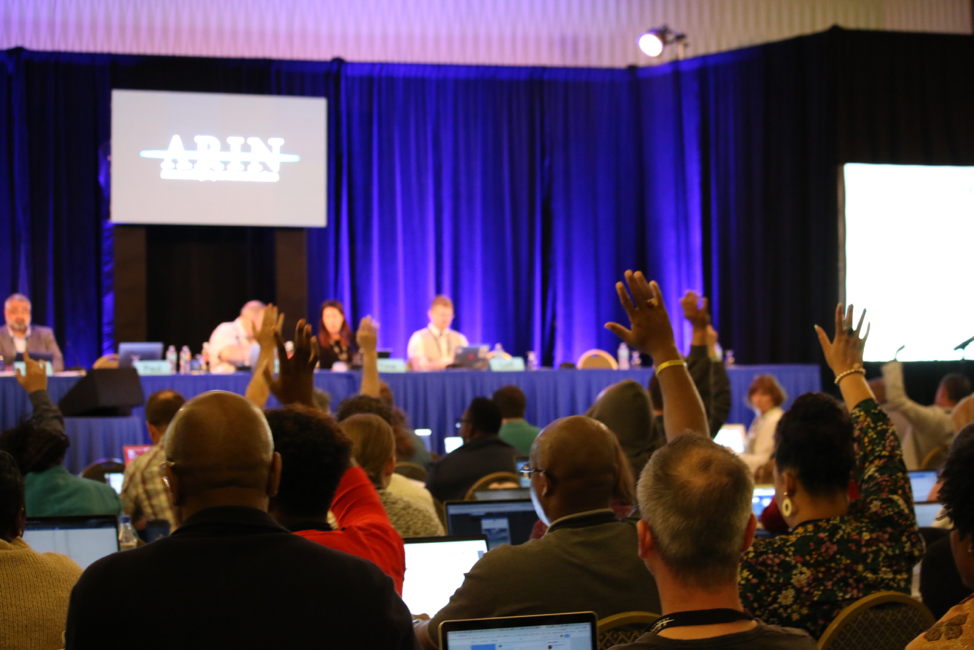 Following the policy discussions, Richard Jimmerson and John Sweeting provided updates about our newly redesigned arin.net (have you seen it?) and also shared information about our upcoming Internet Routing Registry update. Mark Kosters, Chief Technology Officer, followed with a presentation he was excited to share about the current state of RDAP. He explained that anyone who has used the search engine on our new site has used RDAP, which has replaced whois.arin.net.
Richard Jimmerson returned to the mic to share a proposal to seek community input into future meeting agendas. We'd love to hear what you think! We plan to have an open call for content submissions and suggestions starting with ARIN 45.
After another break, AC Members, Kat Hunter and Alicia Trotman, finished off the policy block with the last two draft policies under discussion for the day:
We closed out the day with an interesting study presented by Brenden Kuerbis (co-authored with Milton Mueller and sponsored by ICANN) on the economic factors of migrating to IPv6.
If you're interested in taking a closer look at any of the presentations we heard today, head to the ARIN 43 meeting website.
We're hosting a Women's Networking Reception immediately following the meeting today –all are welcome to join. We hope to see those of you here in person at the social tonight. Otherwise, we'll see you back here bright and early tomorrow!
Take me to the ARIN 43 Day 2 Daily Recap!
Recent blogs categorized under: Public Policy