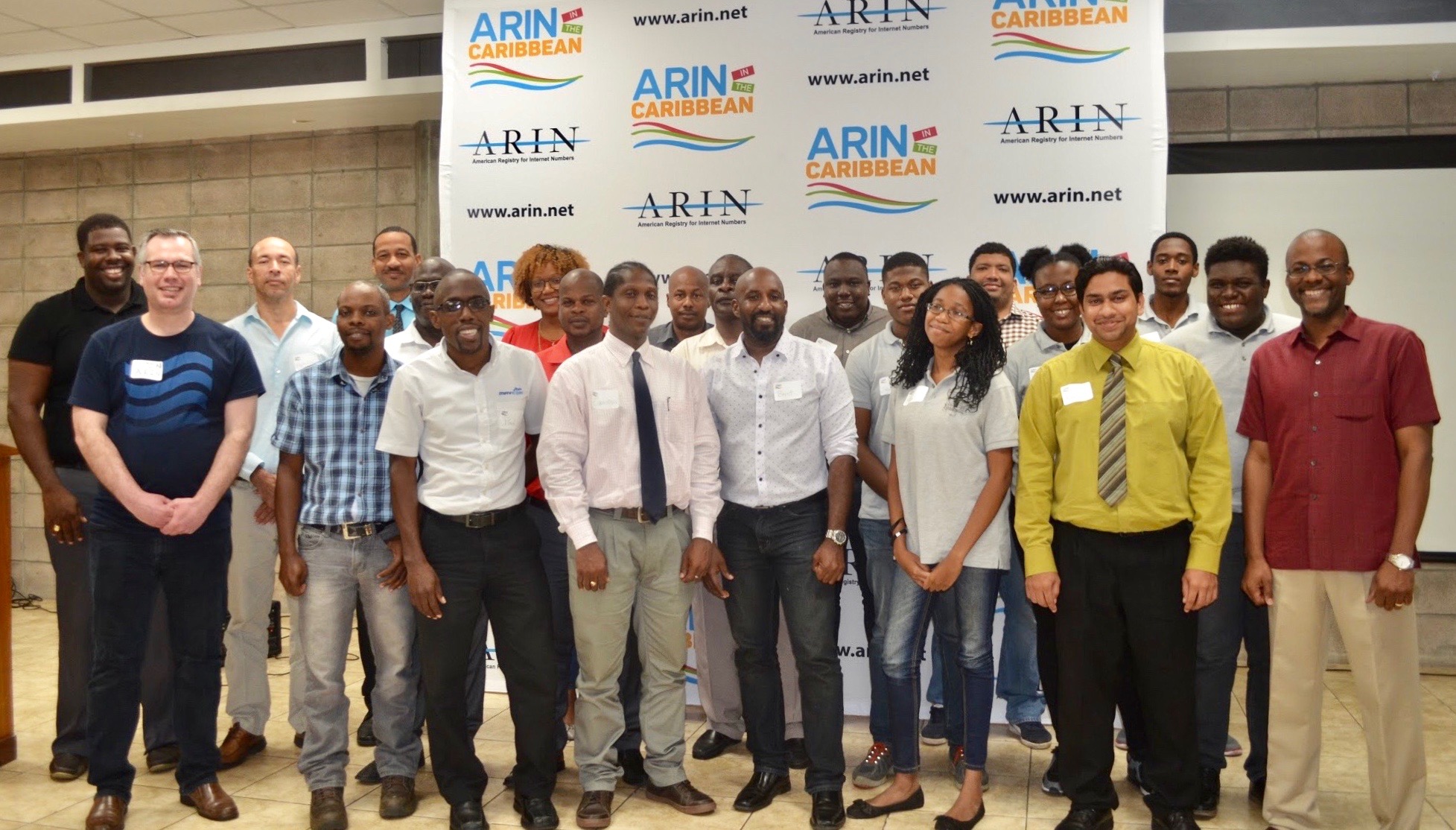 Strengthening Our Caribbean Connections
Fostering Development and Expansion of the ARIN Community in the Caribbean
How time flies! It's already one year since we officially launched ARIN in the Caribbean, our series of outreach events for the Caribbean. At our first anniversary, we are happy to report on the success of this initiative and share our plans for 2019.
2018 Recap
In 2018 we held events in eight countries including Antigua and Barbuda, Barbados, the British Virgin Islands, Grenada, Jamaica, St. Kitts and Nevis, Saint Lucia, and the U.S. Virgin Islands. These events attracted over 400 attendees, representing network operators, business leaders, regulators, and government officials. We also created the ARIN Caribbean Forum as a dedicated interface for engaging three strategic communities: Internet public policy stakeholders; justice sector representatives, including officials from law enforcement and the judiciary; and the technical community.
One outcome of our 2018 outreach has been the application by several governments for autonomous systems numbers and IPv6 addresses, to support national e-government initiatives. Last March, the St. Kitts and Nevis government became one of the first in the Caribbean to have its application for a unique identifier on the global Internet approved by ARIN.
Our outreach events in the Caribbean have also provided us with new opportunities to hear directly from members in our region. They have also allowed us to introduce new audiences to our mission and services. More importantly, we have been successful in attracting more Caribbean participation in ARIN's leadership and in the ARIN policy development process.
Last October, three Caribbean candidates—Peter Harrison, Alicia Trotman and Kerrie-Ann Richards—were elected to leadership roles at ARIN. Collaborations with our partners in the Caribbean have also increased. The Caribbean Telecommunications Union (CTU) collaborated with us to host the inaugural CTU/ARIN Public Policy Forum. The Organization of Eastern Caribbean States (OECS) Commission and ARIN established a memorandum of understanding to collaborate on development of the Internet in the sub-region. We deepened our relationship with the Caribbean Network Operators Group (CaribNOG) by co-hosting a number of technical training workshops and presentations. We also collaborated with LACNIC, ICANN, and ISOC on several public awareness and disaster mitigation and response initiatives throughout the Caribbean.
ARIN's 2019 Caribbean Outreach
Our outreach events in the Caribbean last year provided us with new opportunities to hear directly from members in the Caribbean. They also created an opportunity to introduce new audiences to our mission and services. The feedback we received from our members over the past year has been used to develop our priorities in the Caribbean in 2019.
At our first-ever outreach activity in Turks and Caicos on February 7th, I announced the expanded ARIN in the Caribbean outreach program for 2019.  Building on our mission to facilitate the advancement of the Internet through information and educational outreach, our 2019 Caribbean agenda will focus on ARIN community development and practical strategies strengthening Internet infrastructure, security and resilience in the region.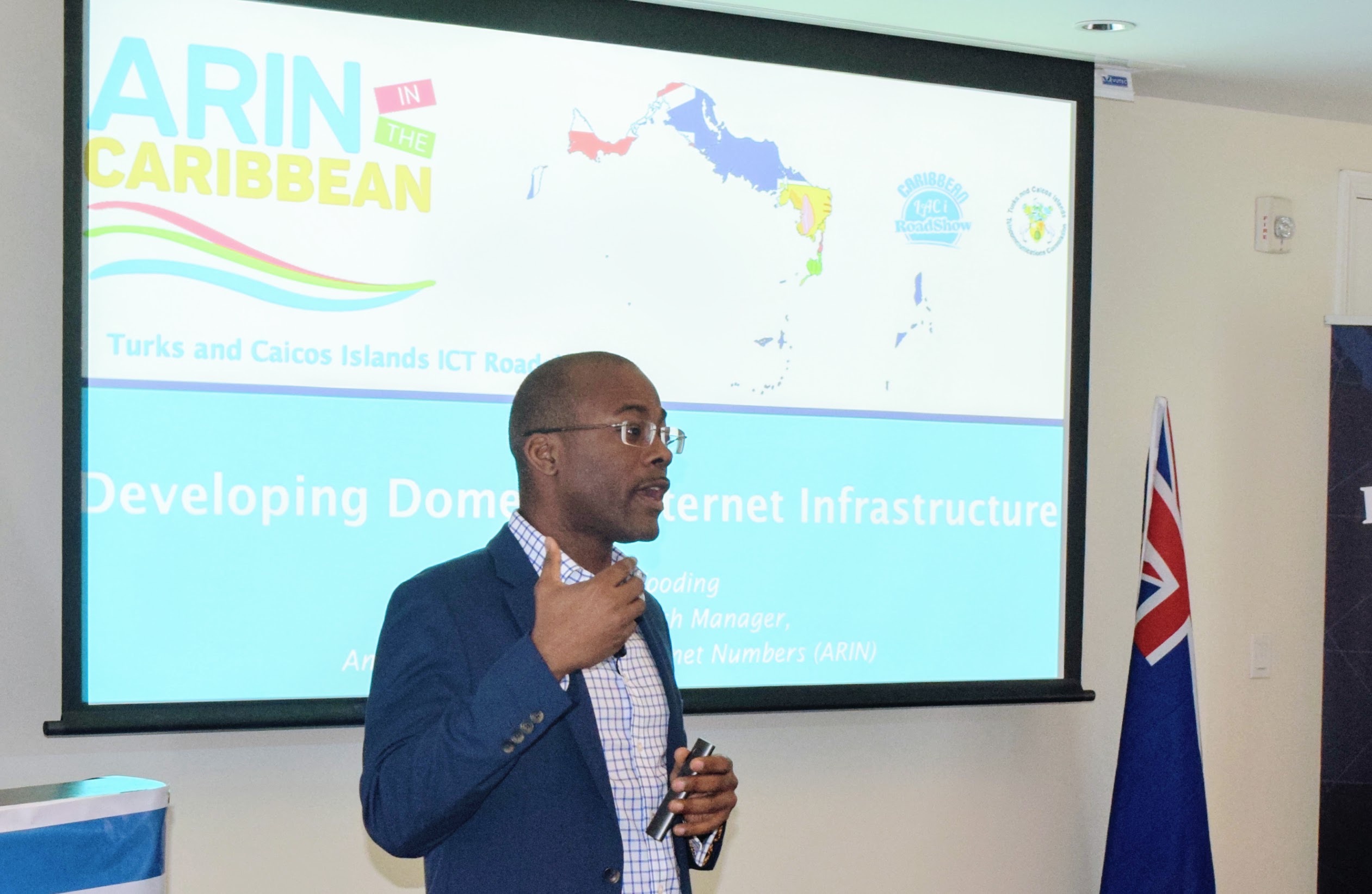 In 2019, we plan to continue promoting capacity-building initiatives for the technical community, advocating the adoption of IPv6; supporting the establishment of autonomous networks and the creation of policy to support Internet development, resilience, and security; encouraging law enforcement inter-agency collaboration on Internet security incidents; and facilitating greater participation in ARIN policy development and leadership.
As we build on our work in these areas, our aim is to continue fostering development of the ARIN community and to make it more widely known that ARIN is in the Caribbean.
Recent blogs categorized under: Caribbean
---
GET THE LATEST!
Sign up to receive the latest news about ARIN and the most pressing issues facing the Internet community.
SIGN ME UP →
---
Blog Categories
Grant Program
•
Public Policy
•
IPv4
•
Updates
•
Security
•
RPKI
•
IPv6
•
Data Accuracy
•
Elections
•
ARIN Bits
•
Business Case for IPv6
•
Fellowship Program
•
Caribbean
•
Internet Governance
•
Tips
•
Customer Feedback
•
Outreach
•
Training
•
IRR