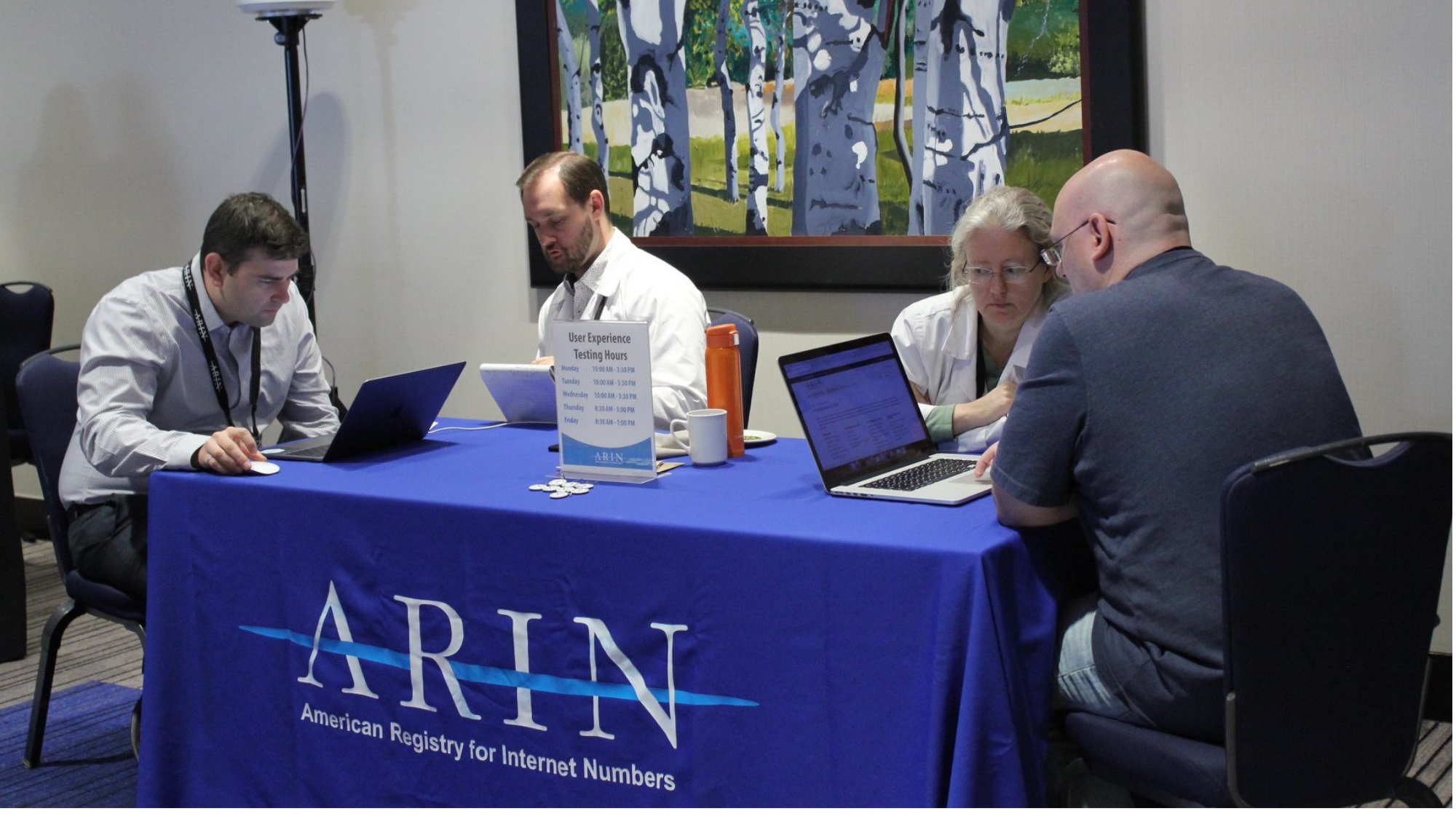 How Community Input Shaped Our New ARIN.NET
The upcoming release of a totally redesigned arin.net wouldn't be possible without the help of our community members — and one confused hotel worker ­— who took the time to provide direct feedback on the project.
From the outset of the redesign, ARIN made user input a top priority of the effort. From an initial card-sorting exercise used to craft better menus through a live prototype test in fall 2018, staff asked and the community answered: What would make using arin.net a better experience?
In addition to many in-person and remote tests, survey responses, and various other comments, ARIN's two live preview sites saw a combined 2,600 unique pageviews last year.
"Communications got the ball rolling when we hosted an online card sorting exercise in the spring of 2017. Once we had the information we needed to improve navigation through content reorganization, Jesse and Jan launched their efforts to make sure we were able to offer a great user experience, too. This process has been a great collaboration, both inside ARIN and with our community." – Hollis Kara, Communications Manager.
The first testing phase was more arts-and-crafts than bits-and-bytes. In fall 2017, ARIN's user experience team traveled to ARIN 40 in San Jose, California to test the fundamentals of a new site design using a "paper prototype."
Volunteers put together their ideal basic website structure – buttons, logins, links, text – using drab cardboard cutouts and permanent markers to represent the various pieces. The results weren't always pretty, but those scribbles and scrawls informed every part of the process afterward.
The unusual art project caught a few eyes, including one roving hotel employee who volunteered to participate and ended up with an unexpected introduction to Internet number resources.
By the next ARIN meeting, ARIN 41 in Miami, the cardboard had become code, and testers got their first look at a rough but working version of the redesign.
Despite the pull of mojitos and ocean views, community members took time out to appraise the look and usability of the new interface both in-person and via an online survey.
The preview site's largest traffic day was also its debut, April 12, with about 1,000 pageviews.
When the preview went live for the second and final time, it was as the community congregated in the Pacific Northwest for ARIN 42 in Vancouver. That version 2.0, available for about two weeks last October, was very close to the one visitors will soon see at www.arin.net.
Volunteers at that meeting undertook the first true usability tests of the site, being able to browse many of the policy and informational pages in their near-final forms. Overall, the in-person user testing, which is some of the most valuable data available, recorded a promising 78 percent success rate.
Another milestone for the project, this was the first time testers got a live chance to try out the new look of account management, following a previous round of remote testing.
"Community members, for whose time and attention we are extremely grateful, provided input that swung the key design decisions regarding account management." – Jan Blacka, Senior User Experience Specialist.
All of this community effort comes together in a newly designed arin.net that will give users improved access to the information and tools they need, wherever and however they access the site.
Striving to put community input into practice has been a core mission of the redesign, just as it is a tenet of the organization as a whole. The generosity of those who have given their time —sometimes more than once — to improving and shaping this project is what will ultimately produce a better user experience for everyone.
Stay tuned for the official launch of arin.net, coming to you on 2 March 2019!
Recent blogs categorized under: Updates
---
GET THE LATEST!
Sign up to receive the latest news about ARIN and the most pressing issues facing the Internet community.
SIGN ME UP →
---
Blog Categories
Grant Program
•
Public Policy
•
IPv4
•
Updates
•
Security
•
RPKI
•
IPv6
•
Data Accuracy
•
Elections
•
ARIN Bits
•
Business Case for IPv6
•
Fellowship Program
•
Caribbean
•
Internet Governance
•
Tips
•
Customer Feedback
•
Outreach
•
Training
•
IRR