Meetings & Events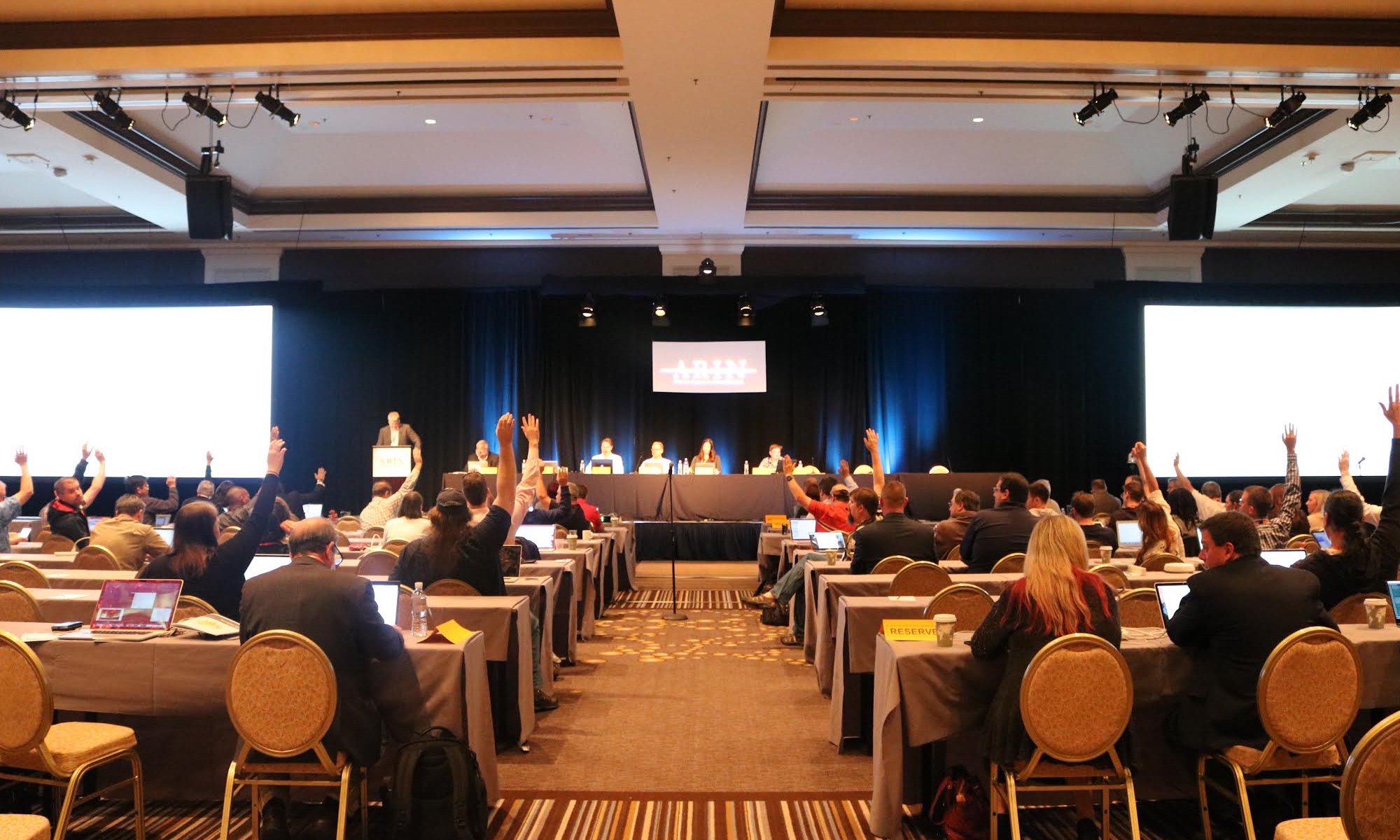 ARIN meetings and events are filled with interesting sessions, opportunities to network with your peers in the industry, educational presentations, discussions of important number resource policy issues, and more. Whether you've been participating in the community for many years or just starting out, there's always an upcoming event that will offer something useful. In addition, we attend many community events where you may see us as well. Please visit our TeamARIN website to view our community event calendar.
Public Policy and Members Meetings
ARIN holds biannual Public Policy and Members Meetings in the second and fourth quarters in various locations throughout the ARIN region. ARIN meetings provide an opportunity for the entire Internet community to engage in policy discussions, network with colleagues, and attend workshops and tutorials. All interested individuals are welcome to attend the Public Policy & Members Meetings. Registration is free for all attendees who preregister, though a nominal fee is charged for on-site registrations. In order to maintain the transparency of the ARIN Policy Development Process, we publish a full listing of all registrants, attendees, and remote participants, with the exception of staff of associated support vendors.
Upcoming meetings are listed above, and access to the meeting website will display as a hyperlink when registration for is open for that event.
Fellowships
The ARIN Fellowship Program provides financial support for up to 15 individuals to attend each ARIN Public Policy and Members Meeting.
Sponsorship
ARIN meeting sponsorship provides a great opportunity for your organization to show support for the community-based, transparent, bottom-up Policy Development Process that supports the foundation of Internet
Past Meetings and Events
We publish an archive of presentations, transcripts, and videos from past ARIN Public Policy and Members Meetings and other policy events.
Outreach Events
ARIN hosts outreach events throughout its region to ensure that we are engaging and educating our customer community. Learn more about our ARIN on the Road and ARIN Lunch by the Numbers events, or visit TeamARIN to learn about our ARIN in the Caribbean program. You can also view a calendar of upcoming industry events where ARIN will be making an appearance.
ARIN on the Road
ARIN on the Road events provide the latest information on ARIN's technical services, the status of IPv6 adoption, current ARIN policy developments and updates about ARIN and the RIR system. We answer questions about how to interact with ARIN's online services and solicit discussion topics from you to make sure we cover what you want to know. The page linked to above has details on future events and archives of previous presentations.
ARIN in the Caribbean
ARIN in the Caribbean events are free to attend and offer a great environment to learn and share. The program includes presentations on timely topics such as obtaining IPv6 addresses from ARIN and transfers of number resources. In addition, there will be presentations on current policy discussions, ARIN technical services, and best practices for building resilient Caribbean networks.
Meetings & Events