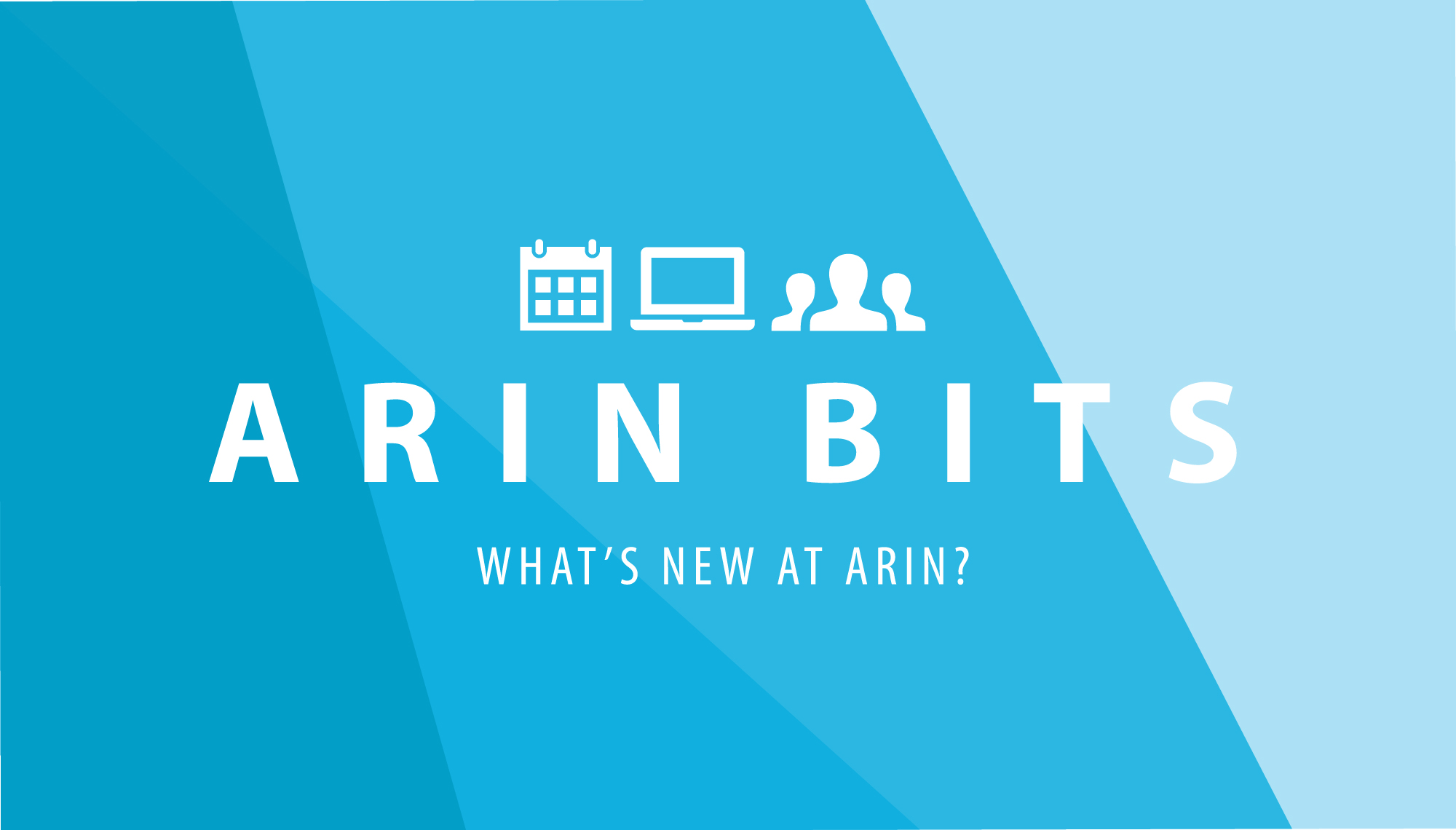 ARIN Bits: June 2017
We are very excited to introduce something new that we proposed to our community at our last meeting. ARIN Bits, a quarterly e-news update, will be distributed via email to our community to keep everyone in the loop on the latest happenings at ARIN. You helped us choose the name through a poll on Twitter, so thank you to those that voted. We are truly powered by your participation.
What should you expect?
The information will be shared in two ways. It will be distributed via email and will also be summarized in one blog post on the TeamARIN website every quarter. We have several different "bits" of information we will be sharing with you, including the latest policies up for discussion, upcoming events, helpful tips, and website updates.
We encourage feedback on the information we provide. As always, feel free to reach out to us at info@arin.net with your thoughts. We hope you enjoy the bits below.
---
Great news – over 50% of our members have an IPv6 block! Here are a few more Customer and Member Statistics as of 31 May 2017:
5,559 member organizations

871 8.3 (transfers to specified recipients) and 8.4 (inter-RIR transfers to specified recipients) transfers completed YTD 2017

8.4 transfers completed YTD 2017: 42 to APNIC, 12 from APNIC, 10 to RIPE NCC, 8 from RIPE NCC

54.3% of members have an IPv6 block
We have several policy proposals under discussion including:
Draft Policy ARIN-2017-2: Removal of Community Networks

Draft Policy ARIN-2017-3: Update to NPRM 3.6: Annual Whois POC Validation

Draft Policy ARIN-2017-4: Remove Reciprocity Requirement for Inter-RIR Transfers

Draft Policy ARIN-2017-5: Equalization of Assignment Registration requirements between IPv4 and IPv6

Draft Policy ARIN-2017-6: Improve Reciprocity Requirement for Inter-RIR Transfers

Draft Policy ARIN-2017-7: Retire Obsolete Section 4 from the NRPM
You can find the status of current policy discussions on our Draft Policies and Proposals page and subscribe to ARIN-PPML (Public Policy Mailing List) to voice your opinions. Membership is not required to participate!
June 2017 Deployment Items
We deployed several items this quarter that you should be aware of:
Some pages in ARIN Online, including the Organization, Network, and ASN pages, have been redesigned and menu options have changed.

Adding, changing, or deleting Points of Contact (POCs) for an organization or number resource (network or ASN) is now easier.

Information has been added to some pages to guide the user through a process or describe the next steps that they should take.

The Origin AS field in the Network Information page is clearly identified as optional and used for informational purposes only, per customer request.

Transfer statistics are now available via FTP at ftp://ftp.arin.net/pub/stats/arin/transfers. (ARIN Suggestion 2015.6). Specifications for the transfer file are located at https://www.arin.net/knowledge/statistics/nro_stats.html

A user who is appointed as a new Voting Contact will receive an email to notify them that a new message is in their ARIN Online Message Center.

Minor improvements and bug fixes were made.
We've also updated a few things on www.arin.net:
Mark your calendar with these important dates!
ARIN Fellowship Program - Applications are now being accepted for ARIN's Fellowship Program to attend ARIN 40 in San Jose, CA from 5-6 October 2017 with the option to attend NANOG 71 from 2-4 October. Apply now through 5:00 PM ET on Wednesday, 12 July 2017.
Upcoming ARIN on the Roads - We will be in San Juan, Puerto Rico on 25 August and Saskatoon, SK on 14 September. Learn more by visiting our ARIN on the Road page.
ARIN 40 in San Jose - ARIN's next Public Policy and Members Meeting (PPMM), ARIN 40, will be held in San Jose, CA from 5-6 October 2017 at the Fairmont San Jose. Registration will open in the coming weeks! To learn more, visit our Meetings page.
Election News – Nominations for ARIN Elections Open 17 July - Beginning 17 July, ARIN Trustees and representatives from ARIN's General Members in Good Standing are cordially invited to nominate candidates for seats on the Board of Trustees and Advisory Council to serve three-year terms beginning 1 January 2018.
To view the initial requirements and responsibilities of the Board of Trustees and/or Advisory Council, please visit the pages below:
This year, the ARIN Board of Trustees will appoint a third representative from a community-developed pool of nominees to a seat on the Number Resource Organization Number Council (NRO NC). Nominations are being accepted from any individual, regardless of ARIN Membership status and may include a self-nomination or multiple nominations for one or more candidate(s).
Lastly, remember to update or establish your Voting Contact by 20 August! To learn more, visit our Voting Contacts page.
We would like to highlight a featured service each quarter. This quarter we are reminding you to validate your POC! Per ARIN policy (NRPM 3.6), an email is sent annually to every POC registered in ARIN's Whois that has not been updated in the past 12 months, asking you to validate that your POC registration information is still correct. This POC validation policy improves the quality of the Whois data and helps to ensure that your contact information stays up to date. It also helps to protect you from resource hijacking and the potential loss of control of not only your resources, but also your Org ID and POC records.
For a more in-depth look at the POC validation process, visit our POC validation page and check out this video.
Here are a few tools and tricks for managing your resources in ARIN Online:
Want to attach a file to your Ask ARIN ticket? Remember to select 'DONE' after uploading the document. You also need to provide a comment before selecting 'SUBMIT.'

Need to submit a transfer because you acquired IPv4 addresses from an auction, brokerage service, or a resource holding organization? Make sure to answer 'No' in the transfer form when asked if the transfer is due to a Merger, Acquisition, or Reorganization. Only organizations that have acquired the assets (such as customer and/or equipment) from another organization should answer 'Yes.'
Here are a few Billing and Payment tips:
It is up to you, the customer, to keep the billing contact information up-to-date on your account! Use either email (billing@arin.net) or ARIN Online to edit the billing information.
Is the company name on your invoice correct? If the company name has changed, you can request to update the registration using either a Name Change or Network Transfer function of ARIN Online.
Do you know ARIN offers Automated Clearing House (ACH) as a payment option? Customers with a U.S. bank may initiate an ACH payment transaction to ARIN at any time, and receipt of your payment to ARIN is very quick, usually within two business days. To request ARIN's ACH payment instructions, email the Financial Services Department at billing@arin.net. ARIN accepts payment in U.S. Dollars (USD).
Deploying IPv6? Check out these helpful links!
We will see you again in Q3 with the next edition of ARIN Bits!
Recent blogs categorized under: ARIN Bits
---
GET THE LATEST!
Sign up to receive the latest news about ARIN and the most pressing issues facing the Internet community.
SIGN ME UP →
---
Blog Categories
IPv6
•
Business Case for IPv6
•
Fellowship Program
•
Grant Program
•
Caribbean
•
Internet Governance
•
Updates
•
IPv4
•
ARIN Bits
•
Elections
•
Tips
•
Public Policy
•
Customer Feedback
•
Security
•
Outreach
•
RPKI
•
Training
•
IRR
•
Data Accuracy