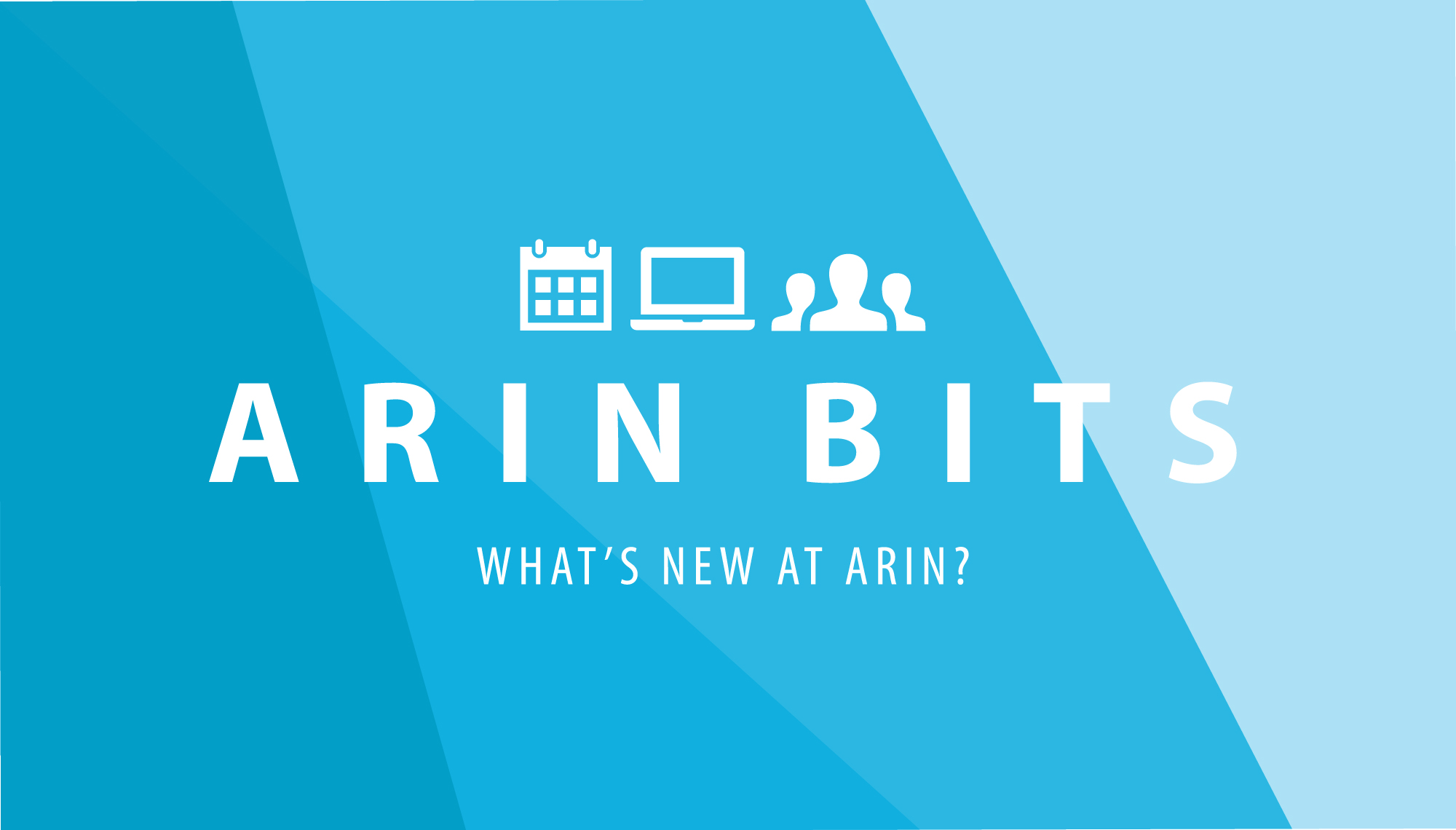 ARIN Bits: December 2017
The weather outside may be frightful, but that hasn't slowed us down this quarter! In this edition of ARIN Bits, we celebrate an important milestone, provide information about our current policy proposals under discussion, share tips from our Registration Services and Financial Services departments, and so much more! Missed last quarter's edition? You can find all past editions on our ARIN Bits page.
---
We're celebrating our 20th Anniversary!
December 2017 marks 20 years that we have been in operation, and we couldn't have come this far without our invaluable stakeholders and staff (and a special shout-out to Cathy Clements, our Transfer Services Manager, the longest tenured employee!). From all of us here at ARIN, we wish to express our sincere gratitude for all of the support we've received over the past two decades.
To honor our 20th anniversary, we've launched a page on TeamARIN containing milestones and favorite moments from the past 20 years.
We want to hear from you!
We are conducting a survey to determine the current level of customer satisfaction with our services and to inform a path forward to make future improvements. This customer satisfaction study will enhance the feedback collection we already conduct throughout the year using transaction surveys, the feedback button on the front page of the ARIN website, the ARIN Consultation and Suggestion Process, and other feedback mechanisms.
The survey should only take about 15 minutes to complete.
We will randomly select winners to receive a $500 Amazon Gift Card during the survey period, so make sure to fill out the survey before it closes on 20 December. We look forward to receiving your feedback!
We have a few policy proposals under discussion, including:
Pending Board of Trustees Review:
Recommended Draft Policy ARIN-2017-5: Improved IPv6 Registration Requirements
Draft Policies:
Draft Policy ARIN-2017-3: Update to NPRM 3.6: Annual Whois POC Validation

Draft Policy ARIN-2017-4: Remove Bidirectional Requirement for Inter-RIR Transfers

Draft Policy ARIN-2017-8: Amend the Definition of Community Network

Draft Policy ARIN-2017-9: Clarification of Initial Block Size for IPv4 ISP Transfers

Draft Policy ARIN-2017-10: Repeal of Immediate Need for IPv4 Address Space (NRPM Section 4.2.1.6)

Draft Policy ARIN-2017-11: Reallocation and Reassignment Language Cleanup

Draft Policy ARIN-2017-12: Require New POC Validation Upon Reassignment

Draft Policy ARIN-2017-13: Remove ARIN Review Requirements for Large IPv4 Reassignments/ Reallocations
You can find the status of current policy discussions on our Draft Policies and Proposals page and subscribe to ARIN-PPML (Public Policy Mailing List) to voice your opinions. Membership is not required to participate!
Congratulations to Bevil Wooding!
On 17 November, ARIN's Caribbean Outreach Liaison Bevil Wooding was honored at the 24th annual Caribbean American Heritage Awards. The awards celebrate achievements of people of Caribbean descent who have made outstanding contributions to their fields of expertise. "Mr. Bevil Wooding is a virtual technology ambassador, evangelist and pioneer and we are honored to present him with this year's Caribbean American Heritage Award," said Dr. Claire Nelson, Founder and President of Institute of Caribbean Studies. Congratulations, Bevil!
In November 2017, we added new features to ARIN Online:
We completed a number of infrastructure improvements, and performed multiple bug fixes.

The Tickets section in ARIN Online has been redesigned. The listing and search pages for tickets were improved, and the view page was reworked for over 30 ticket types.

The Delete Network and Delete Reassignments pages were also improved.

ARIN Online now requires you to enter your current password when changing your username, email address, recovery questions, and recovery answers.

We now provide a public MD5-PW Passphrase Creator to create a passphrase that can be used in ARIN Internet Routing Registry (IRR) objects.
We made some changes to CKN23-ARIN last month:
On 15 November, we completed the implementation of the plan that was developed in response to the CKN23-ARIN community consultation. We performed the following work on 12,171 affected Organization Identifiers (Org IDs):

For the associated resource records, the Resource Points of Contact (POCs) that were in place as of 29 June 2011 have been restored.

The handle CKN23-ARIN has been removed as the Admin and Tech POC on these Organization records and replaced with the original resource POCs (see above).

The original resource POCs have been retained as the Abuse POCs on these Organization records.

All affected Organization and Resource records have been locked, preventing the processing of any changes to these records until the submitted changes have been reviewed and vetted by ARIN staff.

All requests for changes to the affected Organization and Resource records will need to be submitted in writing via an "Ask ARIN" ticket from within ARIN Online.
Learn more about this consultation.
And the winners are…
Thank you to everyone who voted in the 2017 ARIN Elections. The results of the election were announced in October but in case you missed them, take a look now.
Congratulations to those elected to serve on the ARIN Board of Trustees and Advisory Council! In addition to those elected, Alicia Trotman will also serve as a member of the AC beginning 1 January 2018 to fill the seat being vacated by Dan Alexander, who was elected to the Board of Trustees, and Kerrie-Ann Richards will fill the seat vacated by David Huberman, who resigned from the AC on 17 November.
Join us for ARIN 41 in sunny Miami!
We're accepting applications for our Fellowship Program to attend ARIN 41 in Miami, FL from 15-18 April 2018. Apply for a fellowship now through 5:00 PM EST on Sunday, 28 January 2018.
ARIN 41 Fellowships may be extended to include registration and hotel accommodations for CaribNOG 15, which will be held 18-20 April 2018. Learn more about CaribNOG.
Attend an ARIN on the Road
ARIN on the Road is your chance to get face time with us and get your questions answered. These traveling, no-cost events provide the latest from ARIN on everything; from technical services and tools, to current ARIN policy developments and the status of IPv6 adoption.
ARIN on the Road will kick off 2018 by visiting San Diego, CA and Albuquerque, NM on 23 and 25 January, respectively. Registration is now open for both events:
Our Featured Policy Requirement
Initial allocation to LIRs (NRPM 6.5.2)
Did you know that ISPs can easily qualify for an initial IPv6 allocation? Under current policies, most organizations will qualify for their first IPv6 allocation of the minimum /36 or /32 sizes, and most ISPs that already have IPv4 registered will have no increase to their existing annual maintenance fees.
A Tip from Our Registration Services Department
Do you have an Organization Identifier (Org ID) with ARIN that needs updating because the current Point of Contact (POC) has left your organization? There are a few different ways to update your Org ID.
If the Org ID was created for your organization by your ISP for an IP reassignment they are providing you, you will need to contact your ISP and inform them of the change in points of contact.
If you are already linked as the Admin or Tech POC on the Org ID, you can add or remove other POCs for that Org ID in the "Organization Identifiers" section of "Your Account" in the left navigation bar in ARIN Online.
If the former employee was the only POC listed on the Org ID, you will need to submit an Organization Recovery (Org Recovery) request. If you don't already have an ARIN Online account, you'll need to create one before creating your own POC, then requesting the Org Recovery from within the "Organization Identifiers" section of "Your Account." ARIN staff will work with you to verify you are authorized to be added as the new point of contact for your organization.
Have any questions? Give our Registration Services Department a call at 703.227.0660 or submit an Ask ARIN ticket from within your ARIN Online account, and an analyst will be happy to help you.
A Tip from Our Financial Services Department
The Financial Services Department requests that customers sign the current Registration Services Agreement (RSA) for:
Name change requests

Reinstatement requests

New customers with resource requests

Existing customers with an RSA on file that is older than two versions from the current version
Return the completed agreement to ARIN via the corresponding ARIN Online ticket, email billing@arin.net, or mail a hard copy to:
ARIN
Attn: Financial Services Dept.
PO BOX 232290
Centreville, VA 20120
Get Involved with us in 2018
Since the new year is upon us and it's the perfect time for a fresh start, consider making 2018 the year you get more involved with us! There are so many ways to be a part of what we do, some of which you may not even be aware. Here are a few ideas:
Want more information about any of these ideas? Email us at info@arin.net.
Check out these Customer and Member Stats! (As of 30 Nov 2017)
5,693 member organizations

1,784 8.3 transfers and 123 8.4 transfers completed YTD 2017

8.4 transfers completed YTD 2017: 79 to APNIC, 16 from APNIC, 31 to RIPE NCC, 17 from RIPE NCC

55.8% of members have an IPv6 block!
Is IPv6 on your list of New Year's resolutions? We can help.
Recent blogs categorized under: ARIN Bits
---
GET THE LATEST!
Sign up to receive the latest news about ARIN and the most pressing issues facing the Internet community.
SIGN ME UP →
---
Blog Categories
IPv6
•
Business Case for IPv6
•
Fellowship Program
•
Grant Program
•
Caribbean
•
Internet Governance
•
Updates
•
IPv4
•
ARIN Bits
•
Elections
•
Tips
•
Public Policy
•
Customer Feedback
•
Security
•
Outreach
•
RPKI
•
Training
•
IRR
•
Data Accuracy