20 Tales, 20 Years
We are turning twenty this December, and to celebrate, we wanted to feature some of the wonderful memories we've made together as a community over these past two decades. At our most recent meeting, we asked you to share a fond memory or experience you've had with ARIN. Here they are. Twenty tales from the last twenty years.
---
"I've been to 15ish meetings. ARIN X was the first one. It was Halloween. Everyone was dressed up. It was not what I expected of Internet governance. I was young and naïve, but it opened my eyes that this isn't as bad as I thought. This is actually really fun. I think I want to do more of this. So I kept coming back for more and more."
- Matthew Petach, Aabaco Small Business
"My first ARIN meeting was Albuquerque in 2007. I believe this was our first time entering into that whole environment, and so my totally confused brain didn't understand much that was going on. What I remember is the ARIN team and staff were extremely welcoming and helpful. They helped us through the whole process and stayed with us and went to a couple of socials. I felt a very welcoming environment, and, to me, that has been a hallmark of ARIN throughout the years. People of very high integrity and very welcoming of everybody."
- Stephen Lee, ArkiTechs Inc.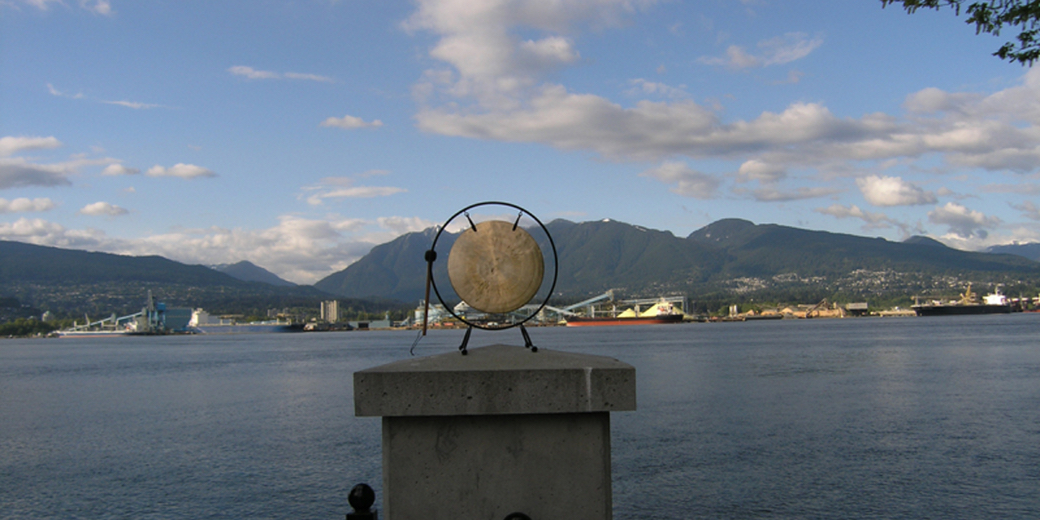 "We used to have this gong that they would use to tell us it was time to come back into the meeting.  And John used to have this habit of putting the gong in front of a microphone.  And ofcourse, bad things happened. At one point, someone who shall remain nameless, submitted a policy proposal to ban amplification of gongs at ARIN meetings. And then at a subsequent meeting Marla Azinger and a couple other people absconded with the gong and then at the end of the meeting there was this really cool presentation of all the things the gong had gone on and done. It had quite the adventure around the meeting location."
- Owen DeLong, Akamai
"The first meeting I attended was ARIN XXVI in Atlanta. I was asked to come to a meeting on behalf of a client to promote the need for a numbering policy that would meet the unique needs of Canadian ISPs who could compete over cable platforms. In order to do my work, I had many discussions with community participants, as well as Advisory Council and Board members and ARIN staff. Besides feeling like they genuinely cared about the issue I was bringing to them, they made me feel extremely welcome as a human being. The community embraced me with open arms. I was also extremely impressed by how the Policy Development Process was designed and implemented. By the end of that meeting I was hooked! I started coming to ARIN meetings regularly (only missing a couple of meetings since then), and with one or two exceptions, I attended the meetings completely at my own expense until I was elected to the AC. I am extremely happy to be part of the ARIN Community!"
- Christian Tacit, Tacit Law
"This is my 35th consecutive ARIN meeting. Every April and October since 2000, I've been going to ARIN meetings.  I keep coming because it's been great for my career. I get to meet many people in the industry. It makes me happy to come here. My favorite ARIN meeting amongst so many is hard to pick. I will admit they all kind of blend together, although I do remember the social at my very first meeting where we had a murder mystery with various ARIN staff being tagged as the potential murderer which was kind of fun."
- Andrew Dul, CrowdStrike
"My most favorite thing is the sense of welcome and inclusion I got when I went to my first ARIN meeting. When I went to New Orleans, I was blown away by how friendly everybody was, the staff, the community. I was so impressed by how ARIN is so service-oriented. And that's a value we have at Canarie, but you guys demonstrate it in spades. I think it's amazing."
- Nancy Carter CFO, Canarie
"I attended one ARIN on the Road in Calgary two years ago, and I became really interested in what ARIN was. Before, even though I worked with universities and was involved, it was kind of nebulous, kind of vague to understand what ARIN was doing. I got the opportunity to apply for a fellowship, and I am really happy to be here.  It was really enlightening to see other fellows and to make contact. I'm glad to be here."
- Adrian Schmidt, Burman University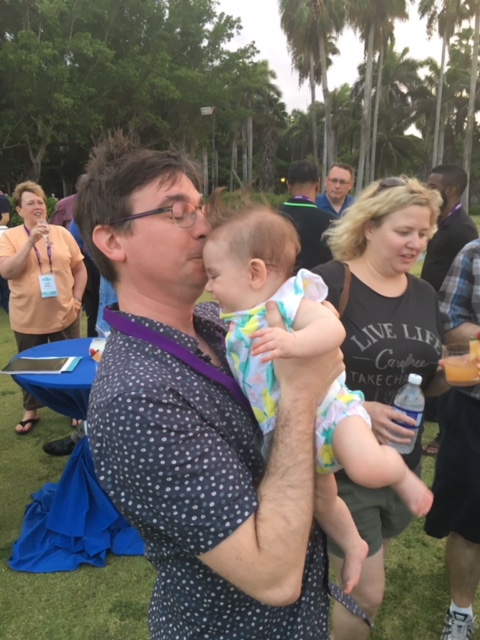 "I first decided to run for an AC seat at the Jamaica ARIN meeting. Someone said that I should  start kissing babies now.  Someone else said, "Oh look there's Jason and his baby".  Within seconds the baby was brought over for me to kiss.  I look more uncomfortable than the baby does in the photo.  It went to Facebook and was widely mocked, appropriately though."
- Chris Woodfield, Salesforce
"I've been to 14 ARIN meetings. One of the things I like about going to ARIN conferences, other than seeing the people who are here, is that it's always somewhere different. A lot of places it's somewhere you don't think you're going to end up, so Iowa could end up being something super cool. But then you go to places like Jamaica where there are different activities. There was the one time where we went and swam with the dolphins. It almost gives you a mini adventure, because you are always going somewhere different and you don't know what you're going to run into when you get there."
- Kathleen Hunter, Comcast
"I've been to 39 ARIN meetings. My favorite ARIN meeting was over Halloween. Two things happened: 1. Stacy Hughes was Mae West which is a really funny networking joke because we had MAE-West and she was Mae West. 2. Lyric Apted was the elf. It was right after September 11th and we were flying home, and she came out of security screening holding her whole costume like it was not a good day for elves. It was really funny. So we all had costumes. It was super fun."
- Cathy Aronson, Daydream Imagery LLC
"This is my second ARIN meeting, both with the fellowship group. I just think it's fantastic that there's an organization like ARIN that's willing to make it possible for people who would really have a hard time justifying coming to an event like this and participating in the policy process.  Participating remotely is fine, but in person is better. I'm a person who really enjoys policy and those kinds of discussions and nuances. I need to see the process in person. So thanks ARIN for making that happen."
- Frank Bulk, Premier Communications Inc.
"I've been to six ARIN conferences, the first one was Toronto. I'd say the best one was in Puerto Rico where they had the casino night. It was an awesome time. It was a lot of fun."
- Marc Lindsey, Avenue4 LLC
"This is my third ARIN meeting. I typically do not have strong opinion on most of the discussion either way, but I find it very amusing and interesting to listen to other people argue with each other while they seem to mostly agree with each other. It's always interesting to hear. It feels good to understand what all is going on as far as policy at ARIN. So I'm always glad to be here."
- Colin Baker, SupraNet Communications, Inc
"I have always been fascinated how they do the policy discussions in these meetings, I've never experienced that before, and it really was a way for me to see the involvement of the community and bottom-up input for policy discussion, so for me that always stands out in my mind and always will. Also attending the Women's Networking lunch – that to me is just amazing. The last three ARIN meetings, I have been to each one of them. And the other thing is the mentors, my mentor was Cathy Aronson when I came as a fellow the first time, and she is just amazing. The whole mentorship program is just very, very helpful."
- Leah Symekher, Board Advisor & Consultant/NARALO Representative SFBay Area ISOC Chapter
"I happen to work with Phil Benchoff who happened to create the legacy IP only stickers with  the Amish buggy and horse on it. I was at an ARIN meeting and had one of these stickers given to me with a business card.  It's kind of interesting that these have come full circle. We're IPv6. Go IPv6!"
- Brian Jones, Virginia Tech
"I've been to a lot of ARIN meetings, because I think I got a reputation for not saying stupid things. I was on the Board for a while, and we did a series of long late-night meetings because there was nobody saying that we should stop. We should just keep working until our work is done. So we had a series of meetings where we were overhauling the bylaws and at about 3 or 4 in the morning we were just sort of saying maybe it's time to call it a night, so we were ready for the Members Meeting in the morning.  Members are who we need to serve, and maybe we should be awake for that."
- Lee Howard, Retevia
"This is my first ARIN meeting and my first RIR meeting actually. I think it's great. I was at the newcomer's session. It was a very solid introduction of ARIN and basically the procedures, the policy making, everything.  Then I was at today's meeting the whole day. I saw people debate over policy and argue with each other. It was fun. I met a lot of people at the social events and the food was really good."
- Paula Wang, ICANN
"I always remember my first memories at ARIN. The ARIN offices were trying to get AFRINIC off the ground. It was a very special experience seeing everybody putting in their time and energy and thoughts to make sure that AFRNIC could get started. So, coming to ARIN meetings always reminds me of that. It's very special."
- Ernest Byaruhanga, AFRINIC
"This is my second ARIN meeting. I find the format of the meeting held by ARIN a little different than how we do it at APNIC. There are always new things to learn when you go to the other RIR meetings. From the experience of our colleagues, being sure there is a synergy between RIRs. I like ARIN meetings for that purpose."
- Roopinder Singh Perhar, APNIC
"I've been to eight meetings and my favorite ARIN meeting was my first meeting as a fellow and I had the trifecta of Leslie Nobile, Cathy Aronson, and Leif Sawyer all sitting around me and encouraging me to go to the microphone to ask a question. I did it. And that started it all."
- Alison Wood, State of Oregon
Do you have a favorite memory you'd like to share? We'd love to hear it! Tweet us @TeamARIN or drop us a comment on Facebook.
Recent blogs categorized under: Updates